We Got The Snack Receipts For LA Rec And Park's After-School Programs — It's Mostly Junk
Image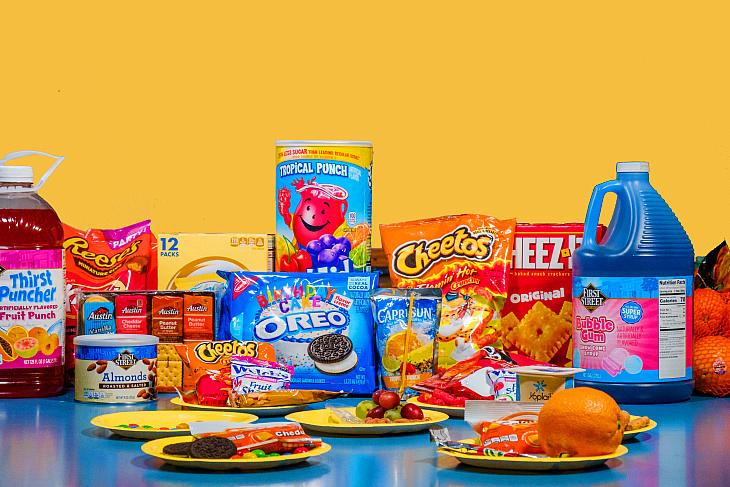 Published on
October 17, 2019
Cheetos. Oreos. Capri Sun. That's just a sampling of the items that can be found on the menu every day at city-operated rec centers in Los Angeles, despite a high prevalence of childhood obesity in the county and a nutrition policy that the city adopted in 2005.
KPCC/LAist reviewed snack receipts for the 2018-19 school year at six after-school clubs located in different areas of Los Angeles. The data show around half of the combined snack budget for these sites was spent on snacks high in sugar, fat or sodium.
Frequently bought snacks included cupcakes, candy, potato chips, cookies and fruit punch.
Overall, fresh fruits and vegetables accounted for just 5% of the combined food budget for the six sites, although some sites bought more fresh produce, and less junk food, than others.
For working parents who are looking for trustworthy and affordable after-school childcare, recreation center programs are a blessing. The monthly cost, depending on location, varies from free to $280 a month, according to the Rec and Parks Department.
The city of Los Angeles operates about 90 of these aftercare programs at rec centers throughout the greater L.A. area. More than 3,000 students were enrolled in 2018, mostly from grades K through 6, according to the rec department's data.
Students get picked up from their local public school and shuttled to the nearby recreation center. They get homework help, play time and a daily snack.
ALMOST HALF OF LA KIDS ARE OVERWEIGHT OR OBESE
In 2017, 45% of all 5th graders in L.A. County were considered overweight or obese, according to data collected by the California Department of Education. About 41% of kids statewide were overweight or obese.
Child nutrition expert Lorrene Ritchie of the Nutrition Policy Institute, a research center connected with the University of California system, said eating junk food at snack time can affect a child's overall health.
"It's not massive gorging that contributes to obesity," Ritchie said. "It's just the small amount of extra calories every day."
According to the Centers for Disease Control and Prevention, childhood obesity can lead to health problems as an adult, including Type 2 diabetes, heart disease and cancer.
All public schools that receive federal funding for meals and snacks must follow nutrition guidelines set by the U.S. Department of Agriculture (USDA). Guidelines include strict rules for the amount of sugar, salt and sodium allowed in processed snacks.
Fresh, canned and dried fruits and vegetables are allowed as snacks, as are nuts, nut butters and reduced-fat cheeses. Allowable drinks include water, low-fat milk and 100% fruit juice or diluted juice with no added sweeteners.
L.A. Rec and Parks' after-school programs don't have to follow these federal guidelines because they don't get federal funding for food.
But, the city of Los Angeles has its own nutrition guidelines that set standards for food and beverages provided by departments and city-funded programs that serve children. The guidelines are part of the Child Nutrition Policy.
The city's Child Nutrition Policy states all city departments should provide healthy snacks to kids and increase the availability of fruits, vegetables and 100% fruit juice. The guidelines also state that city-sponsored programs should provide low-sugar and low-fat snacks that are in line with a 2001 state law governing food served in public schools.
Based on KPCC/LAist's analysis of grocery store receipts, much of the food bought for children at L.A. Rec and Parks' after-school programs does not comply with the city's guidelines.
MOSTLY JUNK, WITH A SPRINKLING OF FRUIT
KPCC/LAist reviewed snack receipts for after-school clubs at Alpine Recreation Center (Chinatown), Bellevue Recreation Center (Silverlake), Eagle Rock Recreation Center (Eagle Rock), Lafayette Recreation Center (Westlake), Wabash Recreation Center (Boyle Heights), and Yosemite Recreation Center (Eagle Rock) (for more on our methodology, see this explanation).
Image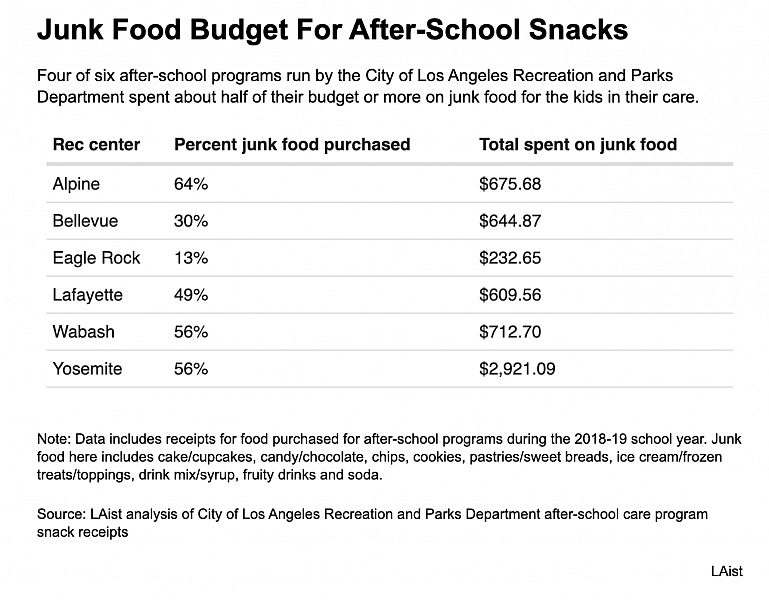 Alpine, Chinatown
Out of the six programs KPCC/LAist analyzed, Alpine Recreation Center, in the heart of L.A.'s Chinatown, served the unhealthiest snacks. Alpine spent approximately 64% of its food budget on junk food, including Chips Ahoy cookies, fruit punch and candy. There were no fresh fruit or vegetable purchases listed in any of the Alpine receipts that KPCC/LAist reviewed.
Wabash, Boyle Heights
Wabash Recreation Center in Boyle Heights also served a lot of unhealthy snacks. More than half of its food budget for after-school care, around 56%, was spent on chips, fruity drinks, cookies, candy and chocolate. Hot Cheetos, Doritos, Oreos and fruit punch were commonly bought items. The only fruits and vegetables bought for the program were canned jalapeños and cucumbers, making up less than 1% of the after-school snack budget.
Lafayette, Westlake
Lafayette Recreation Center, located in the Westlake neighborhood, spent approximately 49% of its after-school snack budget on junk food. This included Oreos and Chips Ahoy cookies, M&M's and Cheetos. Less than 1% was spent on bananas — the only fresh fruit bought for snacks.
Yosemite, Eagle Rock
In the neighborhood of Eagle Rock, Yosemite Recreation Center spent more than half of its budget, about 56%, on junk food, including Pringles, Capri Sun drink pouches and Famous Amos cookies. Fruits and vegetables accounted for just 1.7% of food purchases for after-school care.
Eagle Rock, Eagle Rock
Just a 5-minute drive from Yosemite, Eagle Rock Recreation Center serves much healthier food to kids in its after-school program. Eagle Rock spent 17% of its budget on fresh fruits and vegetables and another 13% on nuts, dried fruit and trail mix — the top two food categories purchased for after-school programs. Eagle Rock spent approximately 13% of its budget on junk food, including Mars chocolates, tortilla chips and Kool-Aid.
Bellevue, Silverlake
Silverlake's Bellevue Recreation Center spent approximately 30% of its food budget on junk food, including Hershey's chocolates, Oreos and Famous Amos cookies. The rec center spent 11% on fresh vegetables and fruits, including tangerines and apples.
WHAT HAPPENED TO LA'S NUTRITION GUIDELINES?
Back in the early 2000s, the city formed the Los Angeles Child Health and Nutrition Task Force to tackle childhood obesity and ensure that healthy food and beverages are served to youth in city-sponsored programs. The task force included nutrition advocacy groups, like California Food Policy Advocates, and city officials, including Mayor Eric Garcetti, then a city council member.
The Department of Recreation and Parks and the city's Commission For Children, Youth, and their Families, which is no longer in existence, co-chaired the task force.
The task force developed the city's Child Nutrition Policy, which set standards for healthy snacks, and was charged with implementing it and ensuring that city departments and programs complied. L.A. City Council adopted the policy on Feb. 18, 2005.
Vicki Israel worked for the Recreation and Parks Department at the time and co-authored the policy. She said the task force developed a guide to hand out to city departments to help with implementation.
"We came up with a list of potential snacks for staff to purchase," she said. These included carrot sticks, granola bars, low-fat milk, and 100% fruit juice. There was even a sample after-school snacks menu that suggested options like low-fat milk and orange wedges.
The task force was supposed to evaluate implementation of the nutrition policy. This included carrying out an annual assessment of food provided at 175 recreation centers "to recommend incremental increases to the percentage of healthy choices with the goal of reaching 100%."
A "Nutrition Assessment Form" for department and program supervisors included questions like, "Have you made nutrition education trainings available to staff?" "How many days were fresh fruits and vegetables offered during the average week?"
But KPCC/LAist's analysis found that kids in after-school programs today are being served food and drink that doesn't meet the city's own nutrition guidelines. Why?
"I think things did fall down," said Israel, who is now assistant general manager of the Department of Recreation and Parks. Part of her role is to oversee the after-school programs.
Israel said she couldn't recall if the snack guidelines laid out in the Child Nutrition Policy were ever enforced and she couldn't remember when and why the task force stopped meeting.
Part of the reason may be staff turnover and lost positions, she suggested. When the Child Nutrition Policy was adopted, Israel said, the department had a childcare program manager that provided guidance and training to staff. But that person retired and the job was never filled.
"That's what happens when people retire in the city," Israel said. "It's a lot of the experience, the knowledge, the expertise gets lost."
She also cited a large number of new employees at the Recreation and Parks Department. "We have a lot of staff and we have a variety of different personalities," Israel said, "and people who believe in different things and stuff like that."
KPCC/LAist reached out to several other members of the task force, including Mayor Garcetti's office. Garcetti's office did not respond to specific questions about what happened to the task force, but his spokesperson Andrea Garcia praised the Child Nutrition Policy in an emailed statement, saying "since its implementation, City employees and community members have worked closely together to shape programs and snack options."
"There is always room for improvement and we welcome feedback from Angelenos in every community," Garcia added.
HEALTHIER SNACKS IN KIDS' FUTURE?
Israel said that recently — since KPCC/LAist started asking about the food served at after-school programs — she has reminded recreation center staff to make healthy choices when buying snacks for kids.
She said she plans to hand out copies of the Child Nutrition Policy to current staff, but didn't say whether there would be any follow up to ensure implementation.
Out in front of Alpine Recreation Center in Chinatown, 5th grader Steven and his brother, Abel, who's in third grade, were packing up to head home from the afterschool program.
The boys said they typically get cookies, Goldfish and Cheez-Its for snacks. But they said there have been some recent changes.
"They used to give out punch," Abel said. "But now they give out water."
Stephen said it's because they ran out of punch. "No," Abel butted in. "It's because the parents complained."
---
Methodology: Receipts were provided to KPCC/LAist by the City of Los Angeles Department of Recreation and Parks. When possible, we did not tally receipts submitted with an invoice stating that the food purchases were made fully or partially for a community event, such as a holiday party, or other non-after-school activity. When receipts did not include invoices, we included them in the tally.
We then constructed a metric to measure the amount of junk food kids are consuming in after-school care. We analyzed individual food items that appeared on program receipts, grouping similar items into categories.
The categories where the majority of foods were nutritionally lacking we defined as junk food. These categories included cake/cupcakes, candy/chocolate, chips, cookies, drink mixes/syrups, ice cream/frozen treats, soda, fruity drinks and pastries/sweet breads. In some cases, individual items that meet nutritional standards may have been included in the final junk food tally. Other categories, such as savory snacks, were harder to peg, because the items on the list had a wide variety of nutritional content. In this case, items that do not meet nutritional standards may have been excluded from the final tally. The results are nonscientific but, we believe, err on the side of underestimating the amount of junk food purchased.
This article was produced as a project for the USC Annenberg Center for Health Journalism's 2019 California Fellowship.
Clarification: A previous version of this story misattributed a quote from Mayor Eric Garcetti's spokesperson. The story has been updated accordingly.
[This article was originally published by The LAist.]