When it comes to health care, it matters where you live
Elizabeth Varin wrote this story for the Imperial Valley Press as a 2011-12 California Endowment Health Journalism Fellow.
Image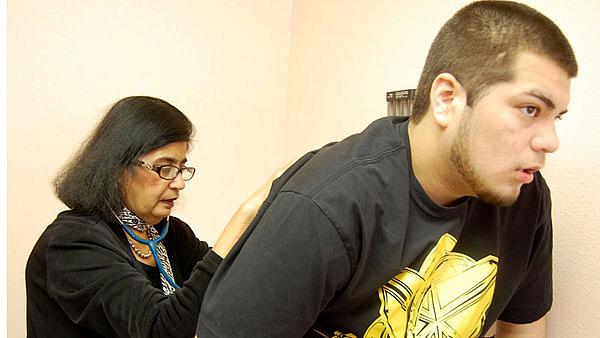 Published on
April 28, 2012
The pain in Estela Delgado's back was excruciating for months. One day the 51-year-old was fine. She had been exercising, eating right, taking vitamins. Then she felt a pop in her back, and the pain started. After getting worse and worse over a two-monthperiod, she got the call from Pioneers Memorial Hospital: she needed to come in immediately.

There was a plane waiting to take her to San Diego. She needed emergency surgery, and she may have cancer.

A 12-inch rod to fix her broken back and the diagnosis that she had dreaded came next: multiple myeloma nonsecretory type, a rare form of cancer that had eaten away at her bones.

"Once they told me, it was still something I couldn't believe," she said. "I felt like I was dreaming, like it was someone else.

"… Last Tuesday the doctor told me if there was nothing I could do anymore with this last round of chemo — this would be the strongest chemo my body could take — then I'd only have six months to live," she said. "I'm not ready to die, but I have a lot of people praying for me."

Delgado is not in denial, but she doesn't think as a person who has terminal cancer, she said. She's taking everything one day at a time, but not looking forward into the future.

As Delgado focuses on her quality of life, she understands that she's had access to quality of care. Others are not so fortunate.

Life expectancy in Imperial Valley has been improving through the last 20 years with men expected to live to 76.2 years old and women up to 82.4 years old, according to a study released earlier this month by the Institute for Health Metrics and Evaluation. However, not all places are created equal, and where you live in the Valley can affect how long you live.

Outlying areas dying sooner

About 45 percent of Imperial County residents who died within the last 20 years were older than 75 years old, according to death records from the state Public Health Department. Yet, a majority of those people live within a few areas in the Valley, while low-income, outlying areas have more people dying younger.

Holtville, Palo Verde, Westmorland, Brawley and El Centro all had more than the county average of those who died when they were 75 years old or older. Holtville had the highest percentage, with more than half of those who have died between 1989 and 2009 living into their late 70s and beyond. Following that was Brawley, Palo Verde, Westmorland and El Centro, all between 45 and 49 percent.

On the other end, some areas farther away from the county center are far below the county average, with Winterhaven and Ocotillo having two in three people die when they were younger than 75. Calipatria, Salton City and Seeley also fell below the county totals.

Ocotillo had the largest percentage of people who died when they were between 55 and 64 years old — nearly one in five — followed by Winterhaven with one in six.

Small town, small county

Health access is a big problem in Imperial County, with a lack of doctors and only two hospitals for the 10th largest county land-wise in the state, said Beatriz Garcia with California Rural Legal Assistance in El Centro. CRLA works on health-access issues, include dealing with health insurance coverage and enrolling people in public programs.

"We're just a small town, a small county," she said.

It's harder for those in outlying areas, but there are many possible reasons for the differences, she said. While there are clinics in some of the areas, they don't have the 24-hour hospital care.

In addition there are a limited number of doctors locally, and people have complained to her about having to wait weeks for an appointment, she said.

Imperial County has a high rate of disparity in its ratio of primary care physicians to patients. There's one general practice doctor per 2,398 residents. That far surpasses the state average of 847 residents to one doctor and the national average of 631 residents per doctor.

Rural communities in general have more challenges to getting access to health care, said Imperial County Public Health Department Public Information Officer Maria Peinado.

"It's an issue that's not only for Imperial County," she said. "It's an issue in all of the state and, in fact, nationwide."

However, this area has an excellent group of community clinics, Clinicas de Salud del Pueblo, which has made a point of having health care in some of those outlying areas, Peinado said.

Age not only factor

Clinicas has seven clinics spread throughout the Valley, with locations based on the needs of the community, said Afshan Baig, chief medical officer for Clinicas. Some of the communities, like Niland, Winterhaven and West Shores reached out to get a clinic, while others like both the women's clinic at Pioneers Memorial Hospital, the other Brawley clinic, El Centro and Calexico were based on the need and ability to provide services in those communities.

In general Baig said she sees the health care in the communities like Niland, from emergency services to clinics, as good. She wasn't able to answer to the data from the state Public Health Office, because when looking at the numbers of people who die there are many factors that can affect mortality, like chronic illness or injuries, she said. She doesn't know how the people have died in those outlying areas, which would affect the average age of those who died.

Though information from the state Public Health Department included both age, gender and cause of death, the way it was compiled does not allow the cause of death and age of death to be compared.

Better for some

There are areas that Imperial County does well in.

Overall Imperial County's life expectancy is equal to the national average for men, and slightly above the average for women, according to the Institute for Health Metrics and Evaluation, a global research group out of the University of Washington. Still, many nearby counties show more progress, including Yuma County, which was the highest of the area surrounding Imperial County.

Men in Yuma are expected to live three years longer than men in Imperial County, while women there live an estimated 1 1/2 years longer than local women.

The issues extend beyond whether one lives in the center of the Valley with the hospitals or the outlying areas, said Rosie Nava Bermudez, founder and director at The Family Treehouse in Imperial. Doctors' offices are crowded and overbooked, and for more intensive treatments patients are often sent to San Diego or Palm Springs.

"Does Imperial Valley have the capacity to deal with basic primary health needs? Absolutely," she said. "But what happens when a child has cancer, neurological issues or developmental delays? What about services for adults with Parkinson's or autism? The services are simply unavailable."

She sees local children who have to travel to San Diego once or twice a week to receive care. This can become a daunting task, even if the families can afford to do it.

There are geographic barriers as well within the Valley that make it harder to access care, like simply having transportation or ones' immigration status, Bermudez said. There are more options today than when she lived in Niland as a small child, like community clinics, the hospitals, health department and urgent care centers. But the issue, she said, is the access to "quality of care" because of the limited capacity for secondary care.

Others, though, see more problems popping up because of a lack of concern.

Challenges in rural areas

There's a huge difference in the access to health care in the rural, outlying areas, said Luis Olmedo, executive director of Comite Civico Del Valle. Those who live within the cities have a huge advantage with the hospitals and that they are shielded from some of the problems living in the more rural communities.

In areas like Calipatria, Niland, Heber and Seeley there is a considerably higher exposure to sources of hazardous pollution because of the proximity to industry and agriculture, he said. Access to clean water is also a big issue for the whole Valley, but more so those outlying communities.

Comite Civico Del Valle worked with the National Latino Research Center on a report sampling water in the rural communities, and roughly 70 percent of the 35 homes tested had either or both e. Coli and pesticides, he said. The cleaner sources had extensive water systems as the homeowners had more money.

There are areas between North Shore and Calipatria along the Salton Sea that don't have access to clean water or electricity in some cases, he said.

"Sometimes it's easier for some people to ignore them," he said. "And because they've been ignored so long now people have to ask 'how do we even begin' or even whether to look at them."

People seem to have no interest in improving those outlying areas and boosting their mortality rates, he said. It's every man for himself in some of these areas.

"Sometimes it makes me wonder if we're ever going to make a dent into the sinking hole we're digging," he said. "Things are beyond grim."

While Estela Delgado's concern isn't about how old she'll be when she dies, there are things that she still wants to see, like the birth of her second grandchild in November.

Through the last few months she's had to acclimate to many new environments, being in and out of hospitals and doctor's offices. Her perception has changed somewhat, too, such that she said she believes there's a point in time for everyone to die, and there's nothing that can be done to change that.

"I don't know if these doctors are right," she said. "I want every day to be memorable. I want every day to help.

"I was hoping they were wrong, but in the back of my mind I was thinking maybe this could be it," she added. "My thought process on my life is to make everything count."

She tells people she loves them. She doesn't stress over the little things. She's become even closer with her family.

She hasn't accepted that this may be the end for her, but if it is, she won't go kicking and screaming, she said.

"I'm not afraid. I don't want to die tomorrow, but if the time comes, I have no qualms about going. I'm going to heaven anyway."

Staff Writer Elizabeth Varin can be reached at evarin@ivpressonline.com or 760-337-3441.


This article was produced as a project for The California Endowment Health Journalism Fellowships, a program of USC's Annenberg School for Communication & Journalism.
This story was originally published in Imperial Valley Press on April 28, 2012
Photo Credit: Elizabeth Varin