USC Center for Health Journalism awards $44,000 to support reporting and engagement journalism on health equity and domestic violence
Image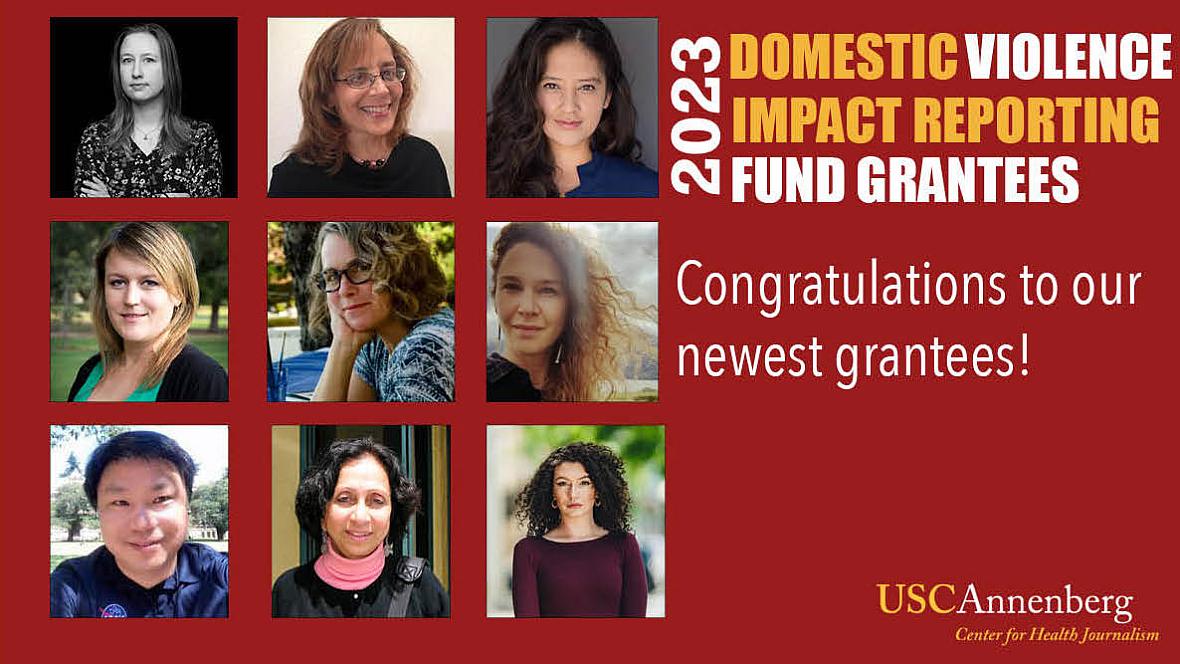 The Center for Health Journalism at the USC Annenberg School of Journalism has awarded $44,000 in reporting grants from its 2023 Domestic Violence Impact Reporting Fund to help reporters from California and beyond undertake ambitious explanatory and investigative reporting about domestic violence as a public health issue.
Domestic violence affects millions of Americans each year. About 41% of women and 26% of men experience contact sexual violence, physical violence, and/or stalking by an intimate partner in their lifetime, according to the Centers for Disease Control, with over 61 million women and 53 million men reporting psychological aggression by an intimate partner sometime in the past. In California, more than half of families have been touched by domestic violence, yet the issue is rarely discussed in public policy circles or reported on by journalists. Media outlets often treat incidents as police items, if they cover them at all.
With this initiative, the Center for Health Journalism and its foundation partners aim to change that, bringing attention to domestic violence as a public health concern and a matter of public policy, not a private or police matter. 
The initiative began with a two-day March 2023 symposium on domestic violence as a public health issue that brought together leading journalism, public policy, community and research experts to speak on the topic to 60 journalists who joined us from across the nation. The program was made possible thanks to the generous support of the Blue Shield of California Foundation. 
With the foundation's support the Center established a Domestic Violence Impact Fund that provides mentoring and support to California journalists. The Doris Duke Charitable Foundation also contributed to the project, with funding for reporting grants to journalists located in the states of Alaska, Arizona, Nevada, Washington and Wisconsin. 
The nine participating journalists will report on domestic violence and public health, with a health equity framing. Just under half of participating reporters are journalists of color and two will be reporting for ethnic media outlets. Among the important issues that reporters will cover: how domestic violence devastates children and families across Alaska; the effectiveness of "batterer intervention" programs and new programs centered on prevention; how law enforcement often fails to serve transgender survivors of domestic violence; the vast differences in domestic violence services for children and families living in Nevada's urban, rural and frontier regions; and the consequences of "failure to protect" policies that often take children away from their mothers to protect them from domestic violence by a partner.
Grantees receive five months of mentoring from veteran journalists and reporting grants. All the projects focus on underserved, overlooked populations. 
"At a time when new thinking has focused our attention on prevention and creative community-based strategies, participating reporters will be telling essential stories for and about survivors and their families – and the programs and policies that can help them," said Michelle Levander, founding director of the USC Center for Health Journalism. 
"Domestic violence is a matter of public health, affecting more than half of Californians in our own relationships or through close friends and family. It's also a matter of health equity, disproportionately harming Californians of color with low incomes," said Debbie I. Chang, MPH, president and CEO of Blue Shield of California Foundation. "We are pleased to support these journalists in exploring the multigenerational impact of domestic violence, the systems at work in survivors' lives, and how those systems must change to help prevent domestic violence and better meet the needs of the people they are meant to serve," she added.
"The USC Annenberg Center for Health Journalism is tackling some of our country's most pervasive challenges that are affecting community health and safety," said JooYeun Chang, program director for child well-being at the Doris Duke Foundation. "We are proud to support the Fund for Reporting on Domestic Violence as a Public Health Issue and the journalists who are using data-driven approaches to examine the impacts of domestic violence and propose solutions to improve outcomes for children and families."
Advising the grant recipients are two award-winning journalists Sammy Caiola, a reporter at WHYY in Philadelphia whose work focuses on gun violence, and Kari Lydersen, a veteran reporter and an assistant professor at the Medill School of Journalism at Northwestern University, where she leads the Medill Investigative Program. Both are former Center for Health Journalism Fellows. 
Mentorship on California engagement journalism projects will be provided by the Center for Health Journalism's California Engagement Editor Cassandra Garibay.
Here is a list of the Impact Fund grantees:
Ashley Luthern, Milwaukee Journal Sentinel
ChrisAnna Mink, CalMatters
Zaydee Sanchez, High Country News
Caitlin Schmidt, freelance
Melanie Senn, KCBX Radio
Claire Stremple, Alaska Beacon
Xiaoyuan Su, Chinese Radio Seattle
Viji Sundaram, San Francisco Public Press and Ethnic Media Services
Camalot Todd, Nevada Current
About the USC Center for Health Journalism
The Center for Health Journalism has trained more than 1,400 journalists since 2004 and provided financial support for hundreds of investigative and explanatory journalism projects. In collaboration with the Center, participating reporters have produced stories that have changed laws and policies and launched important community conversations.
The Center advances "impact journalism," which marries powerful narratives, data and community engagement to improve health conditions in communities across America. Read more about the Center here.