Fellowship Story Showcase
Caught in WA's youth mental health 'disaster,' a teen with nowhere to go
Sunday, December 18, 2022
Down the hall from where a tiny toddler is playing, past a colorful mural and a nursing station, 17-year-old Jack Hays lies alone in his hospital bed. 
His head is shaved; he recently contracted lice. It's May, and in the six months since he's arrived at Mary Bridge Children's Hospital in Tacoma, he's gained almost 30 pounds. His room is empty but for a pair of socks discarded on the floor and two cat posters taped to the wall. A staff member is stationed outside his door around the clock, ready to step in when Jack hurts himself — or to call security when he becomes aggressive.
Jack doesn't talk. But his mother, Greta Johnson, has an intuitive ability to understand what Jack needs. Sometimes they use sign language, but Greta often picks up on a slight movement or facial expression signaling Jack's feelings.
On this day, his despair is palpable.
Jack's situation is extreme but increasingly common. He's one of a surging number of Washington children facing mental health challenges so severe that they require hospital stays. Between 2015 and 2021, the total number of hospitalizations nearly doubled among youth whose primary diagnosis is psychiatric, an investigation by The Seattle Times found. Charges to government insurance for youth psychiatric stays did double, rising to more than $151 million last year.
Times has spent the past year examining the toll of the youth mental health crisis at Washington state hospitals, interviewing families and medical staff, reviewing state budgeting documents and combing through tens of thousands of records that track youth psychiatric hospitalizations. This data analysis represents the first detailed accounting of the full costs of these kinds of hospitalizations in Washington during the pandemic: the physical and mental costs to the children who are stuck inside hospital rooms, and the financial costs to their families, hospitals and taxpayers.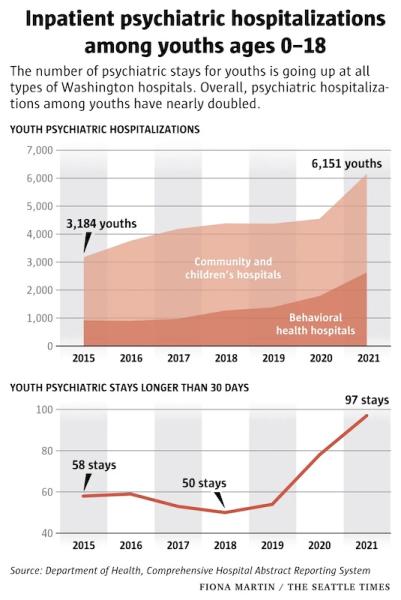 The State officials have blamed pandemic-era school closures, social isolation and lack of access to mental health services.
But the inpatient data confirms what physicians have reported and national research supports. The youth mental health crisis in Washington crescendoed after COVID-19 arrived — but it didn't appear overnight. 
Elected leaders responsible for funding children's mental health services didn't prioritize these programs even as youth psychiatric hospitalizations were rising many years before the pandemic, a Seattle Times review of agency budget requests, governor's office proposals and legislative funding decisions from 2017-2022 shows.
"It really is truly systemic, and it's been increasing over time, and in fact, we've set ourselves up for it," said Rep. Lisa Callan, D-Issaquah, co-chair of the Children and Youth Behavioral Health Work Group.
In general, youth hospitalizations for all conditions, including physical health, have declined over time. But psychiatric-related hospitalizations are surging. Seven years ago, fewer than 3% of youth hospitalizations were for psychiatric reasons. By 2021, that figure more than doubled. 
All types of hospital settings, including community hospitals, children's hospitals and free-standing psychiatric hospitals that serve youth, are reporting increases. Girls and youth assigned female at birth make up an increasingly large share — 71% of such hospitalizations last year. And while psychiatric units are equipped and staffed to treat youth with complex psychiatric symptoms, community and children's hospitals like Mary Bridge usually are not. 
Still, more youth keep coming. 
And in the worst cases, like Jack's, many aren't leaving.
Longer stays
Jack and hundreds of other youth each year occupy a liminal space in the medical system that's neither therapeutic nor medically necessary. He's "boarding," another word for warehousing psychiatric patients in hospital settings that aren't suited to their needs.
Each year, hundreds of youth hospitalizations last for weeks if not months: Last year, at least 97 hospitalizations at Washington's community and children's hospitals lasted longer than a month — and of those, 13 were 100 days or longer. Long stays spiked during the pandemic.
Although long-term stays make up a small share of youth psychiatric hospitalizations overall, they are particularly trying on already overstretched hospital systems, especially as a triple threat of respiratory viruses — COVID, RSV and flu — sweeps the state. Boarders take up beds that would otherwise serve many children in a given day or month, said Tona McGuire, co-lead of the state Department of Health's Behavioral Health Strike Team. Since April, an average of 20 youth were boarding every day at hospitals in Western Washington, according to a system hospitals use to share bed capacity information.
But youth like Jack are stuck in the hospital because they aren't safe to discharge back home. And the intensive outpatient or residential care they need is overwhelmed with monthslong waiting lists. The pandemic created a "perfect storm" — a shutdown in services and a delay in getting youth treatment before they were in crisis — that resulted in a system swamped at all points, McGuire said. A mental health workforce shortage complicates solutions.
It's a "disaster situation," McGuire said. 
"We started out with scarcity and then we have this massive patient surge," she added. "When there is no place to send them, they're sitting for days and weeks … that's our equivalent of not enough ventilators to go around." 
Many of these youth are in emergency departments or in medical units without properly trained staff. And though boarders like Jack typically aren't getting treatment, sleeping in the hospital can cost thousands of dollars each day.
Jack's care has cost upward of $946,000 so far, or $2,483 per day, estimates from Mary Bridge suggest. 
The hospital will eventually seek payment through Jack's Medicaid plan; hospital officials said they expect to be reimbursed about $280 for every day of Jack's stay. Mary Bridge will absorb any extra costs, hospital officials said.
Spending time in the hospital can also wreak physical and emotional havoc. 
Since 2016, Washington hospitals have recorded at least 677 hospital-acquired injuries and infections during youth psychiatric hospitalizations. The inpatient records don't offer details about how or why these conditions occur. But psychiatrists acknowledge youth sometimes self-harm while they're hospitalized, or get injured during an outburst or when staff restrain them. 
Jack has bitten nurses and regularly bites his own hands and wrists, Greta says. 
She visits him every day, driving the half-mile from her home where she lives with her younger son, who, like Jack, is also nonverbal and autistic. Jack lived in a windowless ER room for five months, but by late April he'd been moved to a pediatric unit on the sixth floor. While the new unit still can't provide the care he needs — it's not staffed by a psychiatrist — he has a window and is allowed to take chaperoned walks.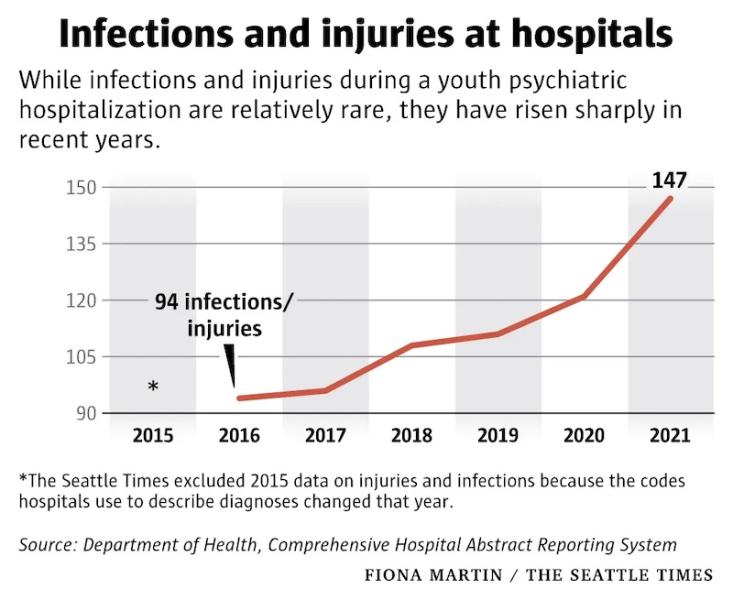 Today, Jack heads toward a row of red Radio Flyer buggies intended for someone much smaller and curls his 6-foot frame inside. His mom pulls him over to a window that overlooks trees. "What do you see?" she asks. He's silent, but leans toward the glass.
Back in his room, Greta tickles Jack, and for the first time today, he breaks into a deep laugh. Then Jack waves his hand, signaling he's ready to be alone. 
"I love you" she says, and kisses his face. He kisses back.
When the safest place isn't safe
Jack, born on July 4, is Greta's "firecracker." 
As a toddler, he started losing skills and his ability to talk, a worrying sign that Greta brought up to his pediatrician. By the time he was diagnosed with autism at age 4, it was too late for the earliest treatments. He was later diagnosed with a sensory processing disorder. And he's been aggressive as long as Greta can remember.
Two years ago, Jack broke Greta's rib. A year later, he bit, hit and kicked her in front of his therapist. When he has violent episodes, she said, "it's like a light switch goes off and he's a whole different person." To keep herself safe while driving with Jack, she installed a caged barrier between the front and back seats of her car. She locks knives out of Jack's reach. And she keeps pushing for behavioral health services that never materialize.
For years she pleaded with the state's Developmental Disabilities Administration for help: "We are still in crisis, what are you doing for us?"
On Dec. 2, 2021, Jack gave Greta a concussion. He was brought to Mary Bridge, and, more than a year later, still hasn't left. 
"We're exhausting every single option that could have ever existed because this is not an OK place for Jack to be," said Vanessa Adams, a behavioral health social worker at Mary Bridge. Adams said she's talked to admissions and sent Jack's clinical notes to 60 different facilities across the country.