California stands on the brink of historic health coverage expansion. Which way will the state go?
Image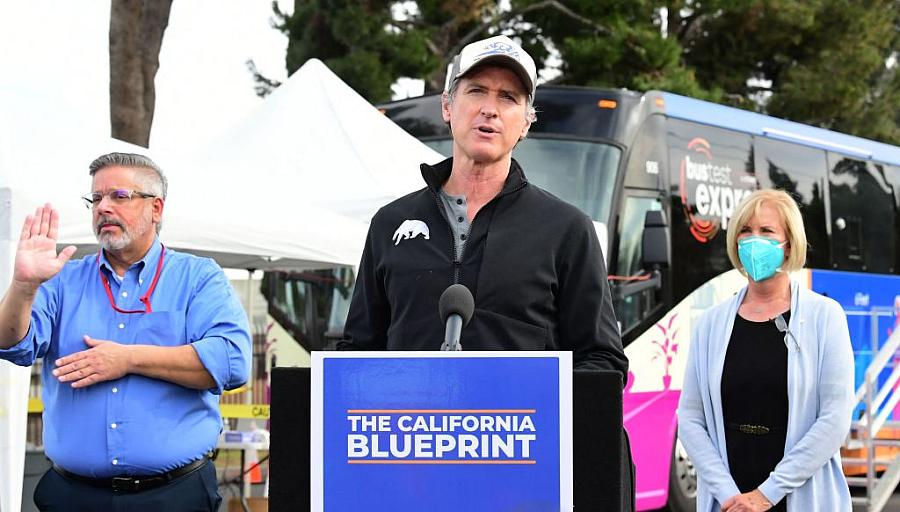 (Photo by Frederic J. Brown/AFP via Getty Images)
Published on
January 31, 2022
California is on the cusp of becoming the first state to offer all residents health care coverage, regardless of their immigration status. But figuring out the best way to do that is the focus of current debate. 
"It's an amazing threshold moment for us," said Katie Heidorn, the executive director of the health policy nonprofit Insure the Uninsured Project. "It's really no longer a question should everyone be covered, but how should we make it accessible and affordable to everyone and how do we pay for it?"
This year, California lawmakers who support the expansion will have a choice: add more people to the current public health system or overhaul it altogether with a single-payer option for everyone. Advocates say either represents a trail-blazing move, even though challenges in accessing care would remain.
The right moment, proponents say
While there have been multiple efforts to create universal health care in California in recent years, the political landscape might be finally ripe for the effort, said Heidorn, a longtime health policy observer. Gov. Gavin Newsom campaigned in support of single-payer health care, and the state fully embraced the Affordable Care Act, which significantly expanded coverage through Medicaid and the health exchanges. 
"We are close to universal coverage already, with the implementation of the ACA, recent coverage expansions in Medi-Cal, and subsidies made available to people purchasing coverage through Covered California," Heidorn said. "The proposed expansions and subsidies outlined by the governor would close most of the remaining gap."
California residents currently receive health care in a variety of ways. Nearly half of state residents have private insurance coverage from their employer, according to Kaiser Family Foundation 2019 data. About one-third of Californians rely on Medi-Cal, the state's Medicaid program for low-income adults and children. Older adults receive coverage from Medicare, the federal government health plan for older adults, and some residents who earn too much to qualify for Medi-Cal purchase private insurance through the ACA's marketplace plans, often using government subsidies to help with the cost.  
Since 2016, California has provided Medicaid benefits to all low-income children, regardless of their immigration status. More recently, the state expanded Medicaid in 2020 for low-income younger and older adults regardless of immigration status, leaving out adults age 26 to 49.
Closing the coverage gap
Newsom's current budget proposal would use state funds to close that uninsured gap, extending Medicaid coverage to all qualifying residents regardless of immigration status, starting in January 2024. The budget also provides for enhanced subsidies for those who buy their health insurance on the exchange plans.
While Newsom had previously voiced support for a single-payer system, he's stayed quiet on the current legislation put forward by state Assembly member Ash Kalra, D-San Jose, leading some observers to view this effort as his more practical alternative. It would fill the coverage gaps, without the hefty cost and logistical burden of starting anew.
"The governor's proposal to expand Medi-Cal to the 26 to 49 group could be a direct alternative to what's happening in the legislature," said Paulette Cha, a research fellow at the Public Policy Institute of California, whose research focuses on the health of underserved populations. "It makes sense, this more incremental approach, which is less of an overhaul of the entire system."
It would still be a significant coverage expansion, addressing a large population who may have gone long periods without accessing primary care, she said. The state estimates the measure would extend health care to about 764,000 undocumented immigrants.
"This is the big one – the big expansion," Cha said. "This is most of the individuals we think of as still needing health care."
This year, nearly 3.2 million Californians will still be uninsured, and undocumented residents make up the largest portion of that group, according to researchers at the UC Berkeley Labor Center and the UCLA Center for Health Policy Research. In 2022, two-thirds of undocumented Californians under the age of 65 will still be uninsured, they found, with even more seniors who weren't included in the modeling.  
The budget proposal pegs the expansion at $2.7 billion annually once it's fully implemented. The provision to further expand Medicaid is part of the state budget process, which means it a revised version will likely come in May, with the legislature voting on passage by mid-June. 
Single payer, with financing bill
Meanwhile, the state assembly is considering a single-payer option. Assembly Bill 1400, or CalCare, would overhaul California's health care system altogether, cutting out all insurers —including Medicare and Medi-Cal — and creating one public plan for everyone. Along with the logistical hurdles of creating a new system, there is a big funding question.
While previous single payer efforts haven't addressed the financial details, this latest effort has a companion funding bill. Assembly Constitutional Amendment 11, lays out the effort's funding strategy, which would come through a variety of taxes on individuals and businesses. It remains unclear exactly how much a single-payer system would cost, and the cost of such plans has proved a major stumbling block for similar efforts in the past.
"This is the big one — the big expansion. This is most of the individuals we think of as still needing health care." 

                                                              — Paulette Cha, Public Policy Institute of California
"Running a companion tax bill lets the Legislature have that conversation: What does it cost and who pays for it?" Heidorn said.
There are other big questions, too, observers say. For example, what would happen to the money the federal government pays for Medicare and its shared cost of Medi-Cal? Would the government agree to send those funds to California, or would the state be on its own? And will a significant lobbying effort led by powerful insurance companies, medical groups and hospitals block the effort?
AB 1400 requires a simple majority approval vote in the Assembly by Jan. 31 before moving on to the Senate. The governor has the power to veto this legislation. The companion funding component (ACA 11) would require a two-thirds vote in both chambers before going before voters on the ballot.
Coverage doesn't equal access
The legislative strides are also set amid a backdrop of other health care reform efforts such as the Healthy California for All Commission, a group tasked with creating recommendations to improve health care delivery, financing and access.
While both legislative approaches represent groundbreaking leaps in advancing coverage, access challenges will likely persist, observers say. Even if more people had health insurance on paper, they may still struggle to get care in areas like the Central Valley that face chronic provider and specialist shortages.
Under Newsom's proposal to expand Medi-Cal regardless of immigration status, some undocumented immigrants might still refuse coverage, fearful those benefits could negatively impact future citizenship efforts. Unhoused people and farm workers who move around the state might also struggle to get care.
Still, there is reason for optimism in increasing coverage. Either of the current choices would represent a significant step forward for the state and have an outsized impact on some of the state's most vulnerable residents. It's even more striking when you consider the ACA's landmark coverage expansion didn't roll out until 2014.
"If California does this, it would be enormous," Heidorn said. "It's an exciting moment that could change the lives of many people."  
**