Coronavirus Files: Latest data shows prisoners were vulnerable to COVID
Image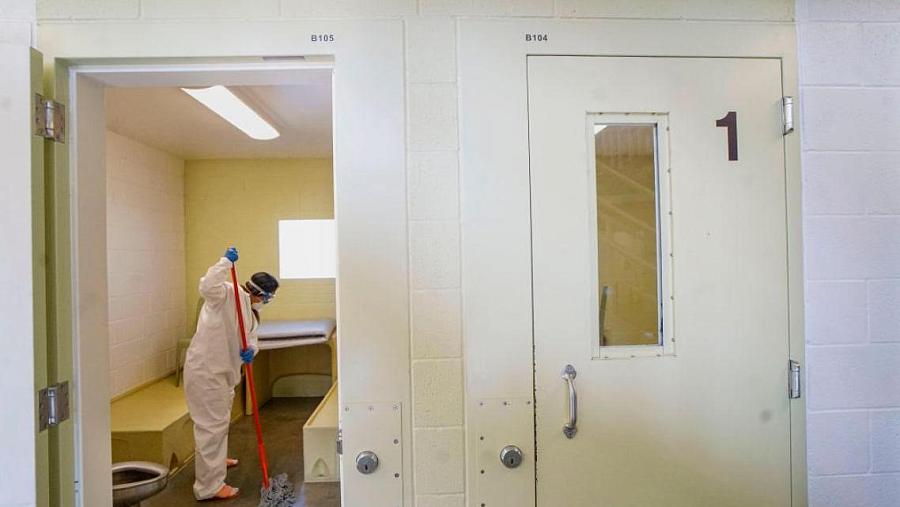 Photo by Sandy Huffaker/AFP via Getty Images
Published on
February 27, 2023
COVID and associated factors killed prisoners at high rates in 2020
The death rate in state and federal prisons rose by almost 50% during the first pandemic year, according to a new UCLA data project.
Prisons saw a bigger change in their death rate than the nation overall, and even higher than the increase in deaths in nursing homes, report Jennifer Valentino-DeVries and Allie Pitchon at The New York Times.
"Never before have the country's prisons seen such a steep increase year-to-year," write Michael Everett and Lauren Woyczynski in an introduction to the UCLA Law Behind Bars Data Project.
The project relied on online research, web scraping, and public records requests to tally 6,182 prison deaths in 2020. For comparison, there were 4,240 deaths in 2019, and the prison population overall actually dropped in 2020.
A combination of factors led to the elevated vulnerability of prisoners. Prison populations are aging, due to lengthy sentences handed down during the 1980s and 1990s. 
Prisons are also understaffed, because the jobs tend to be poorly paid and dangerous, and some people didn't show up to work over COVID fears.
It's difficult to recruit medical staff too, and many prisoners couldn't visit outside physicians during the pandemic.  
"Clearly the pandemic is the story, but it is just a part of the story," said Aaron Littman, acting director of the UCLA project. 
A lack of testing early on could also have made it harder to control infections, suggested Chrysti Shain, a spokesperson for the South Carolina Corrections Department.
Many infections may have been missed, or deaths not properly linked to COVID, due to "inadequate and opaque testing regimens," write Everett and Woyczynski.
Pandemic impacted motherhood choices unequally
The pandemic could have long-term effects on family planning, with women of color and those who lost income due to COVID among those most affected, according to a new study in the journal SSM – Population Health.
The authors, from UC San Francisco and Johns Hopkins Bloomberg School of Public Health, surveyed more than 2,000 women in July of 2020, and again the following January, about whether the pandemic had influenced their thinking about fertility. 
Just over half the women reported a reduced desire to have a child, or an intention to delay doing so, during the first pandemic summer. By the following winter, 46% still said the pandemic had a negative influence on their childbearing desires.
Women who were Latina, Black, multiracial, or Indigenous were more likely to plan to delay having a child than white women in July 2020. These same groups were more likely to have a decreased interest in having a child overall six months later. 
Pandemic income loss was also associated with changes to childbearing preferences, including a loss of desire or wish to delay.
"These unequal effects are likely to further drive longstanding reproductive inequities in the U.S.," write the authors. "As the effects of the pandemic persist, and in the face of the next crisis, it is critical that health care resources, including abortion access, family planning, maternal health, and fertility care, are directed to populations most at risk of long-term consequences."
Idaho lawmakers aim to criminalize mRNA vaccinations
If two Idaho Republicans get their druthers, giving someone an mRNA-based vaccine in the state would become a misdemeanor.
State Sen. Tammy Nichols and Rep. Judy Boyle introduced the bill to ban mRNA technology, by updating the criminal code, starting of July 1.
Idaho already has one of the nation's lowest COVID vaccination rates.
Nichols told the Idaho House Health and Welfare Committee that the pair "have issues" with the speed at which the COVID vaccines from Pfizer and Moderna were developed.
"Nichols said there is no liability, informed consent or data on mRNA vaccines," reports Alexandra Duggan at KTVB7 in Boise.
There is plenty of data on COVID vaccine efficacy and safety. While not all states have informed consent laws for vaccines, recipients are given vaccine information statements that cover risks and benefits. 
However, it's true that neither drugmakers nor the FDA can be held legally accountable for vaccine side effects. 
"The recent bill introduced in Idaho is another frightening example of politicians and special interest groups trying to take away the rights of individuals and parents to make health care decisions," Dr. Daniel Griffin of the Optum Care network told USA Today's Thao Nguyen. 
Such a ban, if enacted, would bar Idahoans from not only COVID vaccines, but other mRNA vaccines under development against infectious diseases such as flu, as well as to treat cancer.
The next step in Idaho would be a committee hearing and vote.
From the Center for Health Journalism
2/28 Webinar: How the Opioid Crisis Devastates Families
As the nation's opioid crisis escalates, children and families bear and overwhelming toll. This webinar will explore the psychological, financial and practical needs of families shattered by drug use, the long-term implications for a generation buffeted by grief and trauma, and ideas for reporting on the far-reaching damage of the opioid epidemic with nuance and sensitivity.
Feb. 28, 11 a.m.–12 p.m. PT. Sign-up here!
2023 Domestic Violence Symposium and Impact Reporting Fund
The Center for Health Journalism's two-day symposium on domestic violence will provide reporters with a roadmap for covering this public health epidemic with nuance and sensitivity. The first day will take place on the USC campus on Friday, March. 17. California journalists coming from outside Southern California are eligible for a $300 travel subsidy, and will be eligible to apply for a reporting grant of $2,000 to $20,000 from our Domestic Violence Impact Reporting Fund.
What we're reading
Events & Resources