Coronavirus Files: Most Americans Support Bold Government Response to COVID-19 Pandemic
Image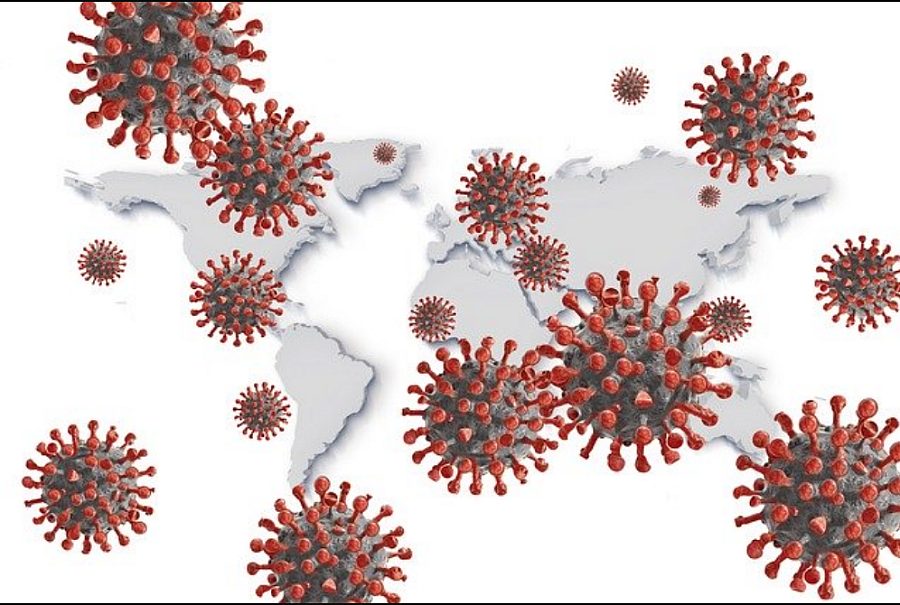 Published on
August 11, 2020
The Center for Health Journalism has begun offering a special newsletter geared to journalists as they report on one of the biggest and most complex stories of our times. Each Monday, while the pandemic runs its course, The Coronavirus Files will provide tips and resources and highlight exemplary work to help you with your work. This week, the Center for Health Journalism's Coronavirus Files Monday newsletter is curated and reported by science writer Sofie Bates. Have a suggestion or a request? Write us at editor@centerforhealthjournalism.org.
From the Center for Health Journalism: What Comes Next for Public Safety?
Sign up for this Wednesday's Webinar
There have been growing calls
for U.S. cities to rethink how they police their communities in the wake of George Floyd's killing and nationwide protests against police brutality and systemic racism against communities of color. The range of proposals is vast, from minor budget trims and calls for more transparency to defunding police departments and reinvesting those funds in a host of community services that can respond during crises and address underlying needs. In this webinar, we'll explore the various proposals to reform, defund or abolish police department     s, with the broader goal of helping reporters understand and critically evaluate efforts playing out in their own communities. 
Sign up here for the 
August 12
, 2020 webinar at 10 a.m. PT / 1 p.m. ET
.
The Health Divide, Delayed Test Results and Broad Support for Pandemic Restrictions
Despite Stringent Restrictions, Choctaws are Hit Harder by COVID-19
Within the Choctaw tribe in Mississippi, nearly 
10% have tested positive for COVID-19
. Seventy-five of about 11,000 members have died. Choctaws have been disproportionately impacted by the pandemic in Mississippi, even though the tribe has implemented more stringent COVID-19 measures than the state. The tribe required masks a month before Mississippi did, and the Choctaws have kept their casinos closed even though the state allowed casinos to reopen two months ago. Still, cemeteries in the Choctaw community are "running out of space — a sign of the virus's massive toll on the Choctaw people," 
Leah Willingham 
writes for the 
Associated Press
.
While they battle the physical and emotional toll of the coronavirus, members of the Choctaw tribe are facing worsening discrimination as well. Tribe members have reported being blamed on social media for higher COVID-19 numbers. Others have experienced that discrimination in person, being harassed or called names in public.
Americans Support Aggressive Restrictions to Stop the Pandemic
"While debates over masks and whether to reopen have dominated headlines, more than three-quarters of respondents 
support enacting state laws to require mask wearing in public
 at all times," writes 
Brian Mann 
for 
NPR
. A mandatory shelter-at-home order for two weeks, closing all restaurants and nonessential businesses, and banning travel between states all received between a 55 and 59% approval rating.
See the full results, as well as a breakdown of responses by political party, 
here
.
COVID-19 Test Results are Often Too Late to Be Useful
Across the country, people are clamoring for coronavirus tests to inform their medical care, determine whether its safe to see friends and family and to simply assuage their fears. But though testing has become more available — U.S. testing has ramped up to around 755,000 people per day from 640,000 a month ago — 
delays in results make some testing pointless
, write 
Sarah Mervosh 
and 
Manny Fernandez 
for the 
New York Times
.
Health officials recommend tests be turned around in 24 to 48 hours to slow the spread of the virus by quarantining infected individuals and tracing who they've been in contact with. But most people don't get results within that timeframe, according to a nationwide survey. The average turnaround time for COVID-19 test results in July was four days. Wait times were around one day more for people of color­, who have collectively been hit hardest by the pandemic. About 10% of all survey respondents said they'd waited 10 or more days for results.
It's an issue of supply and demand, write 
Sarah Mervosh 
and 
Manny Fernandez 
for the 
New York Times.
 About half of COVID-19 tests are processed by a few large laboratories that are rushing to complete thousands and thousands of tests. On top of that, there's a national shortage of the equipment and chemicals needed to test for the virus.
"With testing chemicals and other equipment in short supply, and a surge in coronavirus cases nationwide leading to skyrocketing demands, many Americans are still having to wait many days for results, effectively rendering those tests useless," write 
Mervosh 
and 
Fernandez
.
Antibodies Could Help Fight COVID-19 Until We Have a Vaccine
While most of the attention is focused on developing a COVID-19 vaccine, some scientists are turning to 
another way to fight the pandemic
: 
monoclonal antibodies
. These lab-engineered antibodies are injected into the body, where they act as stand-ins for the body's own antibodies. The idea is to incapacitate the coronavirus using the injected antibodies, which bind to spikes on the surface of the virus and block infection. Antibodies could prevent healthcare workers from becoming infected with COVID-19 and make the disease less severe for hospitalized patients, writes 
Jon Cohen 
for 
Science
, buying time while the world waits for a vaccine.
Several pharmaceutical companies have begun human trials to test cocktails of multiple antibodies. The first human trial using antibodies launched in late May – about a month or two after the first human trials for a COVID-19 vaccine. But antibodies could be ready before a vaccine, writes 
Cohen
. Vaccine trials take longer because participants must be vaccinated, wait to see if their body mounts an immune response, and then be exposed to the coronavirus. Instead, antibodies are given to people who have already been exposed to COVID-19 in human trials of antibody-based treatments.
The process to make antibodies is expensive, though, and the cost of treating COVID-19 with high doses or multiple rounds of antibodies "could split the world into the haves and have-nots," 
Cohen 
writes. The federal government has dedicated $8 billion to developing a COVID-19 vaccine as part of 
Operation Warp Speed
; only about $750 million has gone to antibody studies.
"Regardless of cost, evidence that monoclonals work as preventives could benefit everyone by giving vaccine makers a clear sign that antibodies against the surface protein of SARS-CoV-2 are enough to protect a person," writes 
Cohen
. Such evidence would also help evaluate which vaccine candidates are more promising than others, he adds.
And Don't Miss...