Coronavirus Files: Pandemic endangers minority cancer patients, pregnant people
Image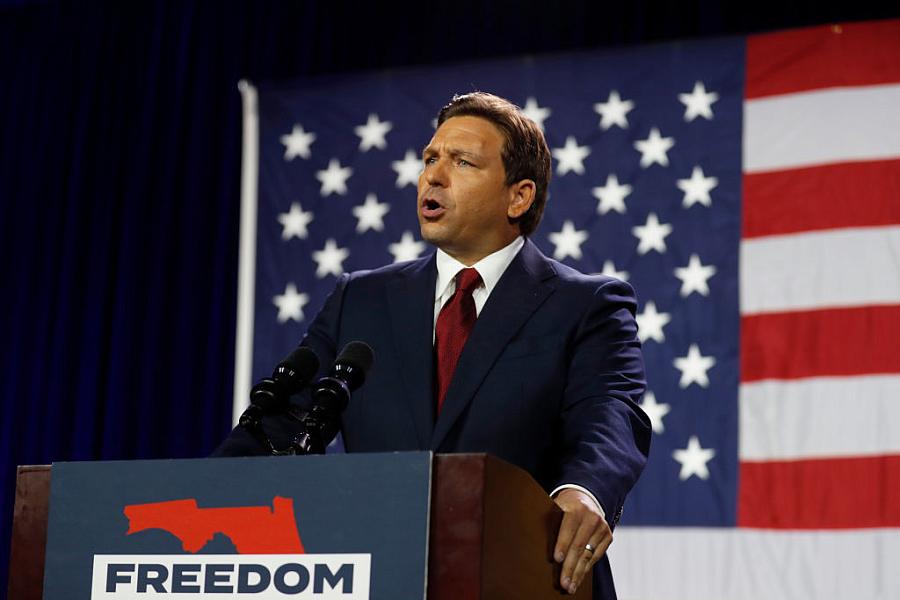 Photo by Octavio Jones/Getty Images
Published on
January 23, 2023
Florida Gov. Ron DeSantis is calling for long-term rules against school mask mandates and workplace vaccine requirements, reports John Kennedy at USA Today. The move is widely seen as part of his presumed candidacy for the Republican presidential nomination in 2024.
Florida enacted temporary laws against such mandates in late 2021, but those regulations expire in June. DeSantis now seeks to make the bans permanent, framing the issue as central to Floridians' freedom.
Florida state House Minority Leader Fentrice Driskell accused DeSantis of spreading "a dangerous message," reports CNN. 
DeSantis' stance against protective COVID measures is part of a major reversal; he touted vaccines as lifesavers in early 2021.
It places him well to the right of his likely rival for the Republican nomination, former President Donald Trump, whose Operation Warp Speed supported COVID-vaccine development.
DeSantis' politics are having impact as far away as Las Vegas, where last week the Elko County Board of Health considered a moratorium on both COVID and flu vaccines. 
The item was placed on the agenda by a concerned resident, who also suggested pausing local vaccine advertisements due to the ongoing Florida Supreme Court case "to investigate the wrongdoing related to COVID-19 vaccines," reports Jessica Hill at the Las Vegas Review-Journal.
The Board of Health decided it had no authority to block the vaccines and noted it does not advertise the vaccines beyond telling people where to get them. 
Pandemic exacerbated inequities in cancer treatment
Black and Hispanic cancer patients who tested positive for COVID-19 were more likely than white patients to experience lengthy delays in treatment or discontinue it altogether, reports Elana Gotkine at HealthDay.
Black and Hispanic people had worse cancer outcomes before the pandemic, and the effects of COVID-related treatment delays are likely to ripple for years to come, write the authors of the study in JAMA Network Open.
The pandemic forced physicians and clinic to balance the need for rapid cancer treatment with the risk of transmitting COVID, as well as the risk posed by complications from the coronavirus among their patients.
To analyze inequities, the researchers from Columbia University and elsewhere used data from more than 4,700 patients in the American Society for Clinical Oncology's COVID-19 Registry, which covers April 2020 through July 2022. The authors did not include people who died.
Black patients were most likely to experience a delay of more than two weeks or discontinuation of cancer treatment in the wake of a COVID diagnosis. 
Black, Hispanic, Asian American and Pacific Islander patients also experienced longer delays in restarting their cancer medications than white people. For example, Black patients waited 19% longer than white patien
Geography also mattered: cancer patients who lived in ZIP codes with factors such as low household income or lack of college education were at added risk to delay or stop treatment after a COVID-19 diagnosis.
Large study confirms COVID risk to pregnant people, infants
Getting COVID while pregnant raises the risk of death more than sevenfold compared to a pregnancy without infection, according to a new analysis in BMJ Global Health.
COVID also amplified risk for developing pneumonia, needing a ventilator, or being admitted to intensive care among pregnant people. Babies of infected mothers were more likely to be born preterm or require intensive care after birth.
The researchers, led by Emily Smith of George Washington University, analyzed 12 different studies covering more than 13,000 pregnant women, of whom about 2,000 had COVID. The research covered 12 nations including parts of Africa, Europe, Asia, and the United States.
"Having COVID and pregnancy increases risk for both mom and baby," Smith told Brenda Goodman at CNN. "It's consistent, you know, whether we're talking about Sweden where we have really generally great pregnancy outcomes to other countries that, you know, have bigger problems with maternal morbidity and mortality."
The pregnancies in the study spanned February 2020 to July 2021, before many people were vaccinated and before the omicron era. Thus, it's not clear what the risk of infection is for pregnant people today, when most people have had some immune exposure by way of vaccines or the virus itself. More than 70% of pregnant people in the U.S. are now vaccinated, according to CDC data. 
Then again, that immunity can wane, and fewer than 20% of pregnant people have received the latest booster shot.
Vaccination rates are highest among Asian and white pregnant people, and below average for Black and Hispanic pregnant people.
Smith told The Washington Post's Sabrina Malhi that the low vaccination rates among pregnant people may be due to "the assumption that if a person is pregnant, they are probably young and for the most part healthy."
Many pregnant people have also fallen prey to misinformation about the vaccine during pregnancy.
"Even if there is confidence overall in vaccines for adults, hesitancy can emerge when someone is having a child or trying to become pregnant," Malhi writes.
In addition, Dr. Jennifer Lighter of NYU noted that some gynecologists and obstetricians are not placing a high enough priority on getting their patients vaccinated.
From the Center for Health Journalism
Webinar: The Next Wave of America's Overdose Crisis
The nation's overdose epidemic has entered a devastating new phase. Drugs laced with fentanyl and even more poisonous synthetics have flooded the streets, as the crisis spreads well beyond the rural, largely white communities that initially drew attention. The death rate is escalating twice as fast among Black people than among white people. This webinar will give journalists deep insights, fresh story ideas and practical tips for covering an epidemic that killed more than 107,000 people in the U.S. last year.
January 31, 11 a.m. PT. Sign-up here!
What we're reading
Events & Resources