The pandemic's hidden crisis: Parents struggle to afford diapers
Image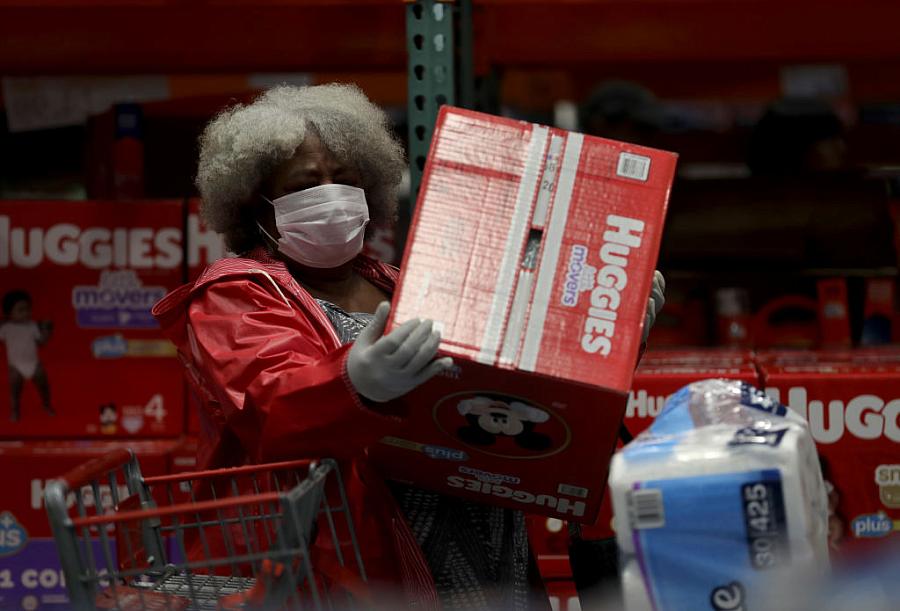 Published on
August 18, 2020
In the last few months, Bundles of Hope, a diaper bank based in Birmingham, Alabama, has been flooded with emails, phone calls and visits from single fathers who have lost jobs, grandmothers plunged into caregiving, and families in nice cars.
"These are not the families that we see on a regular basis," said Lindsay Gray, the executive director. "They're having to seek out assistance when they've never done so before."
In Alabama and across the nation, massive job losses have forced more people to seek donations, and not just for food. Before the pandemic, the need for free diapers and other hygiene products was great but not often discussed openly. Now it has become dire, laying bare the government's failure to provide necessities that are critical for the health of babies and toddlers, the emotional wellbeing of their parents, and the economic security of their families.
Gray's organization assisted 1,000 families a month with bundles of diapers before the coronavirus hit. Now, 2,000 families a month from four counties across the state seek help.
"It's overwhelming," she said. "We're trying to do the best we can."
While federal nutrition programs such as Women, Infants, and Children (WIC) and the Supplemental Nutrition Assistance Program (SNAP) help families put food on the table, no similar program exists for diapers, wipes and other hygiene essentials.
Researchers have found that nearly half of U.S. families with infants and toddlers live at or below 200% of the federal poverty level. In addition to struggling to buy diapers, these families often experience food insecurity and difficulties affording housing, transportation, utilities and health care.
Before the pandemic at least one in three American families reported experiencing a diaper need for their infants, according to the National Diaper Bank Network, based in New Haven, Connecticut. Diaper banks, many of them nonprofits, meet about 4% of the need. Under state laws, most child care centers require parents to provide at least a day's supply of disposable diapers. Without them, a parent may not be able to leave a child with a caregiver to go to work or look for a job.
"I think a society that leaves families to choose between feeding themselves and keeping their children clean shows we have our priorities misaligned," said Joanne Goldblum, who founded and leads the diaper bank network.
By expanding partnerships with organizations and businesses, diaper banks are now distributing on average 50% more diapers a month, but it still isn't enough, many say.
A newborn may need eight to 12 diapers a day for a few months after birth. Children may need at least 50 diaper changes per week, according to the National Diaper Bank Network.
A one-week supply of diapers can cost $20. This adds up over the years it takes a child to become fully toilet trained. "On average, children complete daytime toilet training between the ages of 22 months and 4.5 years and complete nighttime toilet training from ages 3.5 to 5 years," according to a study published in January by the American Journal of Public Health.
"Without diaper changes at regular intervals, young children are susceptible to dermatological and urinary tract infections," according to the study's researchers. "The stress of diaper rash and the experience of diaper need are associated with parental anxiety and elevated levels of maternal depressive symptoms."
The stress of poverty and seeking ways to buy diapers affects low-income mothers, who may in turn pass on that stress and anxiety to children, said Megan Smith, an associate professor of psychiatry at Yale University and founder of the MOMS Partnership. The pressure is especially great now: nearly 60% of all job losses during the pandemic have affected women, she said.
Poverty is not just the experience of having less, but it's also the feel of poverty, of having shame, anxiety, and fear, Smith said.
"If you're worried about supplying diapers for your child, that doesn't leave a lot of room for attaching and bonding," she added.
Nine states, including California, Connecticut, Minnesota and Pennsylvania, ban retailers from charging tax on diapers. Beginning in October, families who are part of California's Welfare-to-Work program can receive a $50 voucher each month for diapers for every child up to 2 years old.
While the National Diaper Bank Network has worked for nine years to raise awareness of the need for a federally funded program, there has not been broad support until recently. A bipartisan proposal in Congress sought $200 million in aid for diaper assistance as part of new coronavirus relief legislation, but talks on a package have collapsed.
Meanwhile, diaper banks have garnered more support from local businesses and philanthropic organizations, Goldblum said. A decade ago, there were 30 to 40 diaper banks nationwide. Now there are closer to 300. The issue has gained steam on social media, as diaper banks have launched a campaign called #enddiapeneed.
"A lot of our mommies are having a hard time finding food," said Suzette Servin, clinic manager from St. John's Well Child and Family Center, in Lynwood, California. "They are asking for anything extra, more now than before."
New Jersey's Moms Helping Moms diaper bank also has felt the crush of need. From March to June, the bank distributed 237,991 diapers, or 179% more than in the same period last year, said program director Rebecca Tucker.
In Florida's Miami-Dade County, where tourism has plunged and food drives have grown, basic needs for babies have also risen to levels unseen, even in an area accustomed to providing residents with emergency goods after hurricanes.
"We usually donate 500,000 to 600,000 diapers a year," said Gabriela Rojas, executive director for the Miami Diaper Bank. In just the past four months, the diaper bank has donated 1 million
diapers.
"Families are thinking first, food on the table, then making sure they will be able to pay their rent and keep the lights on," Rojas said. "Diapers are not the top priority. We don't believe any parent should have to make that choice. I have a 5-year-old myself. I could not imagine having to make the decision."
It's a decision that Zoraida Martinez, 26, must make each month. She had been a nursing assistant at a Miami area nursing home but was laid off during the pandemic. She was also hospitalized for kidney-related health issues. She said without the diaper bank's help, she would not have known how to provide diapers to her 20-month-old baby.
"It's been a blessing," she said.