NATAL: Season One Conversation Guide
Image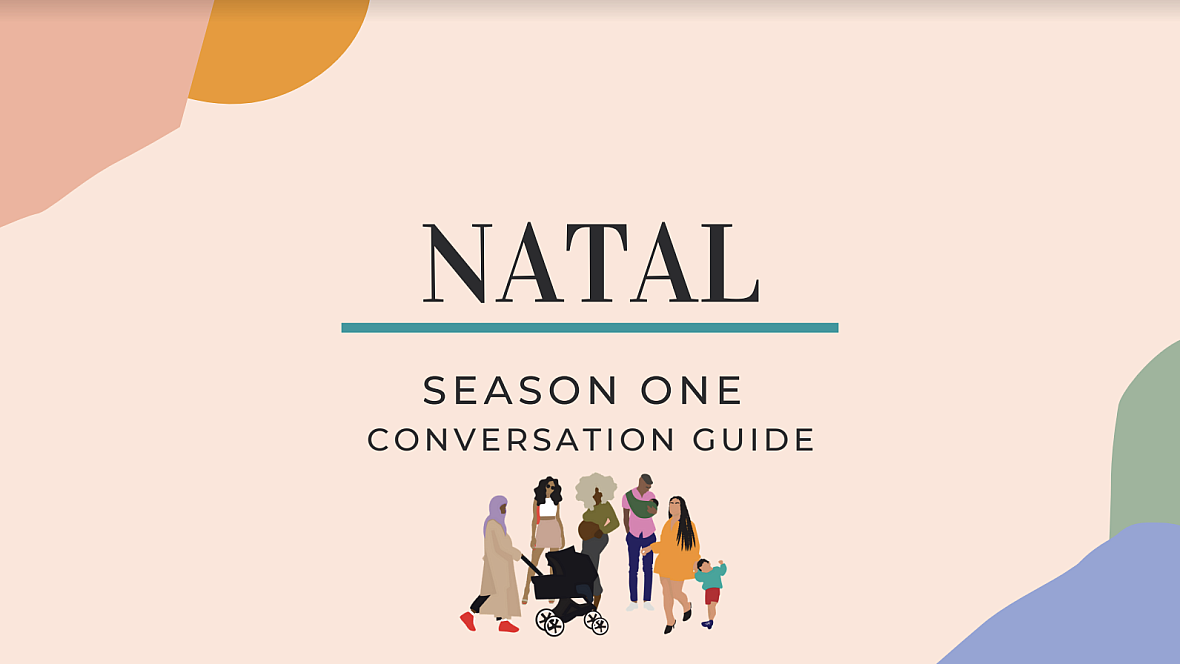 Published on
June 1, 2021
Before you begin:
We encourage you to use this guide while listening for a more exploratory experience and to envision a future that has everything Black birthing parents deserve. While podcasts are often enjoyed individually, we understand the benefits of sharing and discussing new content with others. After all, we believe in the power of storytelling to educate, inspire, empower listeners across the world. We are offering several preliminary questions and ideas you may want to consider before beginning your group conversation:
What goals will this discussion help you or organization to accomplish?
Who are you inviting into this discussion? What is their experience with this content?
How much time do you plan to devote to each conversation?
Is there anyone you would like to invite (Black parents, birthworkers, clinical providers, advocates, etc.) to add to the content?
Will you set conversation ground rules? What about grounding your discussion within a framework? For example:

A"systems framework" would help guide the discussion to focus on the role institutions and whole systems
A "placed-based framework" guides the discussion towards the entire community and aims to address issues that exist in a neighborhood (inadequate housing, resource accessibility, economic and educational opportunities, etc)

How will you host these discussions? Platforms like Zoom offer free video conferencing software if your guest list has access to reliable digital resources. Check out this guide to facilitating virtual discussion groups.
If you would like to share takeaway readings and resources with your group, visit NATAL's resource hub!
We encourage you to refer to the short glossary at the end to see definitions of bolded terms.
1. Myeshia's Story
Myeshia is a married, 34-year-old cis Black queer woman with a PhD. Two weeks after giving birth to her first child in a Southern California emergency room, things take a turn for the worse. (23:16)
Nationally, we know that Black mothers are 3-4x more likely to die from pregnancy and childbirth-related causes. What is going on in hospitals and clinics that causes such poor outcomes for Black birthing parents? How can this health disparity be addressed?
What is preeclampsia? What is postpartum preeclampsia? What kinds of symptoms should parents, friends, and providers be paying attention to?
How would you describe Myeshia's interaction with her care team: her OB-GYN, nurses and emergency room hospital staff? How might her team have supported her more fully? (Click here to play clip)

What kinds of changes within hospitals could foster trusting and open relationships between staff and Black birthing parents?

Has anyone in your life experienced anything similar to the events featured in this episode? How did they navigate that experience?
Whether you're a partner, friend, provider, or advocate; how would you support another parent through a similar experience?
2. Roots of the Black Birthing Crisis
Martina explores the historical roots of modern obstetrics and gynecology. Dr. Joia Crear-Perry and Dr. Mimi Niles explain how flaws in medical education and research contribute to the Black birthing crisis. (25:55)
What did you know about the history of Black birthing in the U.S. before you listened to this episode? What surprised you?
What is institutional racism? How does it affect Black birthing parents' care?
In order to achieve birth equity; healthcare and birthing institutions have to grapple with their racist beginnings. How can providers address racism in perinatal care settings to ensure Black birthing parents and infants receive quality care?
Do you think Dr. Crear-Perry's trust-building visits with expecting parents should be required? Why or why not? How might trust-building be systemically built into patient care? (Click here to play click)
What are the social determinants of health that can influence Black parents' childbearing experience?
Dr. Mimi Niles emphasized the importance of training birthworkers that are anti-racist. What would anti-racism look like in hospital or clinic settings?
3. Mikah and Cecilia's Stories
Facing unplanned pregnancies in their 20s, Mikah and Cecilia's hospital births reveal how access to childbirth education, support systems, and the lack of standardization of care shaped their individual journeys to becoming parents for the first time. (40:20)
Research states that somewhere between 40-50% of pregnancies in the U.S. are unintended. How can parents ensure their baby's needs are met even when they had not initially planned for pregnancy?
Can you think of any provider practices, resources, or policies that could create healthier environments for unplanned pregnancies?
According to the Centers for Disease Control and Prevention (CDC), young Black women are more likely to receive delayed prenatal care. Why do you think this is?
One of Mikah's first postpartum memories is receiving the birth control drug Depo-Provera -- even though they didn't request it, nor did they know why it was being administered. How can policymakers and providers ensure Black birthing parents' agency is not compromised while receiving care? (Click here to play clip)

How can neighborhood resources play a role in the care Black parents receive during pregnancy? What resources are available in your community that support expecting and new parents? What resources do you think are still needed in your community?

What is a birth plan? Who should be involved in creating a birth plan? What would you include in a birth plan?
Both Mikah and Cecilia had worries about their abilities as parents after giving birth. What are some things that went well during their journeys that could help them gain confidence? Why is it important for new parents to fully process their experiences and feel their emotions? What would you say to them?
4. Shellie's Story
After trying to conceive for 10 years, Shellie was finally having her dream baby, but the challenges of motherhood slowly evolved into a silent struggle with postpartum depression. Reproductive psychiatrist Dr. Sinmi Bamgbose shares how she's working to expand mental health resources for Black birthing parents. (Episode length- 41:35)
Why is mental health care important to healthy perinatal journeys?
What is postpartum depression (PPD)? What kinds of symptoms might someone experience if they have PPD?
Black Birthing parents suffering from PPD and other mental health challenges are more likely to go undiagnosed. How can providers better screen for PPD in Black parents?
What is mental health stigma? How can you, either individually or through the variousncommunities you're a part of, address and eliminate the mental health stigma? How can we normalize discussions about mental health?

Which parts of this story could you relate to the most? Why?

Shellie discussed her PPD for the first time on NATAL; what are some ways you can hold space for Black birthing parents in your life who may be living with PPD and anxiety? Has anyone in your life helped you feel empowered to talk about your own mental health?
What kinds of programs, training, or policy changes need to be implemented in order to realize Dr. Bamgbose's vision of care for Black birthing parents? (Click here to play clip)
5. Marilyn and Yvonne's Stories 
Marilyn and Yvonne are two parents determined to grow their families. When pregnancy loss disrupts their plans, they turn to their faith. Please note, this episode contains graphic details about miscarriage and stillbirth. (44:51)
What did you know about pregnancy loss before you listened to this episode? What surprised you?
The National Institutes of Health (NIH) estimates that Black parents are up to twice as likely to suffer miscarriages. What factors may contribute to Black parents' disproportionate rates of loss?
How are Black experiences of loss unique? How should medical staff and birthworkers support parents who experience loss?
What can the healing process look like for Black parents? What steps did Marilyn and Yvonne take while healing? What healing challenges may Black parents face?

Yvonne shared that her experience with pregnancy loss led her to become a bereavement doula. Understanding that healing can look differently for everyone, what are some other resources that could provide support to parents during this process? (Click here to play clip)

How can you hold space for Black birthing parents in your life who have suffered such losses?
Both Marilyn and Yvonne relied heavily on their faith during their journeys; how might spirituality nurture healthy perinatal outcomes?
6. Brittany's Story
Unable to find an OBGYN that reciprocated the genuine excitement and warmth she felt about becoming a mother for the first time, Brittany pursues prenatal care with a midwife. In this episode, we explore alternative care models, the vital role of partners and loved ones, and hear from Demetra Seriki, a midwife in Colorado, who is determined to make sure all Black birthing parents can afford quality, affirming full spectrum care. (53:38)
What did you learn about how midwives and doulas differ during this episode? What surprised you? Do you have any experience working with either? If so, how did it go?
Brittany and her partner were super excited when they found out they were pregnant; but they felt unheard and unseen after their first two OBGYN appointments. How can providers be held accountable, and then do better, when their bedside manner causes strife and/or harm?
Whether estranged or geographically distanced; not all expecting parents have family or mentors to guide them through their pregnancies. How can specialized care teams, including birthworkers (e.g. midwives and doulas.) fill this void?

We learned some states do not allow midwives into hospitals (and we talk a bit about it in Episode Two!). How do you feel about this and what are some of the reasons midwives should be a fixture in hospitals?

Both Demetra and Brittany emphasize the importance of listening to one's intuition; how has your own intuition supported you? What models of care encourage patients, or parents to "listen to their gut"?

Demetra mentions the importance of relationship-based care during pregnancy (play clip) and Brittany shares she received validation and support from her partner when she was nervous about what lay ahead (play clip). What are some ways you practice relationship-based care in your life? Why do you think relationships are so important to maintaining health, in general?

What might you have said or done if your provider administered a treatment differently than had both previously agreed (such as Brittany and her anesthesiologist [play clip]) and violated your trust?
Demetra mentioned the Prenatal Open Access Clinic, a by the community, for the community, and caters to parents who want a Black (or of color) perinatal provider along with a hospital-birth experience. How can this clinic's model be adopted in current birthing and medical institutions? How do you think this would change your/one's care experience?
7. Alexius' Story
This week we're at home with Alexius Hill, a Memphis-based young mother who chose to give birth at home despite her family and friends' concerns about doing so. We discuss the stigma around home births, and explore the radical work of full-spectrum doulas and the ways they strive to provide quality perinatal support for all birthing parents.
What stood out to you about Alexius' journey to discovering she was pregnant? What do you think makes this story so relatable?
Can you remember the first time you heard of home births? What feelings or images come to mind?
As a full-spectrum doula, Charlie Monlouis Anderly does it all -- from postpartum meal preparation, to breastfeeding counseling. What surprised you most about their skillset?

If you had the opportunity, would you choose to work with a full-spectrum doula for your pregnancy? Would you recommend a doula to a loved one? Why or why not?

How is full-spectrum doula care especially important for parents; such as those that are Black and/or queer?
Did you know about the massive political and legal smear campaign against home birthing and midwifery care (listen to Episode Two for a quick refresher!)? How does the availability of midwifery and doula services relate to reproductive justice?

Charlie describes the traditional framing of new parenthood and pregnancy as disabling andnisolating [play clip here]. If you were a policymaker, what changes might you make to ensure new parents have someone "show up for them" in meaningful way?

Alexius' birthing journey pretty much embodies Charlie's ideal vision for Black birthing parents: Alexius felt safe, informed, respected, and walked away "feeling like a Queen." What kinds of structural or policy changes do you think could make this vision a reality for all? What work needs to be done?
8. Trish's Story
In our season finale, Dallas-based mother and doula, Trish, demonstrates what agency from day one looks like for Black birthing parents: Trish shares what inspired her to become a birthworker, as well as the story of her home birth experience, including the phenomenal care she received from her Black midwife and doula. And Congresswoman Alma Adams (D-NC), co-founder of the Black Maternal Health Congress, tells us why care for Black birthing parents is personal for her and how she's fighting on Capitol Hill to improve policy and protections for them. (44:17)
In the episode intro, Martina mentions "autonomous birthing experiences" -- what does that phrase mean to you? What images or feelings come to mind?
Trish's doula extended space for her to make choices that made her feel comfortable, while still monitoring her and her unborn baby's health; what do you think about this model of care?
How can parents play an active, if not leading role in the decision-making process?

Similar to many of the parents featured throughout the season, Trish worked during her pregnancy. What are some ways that workplaces can create more supportive policies and practices to support birthing parents and partners?

Before this episode, had you heard about the Black Maternal Health Momnibus Act? How do you see yourself, or your work, fit in the agenda Congresswoman Adams described? (The bills support doulas and other perinatal health workers, housing, transportation, and nutritional services, research funding, and more.)
Out of all of the great care Trish received from her midwife Laquita, what stood out the most to you? Is there anything you heard that surprised you?
How have you seen the "magic" in Black women showing up for each other? How do you show up for Black birthing parents?
Food for Thought
When did you first learn about the Black maternal health crisis? What surprised you?
What does the media get wrong about Black birthing and parenthood?
What is the difference between reproductive rights and reproductive justice?
The Black maternal mortality crisis persists despite technological advances in medicine. In what ways can technology be racist? In what ways can it be beneficial?
Episode Two speaker Dr. Joia Crear-Perry (National Birth Equity Collaborative) often says that "racism, not race, is the risk factor" for Black birthing parents. What does this mean to you?
How can health policymakers and providers make the birthing experience more accessible for Black queer, nonbinary, and trans parents? What about parents who identify as low-income and/or disabled?
What are some additional economic barriers Black LGBTQIA parents might face in their conception and perinatal journey?

Cecilia's Afro-Dominican family traditions (play clip here) and Shellie's insistence on having her hair done (play clip here) reflect just how strong Black cultural traditions are, and their ability to uniquely shape pregnancy experiences. How can ancestral or contemporary cultural practices be incorporated into the pregnancy, birth, or postpartum experience?

How can speaking languages other than English impact one's birthing experience? What kinds of hospital practices are needed to ensure that parents have positive birthing experiences regardless of the language they speak?
What story from this season resonated with you the most, and why? Did it influence any plans for your future? In what ways? conception and perinatal journey?
What story or stories did you hear throughout the season that inspired you to take action or change something in your own local context? How can you take and transfer all of your lessons learned to support Black families?
What is your vision of care for Black birthing parents moving forward?
What We Mean When We Say... (aka the NATAL Conversation Guide Glossary)
Anti-racist: a person who acknowledges and actively addresses (to the point of elimination) racism mechanisms
on structural, institutional, organizational, interpersonal, and individual levels
Birth Plan: a written document that helps parents achieve the birth and labor they've always envisioned;
essentially a personal wish list for the most ideal birthing experience (1)
Birthing Parents: a gender neutral term to describe people who are giving birth
Health Disparities: potentially avoidable differences in health (or in health risks that policy can influence)
between groups of people who are more and less advantaged socially; these differences systematically place
disadvantaged groups at further disadvantage on health (2)
Disproportionate: having or showing a difference that is not fair, reasonable, or expected: too large or too
small in relation to something (3)

Doula: a trained professional who provides physical, emotional and educational support to a parent throughout their perinatal journey; like a childbirth coach

Postpartum Doulas provide support to parents and newborn in the first weeks after birth and teach best methods of breastfeeding, bathing, and more
Abortion Doulas provide emotional support to parents and family after an abortion, miscarriage, or stillbirth; may provide meals, teach grieving techniques, and help with funeral arrangements
Bereavement Doulas walk with, support, and help families who are experiencing the loss of their baby, whether that loss is through miscarriage, stillbirth, abortion, or a diagnosis that means the baby will not live long after being delivered. These birthworkers are also trained in labor and postpartum practices, but also trained to recognize the grief and recovery needed to support their clients (4)

End of Life Doula: commonly employed by hospices to provide comfort and companionship to dying patients to ensure that they do not die alone and without support (5)

Full-Spectrum: expands traditional understanding of birthwork. It's not just about the prenatal, postpartum and the labor and birth period, but also any possible outcome from a pregnancy that could happen (includes loss and abortion) (6)
Midwifery: encompasses the care of women during pregnancy labour, and the postpartum period, as well as care of the newborn. It includes measures aimed at preventing health problems in pregnancy, the detection of abnormal conditions, the procurement of medical assistance when necessary, and the execution of emergency measures in the absence of medical help. (7)

Intersectionality: the interconnectedness of social categorizations such as race, class, and gender in creating overlapping and interdependent systems of disadvantage or privilege (8)

Obstetrician-Gynecologist (OB-GYN): a health provider that has expertise in reproductive health, pregnancy, and childbirth. Some offer a wide range of general health services similar to a primary care doctor, while others focus on the medical care of the femail reproductive system. (9)
Perinatal Health: a period referring to parent and child health during or pertaining to the phase surrounding the time of birth, from the twentieth week of gestation to the twenty-eighth day of newborn life (10)
Racism: mechanisms, both state-sanctioned and not, which cause and exploit (racialized) group-differences in vulnerability to illness and/or premature death (11)

Reproductive Rights: rest on the recognition of everyone's basic right to decide freely and responsibly the number, spacing, and timing of their children and to have the information and means to do so, the right to the highest standard of sexual and reproductive health, and the right to make reproductive decisions free of discrimination, coercion and violence

Reproductive Justice: the human right to maintain personal bodily autonomy, have children, not have children, and parent the children we have in safe and sustainable communities (12)
Social Determinants of Health: conditions in the environments in which people are born, live, learn, work, play, worship, and age that affect a wide range of health, functioning, and quality-of-life outcomes and risks Examples: (1) availability of resources to meet daily needs (e.g., safe housing and local food markets), (2) access to educational, economic, and job opportunities, and (3) access to health care services (13)
References
Charlie Monlouis Anderly
Adapted from Kimberlé Crenshaw's definition
Adapted from Ruth Wilson Gilmore's definition of racism
This conversation guide was made by MacKenzie Grow, MPH, edited by Gabrielle Horton and Martina Abrahams Ilunga, designed by Asha Grant and Kotey Thomas, with support from the USC Annenberg Center for Health Journalism Impact Fund.
[This piece was originally published by Natal Stories.]
Did you like this story? Your support means a lot! Your tax-deductible donation will advance our mission of supporting journalism as a catalyst for change.