Coronavirus Files: U.S. cuts short national emergency and funds next-gen vax research
Image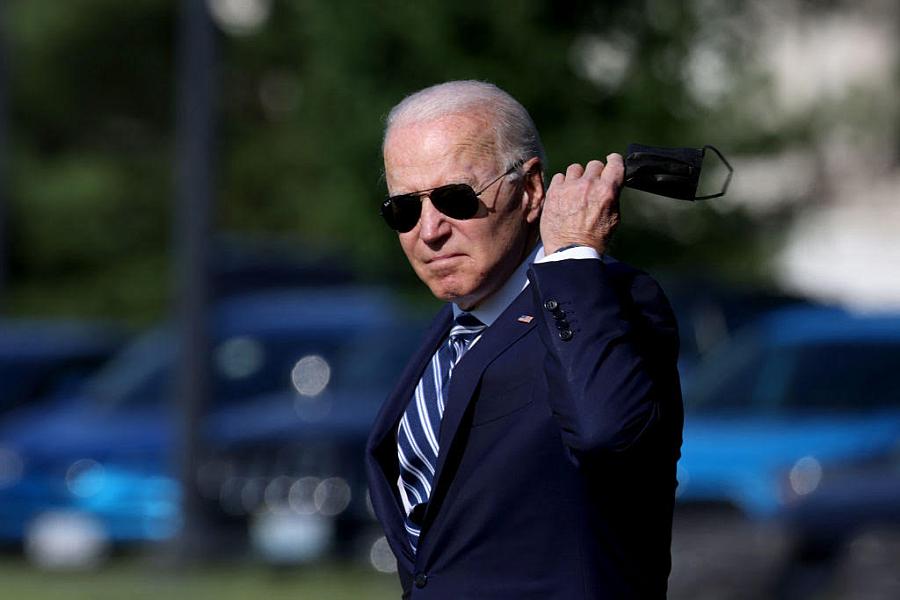 Photo by Anna Moneymaker/Getty Images
Published on
April 15, 2023
For the past three years, the Coronavirus Files has provided weekly updates and resources to help journalists report on the unfolding pandemic. Today, as the COVID-19 crisis evolves into a new normal, this issue marks the final edition of the Coronavirus Files. We thank you for reading.
The emergency ends but COVID's consequences will linger 
President Joe Biden abruptly ended the national COVID-19 emergency last Monday, a month early and with little fanfare, after Congress forced his hand.
The public health emergency, which enables free COVID testing, vaccines and treatment as well as a controversial border policy that allowed expulsion of immigrants requesting asylum, remains in place until its planned expiration May 11.
The national emergency measures, now ending, included a federal mortgage forbearance program and the suspension of home visits for veterans seeking caregiver assistance. 
Today's America certainly looks much more normal than the empty streets and child-free classrooms of spring 2020. But a majority of Americans say the pandemic is ongoing, and only about a third have fully returned to pre-pandemic habits. 
More than 200 people are still dying of COVID in the U.S. every day, and the disease remains deadlier than the flu.
Older Americans and immunocompromised individuals remain vulnerable, and while they may be given access to another booster shot soon, improved vaccines are likely years away. 
And there's still the possibility of a novel variant causing a new wave of illness and death, writes Troy Farah at Salon. Even so, current surveillance systems are not up to snuff, World Health Organization spokesperson Dr. Margaret Harris told him.
While some are already seeking to forget the trauma of the early pandemic, for others the trauma is ongoing. 
That includes COVID orphans and widows, as well as the one in 13 adults struggling with the complex collection of symptoms known as long COVID.
"Long COVID, though slower to command attention, has since become its own emergency, never formally declared," wrote Katherine J. Wu at The Atlantic in February. "For the millions of Americans who have been affected by this condition, their relationship with the virus does not seem to be in a better place."
The government recently released an outline of its progress in responding to long COVID, but the advances are "underwhelming," notes Betsy Ladyzhets at the COVID-19 Data Dispatch. 
Scientists are still puzzling out what causes long COVID, though evidence is building for one hypothesis: that some of the virus sticks around in the body, causing the ongoing symptoms. 
The NIH's flagship RECOVER initiative to study long COVID has been the target of criticism by frustrated patient groups dissatisfied with its ponderous pace and the lack of additional funding from Congress.
Many people with long COVID struggle to pay for the care they need, according to a new study in JAMA Network Open.
Obtaining disability benefits is also a challenge, reports Larry Buhl at Capital & Main. 
"With cognitive issues, it's so much harder to get through long forms," a long COVID sufferer named Marie told Buhl. "It's death by paperwork."
Drug companies seeking to treat long COVID are also searching for funding, reported Max Bayer in February at Fierce Biotech. 
"Unlike our earliest responses to acute COVID, there is no 'Operation Warp Speed' for long COVID," write emergency physician Dr. Esther K. Choo and business professor Scott Duke Kominers in a letter to Scientific American. "Our failure to address long COVID guarantees the pandemic will continue."
White House announces new round of vaccine funding
The Biden administration is pledging at least $5 billion to speed up the development of new coronavirus vaccines in an operation termed "Project Next Gen."
While it's not as much as the $18 billion spent on the first round of COVID vaccines under Operation Warp Speed, "this is a substantial allocation that should make a difference," Dr. Eric Topol writes in his Ground Truths newsletter.
Project Next Gen, like Warp Speed, will partner with private companies to accelerate development of coronavirus vaccines and treatments.
While the first generation of COVID vaccines was a remarkable achievement that saved more than 3 million lives in the U.S. alone, those technologies were designed to work quickly in an emergency, not to produce the best vaccines for ongoing use.
Current vaccines are "really good, but they're not great," epidemiologist Michael Osterholm told USA Today's Karen Weintraub. Their efficacy wanes over time, and their ability to ward off infections has decreased with the arrival of newer variants. 
Vaccines that prime the immune system in the nose, to block the coronavirus right where it enters the body, are one Next Gen priority. 
For example, researchers in Germany recently reported a COVID-19 nasal vaccine, based on a weakened version of the virus, that prevented transmission and created a much stronger immune response than an mRNA vaccine — in hamsters, anyway.
"It doesn't take much to get the nasal vaccine across the goal line," Topol told Dan Diamond at The Washington Post. 
It remains to be seen how effective nasal COVID shots would be. Nasal flu shots are little better than injected ones, Weintraub notes. "It's seriously naïve to believe that it will be easy to make one," immunologist John Moore told her.
Another goal of this latest federal push is to create vaccines that produce broader immunity, against multiple variants of SARS-CoV-2 — the virus behind COVID-19 — or even against other kinds of coronaviruses such as those behind past SARS and MERS outbreaks, or something new that might emerge.
The current mRNA vaccines are based on just one viral protein, the spike, which is constantly mutating. 
A universal or "pan-coronavirus" vaccine would raise immunity against multiple coronavirus spikes or other proteins that don't change so much, but it could take years to develop, Diamond reports.
The third Next Gen priority is to develop antibodies, used to treat coronavirus infections, that won't be quickly turned obsolete by new variants. 
After Congress turned a deaf ear to the White House's request for more funding to fight the coronavirus, the administration pulled money previously allocated for testing and other projects to fund Next Gen.
Meanwhile, the FDA is planning a fall booster campaign using the current slate of vaccines, and choosing the right formula to match circulating variants will be a challenge, the agency's Dr. Peter Marks told the World Vaccine Congress.
Marks and others expressed concern that the pandemic has undermined people's confidence not just in coronavirus vaccines, but vaccines overall, reports MedPage Today's Washington correspondent Shannon Firth.
Marks is now focusing his organization's attention on "those who want to have their lives saved."
Pandemic pushed marginalized communities to the edge
The coronavirus crisis laid bare the vulnerabilities of underserved communities in myriad ways and pushed some of those living on the edge right over.
The latest CDC data indicate that, compared to white people, Black people were 60% more likely to die of COVID, Hispanic or Latino people were 70% more likely to die, and American Indian or Alaska Native people were twice as likely to die.
Life expectancy for American Indians and Alaska Natives dropped by six and a half years due to the pandemic, according to a 2022 report, despite high vaccination rates in Indigenous communities. 
Inequities in access to treatments has been a major theme of the pandemic as well. People of color who contracted COVID were less likely than whites to receive Paxlovid, the Kaiser Family Foundation reported last fall.
While Asian Americans were less likely to be infected or die than white people, many suffered violence and other hate crimes due to racism and grossly misplaced blame over the pandemic's origins.
LGBTQ individuals reported worse physical health and financial status during the early pandemic, compared to cisgender, heterosexual people.
Women often bore the brunt of the sudden switch to homeschooling during lockdown, suffering more significant job losses and a slower return to work than men.
Yet there have been some bright spots. Health workers have learned how to better reach out to underserved communities. 
And emergency aid measures were so effective, poverty rates dropped.
For example, the town of Stockton, California, gave residents $500 a month, reports Megan Cerullo at CBS News, with resulting improvements to both physical and mental health among recipients.
The extra money helped residents recover from COVID and other medical issues without worrying about their paychecks, as well as get to work or seek better employment. 
But the end of the federal emergency declarations will undo enhanced benefits related to Medicaid and food stamps, endangering society's most vulnerable individuals anew. For journalists, there will be ample story opportunities moving forward in what these cuts to benefits mean for struggling families.
This will not be the last pandemic, and we're underprepared
Even as the worst of COVID fades into the rearview mirror, a future pandemic remains a very real threat.
Every time people encroach on wild places, seeking wild meat to eat or a new place to live, it offers animal pathogens the opportunity to try our biology on for size.
Even now, bird flu lurks in poultry, killing a woman in China last week, but hasn't yet managed to jump from person to person. 
Drug-resistant superbugs are swirling in Los Angeles' sewers; the CDC is warning U.S. physicians to look out for the Marburg virus; and even fungi could become a bigger threat to human health.
"As horrible as COVID has been — it remains one of the leading causes of death in the United States — it is not the worst-case scenario," warned Dr. Tom Inglesby, director of the Johns Hopkins Center for Health Security, in an opinion essay for The New York Times last month. 
The Black Death in the 14th century and the 1918 flu pandemic killed more people than COVID. 
Bird flu, Ebola and the Nipah virus are all deadlier than the coronavirus, Inglesby notes. They just haven't yet evolved the ability to spread quickly by way of human breath. 
And the next pandemic virus, known ominously to the World Health Organization as "Disease X," could require a different response than COVID did, The Times notes. 
"We need to prepare to fight disease outbreaks just as we prepare to fight fires," Bill Gates wrote last month in The New York Times. "The world needs a well-funded system that is ready to spring into action at a moment's notice when danger emerges."
Some efforts are underway by the WHO, World Bank, and United Nations. 
And the pandemic has made wastewater surveillance much more common, potentially providing a net to capture new threats.
But international leaders have largely failed to create a full-scale pandemic preparedness system, Liberia's former president Ellen Johnson Sirleaf wrote in Time. 
For example, the U.S. Congress directed the White House to create a permanent pandemic readiness office in December, but the office is nowhere to be found, even as the Biden administration closes down its COVID response team, reports Rachel Cohrs at STAT.
"2023 should not be remembered as the year the world moved on from COVID," wrote Sirleaf, "but rather the year the world's leaders seized the opportunity to apply lessons of the past toward ensuring a healthier future."
From the Center for Health Journalism
National Fellowship Applications Now Open
The 2023 fellowship will provide $2,000 to $10,000 reporting grants, five months of mentoring from a veteran journalist, and a week of intensive training at USC Annenberg in Los Angeles from July 16-20.
Click here for more information and the application form, due May 5.
What we're reading
Events & Resources