Different stories, common plight: Reporting on California's remaining uninsured
Image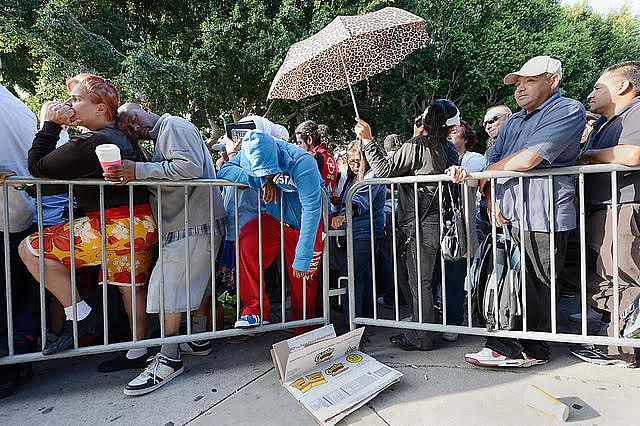 (Photo by Kevork Djansezian/Getty Images)
Published on
March 9, 2020
Some Native American women in California are going without prenatal care early in their pregnancies. Undocumented residents are going without needed specialty care. Low-income residents are forgoing treatment. Upper-middle-class Californians and small business owners are having to choose between keeping their business afloat or seeking care when they need it. 
They all have something in common: They're uninsured because they can't afford health insurance in the Golden State. 
While the Affordable Care Act significantly reduced the number of uninsured individuals, especially in California, there are still an estimated 2.8 million residents here who lack health insurance, according to the 2017 UCLA California Health Interview Survey. And that number is only projected to grow in the wake of the COVID-19 crisis.
The stories of the uninsured are all different in their own way, but carry common themes. 
As a member of the USC Center for Health Journalism's News Collaborative's "Uncovered California" project on the state's uninsured, I got the opportunity to tell stories of uninsured Californians from all different walks of life. 
I combed through data, analysis, research studies and even interviewees' medical bills and income tax records to tell their stories. I also interviewed numerous health care and policy experts to gain a better understanding of the hurdles uninsured Californians are confronted with. 
The reporting was revealing. While many uninsured individuals are low-income residents, upper-middle-income Californians also struggle to afford high-priced private health care coverage.  
In some cases, other factors played a role in the person's inability to get insured. For example, consider the case of Sylvia Valenzuela, a Native American who desperately needed medical care during her pregnancy. 
Valenzuela and her husband couldn't afford health care insurance through his employer. And even though she's entitled to get free medical care through the Indian Health Service system, she had to pay for specialty care. That was because her Pascua Yaqui Tribe was based in Arizona rather than California. 
So when she needed to see an OB-GYN, she couldn't afford it.  
When she turned to Medi-Cal — the state's Medicaid program for low-income families — which has higher income limits for pregnancies compared — she went for months without coverage and much-needed care. Months later, she was notified she had qualified for Medi-Cal coverage only to be dropped soon after due to errors in the state's various Medi-Cal systems. 
The errors on her Medi-Cal application were fixed after the USC Center for Health Journalism's News Collaborative started asking questions about her case. But through various interviews with experts, I discovered her experience was far from unique. 
In other cases, undocumented residents were going without the specialty care they needed because of fears generated by President Trump's immigration rhetoric and policies. A complicated public benefits process and insufficient outreach also keeps many from seeking the care they need.  
Then there were low-income Californians who had to choose between basic necessities and health insurance. In the case of Judit Garcia, the Raisin City resident had to forgo treatment for her prediabetes and high cholesterol for years. She was ineligible for Medi-Cal. 
Even though Garcia's husband is undocumented, his income was included in her Medi-Cal eligibility calculation, putting her above the income limit. At the same time, the couple's combined salary was not enough to afford health insurance on their own. 
Before the ACA was implemented, 50.6%, or about 2.7 million of the estimated 5.4 million uninsured Californians at the time, indicated cost was the main reason for not having health insurance, according to the UCLA Survey. But even after the ACA's passage, nearly 36% of Californians still cited cost in 2017 as their main reason for not having health care coverage. 
That represented slightly more than 1 million of the estimated 2.8 million uninsured at the time, according to the same UCLA data. 
Some of the uninsured Californians were also small-business owners who had to choose between keeping their small business afloat or getting needed care. 
Finding the real people to put a face to the Uncovered California project stories was extremely challenging, but possible. People from all backgrounds are affected by health insurance being out of reach for their families.What worked best for me was to reach out to local organizations, such as those working with Native Americans, federally-qualified centers and local leaders in impoverished communities. 
I learned that reaching out to leaders in those small, rural communities was the easiest way to get in touch with people who would become the faces of my stories. Local leaders are the ones on the frontlines, and know what issues impact their communities the most. 
Beginning this year, thousands of young undocumented immigrants in California became eligible for Medi-Cal benefits under a new law. An estimated 138,000 young undocumented adults, ages 19 through 25, are expected to receive full-cope Medi-Cal benefits during the first year of the law's implementation.
But many more still remain uninsured throughout the state. A few lawmakers have said they will continue to push for a broader expansion of Medicaid, but the fate of such bills remains to be seen. 
Gov. Gavin Newsom's recently released 2020-21 proposed budget included $80.5 million to expand full-scope Medi-Cal benefits to low-income seniors, regardless of immigration status. How that proposal, applauded by many advocacy organizations, will evolve remains unknown at this early point. 
Through reporting for this project, I was able to work on several stories that were all vastly different but united by the uninsured issue. I was able to see — and portray — one larger issue through many different lenses.