Do Midwest communities have the tools they need to save cardiac arrest victims?
Image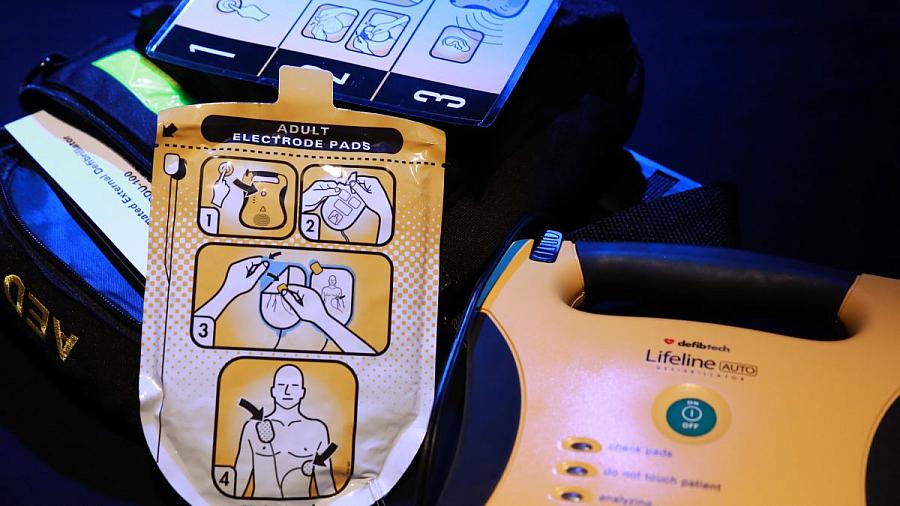 Photo by Elizabeth Gabriel/WFYI News
Published on
October 18, 2023
Jake West was a 17-year-old athlete who grew up in La Porte, Indiana, not far from Lake Michigan. He passed all of his physicals and he didn't show signs of underlying heart problems — he was a healthy kid. Until one day, he wasn't.
Jake collapsed after running a play on the football field. School staff did CPR and student trainers jumped in to help out. But he died on the field in September 2013 from an undetected heart condition. 
Sudden cardiac arrest happens when someone's heart stops functioning due to an irregular heart rhythm. It's the third leading cause of death in industrialized nations, with many incidents occurring in homes. Nearly 79% of children ages 13 to 18 who experience out-of-hospital sudden cardiac arrest die, according to the American Heart Association. 
CPR and automated external defibrillators (AEDs) dramatically increase the survival rates of students who go into cardiac arrest, but many first responders and schools don't have AEDs, and some students and workplaces aren't required to learn these lifesaving techniques. 
Every second counts when responding to a sudden cardiac arrest victim. And depending on where someone is located, it might take longer for a first responder or paramedic to reach them. In 2022, it took five minutes or more for first responders to arrive on scene for 28% of arrests, while it took nine minutes or more for the majority of paramedics, according to the Cardiac Arrest Registry for Enhanced Survival (CARES). Even so, not all first responders have AEDs on-hand. 
That's why Jake's mom, Julie West, has spent the past few years advocating for AED mandates in all Indiana school districts. Earlier this year Indiana legislators passed "Jake's Law," but it was significantly watered down from the original bill. The law only establishes a "goal" of responding within three minutes, not a mandate. It also doesn't require schools to have AEDs. Now West fears that without a mandate, more students could die on school grounds. 
West said one of the reasons Jake's Law didn't become a mandate is because there wasn't enough data on AEDs in schools and youth sudden cardiac arrest. She knows firsthand the only way to reduce sudden cardiac arrest deaths right now is to be more prepared for them. 
"This way, we're educating our children at a young age to [know] what an AED is, how to step in and help if you have witnessed someone going into sudden cardiac arrest," West said. "So I think this has ripple effects way beyond what we can even imagine."
The series, undertaken with support from the 2023 Data Fellowship, will investigate which Midwest states, school districts and first responders are equipped to save cardiac arrest victims, and whether money, race, and the rural/urban divide play a role in providing communities with the resources to respond to sudden cardiac arrest. 
The project aims to provide meaningful awareness about sudden cardiac arrest, and ways to respond to it, before Indiana legislators reintroduce a bill during the 2024 legislative session to make AEDs a requirement in all schools. 
Some states have drastically improved their response to sudden cardiac arrest, like Seattle, Washington. The city has had some of the best sudden cardiac response procedures for the past two decades. At one point, Seattle had a 16% rate of people surviving and being discharged from a hospital, while the rate for nine other cities across the United States and Canada ranged from 3% to 11%. 
Henry Wang, an Ohio State University cardiac researcher, said part of Seattle's higher success rate is due to the use of public resources to fund training.
"If you have a cardiac arrest, you [want to] have a cardiac arrest in Seattle," Wang said. "That's probably the best EMS system in the entire world." 
With funding from the USC Center for Health Journalism, I will analyze data from Seattle, as well as interview and potentially shadow different emergency response teams to better understand why other states have struggled to implement the same lifesaving techniques. 
When reporting, I will use aggregated CARES data, which paints one of the most comprehensive pictures, to show cardiac arrest deaths and bystander CPR and AED intervention across the Midwest and other regions. 
This project will be completed at a time when more high-profile cardiac arrests incidents have happened in young people. Parents have become more concerned about the precautions and emergency response plans for their children after watching NFL's Damar Hamlin go into sudden cardiac arrest on live television earlier this year, as well as hearing that Bronny James, eldest son of NBA star LeBron James, experienced sudden cardiac arrest while practicing with the University of Southern California's basketball team this summer.
This is an underreported topic and some local, regional and national data doesn't exist to answer all of my questions. But I hope this project will shed light on the necessary emergency precautions needed to adequately address sudden cardiac arrest and create better response systems for children and families.