Domestic violence programs work best in the hands of the community, not the criminal justice system
Image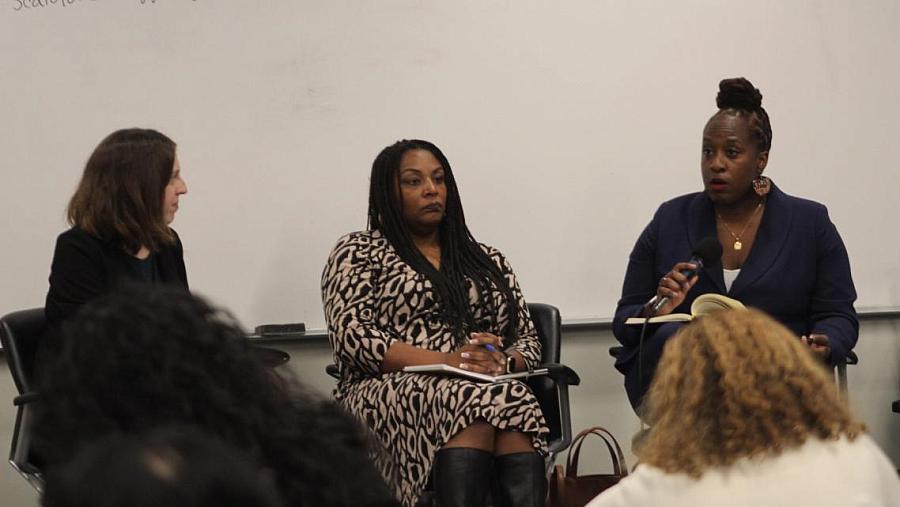 Published on
March 21, 2023
Domestic violence (DV) interventions started in the community, with women helping other women. But responsibility for programs bled into policing and the criminal justice system. Now, looking at historical failures, experts are calling for DV programs to return to their roots to be more responsive to survivors.
In a conversation last week at the USC Center for Health Journalism's 2023 Domestic Violence Symposium, three domestic violence experts asserted that the criminal justice system has failed women, especially women of color and members of the LGBTQA+ community who are caught up in domestic violence. Rather than protect and support survivors, the system often punishes them.
"Survivors are criminalized," said Priscilla Ocen, a professor of law at Loyola Marymount University.
In addition to Ocen, the panelists included Krista Colón, senior director of public policy at the California Partnership to End Domestic Violence, and Colsaria Henderson, a social worker and the executive director of Next Door Solutions, a non-profit advocacy organization offering shelter and support services for survivors.
Although women are the majority of those who experience abuse, men and LBGTQ+ individuals may also be victims of intimate partner violence. Abuse is the way for one partner to maintain control over the other and can include physical, sexual, emotional and financial abuse.
"The DV movement didn't start in the criminal justice system," Colón said. "But it landed there."
Before passage of the federal Family Violence Prevention and Services Act in the early 1980s, law enforcement didn't take women's reports of abuse seriously. Often the way to be taken seriously is through the justice system, which led to the push for criminalization.
In the 1990s, the media attention of Nicole Brown Simpson's murder and the O.J. Simpson trial spurred a national discussion about domestic violence. The Violence Against Women Act in 1994 cemented DV management, including funding for intervention programs, in the Department of Justice.
However even early on, not everyone favored a carceral response.
"Women of color, by and large, were pushing for non-carceral strategies," said Ocen.
A major consideration was the economic well-being of women. Women of color, particularly those who are low-income, often don't have emergency funds to move.
"Women of color were organizing around creating safe spaces, creating programs to support women and families to lift them up to get out of violent situations when they choose to, and to have counseling, trauma-informed and racially conscious services," said Ocen.
Black women, Latinas who weren't English-proficient, Indigenous and poor women were more likely to experience gender-based violence, and their concerns about involving law enforcement were ignored. When the police came they often investigated the women instead of the abusers.
Ocen described a previous client, a Black woman who lived in Section 8 housing and called the police in Antioch, Calif. The police ransacked her home, looking for evidence that her abusive boyfriend was an unauthorized occupant. She lost her housing. She was also investigated by child welfare for exposing her kids to violence and lost custody.
"So, after calling the police, she was left homeless and without her children," said Ocen.
People are disincentivized from calling for help, though the justice system is the main door to access social services.
"Women, cisgender, transgender and gender non-conforming people are overpoliced but under-protected," Ocen said.
Henderson said her organization decided about seven years ago to "uncouple" from the San Jose Police Department, because nothing was improving after 24 years of working with them.
"That was the beginning of our journey to move back toward the grassroots, the community response system," she said.
She said about 85% of the staff of Next Door Solutions are survivors or their relatives. The client families are mostly from communities of color. They want to stay together but want the violence to stop.
The organization began looking at restorative approaches that assessed the needs of everyone involved and brought in the community, while respecting the families' choices.
"Restorative approaches are not new," said Henderson. "We know people have always counted on their community."
One of the organization's restorative programs, Families for Peace, supports all members of the family and addresses the emotional toll of the violence, including for children. It also holds perpetrators accountable while not dehumanizing them, and helps survivors use their voices.
Next Door Solutions also offers the CHAT Project (Collective Healing And Transformation). Begun in 2018, it focuses on creating solutions outside of the carceral system to address all types of violence, including DV, intimate partner violence and child and elder abuse. The program uses restorative circles involving all members of the family, friends, therapists and community members, to surround families with support with the goal of healing.
The organization also uses traditional resources such as shelters to help people escaping violence.
Michelle Levander, director of the Center for Health Journalism and the panel's moderator, said the news media often displays the most horrific cases. "How could a restorative approach work with someone who seems like a psychopath?" she asked.
"There's that super-myth that the person is a psychopath, who is someone else, this horrible human that's raging," said Henderson.
But, she said, that's not the story in the numbers: one in four women, one in seven men, one in three teens, one in two LGBTQ folks have been affected by intimate partner violence. "So, it's not a psychopath…we're dealing with folks that we know."
She said, "Restorative justice focuses on the fact that these are learned behaviors. We know that safety is achievable."