Harvey: The aftermath of the nation's worst natural disaster
Image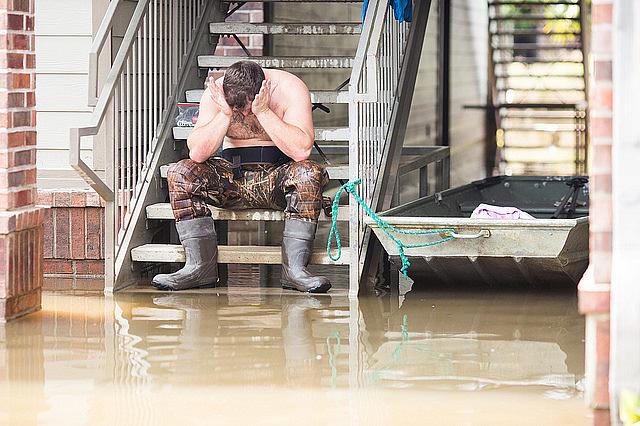 Published on
September 21, 2017
While Floridians are still reeling from Hurricane Irma, Houston area residents have begun the lengthy and arduous process of rebuilding after Hurricane Harvey ravaged a large chunk of Texas. But if what happened after Katrina and Sandy is any guide, Houstonians are facing a host of mental and physical problems that may plague them for years, ranging from serious illnesses from exposures to multiple environmental toxins to psychological issues from dealing with loss and displacement. But the immediate- and long-term aftermath may escalate into a public health crisis many orders of magnitude worse than those from other recent hurricanes for a number of reasons. 
They include the sheer scale of the disaster — Harvey dumped more than 33 trillion gallons of water in four states, and damages should easily surpass the record set by Katrina ($108 billion in 2005 dollars), making it the worst natural disaster in U.S. history. Added to this, as the center of the petrochemical industry, Houston is home to dozens of refineries, chemical plants, waste storage facilities and Superfund sites that have leaked pollutants into the air and water. And compounding residents' woes is the overarching issue of whether to rebuild at all. The city has virtually no zoning restrictions on a flood plain and only one in five area residents has flood insurance, which means they will either lose their homes or face huge costs to rebuild. Houston, in short, is on track to become a living laboratory of what happens after a century of untrammeled growth paving over wetlands and prairies that could have absorbed some of the torrential rains, in a regulatory free environment in which its political leadership, including Governor Greg Abbott and Senator Ted Cruz, denies the basic science of climate change.
What residents faced after other severe weather events is instructive. Katrina triggered the unprecedented collapse of New Orleans' public health system — shuttering most hospitals, stranding crucial staff, from nurses and doctors to specialists, and causing many residents to lose access to their usual health care providers. It took years for the city to recover. A year later, the mortality rate was 46% above normal and suicide rates jumped, while more than half of residents reported mental health problems while one out of ten were still having physical difficulties, according to a study in the Journal of Clinical Nursing. In New York, a similar scenario played out in parts of the city: backup generators failed at two major hospitals—NYU Langone Medical and Bellevue — and in some of the hardest hits communities, sickly residents suffering from chronic and potentially life-threatening illness were cut off from medical care. 
Most hospitals in the Houston area were better prepared, keeping forced evacuations of gravely ill patients from hospitals that lost power in the middle of the storm to a minimum. Structures better engineered to withstand flooding and numerous catastrophe drills in the years since Katrina that prepared key staff and cooperation between a large coalition of medical care providers and hospitals also helped.  
But the city still faces numerous ongoing public health issues. For starters, stagnant flood waters are breeding grounds for bacterial infections, such as E. coli, Shigella and Vibrio vulnificus, an exceptionally aggressive pathogen that can lead to amputations.  As the cleanup progresses, many people will be sickened from respiratory ailments from the toxic mold in rotting carpets, in sodden furniture and in the spores that become airborne. 
And over the long haul, Houston residents may pay a heavy price for being the hub of the petrochemical industry, which developed with little if any regulatory oversight or safeguards in the event of a disaster. Many of the industry's plants, storage facilities and refineries were damaged, and the communities surrounding them were blanketed with high levels of toxic fumes and water contamination. 
It's shaping up to be a serious health crisis and an environmental justice issue, too, because poorer neighborhoods populated by people of color located next to these plants are most impacted. "Communities in close proximity to these facilities will get the worst of it, as they get the worst of it on a daily basis," Bakeyah Nelson, executive director of Air Alliance Houston, told The Guardian. Nelson also worries that chemical storage tanks located adjacent to people's homes could explode: "It's a very real threat and it's a very precarious situation."  
Over the Labor Day weekend, in fact, ozone levels in the industrialized parts of the city rocketed above the national safety standards, causing one of Houston's worst smog events. Nearly one million pounds of hazardous substances, such as benzene, hexane, sulfur dioxide and xylene, many of which are known carcinogens, have been released by more than 60 petrochemical plants operated by ExxonMobil, Shell, Chevron and other businesses since Harvey made land fall, according to an analysis by the Center for Biological Diversity. 
Plus, Harris County, where Houston is located, has more than a dozen dump sites, which store thousands of tons of industrial wastes that are hazardous to human health, all of which have been inundated by flood waters, as well as 41 Superfund sites in regions hit by Harvey, at least 13 of which have been flooded or destroyed. "We've never seen precipitation to this level at any Superfund site," Jennifer Horney, an associate professor of epidemiology at Texas A&M University told BuzzFeed News. "The main problem is that we don't know what to expect."
Recovery may be agonizingly slow. "Long after the floodwaters recede, and even during cleanup and rebuilding," Austin Frakt, a health economist, and Dr. Aaron Carroll, a pediatrician at the Indiana University School of Medicine, noted in a blog in the New York Times, "the people who lived through Hurricane Harvey will face another form of recovery — from the storm's blows to physical and mental health."