How can reporters stay safe while getting the story during COVID-19?
Image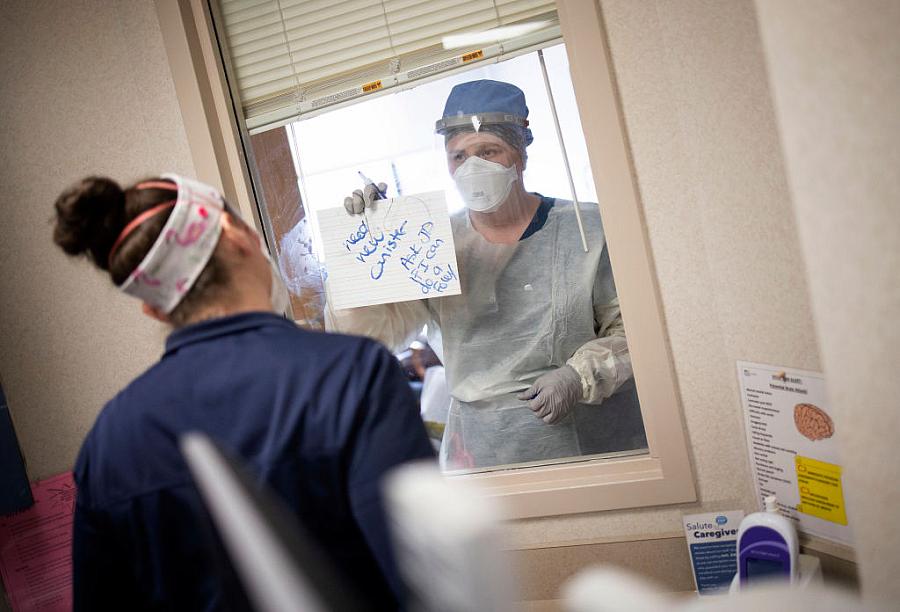 (Photo by Win McNamee/Getty Images)
Published on
April 21, 2020
The Center for Health Journalism recently did a callout asking journalists what questions they had about how to report safely and ethically on COVID-19. Among the most common responses was how reporters and photographers could still do in-person reporting, but in a safe way. Freelance reporter Giles Bruce spoke with experts in public health and journalism ethics, as well as journalists themselves, to get some answers.
**
The story was too compelling not to tell.
Lenny Bernstein, a health and medicine reporter for The Washington Post, and videographer Jon Gerberg had the opportunity to spend a few hours in a Brooklyn intensive care unit, to bear witness to health care workers fighting to save lives in one of the places hit hardest by the coronavirus pandemic.
The Post provided the two journalists with masks and gloves — Bernstein said they didn't want to take personal protective equipment from health care workers — while the hospital, Maimonides Medical Center, gave them gowns (it had plenty, Bernstein said).
At the ICU, Bernstein and Gerberg tried to stay 6 feet away from everyone they interviewed. They weren't allowed in the patients' room, so they observed them and the nurses treating them through windows.
They were cognizant about not touching anything, including their faces. They made sure not to borrow anything — even a pen — from staff. They watched each other to ensure their masks and gowns stayed on properly.
Outside the hospital, and out of their personal protective equipment, they disinfected everything that had been inside, including their belts and wallets. They changed shoes. And they both lived away from other people, in self-quarantine, for 14 days.
We want to hear your questions about covering COVID-19 — scroll down and tell us or ask your question here!  
Despite all the precautions required, Bernstein said the effort was worth it. The story and video that resulted from their reporting portrays overworked doctors and nurses gallantly trying to save lives — often in vain — from a silent, invisible killer. In the on-camera interviews with staffers, you can see, even from behind masks, the anguish on their faces. In the written quotes and anecdotes, you can hear them trying to remain calm in the face of fear and sadness.
Journalists across the country are having to decide what risks are worth taking as they cover a deadly disease outbreak that has effectively halted life as we know it. States with shelter-in place orders consider news reporters essential workers, meaning they're able to move and work freely during the pandemic. Still, many reporters are understandably choosing to work from home.
But how do the photographers who have no choice but to venture out — and the reporters who find stories that require in-person reporting — keep themselves and others safe from COVID-19? 
I recently talked to an expert from the Harvard T.H. Chan School of Public Health about some of the strategies these journalists can take to minimize their risks.
"It's all about staying in the safe zone, distancing as much as possible," said Jack Dennerlein, an adjunct professor of ergonomics and safety in the school's Department of Environmental Health.
To do that, he said, journalists can use technology in creative ways.
They can interview sources on the phone, even though they're both present in person, and even turn away from each other or talk on opposite sides of a window. Photographers can use telephoto lenses to shoot from long distances, take pictures through windows, and look at the LCD screen rather than through the lens so they don't put the cameras to their faces. Broadcast journalists can use boom mics to distance themselves while getting audio.
Equipment should be disinfected after, and even during, the reporting process, Dennerlein said. Journalists should wear face coverings and gloves, and wash their hands frequently.
Despite the potential safety risks, Dennerlein didn't dispute the notion that journalists should remain essential workers during the coronavirus pandemic.
"The press plays a huge role in our public health mission and providing accurate information," he said. "The role that the press plays in informing the general public on public health issues is crucial to fighting the disease."
Meg Wingerter is normally the K-12 education reporter for The Denver Post, but during the pandemic has been tasked with covering hospitals and nursing homes. She said she has been working from home so far but would consider reporting in person on a case-by-case basis.
"It would depend on just how meaningful the access is going to be," she said. "The hospitals and nursing homes have very much wanted to control their message, which is understandable. My feeling would be, if we're going to put ourselves at risk, we need to make sure we're going to get meaningful information, that this is going to be informative to people. … So far nobody wants to let us in anyway. It's not really come up yet."
Even if it did, she said, she would want to first make sure she had gear that actually protected her.
"I have a homemade mask, and I don't know how effective that is, and the company doesn't have equipment to give us," she said. "I'm sure hospitals wouldn't have any to give to reporters."
For her, the equation comes down to: "How important is this story when you don't really have a way of guaranteeing your own safety?"
Suzanne Behnke, executive editor of IowaWatch.org, said she has been working from home and has asked her two reporting interns to do the same, unless they talk to her first. She said she might consider driving around to see if people are observing social-distancing directives, but otherwise doesn't believe in-person reporting would be worth the risk.
"I am all for flattening the curve," she said. "To be honest, I would be open to field reporting if I did not have a family at home. I think that is the game changer in that decision for me."
Journalists have long been balancing their personal safety concerns with the public's need to know information, whether reporting from conflict areas or the scenes of shootings, noted Kathleen Culver, director of the Center for Journalism Ethics at the University of Wisconsin-Madison.
"My first question to any reporter covering this is: How important is the story?" she said. "If you are putting yourself in a position where you might be infected, is the story you're pursuing actually worth that risk? In some cases, absolutely yes."
She said journalists might also ask themselves: "Will the public suffer from my doing this remotely versus in person? If the answer is no, you do it remotely. If I still get all the information I need to do that story, remotely, that's exactly what I should be doing. But there are still situations that require an in-person look."
She gave as an example a suddenly overloaded emergency room where medical staffers don't have the time to step away to do a video or phone interview.
She said journalists and news organizations should also be cognizant of the traumatic nature of reporting on a deadly pandemic and address any mental health concerns that arise.
Bernstein, the Washington Post reporter who wrote about the Brooklyn ICU, said the decision on whether to report in public places nowadays should be an individual one.
"If you're comfortable doing this, don't let the commotion that gets whipped up around outbreaks like this cloud your thinking," he said. "Think about it rationally. What are the risks? What are the benefits? What are the odds? In my mind, the importance of telling this story outweighed the very small risk of infection. But if that equation doesn't work for you, that's totally fine. There are other ways to get the story."
"Also, take a very calm, brave guy like Jon with you," Bernstein added, noting that the videographer, Gerberg, has reported from war zones. "He's a rock."
**