How data two journalists overcame hurdles to tell powerful health stories
Image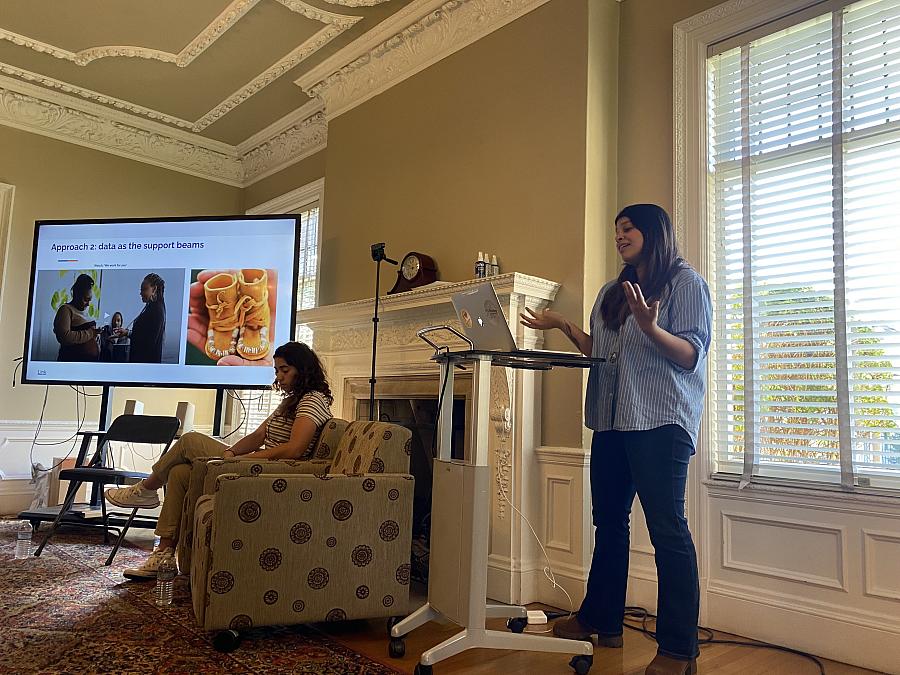 (Photo by Cassandra Garibay/CHJ)
Published on
October 27, 2023
Roe v. Wade had just been overturned by the Supreme Court in summer 2022 when Alison Saldanha applied for the Data Fellowship.
Saldanha, a 2022 Center for Health Journalism Data Fellow and graphics reporter for The Seattle Times, had planned to report on how the ruling was going to impact access to abortions in the state of Washington, but program mentor MaryJo Webster urged her to expand her focus. 
"Reproductive justice is not only about access to abortions, it's also about access to good maternal health care," Saldanha said. "And that became my project: assessing how different communities access maternal [and child] health care in Washington, what is their experience and where does the system fail?"
For BridgeDetroit environmental reporter Jena Brooker, it was a local development in Motor City that prompted her 2022 Data Fellowship project: the opening of the city's first new automotive plant in three decades in a low-income, mostly Black neighborhood already plagued with pollution and high asthma rates.
"My central question was, What was the health impact of increasing emissions in this neighborhood already disproportionately impacted by industry?" said Brooker, who had previously covered residents' opposition to the plant in 2020.
Two Fellows shared key takeaways and lessons from their respective projects last week at the 2023 Data Fellowship, where they both emphasized the importance of seeking guidance from veteran data reporters when confronted with obstacles. 
Juxtaposing data was essential
As part of her reporting process, Saldanha reviewed more than 100 research papers and filed 10 records requests. She also analyzed census data from King County, Washington's most populous county, that provided her with demographic data on specific tracts and access to prenatal care. She also looked into data on single-mother households and families who received basic food assistance while awaiting data on infant mortality rates from the county health department. 
Once the data arrived, Saldanha's plan was to juxtapose the different data sets to "tell a bigger story than what the state was telling us," she said. "It could also then show people and the state where they need to concentrate their efforts if they actually tackled the problem."
For Brooker, she had data showing that more than 100 complaints were made against the Stellantis auto plant regarding odors over the course of a year. But her challenge was that the kind of data that would help draw a line between plant emissions and health outcomes in residents was not available. 
Following a suggestion from mentor Alvin Chang, she compared the location of automotive factories with neighborhoods in Detroit that were historically redlined. It revealed what Brooker already suspected: Auto plants were often located in those neighborhoods. 
Community surveys offer unexpected leads
Both fellows collected their own data by creating surveys, part of a broader effort to engage with impacted communities. Brooker hoped to collect health data from residents through her survey, which she distributed by posting flyers with QR codes on bus stops and community centers. Her goal was to get 100 responses. 
She only received 13 responses, "but one of the women who filled it out … was such a wealth of insight," said Brooker. Generations of her family and their health had been impacted by the expansion of the automotive industry. The woman was someone Brooker knew but it hadn't occurred to her to interview the woman, who emerged as one of the main protagonists in her reporting series.
To supplement some 60 interviews with researchers, health care workers and patients that Saldanha conducted over the course of her project, she also distributed a bilingual survey using Google Forms to midwives, in order to gain a greater understanding of what challenges the women they were caring for faced. 
She surveyed 25 and the results "pointed me in the direction of doulas and the kind of pivotal, important role that they play in communities that have faced racism in the past and the health care system." 
Reporting on community resilience
Saldanha found that Black, Latino and Indigenous doulas have improved maternal health outcomes in their respective communities, a finding she would not have learned if not for her survey.
"One of the things that they (Indigenous community members) said to me was, 'We know the data, we know that we have the highest rates of mortality, we know that we're the poorest, the most food insecure, and we're tired of helping you tell that story.'" 
This was a turning point for the reporter. Instead of focusing on the data that pointed to their communities' health challenges and symptoms, Saldanha reported on how these communities are managing to thrive despite their limited access to maternal health care. 
By doing so she was able to build trust and connect "with these communities in a more meaningful way … and I think I'm really proud about that."