How do you report on a sprawling child welfare system? This reporter offers a path.
Image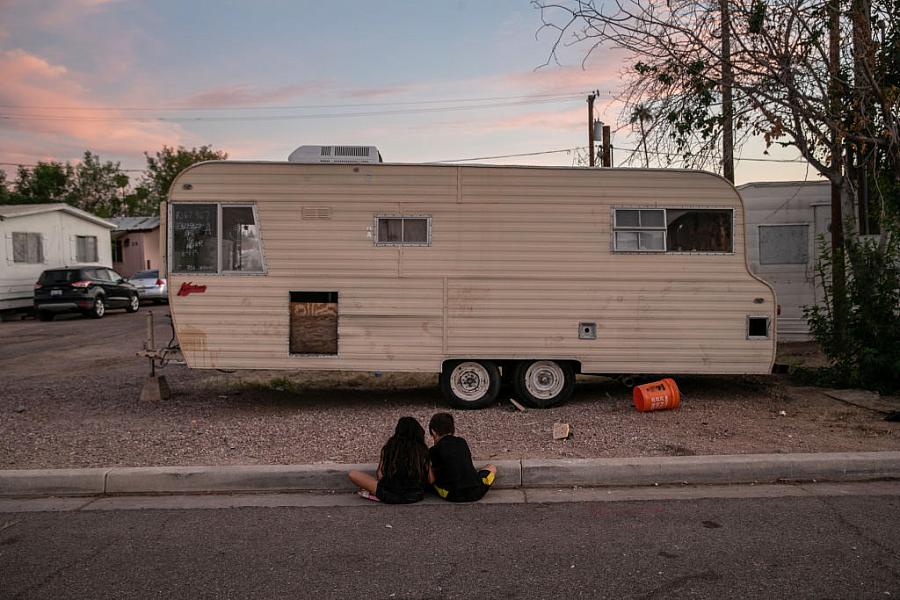 (Photo by John Moore/Getty Images)
Published on
October 18, 2023
Reporting on child welfare often follows a predictable pattern. 
News breaks of a horrific case of abuse and spurs intense media coverage. The child welfare agency in question comes under scrutiny, a few employees lose their jobs and then the attention fades — only for the cycle to repeat again next time. Center for Health Journalism director Michelle Levander calls it the "hamster wheel of investigating child welfare." 
"It's kind of a pointless cycle that doesn't often lead to much in in the way of change and doesn't lead to a systemic analysis that can create accountability," she told reporters taking part in the 2023 Data Fellowship in Los Angeles this week. 
So, what might a more impactful model of reporting on child welfare look like? Kate Martin, who reported extensively on North Carolina's deeply flawed child welfare system during her time at North Carolina Public Press, offers one compelling model of what accountability reporting on complex public agencies might look like. Martin, who will soon start a new job as data reporter at American Public Media, gave Fellows a quick primer on the child welfare beat, along with an insider's look at how she reported the four stories that comprised her 2020 Data Fellowship series "Patchwork Protection." 
Patchwork is the operative word in North Carolina, where counties and their local departments of social services are in charge of child welfare decisions — a contrast with much of the country, where states run child welfare systems. As a result, there is a huge range of practices in the Tar Heel state, with some counties removing children from families at far higher rates than others. "Basically, every single county in North Carolina is its own little fiefdom, and as long as they follow state and federal laws, they can do basically whatever they want," Martin said. 
She found that problems in county agencies stretched back decades, a state database to track kids often didn't work and the state's rural-urban divide put cash-strapped rural counties at a steep disadvantage when it came to recruiting and keeping experienced staff. Variability between counties posed real hurdles for families as well, with parents in rural areas contending with fewer job openings and long distances to travel to attend mandated drug or parenting classes or to find counseling for their kids. 
For example, Martin pointed to the differences between urban Buncombe County, which offered drug court or treatment options to keep families intact, and rural Cherokee County, which took kids away from parents for drug use and offered no treatment options. Cherokee has the third highest rate of removing kids out of the state's 100 counties, while Buncombe, which includes Asheville, is near the state average. 
Records, data key to reporting on child welfare
Reporting on child welfare cases can be tough, since reporters can't directly request case records from child welfare agencies. But parents can usually request their own family's case file, making them a crucial link in the reporting process. Police reports, medical examiner reports and death records can also help build the story, when available, and criminal background checks of parents should be another routine step in the reporting process, Martin said.
All these records provide an essential means of verifying parents' stories, she said. "Sometimes these parents can be unreliable narrators," Martin said. "A lot of the times when you talk to a parent, they're going to insist they didn't do anything wrong. Maybe they didn't do anything wrong, but you need to get records to verify this." 
Other important places to look include legislative or state agency reports (that's how Martin found out many agency problems stretched back decades in North Carolina), after-action reports (these outline what a county or agency could've done better after a child dies) and civil lawsuits (these can direct you to lawyers and parents). 
Reporters should also explore the data. In Martin's case, the University of North Carolina at Chapel Hill School of Social Work had a database that she was able to scrape using the programming language R. Schools of social work are often good places to look for data. Key measures to look for include child removal rates — how many kids are taken from parents in a particular jurisdiction? How does that compare to the state average? Once gathered, those data points allowed Martin to build a color-coded map of the state, showing where removals were highest and lowest. And don't overlook researchers, she added, who can help pressure test your story findings and data analyses, comment on your story and refer you to other experts to interview.  
In North Carolina, Martin found that lack of consistent state oversight had resulted in some especially egregious practices, with one county unlawfully removing children from families for nearly a decade. 
In the aforementioned Cherokee County, a rural and economically depressed region, the Department of Social Services had experienced a string of court losses due to inexperienced, undertrained staff, according to Martin. Those defeats prompted a county lawyer there to draft what he called a "Custody and Visitation Agreement," which the county then used to unlawfully remove dozens of children from their parents without a ruling by a judge, a clear violation of parents' Constitutional rights. One family whose 10-year-old daughter had been wrongfully removed by the county was subsequently awarded $4.6 million by a jury in a federal civil trial.
"There were at least 25 other cases that were almost exactly like this, but also with more horrifying details," Martin said. The county settled the remaining cases for more than $50 million, and county officials were indicted with dozens of felonies. 
The sustained coverage of the fallout from Martin and her colleagues helped bring about the kind of institutional accountability that rarely comes from fleeting coverage of a single story of awful abuse.