Center for Health Journalism announces 2023 Data Fellows
Image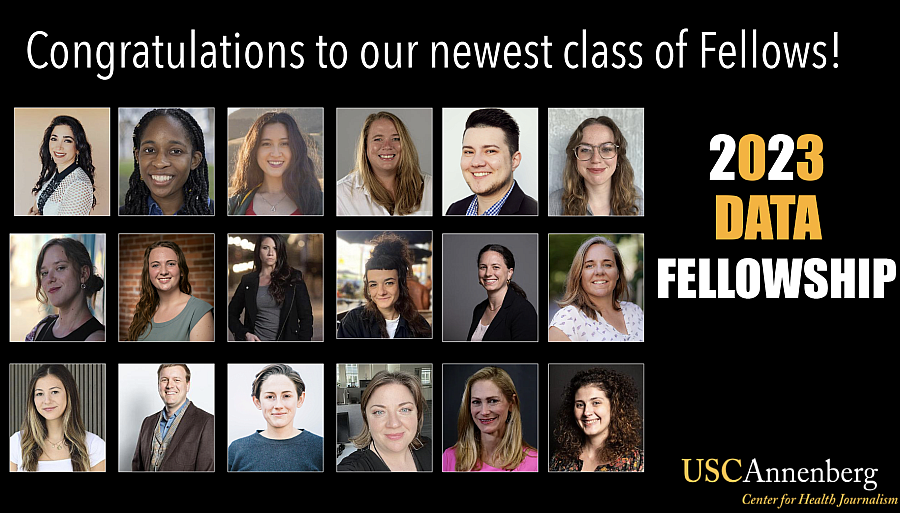 Published on
October 13, 2023
The USC Annenberg Center for Health Journalism is delighted to announce the 18 talented journalists who will be participating in the 2023 class of our annual Data Fellowship.
The 2023 Fellowship includes journalists from print, digital and broadcast outlets across the country, including the Los Angeles Daily News, the Chicago Sun-Times, the Denver Post, the Montana Free Press, the South Florida Sun Sentinel, Houston Landing, the San Francisco Public Press, WUNC Public Radio, AfroLA, MedPage Today and EdSource.
We look forward to working with this outstanding group of emerging and veteran journalists who will join us to harness the power of data for their reporting. We've seen how data can play a critical role in impactful reporting that ignites change and illuminates systemic inequities and health struggles for children, families and communities.
The competitive Data Fellowship program equips reporters to use the power of original data analysis to investigate health and child well-being challenges in California and across the country. It includes four days of in-person training and six months of ongoing virtual training with some of the nation's most respected data journalists. 
In partnership with the Center for Health Journalism, journalists will produce ambitious, data-informed projects on topics including rising food insecurity in the United States; the availability of opioid treatment in the areas of greatest need in Los Angeles; the high rates of youth in foster care in Montana; and how well Florida ensures positive health outcomes of infants and young children. Fellows also will investigate transgender hate crimes in California; fentanyl deaths and equitable access to health care in California; the overuse of discipline in schools; and pervasive problems inside psychiatric residential treatment facilities in Arkansas.
The 2023 Data Fellowship is generously funded by grants from the California Health Care Foundation, the Doris Duke Foundation and The California Endowment.
"High quality health journalism is necessary in order to have a high functioning and accountable health care system," said Eric Antebi, chief communications officer for the California Health Care Foundation. "This fellowship is great way to ensure that reporters have the skills to investigate the data and make sure the system is meeting the needs of ordinary people."
"Gathering and utilizing accurate data is a key tool of investigative journalism, especially when reporting on child well-being," said JooYeun Chang, program director for child well-being at the Doris Duke Foundation. "The Data Fellowship program at USC Annenberg Center for Health Journalism provides journalists with the skills and resources they need to tackle some of the country's most pressing challenges, and we are proud to support this important effort."  
"Data-driven journalism is critical in disrupting the systems that continue to perpetuate racial and health inequities in communities of color across California," said Dr. Tony Iton, senior vice president, programs and partnerships, for The California Endowment. "The Data Fellowships allow emerging and veteran journalists to gain insights and expertise that can propel racial and health equity issues to the forefront, playing a pivotal role in amplifying the voices of those who often are unheard or ignored."
We are pleased to announce our 2023 Data Fellows: 
California Data Fellows
Madison Alvarado, San Francisco Public Press
Samson Amore, for The Advocate
Emma Gallegos, EdSource
Clara Harter, Los Angeles Daily News
Eliza Partika, for AfroLA
Eleanor Prickett-Morgan, KPFA
Sylvie Sturm, San Francisco Public Press
Amanda Wernik, KCBX
National Data Fellows
Clare Amari and Eileen Grench, Houston Landing
Jason deBruyn, WUNC
Hoda Emam, for Chicago Sun-Times
Lara Farrar, Arkansas Business Publishing Group
Elizabeth Gabriel, WFYI, Indianapolis Public Radio
Cindy Goodman, South Florida Sun Sentinel
Sophie Putka, MedPage Today
Jessica Seaman, The Denver Post
Mara Silvers, Montana Free Press