Lack of health care proves fatal at California immigrant detention center
Image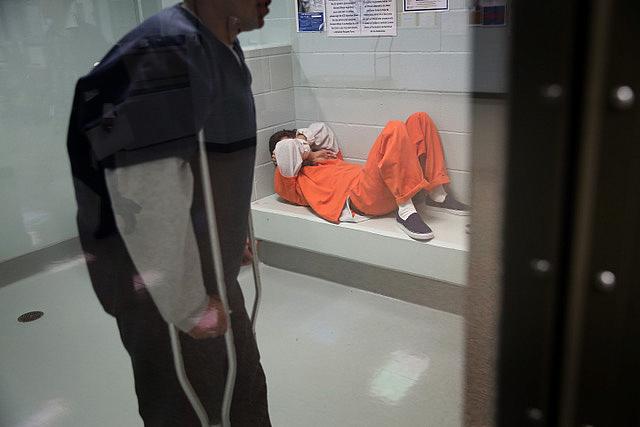 Published on
November 2, 2018
Early in the morning, a few days before Christmas in 2015, a 54-year-old Guatemalan immigrant named Jose Manuel Azurdia Hernandez, detained at an immigration detention center in Adelanto, California, began vomiting in his cell.
Initially, officers and nurses ignored Azurdia's fellow detainees, who came to them asking that they get him medical care — one nurse reportedly told an officer she did not want to see him because "she did not want to get sick." When officers finally did try to get Azurdia to the medical unit, their calls went unanswered.
And when Azurdia finally saw a doctor, his left arm was numb, he was having chest pain, and he was nauseous and vomiting. But instead of using an EKG to check his heart, a doctor diagnosed him with gastrointestinal problems.
It wasn't until more than three hours after he first started vomiting in his cell that arriving paramedics performed an EKG and discovered he was having a heart attack. Azurdia was taken to a hospital where, four days later, he died.
Azurdia's death, and the medical care decisions that led up to it, were described in a Detainee Death Review prepared by Immigration and Customs Enforcements' Office of Detention Oversight.
There have been five deaths at Adelanto since it opened in 2011 — three of them within a three-month period last year. In at least three of these cases, investigations into the death showed that the detention center failed to meet national standards governing detainee care. In the summer of 2017, I reported a story that described some of the difficulties that detainees reported in getting medical care at the facility. The story showed that there had been five suicide attempts in eight months at Adelanto.
That story left me with many questions about the kind of health care immigration detainees receive in facilities like Adelanto and other detention centers throughout California. I'll be seeking answers to these questions for my 2018 Data Fellowship project.
This month, the Department of Homeland Security's Office of Inspector General reinforced the urgency of answering those questions when it issued a scathing report on conditions at Adelanto. The report noted that detainees said they waited "weeks and months" to see a doctor and that from November 2017 to April 2018, detainees filed 80 medical grievances with the facility for not receiving urgent care, not being seen for months for persistent health conditions and not receiving prescribed medication.
This won't be an easy story to tell.  Health care in federal immigration detention is an opaque area — the government has been excruciatingly slow to provide information about the facilities. But I am hopeful that by using both the California Public Records act and FOIA I will be able to access a variety of data sources that will help shed some light on the care detainees receive.