As local news recedes, the rising tide of 'pink slime' floods the gap
Image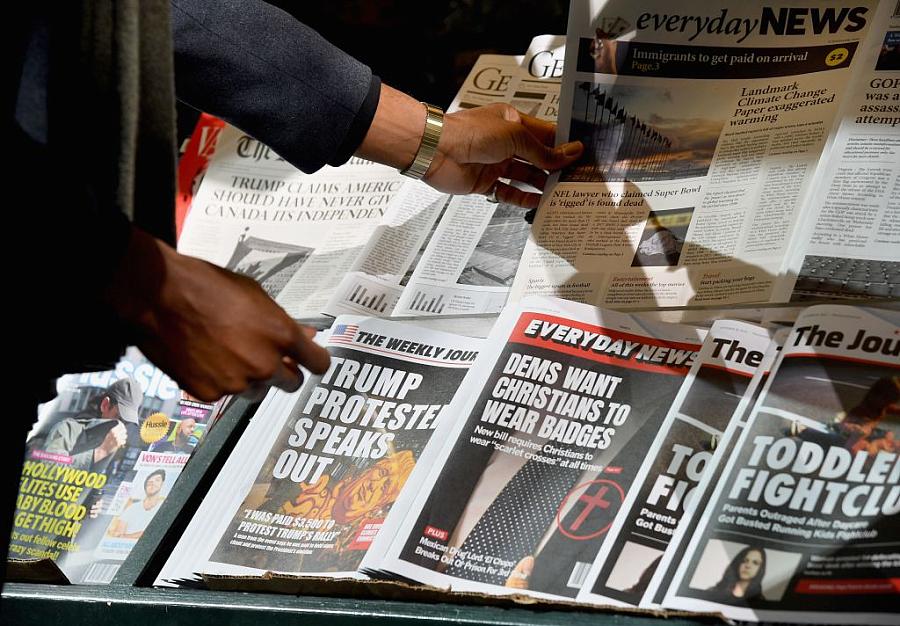 Photo by Angela Weiss/AFP via Getty Images
Published on
May 16, 2023
In 1995, the journalist Robert Parry, whose reporting credentials included the Associated Press, Newsweek, and breaking the story of the Iran-Contra Affair, penned a prescient article for the publication Fairness & and Accuracy in Reporting (FAIR), entitled "The Rise of the Right-Wing Media Machine." Parry argued that conservatives had constructed a "truly intimidating media machine" that ranged from nationwide talk radio shows by Rush Limbaugh and scores of Limbaugh wannabes, to a growing number of attack magazines, newspapers, newsletters and right-wing opinion columns, to national cable networks. "The conservative media machine now rivals — and may well surpass — the power and the influence of the old-line press," Parry wrote. "Both directly and indirectly, this right-wing media machine holds sway over much of the national agenda, deciding which ideas and individuals are accepted and which are marginalized." 
Since Parry penned his essay, Fox News has captured the top spot for cable news for the seventh year in a row, and until he was fired last week, its well-known anchor Tucker Carlson hosts the country's highest-rated cable TV show. Right-wing media dominate parts of the news ecosystem with countless outlets that embrace conservative ideas, drive the news, and sway public opinion from America's tiniest hamlets to lawmakers in Washington, D.C. 
Nearly 30 years later, the conservative media that Parry so presciently dissected has sprouted new roots across the country, publishing papers known collectively as pink slime news, so named after a byproduct added to ground beef as filler. As traditional newspapers that ably served smalltown America for more than a century go out of business at the rate of two per week, that leaves about 70 million people or about a fifth of the country's population living in an area with no local paper or only a single outlet. This journalistic reality leaves people in those communities without reliable health and medical information, among other deficits. That in turn undermines and distorts the debate on everything from expanding Medicaid to drug prices to rising insurance costs. 
In this context, it's easy to see how these newcomer alternatives have found a home. That raises the question: Do news consumers know the difference between conventional journalism and these newer offerings? "For the most part I don't think the public knows what's going on," said Priyanjana Bengani, a fellow at the Tow Center for Digital Journalism, echoing the fear of others in our profession. "Increasingly people don't understand the source of their news," said Kyle Pope, editor-in-chief and publisher of the Columbia Journalism Review. "If you ask people the source of their news, they say they get it from the Internet, Twitter or Google. It's easy to see why people are confused." Pope noted that pink slime outlets also capitalize on the trust people once had for local news. "That's part of the goal. They're trying to undercut the legitimacy of local news," he added. Al Cross, who directs the Institute for Rural Journalism and Community Issues at the University of Kentucky, observed that the landscape has changed greatly since what he called the "apex of American journalism in the late 1960s and early 1970s, when people had high regard for newspapers." Now, said Cross, "People today are looking for confirmation, not information." The pink slime press stands ready to provide it. 
Partisan newspapers have always been part of the American news landscape, but "there's a huge difference between the partisan papers of 100 years ago and these news sites now," said Matthew Pressman, associate professor of journalism at Seton Hall University in South Orange, New Jersey. The political bent of those papers was often clear by their names, with titles such as the Pawnee Republican, the Syracuse Journal-Democrat, and the Grand Island Independent, all papers still publishing today in Nebraska. "Yes, such papers had a slant, Pressman said, "but most of it was on the opinion pages. A lot of content wasn't political and would have been from UPI and other news wire services, and they did original reporting," he said. "That's not usually the case with the pink slime sites." 
Increasingly people don't understand the source of their news. If you ask people the source of their news, they say they get it from the Internet, Twitter or Google. It's easy to see why people are confused. Kyle Pope, editor-in-chief, Columbia Journalism Review
NewsGuard, an organization that evaluates news and information sites in the U.S and several European countries, estimates there are 1,202 pink slime sites in the U.S, almost as many as the number of remaining local daily papers. These sites offer bread-and-butter community news such as basketball scores, church service schedules, recaps of school board meetings, and other community activities. Announcing basketball scores, though, is not the raison d'être for the pink slime press. The major purpose of the hundreds of sites spread across the country is to influence how people vote. "They are a coordinated political influence operation," said Dr. Philip Napoli, a distinguished professor of public policy at Duke University who has studied those organizations. "They are like sleeper sites. They try and wait for a political moment, and then they spring to life." Napoli explained these sites are designed to deliver very specific content to audiences on the cheap so "they don't need reporters to get the political influence they want to achieve." Most of the stories are "auto generated," meaning they are created by computers rather than reporters sitting in offices working the phones, which makes production easier and cheaper. Researchers found that over the 78 days they collected data, 97% of the 217,000 unique articles they examined were auto-generated. Metric Media claims on its website that it publishes over 5 million news articles every month, including interviews with local residents and in-depth reports. But much of the pink slime news I examined over the last few months was old or very old, usually with a conservative spin. Napoli's study found the median age for a story was 40 days. For those relying on these papers, lack of currency might actually be harmful. Researchers found that a Metric Media paper in Mount Vernon, Ohio, did not cover a water main break for several days even though residents had been advised to boil their water. A Republican City Council member said the paper "failed to alert its citizens" and was "basically just a bunch of press releases."
In South Dakota, a site for the Rushmore State News with a front page dated January 30, 2023, featured a story about a family recipe contest at the South Dakota state fair "on Sunday, Sept. 4." The story's byline: "By Press release submission." Another story on the same front page with the same byline reported that the governor's office of economic development had announced on Thursday, August 11 that a business park in Huron, South Dakota, had been named a certified site in the category for "heavy industrial." Empire State Today, which publishes in New York state, published a story on January 25, 2023, which announced that "House Democrats are trying to silence Fox, Newsmax." The story bylined "Empire State Today reports" was two years old, with the dateline as Feb. 25, 2021.
Perhaps it doesn't matter in the pink slime universe that the "news" is out-of-date. Its real purpose is to influence the public on matters of governmental policy, and sway opinion mostly toward conservative or Republican causes and candidates. (I discuss liberal versions of these sites in the accompanying sidebar.) One way to do that is to publish campaign contributions, as the Nebraska Panhandle News and SE Nebraska News did. Nebraska Panhandle News published a list of the top contributions to Republican Rep. Adrian Smith, who represents the state's third congressional district, and in a frontpage headline on January 25, 2023, it informed readers that local businessman David Briggs had donated $1,000 to Smith's campaign committee. SE Nebraska News reported on July 11, 2022 that Mike Flood received $347,563 and Adrian Smith received $41,425 from April to June last year. Stories about contributions from people in the community help advance the pink-slime press's political agenda by offering validation of political support. The thinking seems to be: If it's OK for my neighbor to donate to particular candidates, it's OK for me. Even after a politician is forced out of office, as in the case of former Nebraska Congressman Jeff Fortenberry, who was found guilty in March 2022 of lying to the FBI about illegal campaign contributions, he or she might still remain fodder for the pink slime press. This year on January 25, SE Nebraska News published lists of contributions to Fortenberry made in 2021. He resigned his seat in March 2022 and is currently on probation.
They are a coordinated political influence operation. They are like sleeper sites. They try and wait for a political moment, and then they spring to life. Dr. Philip Napoli, professor of public policy, Duke University 
Political spin laced through hundreds of sites in other states can be subtle and hard to detect, as in a story about Tennessee's Medicaid program published by The Center Square, a project of the Franklin News Foundation in Chicago. The story conveyed the impression that the state's Medicaid program had to spend too much money on health care for poor people during the pandemic. However, Gordon Bonnyman, a staff attorney and co-founder of the Tennessee Justice Center and expert on the state's program, told me the paper had reported only half the story. "Conspicuously missing," he said, "is the fact that Tennessee, like most states, received far more in federal coronavirus relief to cover these folks during the pandemic than it actually cost the state to pay for their care, and that it is coming out far ahead financially." Bonnyman added, "Though subtle, the spin of the story would alarm a reader that the state is incurring a half billion in costs that come out of state reserves. In fact, the reserves represent federal funds provided to ensure coverage of these people during the pandemic." 
Other publications may be much less subtle. Florida readers quickly get the political gist of Florida's Voice, which calls itself a "patriotic news network that you can trust to deliver the truth with no hidden agenda" and claims to be "Redefining Mainstream Media." One such story was about a reporter trying to make Florida Gov. Ron DeSantis "uncomfortable" over claims of empty library shelves. Another post, bylined by a reporter named Michelle Vecerina, announced, "DeSantis releases disturbing video of pornographic books found in schools." 
It is in Illinois, however, where the pink slime press has really secured a solid beachhead, including 13 newspapers delivering content that the Illinois Press Association says is "extremely difficult to distinguish between legitimate news and political propaganda." Nothing is subtle about the pink slime press and its strong presence in the state. "They are not newspapers. They are not journalism by any stretch of the imagination," Don Craven, president of the Illinois Press Association, told me. "They are just full of right-wing political stuff and all the far-right talking points. There are people who fall for this regardless of age and wealth. It's not limited to any demographic." Last year the press association issued a warning to readers to "become as news literate as possible; that is, to try to determine the source behind the news and information they receive and to question the legitimacy, integrity and intent of both the source and the message." The association also listed the names of those 13 papers across the state which were not members of the association nor were they eligible for membership, an attempt to flag papers that were not delivering real journalistic content.
There's no ambiguity about the political slant of three of those Illinois papers I examined, the Peoria Standard, the Chicago City Wire, and the DuPage Policy Journal, all owned by Metric Media's Local Government Information Services, whose editorial focus of late seems to have been local school board elections. The Peoria Standard featured a local woman running for the school board who announced she wanted to make sure students got "everything they need within the constraints of financial conservatism." The Chicago City Wire attacked student test score performance and blamed the state's Gov J.B. Pritzker during his reelection campaign for the poor performance. Last summer, during Pritzker's campaign, the Chicago City Wire informed readers that "tens of thousands more K-12 students in Chicago are now testing below grade level in English and math," blaming Pritker's school lockdowns during the pandemic for the poor showing. The DuPage Policy Journal says it is funded "in part by advocacy groups who share our beliefs in limited government." In a February edition, the outlet reported on a former GOP gubernatorial candidate who announced that not a single student could do math at grade level in 53 Illinois high schools. "Make no mistake the DEMOCRATS are responsible for this," she wrote in a political Facebook post quoted by the Journal. The paper also weighed in on the cashless bail provision in the SAFE-T Act passed by the Illinois Legislature in 2021. That called for an end to the use of cash bail beginning in 2023, which meant that judges could no longer require people to pay money to leave jail when awaiting trial. The provision is now being challenged in the Illinois Supreme Court. NBC Chicago reported the DuPage Policy Journal displayed "two full pages of photos of men — mostly Black and Latino — whom the publication says will be released from prison because of the new legislation." 
The Washington Post reported recently on another business interest of the Illinois pink slime media: a private password-protected online portal that allows users to pitch stories, offer up interview subjects, place announcements, and submit op-eds that are supposed to be published verbatim on some 30 sites in the state. The Post reported this new portal enables "a new level of collaboration between political operatives and certain media outlets." The paper warned this arrangement could let political candidates customize the news without the public knowing about it. In other words, the portal offers another way for political operatives to fool voters.
While this scheme may be a new way to fool voters, not everyone is buying what the pink slime press is selling. Some Illinois residents are beginning to question these papers that show up on their doorsteps or in their mailboxes. Linda Pieczynski, a resident of the Chicago suburb Hinsdale, recently sent a letter to her local paper, The Hinsdalean, warning voters. "As soon as I saw this publication, I recognized it was like a paper I had seen in the last election, and it wasn't a real newspaper," she told me. "It is trying to trick people into thinking it's like a newspaper put out with journalistic standards like being fair and objective. I got pissed off." 
Perhaps other people will get pissed off too, and follow Pieczynski's lead. A recent study from the Tow Center suggests maybe they should. The Center found that readers judged articles on some of these sites as "ideologically neutral" and without bias, and were willing to take claims of objectivity and nonpartisan status at face value. That prompted the Center to warn that "as nonprofit local news models proliferate across the country,  this presents a disturbing new opportunity for misrepresentation and disinformation." Ultimately, the pink slime outlets, whether Democratic or Republican, may overtake real news coverage and analysis of the serious health and social policy issues facing the country like the decline in life expectancy, climate change, the end of supports for the growing numbers of the elderly, lack of services for disabled people, and ongoing public health threats. Meanwhile, the rapid rise of new forms of AI like ChatGPT could make producing such fake news content ever easier and cheaper. These pink slime outfits may eventually overtake what remains of the traditional media. If that happens, who will be left to tell the people?
Veteran health care journalist Trudy Lieberman is a contributing editor at the Center for Health Journalism.