As more children become uninsured, advocates are hoping Biden will reverse the slide
Image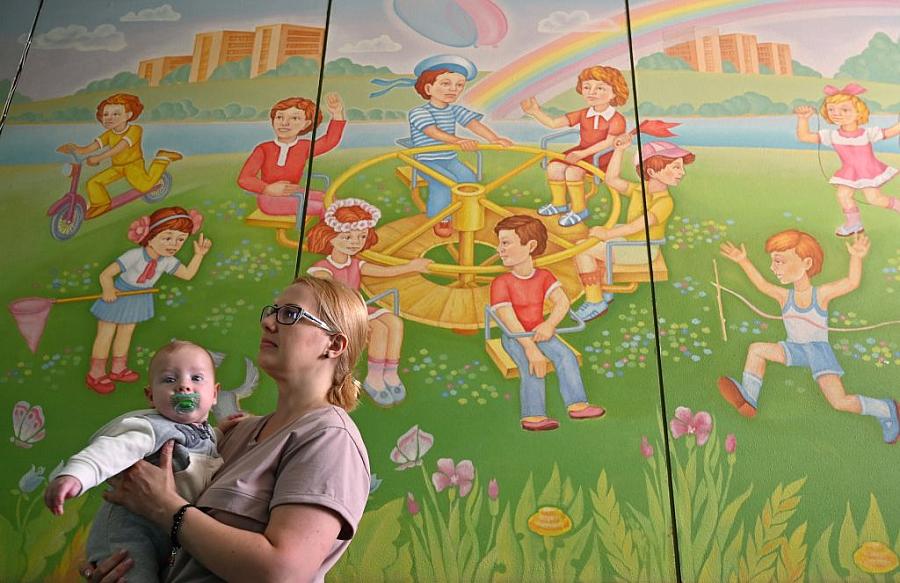 (Photo by Sergei Supinsky via AFP/Getty Images)
Published on
December 23, 2020
The uninsured rate for American children has grown each of the last three years, and many health policy experts blame policies and rhetoric put forward by the Trump administration.
But will a Joe Biden presidency lead to real gains in the number of kids with insurance? Some observers are hopeful, while children's advocacy groups are putting out their wish lists for the incoming administration.
An estimated 726,000 children in the United States have lost their health insurance since 2016, when the youth uninsured rate reached a historic low, according to recently released research from the Georgetown Center for Children and Families. Last year, that uninsured rate experienced its largest annual increase in a decade, as 320,000 kids fell off the insurance rolls from 2018 to 2019.
What can be done? The American Academy of Pediatrics recently released a list of policy suggestions for the Biden-Harris transition team the organization says will strengthen the health of the nation's 73 million children and improve access to care.
While budget constraints caused by the pandemic could hamper some of these efforts, Dr. Melinda Williams-Willingham, chairwoman of the academy's Committee on Federal Government Affairs, is optimistic the incoming president and his team will do more to prioritize health care access for kids. The Georgia pediatrician said COVID-19 has highlighted the need for it more than ever.
"People are so focused on the fact that children don't seem to be impacted much by this pandemic when it comes to hospitalizations or death rates," she said. "But what they don't see is the mental health toll that it's taking on our children. And unfortunately I feel that we are going to have another major crisis within this country when it comes to the mental health of children."
She said more than half of her days are now spent treating kids for mental health issues, caused by factors such as increased isolation, missed school and financial stress in the household.
The pediatric group's recommendations to boost access include streamlining youth enrollment and retention in Medicaid and the Children's Health Insurance Program; getting rid of state Medicaid waivers and other pending Medicaid rules that limit coverage; insuring all kids regardless of immigration status; increasing provider reimbursement for Medicaid; restricting health plans with narrow networks; and supporting the Affordable Care Act through legal and regulatory actions. (Biden's pick to lead the U.S. Department of Health and Human Services, Xavier Becerra, voted for the law as a congressman and defended it in court as California's attorney general.)
"When families lose their health care insurance, what I've seen is that children no longer receive their immunizations, and of course that makes them susceptible to infections," Williams-Willingham said. "They also do not have access to the well-child checks that are critical to identify if the child has any developmental abnormalities, and so that when we're able to provide those services for them, it's delayed. So early intervention is key."
When parents postpone care for their kids because they don't have insurance, it can lead to far more serious health crises, the doctor noted.
"Now instead of giving them a simple antibiotic to be able to clear up an infection, you may have a child that might need more intensive management of that infection or illness," she said.
The report from Georgetown's Center for Children and Families lays the blame on the rise in uninsured kids on such factors as Republican efforts to repeal the Affordable Care Act, reductions in funding for insurance outreach and enrollment, and proposed cuts and poor oversight of state Medicaid programs. The authors also point to the "climate of fear and confusion" among immigrant families that has caused fewer of them to enroll their children in public insurance programs.
Williams-Willingham said that in 2010, when Georgia switched to a new managed care program for Medicaid, many specialists stopped accepting the insurance. She had a patient with a hand injury but couldn't find an orthopedic hand specialist who would see the child. Williams-Willingham said the injury eventually progressed to the point where the kid needed surgery from what was "an otherwise simple problem" to fix.
"And I had to ask myself … am I still in the United States of America?" the pediatrician recalled. "It should not be so challenging to provide health care services to children."