The new bill just passed by Congress is a huge victory for those fighting for affordable drugs
Image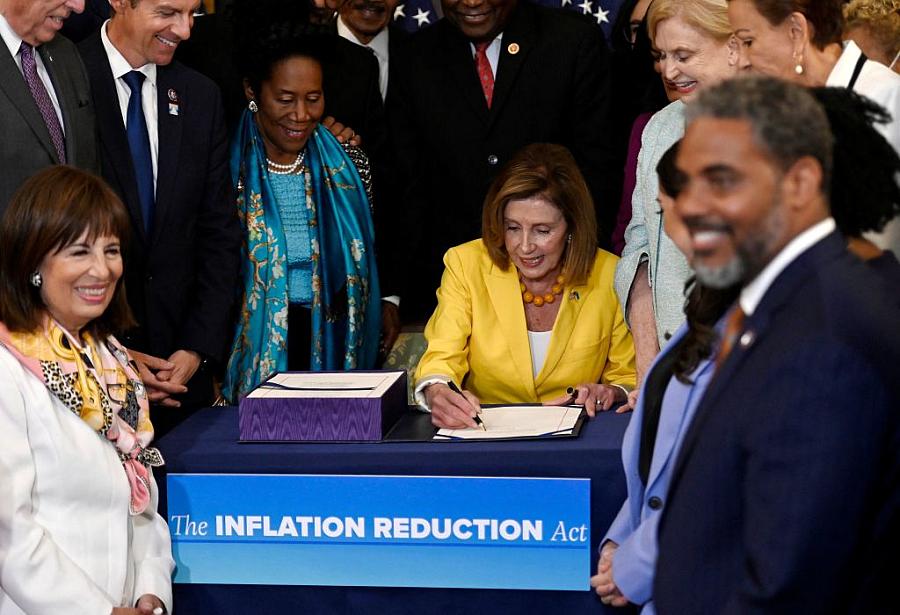 (Photo by Olivier Douliery/AFP via Getty Images)
Published on
August 15, 2022
On Friday, the U.S. House of Representatives gave final approval to historic consumer protection legislation. The Inflation Reduction Act, the official name of the major new law, will give Medicare beneficiaries some pocketbook relief from the relentlessly rising prices of prescription drugs. The new law, however, will only help people on Medicare, not those insured through employers or individual insurance plans who also face high drug costs. In the legislative give and take, Senate Republicans nixed the idea of expanding some of the law's protections to Americans under age 65. People on Medicaid obtain their medicines through Medicaid's own prescription drug program.
Still, passage of the new prescription drug law that was sent to President Biden for his signature is indeed cause for celebration when you consider how hard it is to pass any consumer legislation these days. The pharmaceutical industry in particular isn't accustomed to losing a legislative battle. The act will begin to bring price relief to millions of Medicare beneficiaries and strike down the nearly 20-year-old prohibition that has prevented the federal government from negotiating drug prices with pharmaceutical companies. That prohibition, enacted as part of a 2003 deal between Congress and the pharmaceutical industry that gave Medicare beneficiaries their drug benefit, has contributed to the high prices Medicare beneficiaries have been paying ever since.
"The Inflation Reduction Act is monumental and historic — it will lower prescription drug prices, improve health, fight inflation, and help Americans keep money in their pockets," said David Mitchell, a cancer patient who founded the advocacy group Patients for Affordable Drugs Now in 2017. "The victory of this legislation would not have been achieved without tireless advocacy from hundreds of thousands of patients, their families, and allies. Their dedication to sharing their real, lived experiences made it possible to reach policymakers in Washington and counter the power of the drug companies. They are the force behind these reforms."
Provisions in the new law will be phased in over the next few years. In 2023 Medicare recipients who take insulin will get a big break. They will have to pay no more than $35 a month out-of-pocket, which will result in huge savings for thousands of diabetics. While the amount people spend monthly out-of-pocket varies widely, it's fair to say the insulin cap will result in substantial savings for beneficiaries like an 82-year-old New York man named Andrew, who for the first three months of this year spent $608 — his share of the cost for Humalog insulin pens — and $610 for a three-month supply of Trulicity, another diabetes drug. Americans, who don't have good retiree health coverage from an employer, as this man has, pay far more.
Also, next year drug companies will be required to pay rebates to the government if prices for their drugs rise faster than the rate of inflation. Enbrel, for example, a drug to treat autoimmune diseases, could be one of the drugs affected. According to Patients for Affordable Drugs Now, Amgen increased the price of the Enbrel by 9.4% this year, exceeding even the current high rate of inflation. It remains to be seen whether drug companies will forgo rate hikes in order to avoid paying the rebates, or whether those penalties will simply be considered the cost of doing business. 
In 2024, beneficiaries who have very high drug expenses and have reached the catastrophic phase of their Medicare coverage will get a big break. The new law eliminates the 5% coinsurance — the share of health costs picked up by the patient — they now pay for that catastrophic coverage.
Then, in 2025, a major consumer protection provision kicks in. Beneficiaries will find that their total out-of-pocket spending for Part D drugs, those generally purchased at a pharmacy, will be capped at $2,000. That provision will save seniors who live on fixed incomes thousands of dollars over time, and perhaps boost the number of seniors who actually take their prescribed medications, now that they can afford them. Three years ago the Kaiser Family Foundation, found that about 20% of seniors reported that they did not take their medications as directed by their doctor in the past year because of costs. Those seniors also resorted to splitting pills and not filling their prescriptions.
In 2026, the government will begin negotiating prices of some drugs with pharmaceutical manufacturers, a huge win for consumers. Note that other countries like Germany and the United Kingdom routinely negotiate prices with drug companies, and those negotiations have historically kept prices for medicines much lower for patients than in the U.S. The American negotiation process, however, will be phased in beginning only with 10 drugs, with more added each year until up to 60 drugs will be subject to negotiations in 2029. The menu of eligible drugs will include both Medicare Part B drugs that are administered in a physician's office or hospital outpatient setting, as well as Part D drugs. Not all drugs will be eligible for negotiation. Pharmaceuticals eligible for negotiation will include brand name drugs and biologics (those manufactured or extracted from biological sources), for which consumers spend a lot of money and have been on the market for more than nine years (13 years in the case of biologics). The first list of drugs will be published in September 2023.
In a webinar last week sponsored by the Kaiser Family Foundation Executive Vice President for Health Policy Larry Levitt noted that that the industry's "lobbying armor has been dented." Indeed it has, but it is way too premature to count Big Pharma out. Steve Ubl, who heads the leading trade group for drugmakers, threatened swift retaliation. "This is a very consequential vote," he told Politico. "Those members who vote for this bill will not get a free pass. We'll do whatever we can to hold them accountable."
It remains to be seen whether the drug industry will try to prevent this new law from taking effect, or seek to erase it from the books entirely as the opponents of the Affordable Care Act have tried unsuccessfully for years. Or will they learn to profit from it, as journalist Merrill Goozner, who has covered the drug industry over the course of his long career suggests? Writing in his column on Substack, Goozner argues that because Congress failed to extend the law's protections to Americans who get their health insurance from employer plans, drug prices for those with job-based coverage will rise as drug companies  seek to shift more costs to employers — a fear also raised by the Purchaser Business Group on Health, which represents large employers. Asks Goozner, "How long will it be before many employers look longingly at Medicare and say, to borrow a line from (the movie) 'When Harry Met Sally', 'I want what they're having'"?
Veteran health care journalist Trudy Lieberman is a contributing editor at the Center for Health Journalism Digital and a regular contributor to the Remaking Health Care column.