Panelists offers timely guidance for staying safe and resilient while covering protests
Image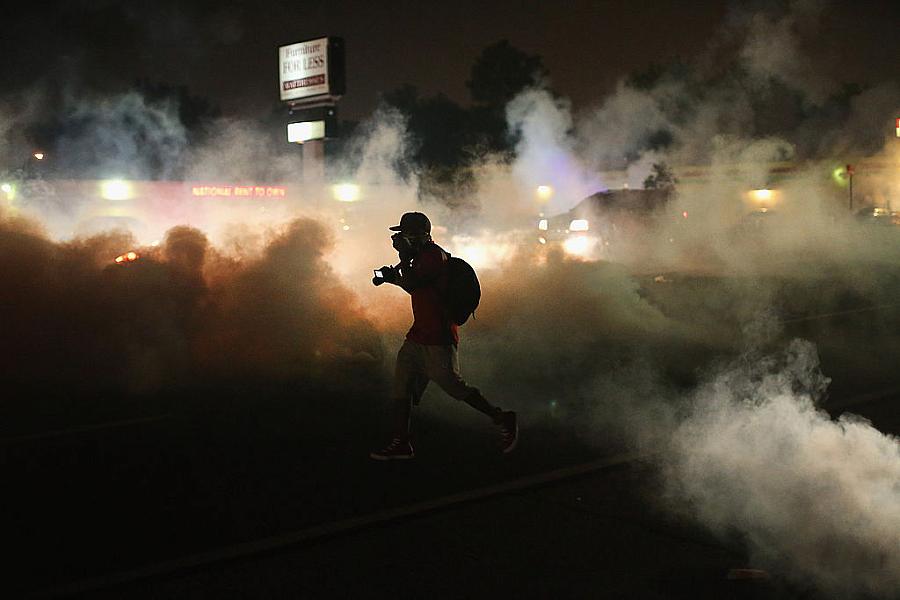 Published on
June 12, 2020
At a recent protest in the United States, two journalists were standing on the sidewalk interviewing neighbors when police approached, screamed at them and pointed guns, recounted Carlos Martinez de la Serna, program director for the Committee to Protect Journalists.
"There's no way to understand that kind of behavior," he said in a Center for Health Journalism webinar this week. "We're confronting a crisis where journalists are being attacked."
That animosity and aggression toward journalists — especially journalists of color — has become increasingly common in the weeks following George Floyd's murder by Minneapolis police. As journalists document the protests that have swept the nation, they've also become targets themselves, getting arrested and jailed, shot and blinded with rubber bullets, and sprayed with tear gas and pepper spray.
At the Floyd protests, there have been more than 400 reported aggressions against the press nationwide, according to the U.S. Press Freedom Tracker.
Martinez de la Serna joined Dr. Glenda Wrenn, the chief medical officer of 180 Health Partners, and journalist Martin G. Reynolds of the Maynard Institute to explore the physical and mental health risks of reporting on these protests, strategies for staying safe and ideas on how to bring about change within newsrooms.
Protecting yourself at protests
The narrative that has emerged in recent years in which journalists are described as "enemies of the people" by Trump and others may be playing a role in the increased violence, Martinez de la Serna said.  Amid the recent protests, journalists of color have been the most exposed, as they are mistaken as demonstrators or deliberately singled out, he said. Photojournalists are also a big target, he said, given their conspicuous gear.  
This hostile environment calls for journalists to be strategic about their personal safety, working in groups or with a buddy to watch out for each other and share information quickly, Martinez de la Serna said. He advised planning ahead and being very strategic about personal security.
He encouraged journalists to reach out to the Committee to Protect Journalists, which can answer questions, offer advice and engage with local authorities to ask for accountability, he said.
Reynolds, the former editor-in-chief of The Oakland Tribune and co-founder of Oakland Voices, a community storytelling project, advised journalists to stay on the edges of large crowds and be aware of where the police are located.
Photojournalists should carry the least amount of equipment possible since cameras can attract attention and make someone a target. Be mindful of your surroundings and make sure your credentials are visible. Consider wearing a helmet and goggles, he said.
As you are reporting, be vigilant and take the temperature of the crowd and authorities: Is the energy shifting? Are police putting on riot gear?  Stay nimble and mobile, Reynolds said.  
We are not objective
The struggles playing out in the street as protestors push back against systemic racism mirrors the experiences many journalists of color face in their own newsrooms, where there's long been a lack of diversity, Reynolds said. For many journalists of color, working in mainstream American newsrooms has been a hostile work environment for decades, he said.
Now, some black journalists are being pulled off the story because they're being told they can't be objective, he said.
"I guess that means white people shouldn't be able to cover anything then," he said. "It's ludicrous to think that any of us are objective. We are not."
Everyone sees the world through their own prisms and biases, which dictate which stories, sources and perspectives are deemed legitimate, he said. Instead of striving for an unbiased approach, journalists should instead focus on being fair.
Reynolds said he's hopeful about the conversations and staff revolts happening at places such as the Philadelphia Inquirer and Pittsburg Post-Gazette. 
"My hope is this will be a tipping point as it is around the conversation around funding of police," he said.
He advised black journalists to build mentors and allies in the newsrooms when possible, and be mindful of social media posts. Propose ideas in advance and have conversations with editors about what the story means and what you can bring to it.
But Reynolds said these steps still place the onus on journalists of color to explain why they should be covering the story, something that should not be questioned in an inclusive environment.
"This is what inclusion is about," he said. "Diversity without inclusion is window dressing."
Vulnerabilities and resilience  
Journalists of color who may already be managing overt and covert racism and microaggressions within their workplace now face the added vicarious trauma of reporting on these events, said Dr. Glenda Wrenn, a psychiatrist whose research has focused on resilience, urban residents suffering from posttraumatic stress disorder and members of the armed services. At the same time, the pandemic is straining people's normal coping mechanisms.
"What this creates are layers of vulnerabilities with respect to mental health," she said.
Finding the words and labels for these traumatic experiences is an important step. Journalists can take a self-assessment of where they're at, and should watch for signs of depression, hopelessness, burnout and disengagement. Mental Health America has an online survey to identify specific conditions. Usually, though, a trusted person in your life is the first to recognize when "you're really not doing well," she said.
Building resilience is not something you either have or don't have; it can be built through experiences such as a gratitude practice, she said.  It's also dynamic: there will be good days and bad days.  
Having people bear witness to your trauma — such as a peer group, mental health professional or partner — can help someone feel validated, seen and acknowledged, and help in processing these events.
Inside the newsroom and beyond
Martin said he'd like to see more stories focusing on solutions to address systemic racism. For instance: "What are white people doing to educate other white people about pushing back against racism?"
He also urged newsrooms to consider collaborating with ethnic media outlets, which often have higher levels of trust and connections in the communities they serve. News organizations also need to think about connecting with activists and community organizers to have ongoing conversations about how journalists are framing stories.
Journalists have a powerful role in not just lifting up voices but also facilitating insight and understanding, Wrenn said.  
Most people can acknowledge historic racism, but it's harder to recognize the systems and structures that created a racist scaffolding in places where we all live and play, she said. It's not enough to acknowledge this structural racism exists.
"The system will not reform itself because it has been seen," she said. "It will not dismantle itself because it has been protested against. It will only change if it is actually restructured, rebuilt, dismantled. And that's a very big challenge ... It will only happen with collective action. We all have a role to play in that."
**
Watch the full presentation here: