The story of a poor North Carolina county with two doctors and a shuttered health clinic
Image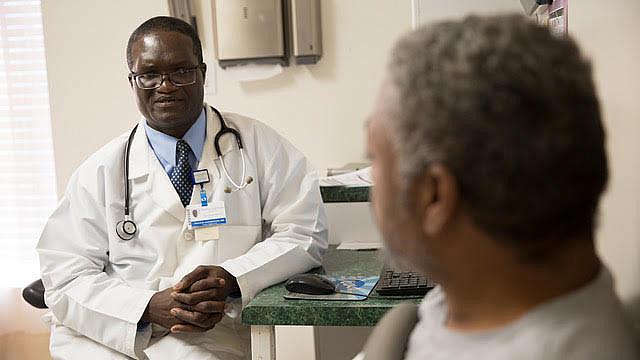 Published on
February 6, 2018
I am lucky. I live in a part of the country where health care options are plentiful. North Carolina's Triangle region — made up of Raleigh, Durham and Chapel Hill — is one of the most sought after places to live in the country because of its access to health care, education, innovation and cost of living. But less than an hour northeast of the Triangle, North Carolina is a dramatically different place. The poverty rate is higher, the unemployment rate is higher, and access to health care is lower. Welcome to Warren County.
A "free clinic" opened its doors in downtown Warrenton, the county seat of Warren County, in 2006. I became aware of the clinic in 2013. North Carolina was known to have one of the best networks of "free clinics" in the country. Still funding was beginning to dry up and one of the busiest free clinics in the state was suffering. The Warren County clinic would continue to survive another year, and another year. Then, in 2016, it shut its doors. I was surprised to hear the news. Nearly 5,000 people had used this clinic. Where would they go for health care?
My Center for Health Journalism 2017 National Fellowship and community engagement grant allowed me to think big and embark on this reporting journey to find answers. I would quickly learn Warren County is considered a "primary care desert." In fact, the North Carolina Rural Center reports 70 of the 80 rural counties in North Carolina are currently designated "medical deserts," for their lack of primary care availability. The numbers would also show that Warren County only had 0.49 doctors per 10,000 residents. By comparison, in Orange County, the home of the University of North Carolina-Chapel Hill, there are approximately 112 doctors per 10,000 residents.
Warren County has a large African-American population and I was told mostly African Americans used the Warren clinic. When I found out there was an annual African American Cultural Festival, I had to be there. I devised a one-page questionnaire. This festival was on a hot September day. Why would anyone stop to answer an invasive questionnaire about their health care, when they could be socializing with old friends, eating good food and dancing? The questions looked something like this:
Have you ever been a patient at the Warren Community Health Clinic?
If yes, when was your last visit? What was your ailment? Diabetes? Asthma? High blood pressure? Other?
Where do you get your health care from now? Warren County Health Department? Private doctor in Warren County? Private doctor in another county? Beckford Medical Center? Rural Health Care Group in Norlina? Nowhere? Other?
How far do you travel for health care?
My first lesson learned was that I could not attempt to approach this crowd by myself. I asked for help and six people came forward, colleagues and friends. We pitched a tent for much-needed shade from the sun and I handed my helpers clipboards, ink pens and questionnaires. To help get the questionnaires answered, I offered festivalgoers pulled barbecue turkey, coleslaw and rolls for sandwiches, cupcakes and bottled water. We fed many people and handed out at least 100 bottles of water. My team personally spoke with close to 30 people that day. This was my first attempt at "community engagement" and likely a first for my public radio station, WUNC. We considered it a success.
The goal was to come into contact with at least 100 former patients from the Warren clinic. A second lesson learned, is to make sure goals are attainable. To date, approximately 100 of my questionnaires have been filled out, but more than one-third of participants said they had not been a patient at the clinic before. Several people told me that many of the people I had approached were not telling the truth. By admitting that you needed the clinic for care meant admitting you were poor, likely out of work and had nowhere else to turn for health care. My third lesson was to be patient.
WUNC Public Radio is the number one radio outlet in our market, which includes Raleigh, Durham, Chapel, Hill and Greensboro. Our signal can be heard in Warren County, but most of the people I spoke with were not familiar with this NPR member station. My radio series for this project included the tagline: "If you know of a former patient of the Warren Community Health Clinic in Warrenton, email Reporter Leoneda Inge at linge@wunc.org." But to make sure former patients and their families would hear the reports, I wrote an accompanying newspaper article in the largest community newspaper in the region, The Daily Dispatch in Henderson, North Carolina. It has a print circulation of 5,800 and it averages about 30,000 unique online page views a month. That brings me to my fourth lesson: reach out early to other media, no matter the size, when trying to spread the word to a small rural audience.
The most successful story in my three part series featured Dr. Francis Aniekwensi. He is one of two doctors who operate Beckford Medical Center, which has offices in three counties, including Warren. "Beckford" turned up on several of my questionnaires. I had attempted to contact Dr. Aniekwensi, but failed. After my first story aired, explaining the project and featuring voices of people who had struggled to secure health care, I was finally able to get on the busy doctor's schedule. He and several of his colleagues had heard or read my first Warren clinic story in the Henderson newspaper. I was difficult to figure out which story would be the first in this series. My fifth lesson: Don't be afraid to tell your story. You never know who is listening.
Dr. Aniekwensi was listening. He works in Henderson and has hospital privileges at the main hospital in the region, Maria Parham Medical Center. But two days a week, he works in Warrenton, the only doctor in Warren County on Tuesdays and Fridays. I was proud to be able to put a voice and face to the numbers. People needed to know this "one" doctor. This story alone reached more than 2,800 people on the WUNC Facebook page, garnering 2,100 page views on the WUNC website, and made more than 83,500 Twitter impressions.
While telling the story of the lack of health care in Warren County, the closing of the Warren clinic and the people affected, there was always the underlying story of the possibility of the clinic reopening. There were rumors that Dr. Demaura Russell, who was raised in Warren County, wanted to "come home" and open a practice. I made attempts to speak with her as early as September 2017. I eventually got the chance to speak with her advisor, who confirmed their efforts but said they were not granting interviews. When I was preparing to produce my final report in this series, I learned Warren County officials had signed a lease with Dr. Russell to reopen the closed clinic. The price: $1 a month to lease the building. The vote to lease the building to the doctor happened after two of my stories had aired.
I have been told my reporting is a major reason the process finally moved along. Warren County Manager Robert Davie told me in an interview, "Warren County does not have any permanent, full-time physicians and so, we are desperately looking for a physician to come in on a full-time basis." One of the goals of my reporting was to hopefully get the clinic reopened. I received emails from people asking why report on this topic now, since the lack of health care in Warren County was old news. I was told there were other clinics, Rural Health Clinics, in place to cover Warren County residents. Maybe the closing of a health clinic, in a county with one doctor, where many of the residents are poor, was common knowledge to locals. Maybe common, local stories reaching a mass audience can be embarrassing.
My final lesson: Remember, sometimes you have to embarrass people for them to do what's right.