Three experts on trauma-informed reporting share tips for building care into their reporting
Image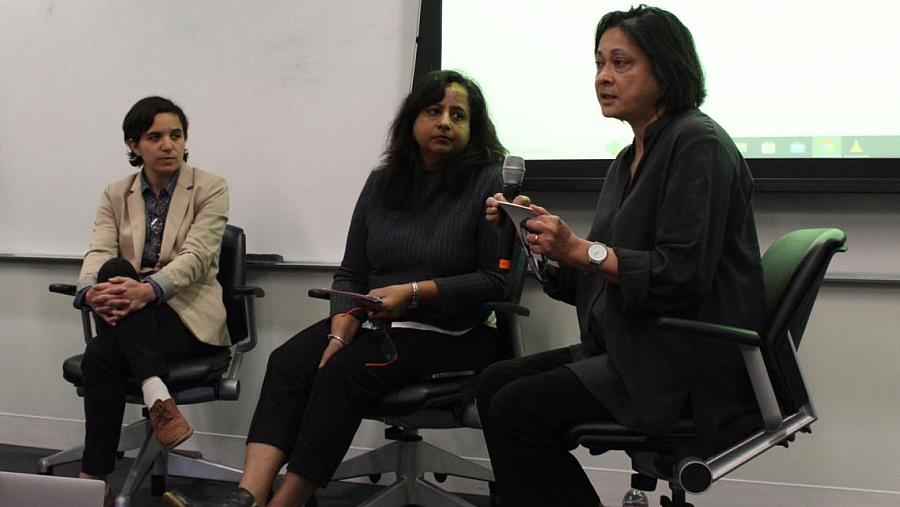 Published on
March 24, 2023
Reporters often ask people to share extremely vulnerable parts of their lives with a large audience, but how do you do so with respect and empathy in order to move a conversation forward?
Three reporters with extensive experience covering sexual and domestic violence shared their practices on trauma-informed reporting in a panel at the USC Center for Health Journalism's 2023 Domestic Violence Symposium last week.
"Building care into your reporting practice is not something they teach you in journalism school. It is not something that you do on a breaking news beat," said Sammy Caiola, who reports on gun violence prevention for WHYY in Philadelphia. "But when you're dealing with people who are healing, or trying to heal in the midst of fresh or past trauma, you are causing them – no matter what you do – some degree of exhaustion. … So I think it has to be part of our jobs to weave care into that practice."
Prior to joining WHYY, Caiola was at CapRadio in Sacramento where she reported the series "After the Assault," with support from the Center's 2021 Impact Fund. "After the Assault" told the stories of survivors of sexual assault in an effort to change the conversation around sexual violence and better support survivors seeking justice. 
To learn from and let survivors guide the reporting process, Caiola created an advisory group of women from different backgrounds and met with them for roughly two years before telling their stories.
"Creating a safe space – that was the number one thing I learned during 'After the Assault'," Caiola said. 
A safe space meant giving people time, allowing them to have a say in where the conversation would take place and who would be there. It meant letting sources schedule interviews weeks out so that they could arrange a therapist appointment after the interview, and it meant reading back information they shared with Caiola to make sure they were not only quoted accurately but that they felt comfortable with their representation in the story. 
She also created a guide for reporters covering sexual violence in the Sacramento area based on her conversations with survivors.
Panelists Meera Kymal and Anjana Nagarajan-Butaney, who reported on transnational abandonment with support from the Center, echoed many of Caiola's sentiments.
"What we learned was to let the survivor drive the narrative. You don't drive the narrative," Nagarajan-Butaney said.
Nagarajan-Butaney, a reporter for India Currents, and Kymal, the managing editor of India Currents and founder of the Desi Collective magazine, partnered to tell the stories of Indian immigrant women in the U.S. who were abandoned by their husbands in their country of origin –in some cases, separated from their children – without legal recourse or the ability to return to the U.S. Their powerful series was shared in a storytelling format where women could voice  their own experiences. 
Kymal noted that because she and Nagarajan-Butaney belong to the community they were reporting for, there was a cultural understanding that helped them connect with sources. 
"If you're going into a community you don't know well, or don't belong to please take the time to understand the nuances around that community," Kymal told reporters.
She stressed that when reporters are covering a topic as sensitive and traumatic as domestic violence or intimate partner violence, how a reporter asks the question, a reporter's body language and cultural understanding of the community, is extremely important. 
Kymal and Nagarajan-Butaney are still sharing the stories of women who have experienced domestic abuse and transnational abandonment. 
To listen to "After the Assault" visit here, and for Kymal and Nagarajan-Butaney's work, visit here.