USC Annenberg names 20 National Fellows and awards grants for reporting on health and child well-being
Image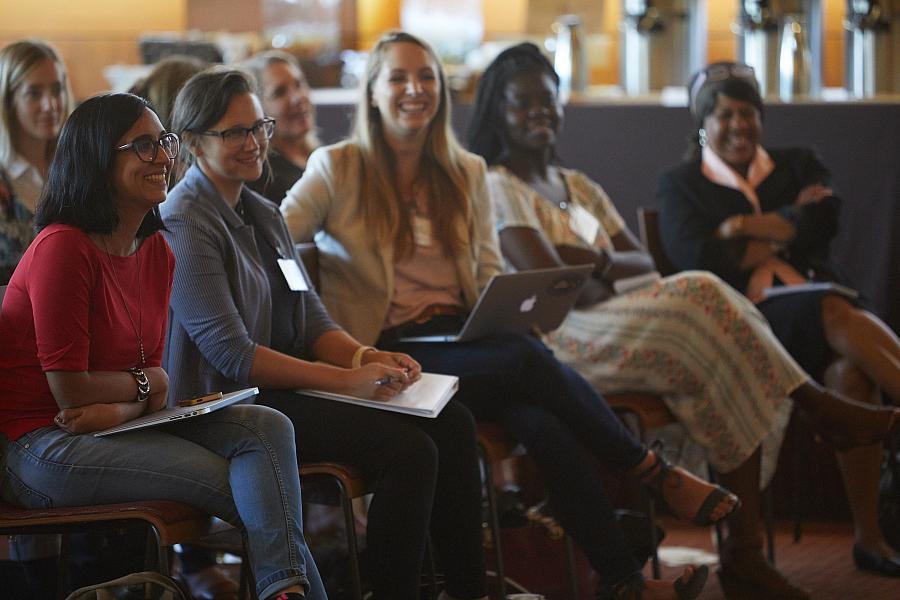 Published on
July 29, 2019
We're delighted to announce the selection of 20 journalists who will be joining us from across the country to participate in the Center for Health Journalism's 2019 National Fellowship.   
The Fellows join us for five days of seminars, workshops and field trips that will run from July 28-August 1 to improve their coverage of vulnerable children and families and community health. The competitively chosen journalists will return home with reporting grants of $2,000 to $10,000 from the Fund for Journalism on Child Well-Being, the Dennis A. Hunt Fund for Health Journalism and the Center to assist them with undertaking ambitious explanatory or investigative reporting projects they will publish under our auspices over the next six months. The Center also provides mentoring by veteran journalists to all program participants. Five of the journalists will receive additional $2,000 grants and specialized mentoring on community engagement.
The program will focus on vulnerable children and families and the community conditions and life experiences that contribute to – or threaten – their well-being. Best-selling author and journalist Alex Kotlowitz, author of "There Are No Children Here" and "An American Summer," will kick off the Fellowship with a keynote address on July 28. During the week, the Fellows will also hear from experts on childhood trauma, community health and engaged journalism, and make field visits to a public school Wellness Center that helps students address health challenges, including high rates of trauma, and Homeboy Industries, which helps gang members adopt new, healthier lives and address life challenges. 
The 2019 National Fellowship is funded by generous grants from The Annie E. Casey Foundation, the Robert Wood Johnson Foundation, First 5 LA, and the Dennis A. Hunt Fund for Health Journalism. The program also receives support from The California Endowment, which provides core resources to the Center's family of programs.
"At the Robert Wood Johnson Foundation, we are dedicated to improving the health of all who live in America," said Jordan Reese, the foundation's director of media relations. "It is our honor to support the public service of journalism, the Center, and their Fellows' ongoing commitment to the most vulnerable among us." 
"This is journalism at its best," said Norris West, the Annie E. Casey Foundation's director of strategic communications. "Every year, the Center's fellows highlight critical issues in the communities they cover and across America, showing deep and systemic challenges children and families face and often pointing the way toward solutions. Casey is proud to have funded this program over the past five years."
America's children and families face unprecedented challenges today that impact where and how they live and whether they have access to health care and other social welfare benefits. The in-depth impact journalism supported by the Center for Health Journalism's 2019 National Fellowship promises to broaden public awareness and highlight opportunities for fundamental change.
Among the topics the fellows will explore in their projects are the federal government's inattention to fetal alcohol syndrome, with a focus on North Dakota; racial disparities in infant mortality in North Carolina; the disproportionate impact of diabetes on low-income children; the risks of climate change-fueled wildfires to undocumented workers in California; the impact on health of inadequate environmental surveillance by Florida's state government; the health threat to children in Utah of high levels of radon; and marijuana usage among pregnant Latinas.
Since 2005, the Fellowships program has educated more than 900 journalists on the craft and content of health journalism, with an emphasis on the relationship between health and place. Previous Fellowship projects can be found here. 
2019 Grantees of the Fund for Journalism on Child Well-being
Lynn Bonner,  Raleigh News & Observer
Larrison Campbell, Mississippi Today
Kavitha Cardoza, Washington, D.C.-based freelance reporter
Briana Ehley, POLITICO
Sarah Gantz, Philadelphia Inquirer
Allison Graham, Roanoke Times
Jacqueline Howard, CNN
Sarah Hughes, Pennsylvania Capital-Star
Jessica Seaman, Denver Post
Grantees of the Dennis Hunt Fund for Health Journalism
Issac Bailey, Myrtle Beach Herald
Cassie Chew,  Chicago Reporter
Teresa Cotsirilos, KALW public radio in San Francisco
Nada Hassanein, Tallahassee Democrat
Will James, KNKX public radio in Seattle
Elizabeth Koh, Miami Herald
Eilis O'Neill, The Nation
Christopher Walljasper, Midwest Center for Investigative Reporting
Center for Health Journalism Grantees
Sara Israelsen-Hartley,  Deseret News
Fatima Navarrete, Univision in Fresno
Sally Ryan, for the New York Times
To learn more about our Fellows and their planned projects and to keep up with our coverage of the speakers joining us, go to our Fellowships' column, follow us on Twitter or subscribe to our newsletter.