What we keep getting wrong when we talk about testing for COVID-19
Image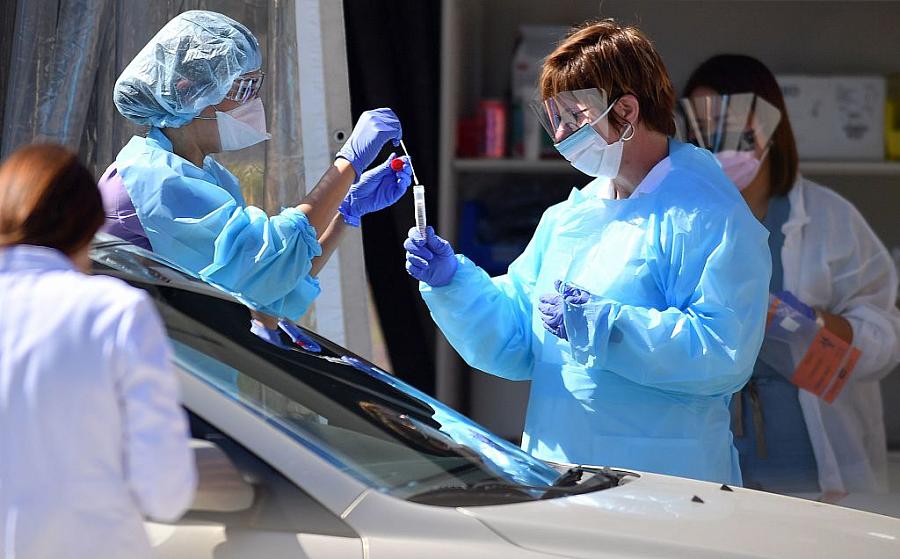 Published on
May 15, 2020
While widespread COVID-19 testing has been heralded as the key to reopening a cratering U.S. economy, it's a lot more complicated than boosting the number of people tested.
"You need the right test at the right time for the right person for the right result for the right action," said infectious disease epidemiologist Michael Osterholm in a Center for Health Journalism Covering Coronavirus webinar this week.
Instead of aiming for an arbitrary number of people tested, Osterholm emphasized the need for "smart testing," an approach that considers the purpose of the test, the meaning of the results, and the best way to use that data. 
Osterholm, a professor and director of the Center for Infectious Disease Research and Policy at the University of Minnesota, joined health and science reporter Apoorva Mandavilli of The New York Times to discuss the current state of diagnostic and antibody testing and what that means for reopening America. They also offered key questions and strategies for journalists interested in gaining a better understanding of testing — and its limitations — in their communities.
What does a test mean?
COVID-19 testing generally refers to two key tests: the PCR test, which detects if someone is actively infected, and antibody tests, which can indicate if someone has previously been infected.
Just a few weeks ago, federal guidelines for reopening states called for at least 14 days of declining cases using a standardized testing method to determine active infections.
While the majority of the country is reopening, planning to reopen or relaxing restrictions, Osterholm said he isn't aware that any of those states have met those criteria. There's also a widespread misunderstanding about what a test can and can't do.
"I've not seen it used in any meaningful way in recent weeks that would suggest we have any idea what we're doing," he said.
For one, using an arbitrary testing number as a goal is a misplaced priority, he said. Instead, it's important to consider the purpose of the testing, what the results mean, and how they can be used.
A PCR test that can positively register 97% of COVID-19 cases could help assess the virus' current presence in a community, but wouldn't be as helpful for a high-risk population such as a nursing home, prison or meat-packing plant, where missing 3% of cases could lead to a quick spread.
"Suddenly, it's a match into a gas can," Osterholm said.
Similarly, an antibody test might be useful for analyzing how widely the virus has already spread in a community. But relying on that test to gauge individual immunity could be dangerous for a health care worker who gets a false positive and decides to relax safety measures. (Despite media attention on concepts like "immunity passports," there are still many unknowns about whether recovering from COVID-19 confers immunity, the speakers noted).
Asking the right questions
In high-risk places, testing is important but it's not enough. It's important to look at what other preventative measures are in place — such as screening controls, personal protective equipment for workers and whether there's adequate staffing in places like nursing homes.
While testing is critical and informative, if you can't combine it with other actions, "You're documenting a train wreck, you're not preventing it," Osterholm said.  
Journalists should go beyond the numbers in their community and ask critical questions about how testing is being used, suggested reporter Mandavilli, who begins her new post at The New York Times next week. Ask people how quickly they got their results. For those with positive results, ask whether there was follow-up, isolation recommendations and contact tracing. If not, why not?
In the absence of clear overarching federal guidelines, states are coming up with their own playbooks for deciding when to reopen schools. Ask what's guiding their decision making: Are they using science? What types of evidence are they examining? Which experts have they consulted?
Wading through information
Given how little we known about COVID-19, it's not easy to determine the truth, Mandavilli said. 
The landscape is also complicated by the proliferation of preprints, or drafts of research papers that are posted online before they have been peer reviewed.
Finding trusted sources becomes even more critical when reporting on preprints. She asks reliable experts questions such as: What do you think of this study? What are the caveats? Is this a big enough number of people? Does the analysis hold up?
"A healthy, healthy dose of skepticism and a lot of vetting by experts can get us part of the way at least," she said.
Osterholm encouraged reporters to find sources who aren't focused on being quoted but care more about getting the right information out.
What's next?
Osterholm, who has extensively studied other coronaviruses such as SARS and MERS, said that even the idea of controlling a virus like this is a mistaken belief.  The only certainty is the persistent strength of the virus, he said: "This virus is going to keep on trying to get to that herd immunity level and we have to understand that."
He compared efforts to contain it to keeping water in a leaky bucket: "If there's one micro hole, that virus will escape." 
Mandavilli said it's not surprising that when countries started to reopen there are surges in infections.  As many epidemiologists have predicted, the future will come in waves, she said. When regions are in lockdown and people are staying home, the curve of cases will plateau. Reopening will lead to spikes.
One silver lining is that the pandemic has led to a stronger demand and appreciation for science journalism: "If newspapers do survive, maybe there will be more science desks," she said.
**
Watch the full presentation here: