Addiction, survival and love on Anchorage streets — Part 2
Image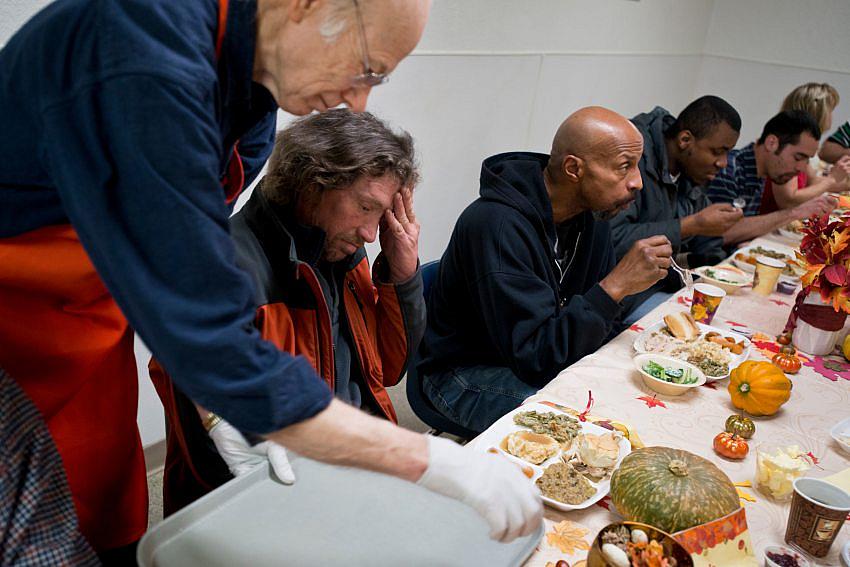 Published on
January 22, 2015
By Michelle Theriault Boots and Marc Lester
Usually, Daniel Sopcak doesn't bother going to the Anchorage Gospel Rescue Mission. For one, a breath alcohol content of zero is required, and that's mostly out of the question.
Plus Daniel, unlike his wife Betty, does not believe in God, although he attended eight years of Catholic school in Chicago.
But on the day before Thanksgiving, Daniel was willing to sit in a pew packed with men and women and listen as a preacher in a three-piece suit rhapsodized about redemption and salvation in order to partake in the Rescue Mission's annual Thanksgiving meal. Daniel waited his turn to be called into a small room filled with Thanksgiving decorations. He ate his turkey and mashed potatoes quietly.
He knew an envelope containing a $20 bill was waiting for him at the front desk, payment from a man who hires Daniel for drywall work on his house. As soon as he finished eating, Daniel collected the envelope and walked up Tudor Road to the Brown Jug liquor store. He is banned from Alaska Liquor, which is closer.
Daniel is tall and rangy, with wild graying hair and a long face. Wearing a Gore-Tex jacket and three pairs of pants, he could be an Iditarod musher closing in on Nome. Like many alcoholics who subsist largely on calories from alcohol, eating is not his priority. His belt is cinched tight around his waist. His upper teeth have mostly been knocked out from falling down. A single tooth dominates his smile.
Sometimes, his eyes water. He's not crying, he says: The tears are a result of an old injury, an orbital fracture sustained years ago when he was jumped by a group of men while walking to the grocery store.
Daniel just turned 50. He has been homeless for the better part of nine years now. Brief spells of apartment living have ended in eviction.
Betty Sanchez Sopcak, 45, is Daniel's wife.
A short woman with a round, youthful face, a sardonic wit and a talent for survival, she comes from the Yukon River village of Emmonak. She spent her youth in a succession of foster and group homes, ending in Anchorage. She worked scattered jobs and after deaths in her family began drinking. A bad marriage made things worse.
"I held so much things inside myself, you know?" she said on a recent afternoon while sitting on fallen logs at Campbell Park, waiting for a friend to return with beer to still her shaking hands.
Betty has recently been in the hospital for foot surgery and walks with a cane. She has liver damage. Doctors have diagnosed her with post-traumatic stress disorder, depression and bipolar disorder, she says.
"The only reason I keep drinking I think is to numb my pain, to numb my feelings ... there's nothing else to do. I can't work. I can't. Sometimes I get up to use the bathroom, I barely could walk. The hardest part is standing up," she said. "I want to write a book about my life."
Though she sometimes calls Daniel "one tooth" and pesters him about getting a divorce, they are a pair.
"If I didn't have her, it's over," he said.
Daniel and Betty are homeless, but they are more than their circumstances.
Betty is a woman who once had an apartment, a job in a mailroom and a car, a woman who loves freedom so much she once, in flush times, took a bus to Mexico, just because.
Daniel is a guy with a Midwestern accent who once frosted birthday cakes at a bakery, a father who lost custody of his children, a husband who loves but is exasperated by his wife.
They are two people walking an icy, uncertain path through Anchorage's streets and woods. Most days they walk together.
The Deck
Daniel spent the $20 on tall cans of Stack High Gravity malt liquor. He had enough money to buy a bottle of vodka or whiskey and more, but at $2 for a 24-ounce can, the beer offered the best value. There's a street saying about the Stack tall cans, the cheapest beer on the market: One gets you feeling right, two gets you drunk, three gets you into the sleep-off center.
Daniel stashed a can or two in his jacket, where he also stores an  assortment of prescription drugs in a plastic baggie.
Daniel has had seizures since he was 16. His body is gnarled from decades of construction work. He's undergone a triple aortic bypass.
He walked from the liquor store toward a patch of parkland along Campbell Creek, his destination a beer-drinking spot known as The Deck.
Daniel first came to Alaska decades ago from Chicago after getting crosswise with a dope dealer, he says. He was in danger, so he fled. To his regret, he left a son behind.
"I had to leave him on the spur of the moment," he says. "I just got into too much trouble with dope and stuff out there."
In Alaska, he worked in construction and roofing and had two children. The state later took custody of them, he said.
For years, The Deck, a treacherously icy elevated metal walkway off Folker Street with a serene view of Campbell Creek, has been at the center of many of Daniel's days. In one direction there's spruce forest and frosty creek, in the other, fast food and apartment complexes.
It is where he and a rotating cast of characters — Betty, Margarita, Mario, more than one guy named Ken — sit and drink beers or bottles on green, damp summer days or in the snow by starlight. They roll cigarettes, laugh and sometimes fight. At night, some disappear into the thick woods to camp. Others sleep tucked under awnings of offices and businesses on Tudor Road. Caches of camping supplies and clothing are secreted in vacant lots.
Denizens of The Deck tend to avoid the social service agencies in the Ship Creek and Fairview areas, such as Bean's Cafe and the Brother Francis Shelter. That doesn't mean they don't make use of the city's safety net for the homeless: On days when it's cold or snowing, Daniel will drink for the purpose of getting picked up by the Anchorage Safety Patrol, guaranteeing a warm night inside the sleep-off center.
When Daniel gets separated from Betty, he knows there's a good chance he'll meet up with her at The Deck.
The two almost got married there, but according to Daniel they got drunk and missed their first two scheduled weddings.
Instead they wed at the apartment they used to share near Brother Francis Shelter. There was some difficulty getting the required two witnesses, so Daniel ran outside and offered a stranger an Earthquake High Gravity Lager to do the job. He accepted quickly.
They were married on March 6, 2012, partly for reasons having to do with paperwork and attempts at formal cohabitation.
"But also because I love her," Daniel says.
Another reason they legally married is to ensure the vagaries of homeless life don't separate them when it matters.
Last time Betty was hospitalized, Daniel insisted they stay together.
"I went down to my case manager, I got a copy of our marriage license and I went back there, and I said, 'Look, we're married.'"
There's a possibility that Daniel's health problems are so severe he will be placed in an assisted living home after his next cardiac surgery.
"I'm like, well, I'm not going to do that if Betty's not going to be able to stay there with me, you know?" he says.
Taco Bell, McDonald's, the Penthouse
After drinking beers at The Deck, Daniel walked over to Taco Bell, mostly to warm up. In the winter, he often settles in fast food restaurants, ordering a coffee, to pass time indoors.
When Daniel feels like he's worn out his welcome at Taco Bell, he'll cross Tudor Road in a haze of rush-hour traffic and end up at McDonald's, where he'll repeat the process, taking sneaky sips of the beer hidden in his jacket.
Once he had a seizure as he was crossing Tudor Road, right in the median.
He could have died, he says, but a stranger stopped his car to help.
When he'd recovered, the man went so far as to drive him up to his house on the Hillside. He let him spend the night in his heated garage and gave him a sleeping bag and a blanket.
By 11 p.m. Daniel was a little unsteady on his feet. He walked up to the place he calls "The Penthouse," an elevated spot behind the Anchorage Community Mental Health Services building, at the edge of the sprawling Providence medical campus. In the dark, there's a sea of twinkling lights before him.
Daniel doesn't put up tents these days because the police are cracking down on illegal campers. He's lost half a dozen tents to camp removal in the last two years.
"They're just pushing us deeper and deeper into the woods," he says.
If it gets deadly cold or the thoughts padding through his head turn too depressing Daniel will get up and walk until dawn. He has learned to be cautious when speaking about his depression to professionals.
"The one question you never wanna answer is 'do you feel like hurting yourself?'"
Once, Daniel says, he answered honestly in the emergency room: "Yeah, every day."
He was sent to the Alaska Psychiatric Institute. When he was released, a nurse asked him how he was getting home. He said he lived in the woods behind her building. She gave him a taxi voucher anyway.
He used it to get to Muldoon, where he went "snipe hunting," which involves searching through ashtrays for stubby, smoked cigarettes to collect the unburned remains. Bingo halls are the best. He refashions them into new smokes with rolling papers that cost $1 per package.
Enduring on the streets requires this kind of inventiveness. Take panhandling: Daniel is a firm believer that a humorous appeal will garner more money than a serious or sad one.
Once, he held up a sign that said 'My wife is a lunatic." Betty was sitting right next to him.
That night, Daniel would sleep outside at The Penthouse, on a rough carpet meant for brushing snow off boots. It keeps him off the concrete. The night before, he and Betty quarreled over their shared blanket — he says she kept stealing it and he ended up partly in the snow.
On this night, he hoped she'd come around.
"She'll show up," he said. "Unless she's in sleep-off."
Betty showed up eventually, but soon disappeared.
Missing
On a Tuesday a few weeks later, Daniel was drinking a Steel Reserve beer at The Deck, despondent.  
Betty had been gone for six days. He hadn't seen or heard from her at all. She'd gone missing before — admitted to the hospital, wound up in sleep-off — but never for this long, Daniel said.
It would have been hard for him to find her. In thin sneakers, Daniel said his feet were frostbitten. He had since acquired real winter boots, but they ached. His bus pass cracked in two.
He had gone to an appointment at the Alaska Heart Center and learned his blood pressure was skyrocketing, a sign his heart condition was worsening.
Betty's absence weighed heavy.
Daniel's friends, sharing a 10-pack of Steel Reserve cans, told him it would be OK and offered to let him stay at their camp for the night. They rolled cigarettes and laughed when one fell through the grating and Mario crawled underneath through the snow to retrieve it.
Daniel stared, sullen. There were so many things he was supposed to do that day: See his case manager. Get downtown to pick up medical documents for a social security application. But his bus pass was broken. He needed $5 for a new one. He didn't have it. But he did have beer and some company. Maybe he would do the tasks tomorrow.
A beige car pulled up. Daniel Motz, Daniel's case manager at Anchorage Community Mental Health Services, got out.
The two gingerly navigated the slippery deck for a private conversation. Daniel kept his beer in hand.
"We're going to go find Betty," Daniel announced.
He waved goodbye to the unending party on The Deck and followed his case manager to the car.
Three o'clock appointment
By the next afternoon, Daniel and Betty were together again. Betty had been in the hospital for her pancreas.
Walking together, lanky Daniel and short Betty, clad in a puffy gray coat, shuffled into a McDonald's on East Tudor Road, where they were perhaps technically no longer welcome.
Daniel was glad to be reunited, but the mood was dark.
The two took turns crying. Their shared misery was increasing: the heart doctor appointment, the seizures, the frozen feet, the increasingly cold nights sleeping outside. Thin hospital-issue socks and frozen blankets. Feeling cold, wet and dirty all the time.
Betty kept interrupting Daniel's stories, her voice swinging between muffled sorrow and acid anger.
Daniel stared into his coffee.
"We're both dead," he said. "Just face it."
"Well, we should eat before we die," Betty said, rolling her eyes and pointing to a box of french fries. "Eat, Dan."
The question hanging over the booth was what could make their lives better.
Betty grabbed their bag and headed to the bathroom.
"Don't drink no beer in there!" Daniel implored.
Daniel was interested in detox and rehab, as long as Betty would come, too.
"But I can't do it alone," he said.
At 3 p.m., Daniel and Betty were supposed to talk to a psychologist at Anchorage Community Mental Health Services.
"I want her to come with me," he said.
Betty walked out of the bathroom. They were beginning to wonder if they'd be asked to leave by management. It had happened before.
"She makes it sound like it's my fault!" Daniel said. "Betty, it's not my fault. You get too intoxicated and start yelling at the managers and stuff."
"And what do you do?" Betty asked. "Throw food at a pastor?
The pastor in question, Daniel explained, had called Betty and him drunks.
Betty countered that Daniel had been kicked out of the Holiday convenience store, while she was just banned from the bathroom there.
She was welcome at Subway, she said.
Inside the warm restaurant, with hot coffee on the table and beer in their bag, Betty rolled cigarettes and the mood lightened.
How to explain this life to outsiders? It was impossible, Daniel decided.
"It's all just a bunch of goofy crap," he said.
Betty noticed the manager was looking askance at them. It was time to leave.
The couple walked down the street, sharing a tall can of Earthquake beer and quarreling over who had their cigarette lighter.
At Folker Park, they sat on a picnic table where they'd passed summer days, remembering them as a happier, easier time.
Once, they had carved their names: Betty and Daniel Forever.
The psychologist appointment wasn't for another half hour.
There was time for one more beer.
Unfamiliar surroundings
A few days before Christmas, Betty hit Daniel in the back of the head with a rock and ended up in jail.  
It was an injustice, Betty said later: Daniel had assaulted her first, she claimed. Plus the rock was small.
Daniel was carrying it in his pocket when police found him.
Betty was charged with misdemeanor assault. She landed at the Midtown Center, a halfway house where she could sleep in a bed, take a shower and watch cable TV. The court had ordered her not to have any contact with Daniel.
On a January afternoon Betty was doing her best to stay out of trouble at the halfway house. She was dressed in a fleece jacket. Her hair looked freshly washed. Still, she felt caged.
"I hate it," she said. "I'd rather be outside."
Cleaved from Daniel and forced into tremulous sobriety, she had been reevaluating her path.
Betty had  been reading a self-help book called "Believing In Yourself."
She said she was trying to retrain her brain to think thoughts like, "I'm a human being. I deserve the best."
Prickly questions arose in her mind.
Was her marriage keeping her afloat or dragging her under?
Could she and Daniel ever get sober?
"I want to leave him so I can better myself," she said. "But I don't want to leave him, because he might die."
Despite their occasional assaults on each other, Betty felt something for Daniel her other marriages had lacked. Even in misery, they laughed together.
"With my Danny, we have a connection," she said. "We're thinking the same thing at the same time."
And without her, what would Daniel do when he had a seizure? Would he remember to take his pills?
She had time to think about it. With good behavior she could  be released to the street in a month.
Betty guessed Daniel might be staying at the Rescue Mission in her absence.
"I think he's lonely," she said.
Sure enough, as the winter light faded that day, Daniel stood in line outside the mission, waiting to get inside.  This would be his fourth night in a row there.
He said he had a few dollars in his pocket, enough to buy a couple beers.
But he didn't rush to spend it.
Darkness fell on Daniel and Betty in unfamiliar surroundings, separated by three miles and the authority of the Alaska Court System.
That night, they both went to bed sober.
Photo Credit: Marc Lester / ADN