An Aging State: Housing for all stages and ages
Image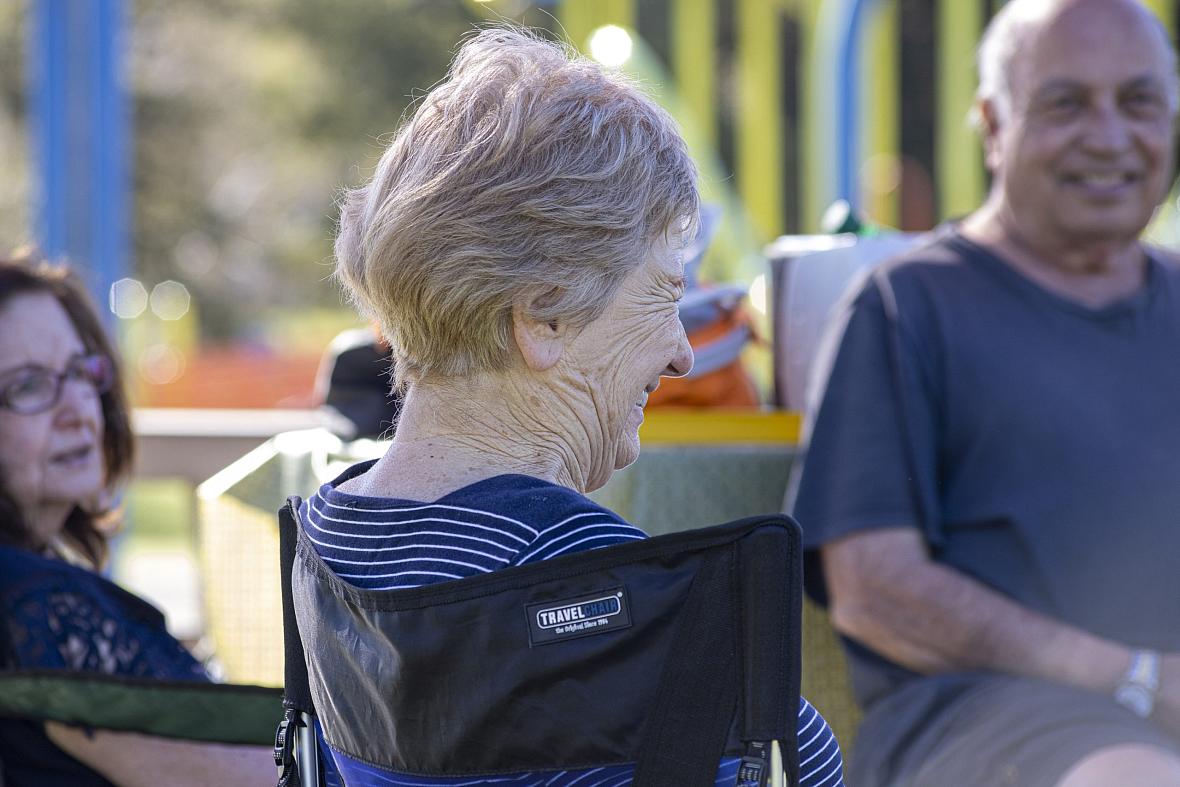 (Harika Maddala/ Bay City News)
Published on
July 5, 2022
Housing is one of the most complex issues facing the state and a critical factor in the state's high cost of living. And with the population of seniors in California set to grow by two-thirds in the next two decades, a key question is housing: where will seniors live and how will they afford it?
Priscilla Essert, who served a population of about 5,000 seniors in Sonoma in her role as the executive director of Vintage House Senior Center, is intimately aware of the stress that these concerns can cause. 
Essert has found that housing insecurity is inextricably tied up with two other major concerns expressed by Bay Area seniors – isolation and overall economic pressure.
"Generally speaking, isolation is the biggest issue. Seniors may be living somewhere they are comfortable and have lived forever, but maybe they no longer have family there," Essert said. "Their friends start passing away or maybe they're left behind by a loved one or a spouse – people start to feel invisible as they age, they feel discarded.
"Then many seniors, especially women who have lost their spouse, may realize that they aren't as well off as they thought they were. I worked with a lot of seniors facing a tremendous amount of stress and housing insecurity and, you know, deciding between feeding your pets, yourself, or paying your rent."
Esserts worries that even with efforts like those listed in the Gov Newsom's Master Plan on Aging, the state is not prepared for such a substantial shift in the population. 
"There's not going to be enough institutions to help these people, even if they could pay for it. People are going to have to figure out how to age in place and die at home," she said. "There's just things that you lose control of as you get older, and the system is not ready to help fill the gaps that result."
In 2015, a report by the UC Berkeley Labor Center found that 26% of senior households faced a housing cost "burden," defined as spending more than 30% of their income on housing. In California, that amounted to 935,000 households, which is 25 times the number of affordable, subsidized housing units available for senior citizens. Since then, the senior population has continued to increase, and affordable housing availability in the Bay Area remains a critical issue.
The Association of Bay Area Governments is responsible for determining how much new housing local jurisdictions must plan for. In the core nine Bay Area counties, ABAG found that no jurisdiction has met its goals for low-income or very-low-income housing in this planning cycle, which ends in 2023. 
Renters have an even harder time affording housing and the cost of living
One metric used to determine the economic well-being of seniors is the California Elder Index, which calculates the cost of basic living expenses for shelter, food, medical care, transportation, and a minimal amount for such other costs as personal care.
Like the Labor Center, the Elder Index, which uses data from 2015, places the proportion of elders unable to afford the cost of living at 26%. For renters, that number is substantially higher, with 50.4% of seniors living on an inadequate income.
The housing challenge is particularly difficult for renters in California, especially as rents have risen substantially in recent years. Furthermore, given the long history of racial housing discrimination, Latinx and Black seniors are more likely to be renters than white seniors. 
The Master Plan on Aging aims to combat the issue of housing inequality through, "housing policies grounded in equity – for owners and renters, for all races and all ages, for living alone and all household sizes."
The first steps, as outlined by the plan, are to identify ways to boost production of more housing options in a variety of communities and for a variety of needs, prioritize types of housing units that are not currently being produced – especially those needed by low-income individuals – and advance fair housing and equity through outreach, education, and prosecution of violations. 
California seniors are facing staggering rates of homelessness
The  Elder Index is only one way to examine the issue of seniors' ability to afford housing and other necessities. This metric shows how many seniors struggle, but not how much they are struggling. 
Another indication comes in the state's Master Plan on Aging, which notes that California has the second-highest rate of poverty among older adults in the country, "leading to high levels of hunger and increasing homelessness."
Image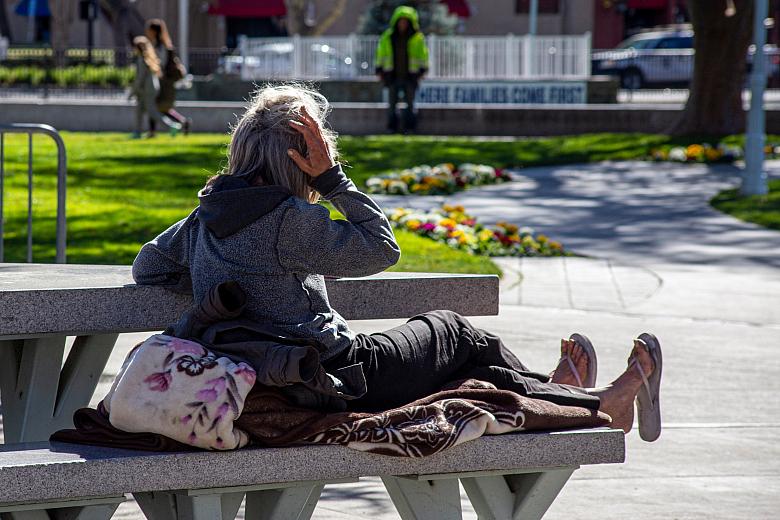 "You shouldn't be seeing 80- and 90-year-olds at homeless shelters. You just shouldn't. That's just morally, morally wrong," Essert comments. "It's so wrong to have people work their whole lives and then have no home."
The lack of stable housing has also been linked to severe health challenges, especially those related to mobility and cognitive decline. As the Master Plan notes, "Older adults without homes experience health problems that you would typically see in people who are 20 years older, including cognitive decline and decreased mobility."
Seniors relying on Social Security 

struggle to get by

The Master Plan on Aging reports that a quarter of people over 65 rely almost entirely on their Social Security benefits, which average about $1,500 per month for retired workers and $1,250 per month for disabled workers.

Meanwhile, the Plan states that the fair market rent of a one-bedroom apartment in California is $1,522. For seniors relying on Social Security benefits to get by, housing costs mean there is little or no money left for such other essential costs as food, healthcare, and transportation. 

In the Bay Area, the cost of living for seniors runs roughly 25 percent higher than the California average, so seniors in the region have an even greater risk of ending up homeless or impoverished.
Pandemic challenges exacerbate issues of housing and care 
COVID-19 has only made matters worse for seniors. Not only are older adults at greater risk of serious health complications from viral pandemics, but the housing and care requirements of many seniors also put them at greater risk of contracting the virus. 
Seniors in assisted living facilities or other group accommodations are often unable to socially distance or avoid cross-contamination with other residents and staff members. Seniors residing alone or with family members may still require care that necessitates bringing medical and care practitioners into their homes or traveling to medical and care facilities – again putting them at risk.
And for seniors who live independently and do not require ongoing care or intervention, the social distancing and isolation imposed by the pandemic further isolate a population that already tends to be cut off. 
"Aging in place involves more than growing older within the confines of a dwelling." said Stacy Torres, assistant professor of sociology at UCSF.  "Spaces such as coffee shops, libraries, parks, plazas and senior centers support a range of needs, providing crucial venues for avoiding social isolation and obtaining services such as free and low-cost meals. Cultivating age-friendly communities necessitates deliberate consideration in urban planning."
Housing for the changing needs of seniors faces tax obstacles
Another aspect of aging that can create challenges for seniors is that peoples' needs often change substantially as they age. Care, health, transportation, and community requirements shift– and for many that raises the need to change residences.
Moving to a new residence has been complicated for many, however, by the unintended consequence of Proposition 13 – the tax reform measure passed by California voters in 1978.
Prop 13 was intended to protect homeowners in California by limiting increases in property taxes for people who remained in the same home. However, the proposition ended up discouraging some older Californians from moving because they would lose the benefits protected by Prop 13. Yet, many seniors need to move. Those living in a two-story home, for example, may face mobility challenges,. Others may want to move closer to family members who can provide support and community for aging relatives. 
Recent efforts have tried to get around this problem. Proposition 19, enacted in 2020, softens the tax impact when people over 55 move to a new home. Still, tax burdens can rise with a move, creating challenges for seniors whose housing needs have changed.
Creating community beyond housing
Even for seniors who may be able to afford the cost of housing, the issue of isolation as people age remains a serious challenge. 
Priscilla Essert has worked with thousands of seniors in Sonoma County, and she flatly states that isolation is the top concern for seniors she has spoken to. 
"As people start to age they feel invisible, discarded even. There are all sorts of issues facing seniors, but the number one is isolation."
The first goal of The California Master Plan on Aging is "Housing for all stages and ages." 
"We will live where we choose as we age in communities that are age-, disability-, and dementia-friendly and climate- and disaster-ready."
The Master Plan on Aging goes beyond the need to provide shelter for seniors in California- it also puts a core focus on community, engagement, and adaptability within senior housing. 
Torres, at UCSF, wrote the following in a School of Nursing newsletter:
"We must ensure safe and accessible public spaces for those facing growing health issues, challenges to maintaining social connections, and financial pressures from escalating health care costs, gentrification, affordable housing shortages and pandemic-induced inflation."
Essert agrees that engagement and community for seniors is crucial; she has seen the impact of isolation firsthand. 
"There was one guy who used to come by everyday, just to hang out. Never took a class, just read the paper, drank coffee and talked to us," she recalled. "Eventually, he could no longer drive himself so he became isolated and got super depressed. And because he was isolated he died shortly thereafter. These are the stories that I think will stay with me for a really long time." 
 

Image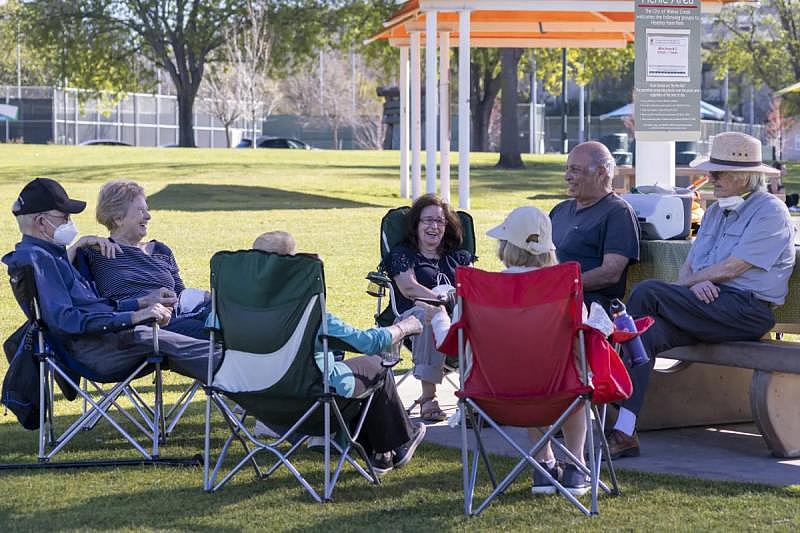 To combat isolation, the Master Plan would provide seniors with convenient access to outdoor and community spaces, especially parks and community centers with programming for all ages. Among the proposed features are slow streets and tiny parklets. 
According to the Plan, adults aged 60 and above make up only 4% of total park users, despite accounting for 20% of the total population and the majority of State Park volunteers. 
Senior housing has many dimensions and no easy solution
Housing is far more than shelter – which is why it's such a complex issue.
In its efforts to provide "housing for all ages and stages," the Master Plan on Aging considers affordability, access to transportation, emergency and climate preparedness, and community. It must not only consider the current needs of seniors,but the ways in which those needs will shift – and how the housing we provide will adapt to those shifting needs.. 
"Addressing these issues isn't just for seniors.  It benefits you and everyone you know," Essert said.
---
This article was produced as a project for the USC Annenberg Center for Health Journalism's 2021 Data Fellowship.
[This article was originally published by LocalNewsMatters.]
Did you like this story? Your support means a lot! Your tax-deductible donation will advance our mission of supporting journalism as a catalyst for change.