Capturing Homeless Health and Mortality Through Photography and Text Combined
They live so differently from us that it shouldn't be surprising how differently they die.
And yet, the places where many chronically homeless people spend their final moments are somehow shocking in their banality – public spaces we pass on the way to somewhere else: a parking lot, a dirt path, an embankment behind a high school. These are the exact locations, respectively, of where Alberto Gonzalez, Kenneth Baker and Rachael Mae Lane (in full-term pregnancy), died in Orange County, California in 2015 and 2016. (The adjacent photo captures the place – Huntington Beach State Park – where 29-year-old Rafael Estrada Sanabria drowned in the Pacific last year with methamphetamine and alcohol in his system.)
Such ordinary places tell extraordinary stories of a health crisis and premature mortality amid surging death rates. In affluent Orange County, homeless deaths rose 74 percent in 2015 from the year before, reaching 188. Last year saw the toll rise to 201. Similarly, the homeless death count has risen in Los Angeles, Sacramento, Santa Clara and San Diego counties in recent years.
A significant contributor to the increase is drug overdose, which has replaced HIV as the primary homeless epidemic, according to a 2013 study in the Journal of the American Medical Association. But another explanation is the historically unprecedented graying of our homeless population. Half of the nation's chronically homeless are now over 50, and they suffer from accelerated aging – dying of ordinary conditions such as heart disease and cancer as many as 25 years earlier than the rest of us.
"Fifty is the new 75," says Dr. Margot Kushel of the University of California, San Francisco, who studies homeless health and regularly treats middle-aged people for advanced geriatric illnesses.
With homeless life expectancy ranging between 42 and 52, and so many rounding this milestone, the time for meaningful intervention is fast disappearing. It's thus more crucial than ever to shine a light on homeless people's health, lack of medical care and the circumstances of their deaths.
The following 10 images offer unusually intimate, eerie portraits of the places, though not necessarily the exact spots, where homeless people spent their final moments in Orange County in 2015 and 2016.
Text by Amy DePaul, Photographs by Gema Galiana
The article was a collaborative effort among Capital and Main, the Economic Hardship Reporting Project, and the OC Weekly.
Image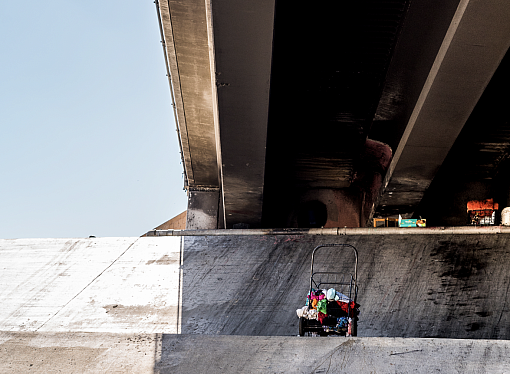 Published on
August 3, 2017