In Buffalo's children, wounds no one sees
The Buffalo News reported this story with the support of the Fund for Journalism on Child Well-Being, a program of the USC Annenberg Center for Health Journalism.
Image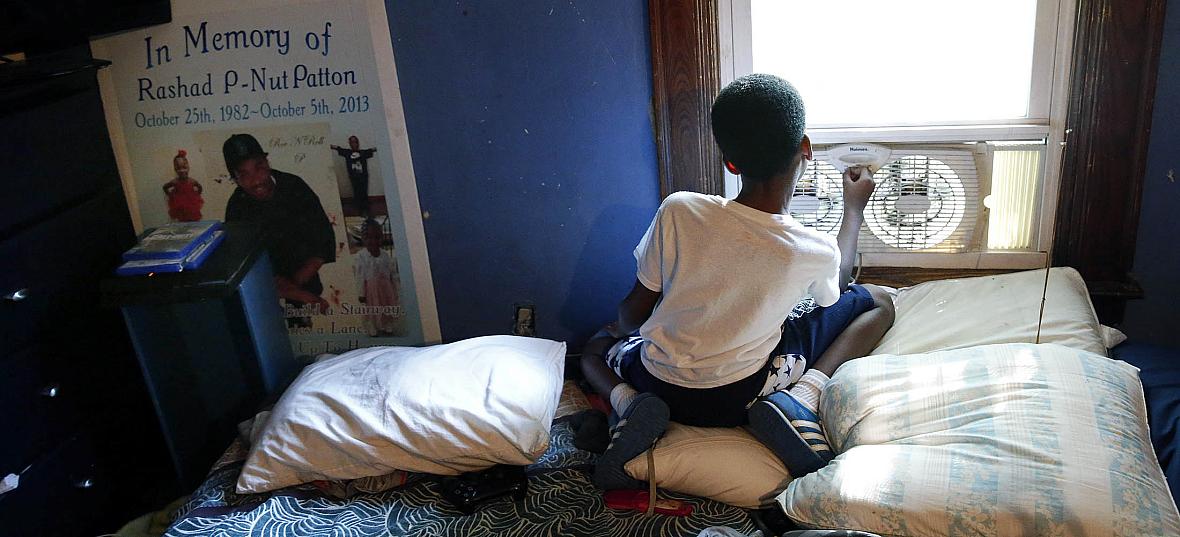 Published on
July 29, 2017
By Tiffany Lankes and Lou Michel 
It was the first week of summer vacation, and Juan Rodriguez couldn't wait to get outside to play with his friends on Humason Avenue.
But when he heard gunshots outside, the 11-year-old ran to the front door to get his younger siblings out of the line of fire. As he opened the door, a bullet from a high-powered rifle struck him between the eyes and went through his brain.
Miraculously, Juan survived.
But his life changed forever.
So did the lives of the other children on Humason, just like thousands of Buffalo schoolchildren who live on city streets where violence is a constant part of their lives.
At least six Buffalo schoolchildren have been slain in the past two years, and more than four dozen wounded.
A third of middle- and high-schoolers have seen someone shot, stabbed or assaulted.
Even more have been exposed to crime and violence in more subtle ways, walking through drug corridors or past bloody sidewalks with yellow-and-black police tape in their neighborhood.
A Buffalo News analysis of police and public school data shows that an alarming proportion of students live in the neighborhoods with the most violent crimes, putting them at serious risk of academic failure.
The News analysis found:
About 45 percent of Buffalo Public Schools students live in the 10 neighborhoods where the most violent crime was committed over the past decade. Violent crime has gone up in eight of those neighborhoods at a time when violence is decreasing across the city.
The Schiller Park neighborhood, where Juan was shot, had the most reported incidents of violence for seven of the past 10 years. The neighborhood also is home to the third-largest population of Buffalo Public Schools students. The two neighborhoods with the most Buffalo students, Front Park and Riverside Park, also fall among the 10 neighborhoods with the most violent crimes each year for the past decade.
Students from those 10 neighborhoods attend every school in the district because of school choice, making it difficult for school staffs to target resources to support them. Children in Schiller Park are dispersed among 56 different campuses.
A growing body of research shows the stress that comes with exposure to violence can stifle how the brain develops and, in extreme cases, trigger post-traumatic stress disorder. Children living in violent neighborhoods suffer from PTSD at a rate that is three times higher than troops returning from Iraq, national studies have found.
Often, the best hope for support for these children is at school, but the Buffalo district has been slow to act. The district does not have any formal mechanism for screening or tracking students exposed to violence. Until this year, training for teachers to identify the signs of trauma was not readily available.
As a result, scores of children quietly suffer, and in some cases are suspended or punished in other ways for their behavior. Many have been labeled "emotionally disturbed," removed from regular classrooms and placed in special education. The proportion of students placed in this category is greater in Buffalo than in any of the state's other large urban school systems.
Only recently have the Buffalo schools identified trauma as a factor hindering the students' and district's progress and put a priority on supporting students exposed to violence.
"It early on became apparent that this was an extremely violent – pound for pound – city," Superintendent Kriner Cash said. "Our kids are exposed to extraordinary things. I was just struck by the level of trauma our children are exposed to."
Juan works on recovering from his physical injuries.
But Juan and those around him may never fully recover from the emotional wounds.
•••
Image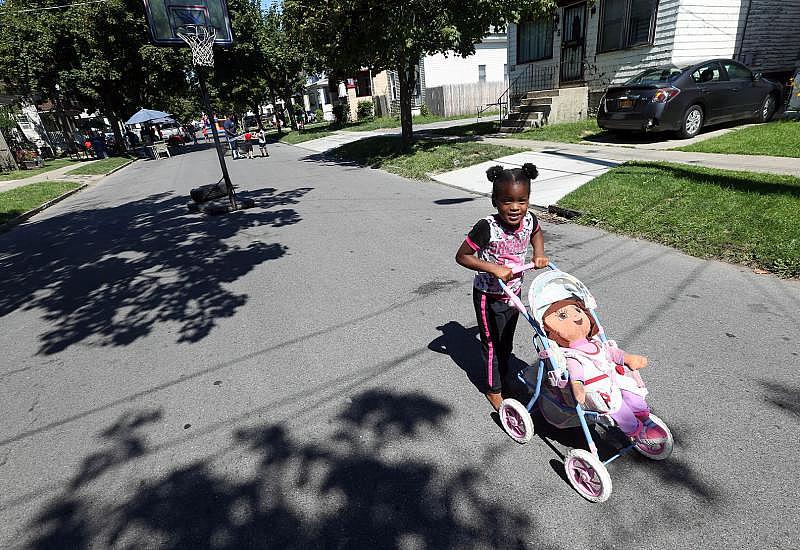 Humason Avenue is the last street in Buffalo before entering Cheektowaga. It is part of the Schiller Park neighborhood, which in earlier days was a German community.
Just a short walk from the house where Juan was shot, the old Scharf's restaurant once served schnitzel and potato pancakes, before moving to a new location in West Seneca.
Today, kids play football and basketball during the summer on the tree-lined street, which is slightly more than a quarter-mile long. They can see Villa Maria College on the other side of the park.
But the peaceful setting hides two troubling statistics: For the past six years, more violent crimes were reported in Schiller Park than in any other neighborhood in Buffalo. It also has one of the highest concentrations of Buffalo public school students.
That day in June 2016, those statistics collided.
Many of the children were eager to get a start on their summer vacation. Juan and his older sister Alina Williams took their two younger siblings – 7-year-old twins Romeo and Juliet – to Schiller Park, just at the end of their block. Alina, 14 at the time and the oldest, was charged with watching them.
As the day waned, Juan and Alina wanted to join some other older children up the street. So Juan went in the house to make the twins a snack. Alina tried to coax them to follow him inside so she could be relieved of her baby-sitting duties.
She thought nothing of the two men walking down the street toward the park. She had no way to know they carried handguns. Or that members of a rival gang were driving toward the neighborhood.
Until gunfire erupted.
"I heard shots," Alina, now 15, testified in a recent trial against a young man involved in the gun battle that occurred. "They were loud. In a way, it kind of sounded like firecrackers."
Romeo screamed her name from the porch. Alina grabbed Juliet and ran toward him. She tossed her little sister onto the porch, flew up the steps and pulled both children beneath her. Her hunched body shielded them from the bullets whizzing around them.
In the kitchen, Juan heard the shots and ran toward the front porch. As he opened the door to help his siblings to safety, a bullet from a high-powered rifle struck him between the eyes. The shot was so powerful that the bullet went through Juan's brain and exited his skull before cutting through the couch, then the wall. The bullet lodged in the house next door.
Alina saw it all happen. Another bullet narrowly missed her.
"If it wasn't for that one step, one of them would have gotten me," she said during her testimony.
Her mother's boyfriend, who was behind Juan, caught him before his head hit the floor.
Their mother, Sonia Pagan, screamed.
"Juan. Oh, my God, my baby. He's moving. My baby he's moving," she told the 911 dispatcher.
"Oh, Lord Jesus, please," Pagan begged. "Please papi. You did great. I love you. I love you so much.
"I'm so sorry."
Alina told the twins to go to the other room and then got towels for her mother to apply to Juan's bleeding head.
Pagan later told an emergency responder that she was holding her son's brains in.
"I just remember my mom screaming," Alina said. "She kind of blacked out. I had to be the coherent one."
Police and medical crews arrived, rushing Juan and his mother away in an ambulance.
"I had to stay back and take care of my siblings," Alina said during the trial.
She packed a bag and called a relative to come get them.
The next day, Alina and the other kids went to see Juan at Erie County Medical Center. He lay in a coma in the intensive care unit, his face swollen, tubes and needles sticking out of his body.
Doctors already had removed part of his skull to alleviate pressure. They put it inside his hip, where it would remain until his brain healed enough to reattach.
"He wasn't in very good condition," Alina said.
Two days after the shooting, the family celebrated Juan's 12th birthday in the intensive care unit.
Juan's family spent the rest of the summer in hospitals. He eventually opened his eyes, then learned to talk, walk and speak full sentences again.
But when the other children on Humason returned to school in September, Alina, a 10th-grader, did not. She stayed home to help her mother take care of Juan. A district tutor visited to help home-school her.
The family has stayed with relatives, lived in a motel, and found shelter elsewhere, too frightened to return except to occasionally collect belongings and pick up the mail. Their roots severed by the shooting and their sense of security seared, they have become nomads, according to police who keep in touch.
Alina says she hopes to return to school this September. But she has little support, beyond her family members.
"It's affected my health, actually," Alina said in court.
She said the shooting "traumatized" her. She suffers anxiety and depression.
"Her life hasn't been wine and roses since the day of the shooting," Assistant District Attorney Justin Wallens said during the trial of the man involved in the gun battle. "That's what happens when you have a Wild West shootout in broad daylight in a residential neighborhood. Innocent children are shot. People get hurt. Lives are changed forever."
•••
Image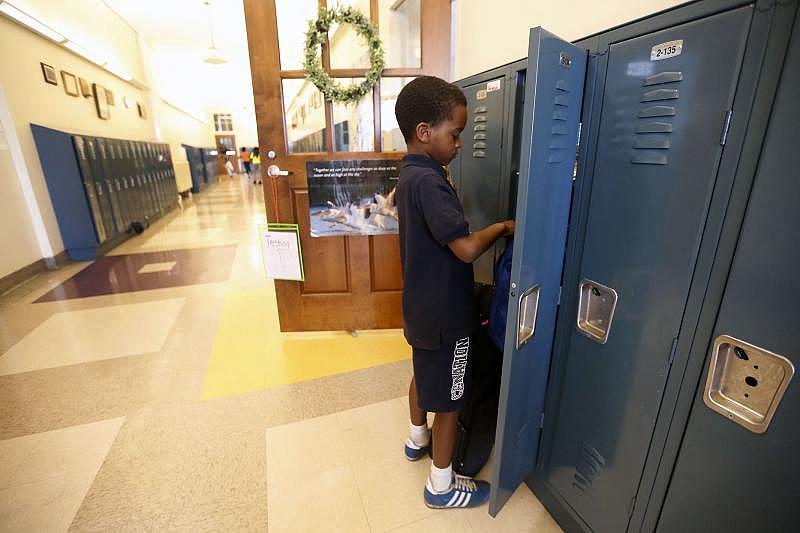 What Alina and her family are experiencing is well documented in a growing body of research into the traumatic effect of exposure to violence.
That research shows that stress can stifle how the brain develops, ultimately affecting personality, behavior and how a child responds to negative situations in the future.
Many of Buffalo's children grow up surrounded by violence. They spend years battling the consequences. And they often go unnoticed or misunderstood.
Much attention gets paid to the victims of violent crimes and the people who commit them, especially when they are young. But less focus goes to the scores of other young people who witness violence, or lose loved ones as a result of it.
"We're finding more and more that any kind of trauma can change the brain," said Marcy Rose, president of the National Alliance for Mental Health in Buffalo and Erie County. "Seeing someone killed, being abused. And then the physical trauma of head injuries. That all changes the brain chemistry and the brain physically."
Exposure to violence also has a direct impact on how students perform in school. Children who experience violent events are more likely to exhibit behavior problems, repeat a grade, be suspended or have poor attendance – ultimately affecting their education and likelihood of a successful future, studies show.
The National Child Traumatic Stress Network reported that trauma can affect a child's attention, concentration and memory, which can interrupt learning.
And a University of Southern California study in 2003 found that among thousands of sixth-graders in Los Angeles who had witnessed or experienced violence, nine out of 10 had lower reading scores, higher absenteeism and other academic problems – suggesting a correlation between exposure to violence and lack of student achievement.
"Think of a child standing at a school bus stop in a dangerous area and being bullied by gangs, then going to school," said Mary Grover, branch director and counselor at Child Adolescent Treatment Services in Buffalo, which works with children as young as 3. "They have poor concentration. They're fearful of what's going to happen at lunch."
Now think of Alina and what she lived through on Humason. And thousands like her in Buffalo.
Alina is among a substantial number of teens who have witnessed a violent attack firsthand. A Buffalo School District survey of middle and high schoolers showed that roughly 35 percent have seen someone shot, stabbed or assaulted.
"I don't know anywhere else it's this high," said Cash, who has worked in other large urban school districts, including Miami and Memphis. "That's an extraordinarily high number."
Children who live in the 10 city neighborhoods with the highest number of reported crimes are particularly susceptible, and 45 percent of Buffalo Public School students live in the areas that have seen the most violence over the past decade.
Residents of those 10 neighborhoods experience on average from 287 to 530 incidents of violence each year: murder, assault, sexual assault and robbery. That is three to five times the number in the Delaware-West Ferry neighborhood.
In Schiller Park, where Alina and her brother got caught in gang-related crossfire, the number of reported violent crimes in a typical year is around 530 and has been as high as 655.
Even children who don't directly witness violence are often exposed to it in less extreme forms.
All too many grow up in neighborhoods with the sounds of gunshots and sirens. Some grow up with a mother or father who is in jail. Others quietly grieve – unknown to their teachers – for family members or friends lost to street violence.
•••
Image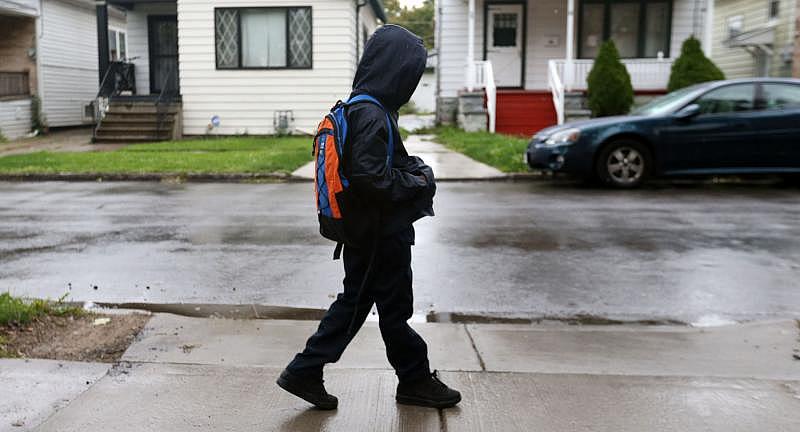 In the days and weeks after Juan was shot, life on Humason continued. But fear was a constant companion.
In Cheryl Ruttlen-Brown's backyard on one sunny day last summer, a half-dozen boys took turns bouncing on a trampoline, occasionally wandering in and out of the house, returning with Popsicles. They were playing, but the memory of what happened on that evening in June stayed with them.
"That could have been us," said Jamyier, Ruttlen-Brown's grandson, now 13.
"It could have been somebody, part of our family," his younger brother, Jayden, 9, chimed in.
As the summer slumbered on, Ruttlen-Brown realized many of the children on the street seemed numbed by the shooting. But numbness eventually will give way to other emotions.
She saw it happen to her own grandchildren after their father was gunned down in a gang-related shooting.
The two grandsons were 5 and 9 in October 2013 when it happened.
Rashad Patton was at his sons' football game in Bakos Park when a friend called during halftime, saying a group of men needed to meet him in a field off of Wyoming Avenue.
Jamyier, the oldest, sensed something was wrong. He could see it in his father's expression.
"Jamyier, I have to leave," his father said.
"Why?" Jamyier asked him.
"It's none of your business," his father responded.
"I just kept begging him not to go," Jamyier said, recalling the conversation.
That was the last time his sons saw him alive. He was shot repeatedly in the upper body. Patton was 20 days shy of his 30th birthday.
Soon after, the boys' struggles started. They fell behind in school. They acted out and got in trouble.
Jamyier, a gifted athlete, wanted to give up football. Ruttlen-Brown and her husband believe it reminded him too much of his final moments with his father. Jayden, who was in first grade, frequently screamed and disrupted his class. Other times, he burst out crying.
Ruttlen-Brown searched for ways to help the boys.
Image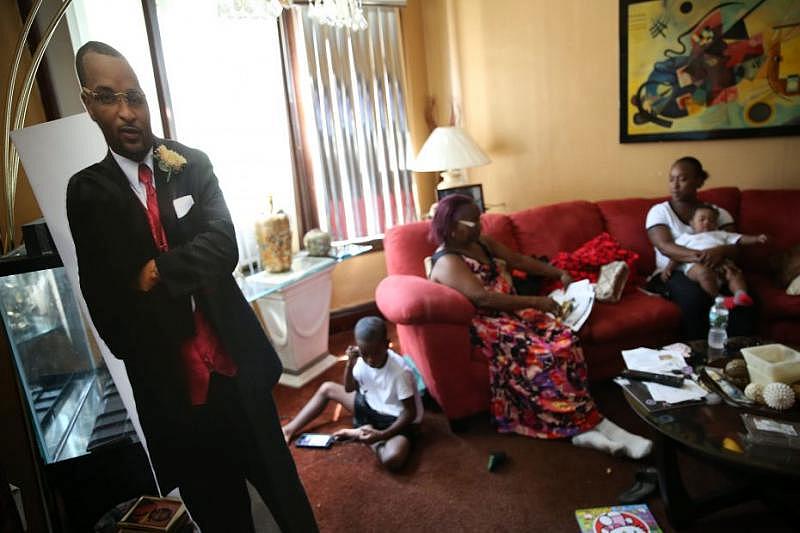 The family celebrated regular memorials to keep Patton's memory alive. Ruttlen-Brown made a life-sized cardboard image of her son, dressed in a suit and smiling – a picture from a happier time. The sons move this cutout around the house, as if their father watches over them.
The year after her son's death, Ruttlen-Brown moved Jayden out of the school he was attending because it was cited for poor performance.
But Jayden's problems followed him to Arthur O. Eve School of Distinction, and teachers and staff there did not understand why he had difficulty focusing.
When Ruttlen-Brown later took a job at the school, Jayden's teacher approached her and told her about his difficulties. The boy frequently spaced out during class, was easily distracted and did not finish his assignments, the teacher told Ruttlen-Brown. She had matched him with a volunteer grandparent working in the classroom to try to keep him on task. That helped, but there still were times the boy would just start crying.
Ruttlen-Brown was surprised no one had called her. She would have told them that Jayden's father had been killed.
Once informed, the staff worked with Jayden, giving him extra time to finish his work and allowing him to leave the room and walk around the halls when he became distracted.
Even then, there still were days – three or four a week – when Jayden's emotions got the best of him. He would burst into tears, prompting the teacher to send him out of the classroom and to his grandmother's office.
It was not a perfect solution, but it usually worked.
Ruttlen-Brown believes Jayden is one of the lucky ones. She works at the school, and his teacher now has a good handle on his situation.
But what about all of the other kids out there like him? she wonders.
"That's the problem," she said. "It's more than just Jayden."
Since Cash took the helm of the Buffalo city schools two years ago, six students have been slain in Buffalo: Joseph Daniels, Lewis Brewer, Jequan Wilson, Shaunice Gamblin, Daniel Glover and Kristian Piazza.
Another 54, including Juan, have been wounded by guns.
Those statistics don't reflect the scores of adult victims whose injuries or deaths touch students.
"That means there are innumerable other victims," Cash said.
Despite the high level of violence touching Buffalo students, the district wasn't addressing their needs.
"There was no plan, there was no understanding, there was really no awareness of how severe this issue is in this community," Cash said. "There was a pattern. Someone's a victim, everyone comes together, there's sorrow.
"And then everyone just waits for the next one."
Cash found that the district did not screen students exposed to violence. The survey showing that 1 in 3 students had witnessed an attack was anonymous, so the district has no way of knowing which students answered affirmatively.
Other districts ask questions screening students for potential trauma when they register for school.
That means it was left to parents – or the students themselves – to tell Buffalo teachers what they've experienced.
Most parents, however, aren't trained to recognize signs of trauma, and stigmas about mental health deter many from coming forward. Some parents are coping with the aftereffects of violence themselves.
Added to the challenge, students often attend schools outside of their own neighborhoods, making it easier for children with problems to fly under the radar. Many parents opt to send their children to school in other neighborhoods, believing they will be safer.
The roughly 2,000 public school students living in Schiller Park attend 56 different schools. But in many cases, students who travel to school across the city don't end up in a better school or safer neighborhood.
Jayden attends school in the Leroy neighborhood, which also has a high number of violent crimes. So each day Jayden gets on a bus to travel from one violent neighborhood to another.
Still, Cash said, many parents consider that a safer bet than walking to a school within their own community.
"Parents are going to continue to put their kids on a bus to a place they believe is safer until we can address that," he said.
•••
By the end of his fourth-grade year this past June, Jayden's crying spells were down to once a week.
Ruttlen-Brown spent much of the last school year focused on helping him manage the emotions that held him back from learning. Arthur Eve only goes to the fourth grade, so Jayden is moving to a new school next year. The new school may not offer the supports he has grown used to.
"There's a lot of things that are going to change," Ruttlen-Brown said.
She also kept him busy, hoping that learning new skills and enjoying new activities would distract him from his grief.
On Saturdays, she rounded up Jayden and other boys from the neighborhood to take them to the new community schools weekend program at East High School. Jayden learned to take apart and rebuild a laptop computer there.
Ruttlen-Brown found solace for herself there as well. She joined a grief counseling group with other adults who had lost loved ones.
She decided to cut back on the memorials for her son. She realized they keep his memory fresh, making it difficult for the boys to move past his death.
Jayden made strides at school, but he still struggles focusing.
"He has his days," Ruttlen-Brown said.
On those days, Jayden finds some peace playing the violin, which he learned at school. He says the music calms him.
Image
As the end of the school year approached, he got ready for his first performance.
Standing on his grandparents' Humason porch one June afternoon, Jayden eagerly unzipped his violin case when his grandmother suggested he show off his musical ability.
Beethoven's "Ode to Joy" floated through the air.
When he finished, his grandmother and other family members applauded. Jayden's face lit up.
•••
Buffalo school leaders are now looking to screen students for emotional trauma so that children like Jayden don't fall through the cracks.
The district also plans to begin trauma training for parents through its monthly Parent Academy.
And teachers will be required to take training to recognize signs of emotional trauma in their students. Nearly 700 teachers, counselors and principals completed that training last year. Over the next three years, all teachers will be required to participate.
District leaders hope the new community schools program will offer additional support, just as it did for Jayden and his family. The district placed community schools in neighborhoods where gang activity is prevalent, knowing that young people in those areas inevitably will be exposed to crime and violence. Along with enrichment activities for students, the community schools offer mental health counseling and grief services.
"The graduation rate is the goal," Cash said. "But you won't get there by just setting a goal. You have to unpack all of these things students are dealing with."
Cash and other district leaders believe this approach is critical, not only for saving students' academic careers, but their lives.
•••
At least four men were involved in the gunbattle that resulted in Juan getting shot in the head.
Detavion Magee, 21, is the only one police arrested, although he is not the one who shot Juan. In fact, he is believed to be the original target. Some who know Detavion believe his life could have been different if not for the circumstances he grew up in. He, too, was exposed to violence at an early age.
Detavion's father is in prison in Pennsylvania. His older half-brother, Tyler, 24, had regular brushes with the law. Tyler's father four years ago was killed in what remains an unsolved homicide.
Detavion's mother, Sandra Magee, said he was a happy child growing up, but also very impressionable. He is partially deaf in one ear, and he was always slow, she said. He was enrolled in special education because of a learning disability. When police asked him after the shooting last June if he could read and write, he responded "a little."
He was born in Erie, Pa., and his mother said the family moved between there and Buffalo throughout his childhood. Sometimes they would only stay in one place for a few months. He changed schools almost as often.
In Buffalo, the family lived in some of the most crime-ridden neighborhoods.
Sandra Magee first became aware that Detavion was running into problems when he was a 16-year-old student at Bennett High School.
The trouble started at a skating rink on Amherst Street, where boys from the Central Park Gang told Detavion and his friends they had to leave because it was their territory. The Central Park Gang is one of the most notorious in the city.
There were fights between the groups at the Walden Galleria. Sometimes fights trickled into the schools, where kids from rival neighborhood gangs are often mixed together in the same classrooms, enemies sitting beside each other.
Detavion came home one day with his eye bruised and swollen. He told his mother one of the young teens from the Central Park Gang had pistol-whipped him.
Sandra Magee said she went to the principal and asked him to call a meeting with the other boy's mother. But the incident didn't happen on school property, and she felt the principal brushed her off.
Eventually, she moved Detavion to Burgard High School, where he stayed for a few months before he again ran into trouble with boys from the other group.
Sandra Magee said she also took her concerns to the police, such as when teens at Detavion's school sent him a threatening video posted on YouTube under the name Beamer Boys. Videos still on the site show a group of young men flashing guns and singing threatening lyrics.
It was not until Detavion wound up at East High School that his mother had some hope. School staff members tried to figure out how to help him. The principal even drove Detavion to school with a few other boys from the neighborhood.
"I think he felt sorry for Detavion," Sandra Magee said.
As he kept one foot in school, though, it became increasingly clear the other one was in the streets.
And the violence continued all around him.
In 2013, the father of Tyler, his half brother, was fatally shot while driving a car near Castle Place and Kensington Avenue.
At the end of that same year, Detavion was shot near Genesee and Freund. He was 18.
His mother said she sent him to Erie to recover. Detavion later returned, but this time was different.
His school attendance ebbed. He reached the point where he only had a short time before he would age out of the school system, but nowhere near enough credits to graduate.
He stopped going altogether.
"Everything just went downhill," his mother said.
By the time police spotted him at a convenience store at the corner of Genesee Street and Crossman Avenue in May 2015, he was known to law enforcement. Police say he was carrying a weapon, and arrested on two weapons charges, although the charges later were dropped.
Later that year, at 19, he was wanted for possession of a stolen firearm, prompting an FBI manhunt. Police arrested him in Erie.
But he was out by that day in June 2016 when fate caught up with him on Humason.
Police believe Detavion fired the first shots in the shootout that landed both him and Juan in the hospital. He refused to tell police or prosecutors who else was in the gunfight.
Detavion recently was sentenced to 10 years in prison for criminal possession of a weapon for his role in the gun fight.
•••
Juan had no idea where he was or what happened to him when he first woke up in the hospital.
His recovery has been slow but steady. He has trouble walking. That's in part because a piece of his skull remains in his hip until he is well enough for doctors to repair it.
He wears a helmet to protect his head. He calls it his "Captain America" helmet.
Juan can speak, but with some delay. He hopes to return to school someday.
A lawyer in court for Detavion's trial asked him how he was feeling.
"I'm feeling great, actually," Juan responded.
He greets people with a big smile and jokes with his big sister Alina, just like any little brother.
He can't wait to run again, and hopes he is well enough to go to Darien Lake this summer.
He recently celebrated his 13th birthday.
"Juan has never stopped fighting," said Wallens, the assistant district attorney. "He never gave up."
Image
But back on Humason, a year after the shooting, many of the families of Juan's friends have given up on the neighborhood. They moved away, their parents worried about the violence on the street and fleeing for what they hope will be safer neighborhoods.
The homes on Humason don't stay empty for long.
New families move in, drawn by the veneer of a peaceful setting.
New children play in the street, enjoying every moment of their summer vacation.
Many have no idea what happened there last summer.
Or how many lives were changed forever.
[This story was originally published by The Buffalo News.]
[Photos by Sharon Cantillon/Buffalo News.]