As Covered California registration ends, consumers concerned about high prices
Image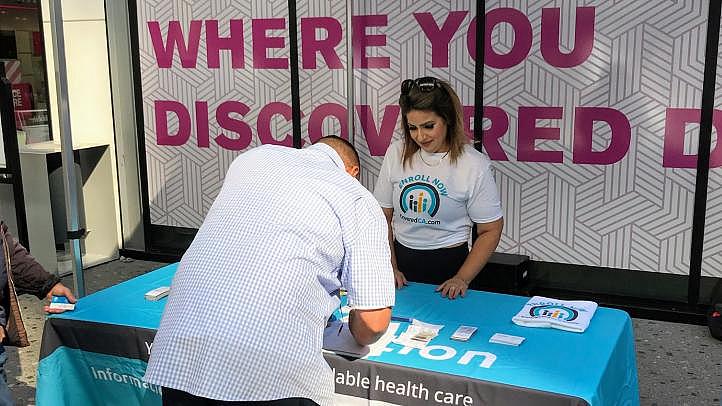 (Courtesy of Yadira López)
Published on
January 27, 2020
With the extension to enroll in the Covered California state plan about to be over, some consumers have mixed feelings about the affordability of health insurance, even with the new state subsidies available.
January 31 is the deadline to sign up for a health plan to get coverage during the year 2020. This year, the state is offering new subsidies to make insurance more affordable for middle-class families and individuals. And, it is applying fines to those who are uninsured. (Consumers who are eligible to enroll in Medi-Cal can do so at any time.)
Most Californians get health insurance from their employer. Others get Medi-Cal, the state medical program for low-income people, or Medicare, the government medical program for seniors. In addition, another segment of consumers, who earn more than the minimum income established, buy insurance on the individual insurance market or through Covered California, the state's insurance exchange.
Even though the Affordable Care Act (ACA) continues to be in effect at the federal level, President Trump revoked the fine for those who do not get insurance, effective January 2019.
In California, however, the mandate will continue to be in place starting January 1, 2020. This was thanks to California Senate Bill (SB) 78 signed by Governor Gavin Newsom.
The law states that all individuals must have health coverage in 2020, otherwise, a penalty shall apply when they file their taxes in the spring of 2021.
In California there are currently an estimated 1.4 million residents enrolled in a health plan through Covered California. Of those, 27.5% are of Latino origin, according to the latest statistical data from March 2019.
"About 9 out of 10 people who are enrolled in Covered California receive financial aid, so their savings are about 80% of the cost of their coverage," explained Peter V. Lee, executive director of Covered California.
Aid comes in the form of state grants and federal credits. California has allocated $429 million in the 2019-2020 budget for state subsidies to help middle-class consumers.
The subsidies began to take effect on January 1, 2020. It is estimated that approximately one million Californians could benefit, and consumers can apply for insurance until January 31 for coverage to begin in February of this year.
It remains to be seen whether the new subsidies will make a difference for uninsured Californians. Before the new subsidies took effect, 4 out of 10 uninsured residents, or 37%, said the price of insurance was the main reason for not having coverage, according to the UCLA California Health Survey.
Subsidies not enough for some
Miguel Garcia is a Spanish teacher who works approximately 32 hours a week at a private high school in Hermosa Beach. He is considered a part-time employee and therefore ineligible to obtain health insurance from his employer.
Garcia, 37, who is single and lives in a house with his family in the Exposition Park area of Los Angeles, said he has already tried to get health insurance on his own. However, the monthly premium is so high -- even with the new state subsidies -- that he cannot afford it.
Since ACA was enacted in 2014, Garcia has opted to pay the fine, which in the past two years has totaled nearly $700.
However, he believes it is cheaper to pay the fine than paying about $284 a month for the lowest health insurance –HealthNet's bronze plan.
Although you would save $49 per month with the state subsidy, a doctor's visit would require a $65 co-payment and a $6,300 deductible.
"It's not convenient, I prefer going to the doctor in Tijuana [Mexico]," Garcia said.
And he almost made the trip last year, when he hurt his back while working out at the gym.
Although his pain was intense and relatively serious - he couldn't move for several days - he refused to go to the doctor in Los Angeles.
"I knew that I would be charged a lot at the hospital, so I decided to stay home until the pain was gone," recalled the native of Jalisco, Mexico.
He had already decided to go to Tijuana, Mexico to get a shot for the pain, but as the days went by, he began to feel better and dropped that plan.
However, Garcia's case only confirms that the health system is not perfect for everyone. It doesn't matter how hard he works, since being single and earning more than the minimum income established does not benefit him when asking for help for his health coverage.
"I know people who are [undocumented] and have Medi-Cal," Garcia said, who is a U.S. citizen, referring to low-income undocumented people who have Medi-Cal.
Currently this benefit includes individuals 25 and under and some DACA (Dreamers) recipients.
"I don't have anything against them and I feel bad for them because I know they need coverage, but I feel more sorry for myself, since when I needed medical care, I didn't get it because I couldn't afford it," Garcia added.
Looking for the best price
High health care costs have forced many people with medical conditions to change insurance companies in order to obtain the necessary coverage.
One of them is Maria Fernanda Romero, who has struggled for more than a decade looking for an insurance company that could offer her an affordable health plan.
Romero, who works as a secretary and lives in Torrance with her husband, was diagnosed with lupus in 2008. This is a chronic autoimmune disease that affects the joints, skin, brain, lungs, kidneys, and blood vessels. Since her diagnosis, doctor visits and prescription medicine are part of her life.
Romero recently changed her health insurance company for the fourth time, since her premium jumped from $300 to $890 a month.
"I couldn't afford that," said the 54-year-old, who changed again during Covered California's open enrollment, which began in October.
"Now I'll pay $480 with Kaiser Permanente," said Romero, who shares health coverage with her husband. The couple has two grown children who have their own health coverage.
Due to her condition, Romero needs access to medical care at all times.
However, the change has not benefitted her, since she had to change her family doctor once again.
"It's a bit complicated, because I live in Torrance and my primary care doctor is in Glendale," Romero said. "But I chose him anyway because I like him."
On a regular basis, she sees her doctor once or twice a month, and for health emergencies she needs to go to a Kaiser emergency room in Los Angeles or Glendale.
Yadira Lopez, a certified agent for Covered California, said the total monthly premium is based on income, age and family size.
"Some people who don't have money to get better coverage, so I recommend they take the cheaper plan because it's better than no coverage," Lopez said.
Peace of mind knowing they have coverage
According to Lopez, for some people it is cheaper to pay the fine, although they could suffer a high level of anxiety.
"In case of an emergency, they will have no options and health insurance offers peace of mind by knowing that you're covered," Lopez said.
This year, California will make history by becoming the first state to provide subsidies for middle-income families that include small business owners and contractors.
"On the first day of enrollment, one of our clients received a state subsidy of $630 per month," Lee explained. "That's why it's very important for people to find out if they are eligible for a state grant."
Covered California offered as an example a couple of 60 and 61 years old respectively, with a household income of $70,000 a year. In 2019 they did not qualify for subsidies, since their income exceeded 400% of the federal poverty level. They had to pay $1,400 a month for their health plan.
During the open enrollment period, the couple reviewed their plan and were eligible for the 2020 subsidies that gave them $887 a month. They now pay $567 for their monthly premium.
On the other hand, it is estimated that a family of four that refuses to have health insurance can pay more than $2,000 in fines.
Some people may be exempt from the fine based on different reasons, such as having no health coverage for less than three consecutive months, belonging to a Native American tribe, being enrolled in a protected plan, or being part of a Shared Health Care Ministry (HCSM).
Covered California experts urge the community to enroll during the open period that was extended until January 31. Everyone enrolled during this period will get coverage starting February 1, 2020.
To find out if you are eligible for subsidies and the cost of your monthly premium, visit www.coveredca.com.
Follow the USC Center for Health Journalism Collaborative series "Uncovered California" here.