Day I: Three East Bay ZIP codes, life-and-death disparities
Image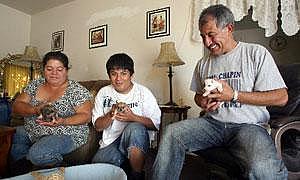 Published on
December 2, 2009
On most Saturday mornings, Richard Angelis hops onto his bicycle to join his biking group, the Alamo Crazies, for their weekly ride through rural Contra Costa County. He lives in Walnut Creek on a tree-lined street in ZIP code 94597, where life expectancy is 87.4 years, the highest in any ZIP code in the East Bay.
"I always look forward to my Saturday morning rides," said Angelis, a fit 58-year-old who bikes about 70 miles a week. "It's a good stress relief after working all week."
But 12 miles southwest of Angelis' home, in the Oakland neighborhood of Sobrante Park, there are nights when Calixto Orantes, 53, hits the ground in a cold sweat inside his small rented home as gunfire erupts nearby.
Even the sight of a gang of young men in the neighborhood agitates Orantes, an unemployed truck driver who would gladly accept almost any work. Food donations from a church help feed his family.
"I'll do anything," said Orantes, a slender man who maintains a friendly disposition despite his anxieties.
He lives in ZIP code 94603, where life expectancy plunges to 71.2 years — the lowest rate in the East Bay. That's 16 fewer years than residents in Angelis' ZIP code, and nearly seven years below the California average of 78.4 years.
Six miles from Orantes' home, a wave of relief hits Julie Rettig as she passes over a familiar drop in the road while entering her Castro Valley neighborhood.
"As soon as I drive into that court and feel that little dip, it's like, 'Ahh,' " said Rettig, a 55-year-old respiratory therapist at a San Leandro hospital. She lives in ZIP code 94546 in a middle-class suburb, where life expectancy is 79 years.
Though Angelis, Orantes and Rettig all have health coverage, a growing body of research shows that where they live, their social status, and the toll of chronic stress have a much more decisive effect on their health and life span than visits to a doctor's office.
The Alameda County Public Health Department, a leader in research on these nonmedical causes of disease, provided Bay Area News Group with a groundbreaking database that reveals the prevalence of various diseases and life expectancies throughout Alameda and Contra Costa counties. Along with a small but growing number of public health departments, the agency funds the research to make the case that unhealthy neighborhoods play a far greater role in triggering diseases than germs, bad genes or irresponsible behavior, and that more health care dollars should be spent on the root causes of ill health.
 Some key conclusions from health disparities research:
Choosing healthy lifestyle habits is more difficult in neighborhoods that lack basic resources such as safe parks, libraries, good schools and grocery stores.
Strong social support — such as churches, community centers and schools, as well as healthy personal relationships — are weaker in poorer neighborhoods. These play a powerful role in living longer, healthier lives, according to numerous studies.
Constant stress, induced, for example, by living in fear of crime or under the burden of financial problems, floods the bloodstream with cortisol and adrenaline. High levels of these stress hormones are linked with the onset of numerous chronic diseases.
Closing the gap in life expectancy between those perched on different rungs of the socioeconomic ladder isn't just unfinished work in the Civil Rights Movement, health advocates say. It's critical to controlling runaway health care costs.
Treatment of chronic diseases such as heart disease and diabetes accounts for 75 percent of the nation's $2.2 trillion annual health care bill, according to the Kaiser Family Foundation. Much of that disease burden is borne by the nation's poorer residents. Yet to public health officials' frustration, only 5 percent of that money is spent preventing it where they say it often starts — in unhealthy neighborhoods.
Health, not health care
Only 15 percent to 20 percent of the disparities in illnesses and death among U.S. populations are connected to access to health care, according to a 2008 article in the Journal of the American Medical Association. Genetics is estimated to account for 15 percent to 20 percent of life expectancy.
Few people realize the powerful role that neighborhoods and social factors play in the development of disease, said Nancy Adler, a UC San Francisco medical psychologist and authority on socioeconomic status and health. Instead, many view health care services as a key determinant of good health and longevity.
"Clearly, health has been equated with health care, and that we can get patched up for whatever happens to us," Adler said.
But many diseases can't be easily cured, she said, and instead become costly conditions managed for a lifetime.
Moreover, the health care system typically treats conditions after they arise, Adler noted in a report on health disparities she co-authored, called "Reaching for a Healthier Life."
Though that treatment is critical to prevent a disease from worsening, the report noted, its development in the first place is usually tied to such external factors as chronic stress, poor diet, lack of exercise, environmental contaminants and smoking.
Changes in physical and social environments, such as improved food and water sanitation and restrictions on tobacco use and sales, also account for most of the 30-year gain in life expectancy achieved in the 20th century, according to a 2008 report from the Bay Area Regional Health Inequities Initiative, a collaboration of eight Bay Area public health agencies.
Lives are longer
In 1900, a person born in the United States could expect to live for 47 years; by 2000, that life expectancy leapt to 77 years. Advances in medical care, including the introduction of vaccines and antibiotics, accounted for about five years of that increase, the report stated. Still, a Journal of the American Medical Association mortality study did underscore that the leading reasons behind premature death and health — smoking, poor diet, lack of physical activity and alcohol abuse — are rooted in behavioral choices.
But before pointing to these as solely individual choices, the study authors cautioned that knowledge alone isn't always enough to bring about healthful behaviors.
Family, friends, teachers or church members, among other social connections, provide invaluable support for adopting a healthful lifestyle, the authors state. Equally important is the availability of nearby resources such as safe places to exercise, community centers, good schools, grocery stores and libraries.
Public health officials leading the charge to close the gap in health disparities insist that resource-poor communities have a far smaller menu of healthy-lifestyle options from which to choose. And there's too disproportionate a burden of diseases in these communities to ascribe it only to irresponsible behavior or bad decisions. Compared with a white child born in the Oakland hills, a black child born in West Oakland is five times more likely as an adult to be hospitalized for diabetes, twice as likely to die of heart disease or cancer, and three times more likely to die of a stroke.
Disparities' causes
People are quick to blame others for lifestyle choices that lead to illness, said Dr. Anthony Iton, senior vice president for Healthy Communities with the California Endowment in Oakland.
"But it's important to look at the cumulative impact of having the deck stacked against you," said Iton, who recently left a position as director of the Alameda County Public Health Department, where he pioneered numerous initiatives for reducing health disparities.
Neighborhoods low on the socioeconomic ladder typically lack grocery stores and other commercial outlets, parks in which to relax or let children play, safe areas to walk or bike, trusting relationships with neighbors and law enforcement officials, quality schools, convenient transportation or businesses offering employment.
"The infrastructure in these areas has been denuded," Iton said.
The surges of stress and fear people encounter over the years add up, explained Adler, with UC San Francisco, creating a form of physiological wear and tear called "allostatic load" that can trigger disease processes.
"It's a little of this and a little of that," she said.
Stress hormones such as cortisol and adrenaline are crucial in a crisis. They sharpen the mind and bring sugar to the muscles to provide energy to fight or flee.
"But if you're constantly encountering these stresses, you're spending too much time with your body in this highly aroused state," Adler said. Over time, this can strain a number of organs and tissues — with many potential consequences — and it's especially hard on the cardiovascular system.
High-risk community
Oakland's Sobrante Park, about two miles east of Oakland International Airport, was a thriving community in the 1950s, residents remember. There was a supermarket, variety store, hair salon, barber shop, gift shop, laundromat, shoe store, restaurant, post office and a nearby park.
But in the 1960s, one by one the stores closed, and the post office shuttered. Today, only a liquor store remains.
The area's main gathering place, Tyrone Carney Park, was fenced off in 2002 after a homicide there. It created a community eyesore until frustrated residents took matters into their own hands, tearing down the fence in late October, although the city reinstalled it Nov. 23. The neighborhood's only other open space, a "mini-park," hasn't had a restroom for years.
Orantes lives down the street from the main park in a small rented home with his wife, Edel, 46, and 17-year-old son, Julio.
Orantes used to keep pit bulls to protect his family and home — which burglars twice broke into during the 12 years they've lived there. But the landlord wouldn't allow him to keep the breed. The family's new dog, a Chihuahua, at least barks at disturbances, he said.
While he looks for work, a food bank at a neighborhood church helps the Orantes family stock their kitchen shelves. Calixto and his wife, Edel, also grow squash, and maintain a fruit tree.
Edel has diabetes, as does her husband. In addition to his anxiety, Calixto has hypertension. He had colon cancer surgery when he was 45. The couple focus on eating well, and he won a church cooking competition with a "Chicken Jacon" recipe handed down through his family.
They don't have a car, and Edel said she has been robbed twice at bus stops in the area, once at gunpoint. "The stress level is high because we all the time are thinking something is going to happen to us, with the high crime in East Oakland," she said.
This fall, she received a $1,500 grant from an Oakland nonprofit, CEO Women, to start her own home-based business. She plans to open the office services business in January, which she hopes will ultimately allow the family to move out of the area.
Middle-class worries
Rettig doesn't worry about crime in her Castro Valley neighborhood, but finances are a constant concern. She raised two children in her two-story home, was diagnosed with breast cancer in 2002, and the end of a 22-year marriage in 2004 left her watching every dollar. She remarried in 2006.
Rettig worries about the proposed closing of the hospital where she works. A new job means lower seniority and maybe less desirable shifts. She and her husband, Dan Dwyer, 61, still watch expenses carefully, clip coupons and never eat out. Sales at the window treatment business her husband owns cycle with the economy.
She once dreamed of putting her children, now 20 and 22, through college. But she revised that dream to letting them live at home for free and paying for their health insurance, so long as they stay in school and cover their other expenses
The middle class, who typically have ample food, convenient transportation and safe neighborhoods, are still sicker and dying younger than wealthier Americans.
Top of the scale
Inside his Walnut Creek home, Angelis appeared surprised that his unpretentious neighborhood boasts the longest life expectancy of any ZIP code in Alameda and Contra Costa counties.
"It's one of the funkier neighborhoods in Walnut Creek," he said, which was part of its appeal.
It's been much easier to enjoy his passion for biking since he and his wife moved there 14 years ago from the Oakland foothills.
Here, Angelis can ride from his home to join friends on the area's many bike routes, or take a walk after work.
Still, they strain to help pay college costs for their son, now a sophomore. They're also paying off a loan for college expenses for their daughter, who graduated in 2008. While he feels relatively secure in his job as a service adviser at a BMW dealership in Berkeley, he regards few positions as immune from downsizing.
And while he loves his neighborhood and its many amenities, such as a nearby farmers market and several grocery stores, including one famed for its gourmet offerings, he dislikes his work commute.
"Maintaining this lifestyle is a stress," he said. "Things keep going up and up."
Stress is everywhere
Iton affirmed that those higher on the social ladder aren't inoculated from stress.
"Even if you're upper income, you're worried about job loss, dealing with the stress of long commutes, having to have two incomes," Iton said.
But he and others also believe the stress of the wide health disparity itself accounts for part of the United States' lowered life expectancy, in comparison to most other wealthy nations.
"To me, this inequality is a corrosive force that harms all of us," said Leonard Syme, an emeritus professor of epidemiology at UC Berkeley who in the 1950s pioneered the field of examining the social factors behind health disparities.
"It makes us feel like we're not on a winning team," he said.
How Bay Area News Group examined health inequities in the East Bay  
Interactive map: Find out the life-expectancy rate in your ZIP code.
Chat Trasncript Two experts answered reader questions about why life expectancy and health varies so widely in the East Bay.
[This story was originally published by East Bay Times.]