How immigrants and communities of color organize around healing justice
Image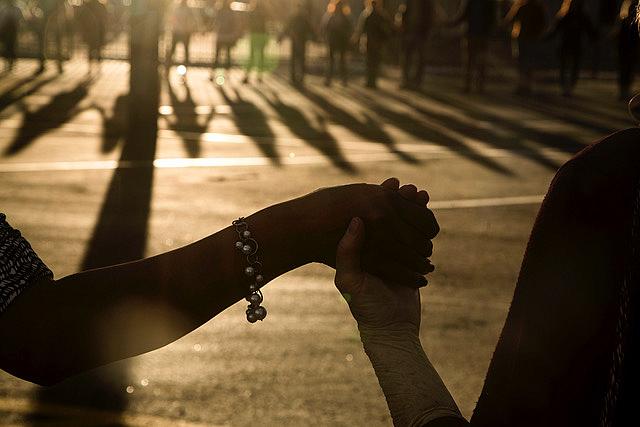 Published on
July 29, 2020
Arizona is in fourth place nationwide for having the largest share of children K-12 that have at least one undocumented parent, according to analysis from the Pew Hispanic Research Center. Undocumented immigrant families in Arizona have been in the crossfire of state policies aimed at achieving their self-deportation for decades. The effect of these policies is now compounded with those of the Trump administration targeting the same communities.
This has resulted in an underlying environment of fear and distrust towards anyone in government, that has spilled over into the way marginalized populations in the state interact and access public health services. These policies also left a trail of psychological damage in children and entire communities.
COVID-19 has underscored the disparities faced by immigrant communities in access to medical care and financial support in the state. It has put a strain on many of these families, who often include essential workers, but don't have any of the safety nets U.S. citizens have such as unemployment, sick leave, healthcare and a stimulus check. In addition, the new public charge ruling has deterred immigrants with legal documents from applying for services and has had a chilling effect on undocumented parents applying for services for their U.S. born children.
Nationwide, "long-standing systemic health and social inequities have put some members of racial and ethnic minority groups at increased risk of getting COVID-19 or experiencing severe illness, regardless of age," according to the Centers for Disease Control and Prevention (CDC).  COVID-19 has disproportionately sickened Latinos across the country: this population is four times more likely to be hospitalized due to coronavirus than whites, according to the CDC.
There are an estimated 275,000 undocumented immigrants in Arizona, and they make up almost six percent of the workforce in the state, according to the latest analysis from the Pew Hispanic Research Center from 2016. Because most undocumented immigrants work in the service and agricultural industries, they are considered essential workers and face greater exposure to COVID-19.
Twenty percent of Latinos in Arizona don't have health insurance, according to census five-year estimates. Undocumented immigrants only have access to emergency health services. For example: this means low-income undocumented pregnant women could go without prenatal care unless they rely on clinics with sliding scale fees.
And it's important to consider that immigrants with documentation also face time period restrictions to access the state's Medicaid insurance for low-income families.
Lack of insurance extends to other areas: families without legal status don't have access to affordable mental health services. On top of that, there is a shortage of culturally appropriate services.
There are also few spaces and resources to release the stress and anxiety associated with the pandemic, which is compounded with other ongoing problems: deportation, family members in detention, the future of DACA and/or an already vulnerable health condition.
Immigrant communities have historically faced stressors that impact their physical well-being and their mental health, including intergenerational trauma that is passed from parents to children.
COVID-19 has been putting pressure on a blister these communities were already feeling at the intersection of healthcare inequalities, systemic racism and discrimination. But the pandemic has also underscored the resourcefulness and capacity for resilience within communities of color and indigenous and immigrant communities through the building of networks of mutual-aid.
In Arizona, diverse collectives are organizing healing circles, training for healers within indigenous, Afro and Latin American traditions, and culturally sensitive training for mental health therapists. In the time of social distancing organizations like Healing in Resistance, led by healer and activist Francisca Porchas, have been hosting bilingual webinars addressing issues such as secondary trauma for immigration advocates and grief.
Image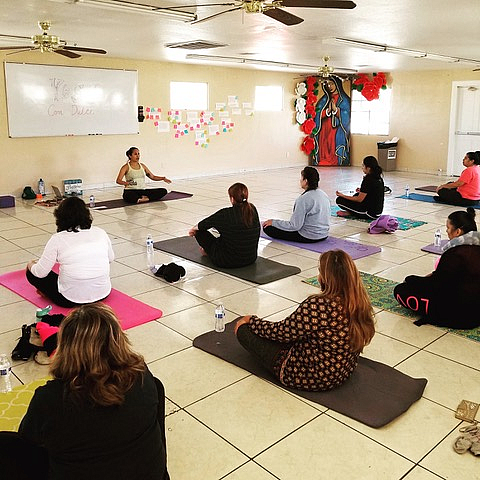 For my 2020 National Fellowship project I will research –primarily in Arizona– how indigenous, immigrant communities and people of color have been organizing before and during the pandemic in communities of care to find support and healing –rooted in social justice. How healing is defined depends on who you ask.
I will be exploring the concept of healing justice, a political framework that resonates between different collectives across the country. The concept was co-created by Cara Page, a Black feminist queer organizer, and the Kindred Healing Justice Collective, a southeastern network of healing intervening on violence and generational trauma within Black communities. The framework of healing justice bridges "healing and social justice work between migrant and gender justice, LGBTQI liberation, and reproductive and transformative justice movements."
In Detroit, for example collectives like Healing by Choice! are grounded on healing justice.
"Those most impacted by systematic racism and bodies most devalued, the people in groups at the margins, basically with little power, importance or influence in a capitalistic system, have always needed to create communities of care because they are either ignored or harmed by that same system," said Adela Nieves Martinez, the founder of Healing by Choice! Martinez explained that migrant, transgender and disabled communities, just to name a few, have always been at the forefront of organizing because they had no choice. "When those tasked with caring for us are doing the most harm, we learn how to take care of ourselves."
I will report on the role that ancestral traditions, culture, art and communities of care play in addressing the impact of collective trauma, toxic stress, structural discrimination and racism. This will include topics such as: The access to mental health services for children and families that have experienced immigration detention; pregnancy and maternal health during the pandemic; and how reconnecting with traditional and indigenous forms of healing is part of strengthening their community's well-being.