Day IV: Preventing disparities at forefront of health care reform
Image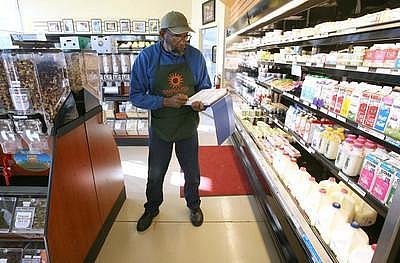 Published on
December 11, 2009
Federally funded security guards at dangerous neighborhood parks. Federal grants to poor neighborhoods to build grocery stores or to keep school gyms open after hours.
These are the types of unprecedented — yet uncontroversial — disease prevention initiatives whose inclusion has been lost in the rancorous debate over health care reform legislation working its way through Congress.
The prevention provisions mark a victory for advocates and federal lawmakers who for years have unsuccessfully sought more federal funding to close the gap in health disparities and life expectancies between richer and poorer Americans.
In Alameda and Contra Costa counties, for example, there's a 16-year life-expectancy difference between those living in a comfortable Walnut Creek area and an East Oakland neighborhood just 12 miles away, where one-fifth of the residents live in poverty.
An adult raised in West Oakland, where 41 percent of residents live in poverty, is also five times more likely to be hospitalized for diabetes than someone raised in the affluent Oakland hills, and is twice as likely to die of cancer.
The House health care reform bill, passed last month, sets aside $33.9 billion over five years for a prevention and health promotion strategy. Democratic lawmakers are pushing for a vote by Christmas on the Senate version, which includes $15 billion over 10 years for similar prevention and health promotion programs.
In both House and Senate bills, a grant request to open a grocery store in an area without one would qualify as a health program, said Rich Hamburg, deputy director of Trust for America's Health. So would a request for money to hire security guards to watch over a park that residents have come to fear because of crime, he said, or money to keep a school playground open after hours. Nutritionists could be hired to teach students healthful food preparation techniques at home, or how to make good choices when eating out.
The Senate bill authorizes "community transformation" grants that would have a similar aim as the House Prevention and Wellness Trust, Hamburg said.
Seven in 10 Americans support the prevention provisions in the nearly $1 trillion health care reform bills, according to a November survey by the Trust for America's Health and the Robert Wood Johnson Foundation.
"Support for wellness, prevention and health promotion is strong across parties, across regions, and all age groups," Hamburg said. "Every which way, it has strong support."
During the previous four congressional sessions, Secretary of Labor Hilda Solis, a former House member from Southern California, tried unsuccessfully to introduce comprehensive legislation to fund programs for reducing health disparities with her Health Equity and Accountability Act. Although there was a hearing on it last year, the bill never moved beyond introduction, said Cara James, a senior policy analyst with the Kaiser Family Foundation. Some of its language, however, is now incorporated into the health care reform legislation.
"It has not moved on its own," James said. "So I think the strategy of trying to incorporate it into the larger health reform is probably going to be a better strategy in terms of getting things accomplished."
This year, the Congressional TriCaucus, formed of the African-American, Hispanic and Asian caucuses in the House, reintroduced an act of the same name. Rep. Barbara Lee, D-Oakland, leads the Congressional Black Caucus. Language from that bill also was infused into the House care health reform legislation, Hamburg said.
As a result of these earlier efforts, $15.4 billion of the $33.9 billion earmarked for disease prevention and health promotion in the House bill would fund a Prevention and Wellness Trust. At least $3.4 billion of that $15.4 billion trust must be awarded to projects designed to reduce health disparities in low-income communities, although other programs funded by the trust will also address the issue.
The bills also break ground in their flexibility as to what's considered a health program, given the powerful role neighborhood conditions play in disease prevention. It's in poorer neighborhoods, where liquor stores often substitute for the grocery stores, that residents often become sicker and die younger. Higher rates of diabetes, heart disease, hypertension and other costly chronic conditions also develop in areas where fast-food outlets are the only nearby restaurants, and residents are apprehensive about walking or biking, given high crime rates.
"Regardless of your race or ethnicity, where you live matters," James said. "Access to healthy foods and the ability to exercise matters to your health outcomes. The environmental toxins to which you're exposed matter. The types of jobs that you have matter."
Chronic stress, such as what comes from financial worries or fear of crime, also takes a heavy toll on health. Constant surges of such stress hormones as cortisol and adrenaline, over time, cause physiological changes that can trigger disease processes.
Essential steps
In addition to the unprecedented funding for programs addressing health disparities, both bills provide money for broader prevention efforts, such as increased public health staffing, education and outreach on disease prevention, immunizations and health screenings.
The new programs aren't only to relieve the suffering associated with disease and shortened life spans. They're also a critical step in controlling health care costs, said the Joint Center for Political and Economic Studies, a Washington, D.C., nonprofit dedicated to reducing health disparities.
In a report it released in September, the center estimated that more than $230 billion in direct medical costs over a three-year period in the United States were due to treating the diseases attributed to health disparities. When factoring in indirect costs, such as lost productivity and wages, absenteeism and premature death, the tab comes to $1.24 trillion over the same period, the center stated.
Prevention strategies that reduce the prevalence of disease in poorer communities pay off, according to a 2009 analysis by the Prevention Institute and the Trust for America's Health. The analysis found that a $10 investment per person in proven methods for improving diet, increasing physical activity and smoking cessation pays for itself after the first year, provides 5-to-1 savings after five years, and continues to save into the future.
And with the nation spending $2.2 trillion a year on health care costs — with three-quarters of that for treating chronic diseases — the country can't afford not to invest more in prevention, Hamburg said.
This expanded focus on prevention has buoyed hopes that a new era in federal health policy is emerging, in which the promotion of Americans' health garners as much concern as the financing of the health care delivery system.
"If you're an ordinary American, what the debate looks like is a conversation among insurance companies and hospitals, and all the stakeholders in the health care delivery system, instead of being about people's health and well-being," said Daniel Zingale, a senior vice president with the California Endowment, a Los Angeles nonprofit with more than $3 billion in assets. Zingale, a former senior adviser to Gov. Arnold Schwarzenegger, led the governor's unsuccessful 2007 attempt to provide universal health care coverage in California.
"True health reform would not just be about the health care delivery system," Zingale said.
Reasons behind health
Only about 15 percent of these health disparities are linked to a lack of access to medical care, according to Dr. David Satcher, former U.S. Surgeon General and former director of the Centers for Disease Control and Prevention. Satcher now heads the Satcher Health Leadership Institute in Georgia, which trains public health leaders on strategies for reducing health disparities.
Genetics accounts for another 20 percent of health determinants, he said, while the physical and social environment accounts for 25 percent to 30 percent. Lifestyle choices account for the remaining 40 percent to 50 percent variations in health.
Though the latter figure points to the critical role that individual responsibility plays in one's health, the picture gets complicated when factoring in the options available to people. And there's an interaction among these four variables, he emphasized.
"They don't exist in isolation," Satcher said. "Our social environment influences access to care, it influences behavior. People can't exercise personal responsibility if they don't have safe streets, if they don't have a place to get fresh fruits and vegetables.
"I'm not trying to say that personal responsibility is not a part of this," he added. "I know people who have all the access in the world to fresh fruits and vegetables and safe places, and they still won't take advantage of it. So you've got to have personal responsibility and community responsibility on the table."
Medical care can make a significant difference in prevention efforts, such as the role prenatal care plays in reducing infant mortality.
The anticipation over these groundbreaking proposals is palpable in the public health community.
"We don't know when such an opportunity will come by again," Hamburg said. "And the excitement is around the recognition that wellness and prevention is a primary element of health reform. It's not a nice-to-have, it's a must-have."
Reach Suzanne Bohan at 510-262-2789 or sbohan@bayareanewsgroup.com. Reach Sandy Kleffman at 925-943-8249 or skleffman@bayareanewsgroup.com.
[This article was originally published by East Bay Times.]