Doctor Shortage: UCR Programs Aim To Keep Aspiring Doctors In The Inland Empire
Image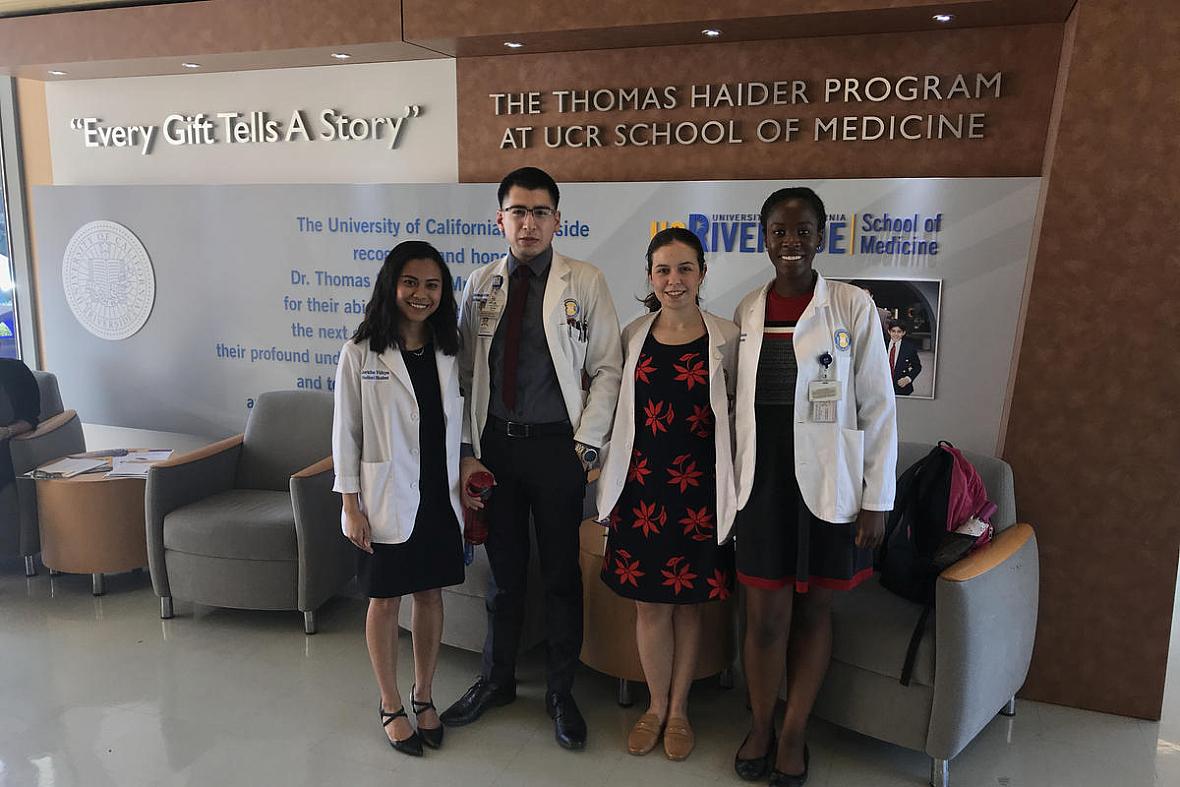 Published on
September 19, 2018
As part of KVCR's series on the doctor shortage in the Inland Empire, reporter Benjamin Purper explores two programs at University of California, Riverside designed to train and retain young doctors in the region.
At the First Congregational Church in Downtown Riverside, student volunteers are giving out complimentary hygiene kits. It's part of the Riverside Free Clinic, where people can come for no-cost medical treatment from volunteers.
Dina Sava is a student at University of California, Riverside. Right now she's an undergraduate, but she wants to go to UCR's recently-opened medical school. One reason for that is the Thomas Haider program, which reserves 24 spots in the School of Medicine for UCR undergraduates like Sava.
"I think that's one of the main incentives that we have for undergraduates to come to UCR," Sava says. "So for example, in some of the programs where we talk to people who are coming into UCR are choosing schools, the reason why a lot of them come is because of that program."
Image
But the pipeline program for undergrads isn't the most tantalizing reason to go to UCR's School of Medicine – that's something called the Dean's Mission Award. It's a scholarship that goes to medical students who agree to practice medicine for five years in the Inland Empire.
"The Mission scholarships work like a loan to scholarship program," says Paul Lyons, Senior Associate Dean for Education at UCR's School of Medicine.
"When we give you the money upfront in medical school, it's kind of framed as a loan. But if you practice for five years in this region, in any one of our six core disciplines, then it becomes a scholarship and you don't have to pay it back."
Lyons says the point of the Mission Award is to make medical school essentially free for students who agree to stay and practice in this region.
It's okay if they end up deciding to leave for somewhere with higher salaries, like L.A. or Orange County. At that point, it turns into a loan. But the hope is that most of them will end up staying.
"It's not coercive, but it gives you an incentive to consider us as a medical school, to consider this region for your residency training, and then to establish practice for at least five years after you're done," Lyons says.
"With those three pieces in place, we are of the opinion that we will get a higher percentage of our students and residents who will actually end up practicing in this region."
In addition to financial help, UCR has also negotiated with local hospitals to create residencies for their med students. That allows students who want to stay in the Inland Empire to do all of their medical training right here.
"I think this is a very vibrant time in this region for the development of healthcare, health education, health economics, and then the whole educational and industrial or economic piece that goes along with that, in this region, home-grown, by people from here, for people who are here. I think that's pretty amazing," Lyons says.
Jericha Viduya is a UCR medical student in her second year. She's the model example of the kind of student UCR med school wants – she grew up in this area, she went to UCR as an undergrad, got into UCR med school, and now she's on the Mission Award.
"I want to stay in Southern California, my family is here," Viduya says.
For the medical school, step one is getting more young doctors to stay here. But UCR also wants them to be prepared to deal with Inland Empire communities. That includes coursework like Medical Spanish and Public Health classes.  
Image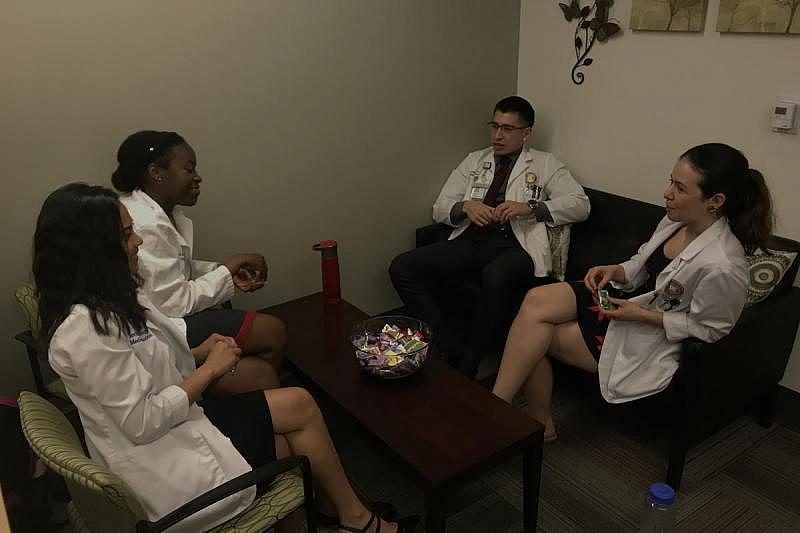 "In our doctoring courses they already are instilling this sense of kind of serving your community around you. And also I really like the, it's called the longitudinal ambulatory care experience that we have here," Viduya says.
"You're partnered with a doctor from the community, so you get to see what they do and you get to be a partner with them for three years."
Viduya's own work deals with underrepresented communities. She was the clinic manager at the Riverside Free Clinic, and she now works at a jail in Riverside. She says that helping to care for inmates there has taught her a lot about the healthcare challenges that community faces.
"A lot of them use a lot of healthcare resources, and it varies. Most of them, it's as simple as chronic disease that are very preventable if we address it. And it's crazy because we do provide it in jail, but the most important part is after they're released cause a lot of them are released back into the community, and many of them don't continue that care, and so again they relapse into worse outcomes again and worse health."
Viduya says she's optimistic that UCR's efforts will effectively combat the doctor shortage.
"Because if you're in a residency program you're in there for the next 3-5 years, however many years that you're there for, and that's pretty much the community that you're connected to. The patients that you're connected to and the people that you're working with."
Viduya says she may leave the Inland Empire for her residency program, to get the best training she can. But after that, she'll be back – for good.
[This story was originally published by KVCR News.]