Even in rural Fresno County, STDs remain a concern
Image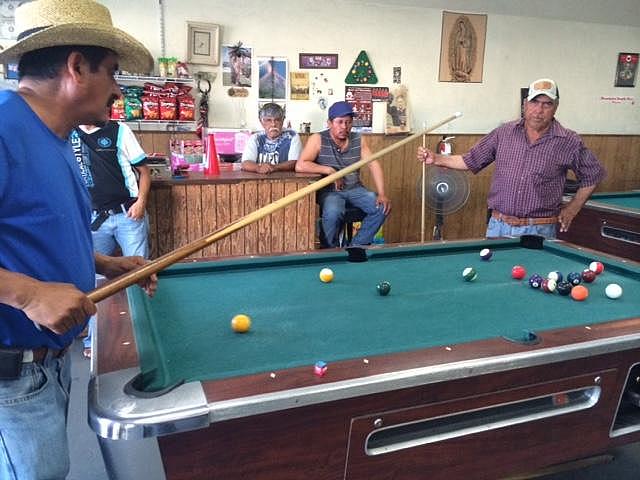 Published on
October 6, 2015
It's a typical Sunday in the town of Mendota, west of Fresno. Here, in the cantaloupe capital of the world, the majority of residents are farmworkers. As they unwind from working all day the Westside pool hall starts filling up. 
City councilmember Joseph Riofrio owns the pool hall. This place serves as a distraction and entertainment for many men farmworkers, who are often far away from family. But Riofrio says the isolation some people feel opens the door for another type of business.
"No hay what they call diversion, there's not something else to do with your free time other you come to the pool hall," he says. "There's more than one in here that will go with a prostitute. Some are married, some have their wives far away it's unfortunate because it happens."
Health experts say this increases the risk of catching sexually transmitted diseases. Fresno County as a whole has some of the highest rates of STD's in the state. It's not just a problem in big cities. Local health leaders say it also effects rural communities like Mendota.
"It's a health issue, it's a health hazard,  it's potentially a disaster because a lot of these people are young so they don't even know they've got these diseases so for the folks who are going home eventually to their wives, children, this is a real problem," says Kevin Hamilton, CEO of Clinica Sierra Vista.
Lack of access to health care, six-day work weeks, and tough living conditions makes it hard for many farmworkers to visit a doctor. Hamilton says when they do visit a clinic it's for emergency, not to get tested.
"Unless something bad happens, you know they cut a finger half off, even then some may just tie it up and keep moving," Hamilton says. "Only if it's debilitating they want us to fix it now so they can get back to work."
Back in Mendota, Joseph Riofrio and I walk through the town. As we pass by several liquor stores where workers also cash their checks, he says there's several reasons why sex workers thrive in this small town.
"There's a lot of unsafe sex because of people you know drinking, getting drunk, feeling lonely, far away from home. There's people that come from Fresno or Merced they're looking for customers either at the motel across the street and or the motel right here and they'll rent the room throughout the night."
Inside the pool hall, Francisco is up first to start a game of pool. He didn't want to share his last name because he's undocumented. Francisco says it's widely known where sex workers hang out, either wandering during the day in the heart of the town, near the fields, or at the Rancherito club during the weekends.
"It's strange… here if one of them likes you you're expected to pay them. Over in Mexico City if a girl likes you that's when you start dating. Here the ladies see you as a dollar sign," Francisco says.
Francisco like many other farmworkers in Mendota have called this place home for decades. He says in their down time, people tend to interact mainly within their social group making it harder for health officials to reach this population.
Part of the problem is the lack of data on STD rates among migrant workers. One study from 2005 reveals some information. Researchers from UC Berkeley partnered with experts in Mexico. They studied the sex habits of 458 male farmworkers before they left Mexico and after arriving in California. Once in the Golden State, they worked in the fields in Fresno and San Diego counties.
George Lemp was one of the lead researchers.
"We found that there was a significant increase in risk behaviors after migration to the United States. Their risk of engaging in sex with sex workers went up about two and a half fold."
Farmworkers were also more likely to have sex while under the influence of drugs and alcohol after coming to the states. In addition, they were six times more likely to perform sex work for pay and 13 times more likely to have sex with men.
With the rise in these high-risk sex behaviors, researchers are worried about the effect this can have in the long term.
"Our concern is that over time they become more exposed to sexually transmitted infections including HIV and this leads to a fairly then epidemic and entrenched rate of infectious diseases in this population," says Lemp.
Back in the pool hall, a health volunteer is passing out condoms to men playing cards at a pool table. It's part of a campaign to educate this community about STD's and how to prevent them. As the workers see the wrapped condoms, some quietly distance themselves from the crowd. Francisco, one of the farmworkers, says people here rarely talk about sex or STD's.
"If anyone has anything they don't say it because they're embarrassed. We're very shy, we don't talk about sex I think its part of our culture and that's the reality."
And that's a problem that's not unique to farmworkers. 
[This story was orginially broadcasted by the Valley Public Radio.]