Florida juvenile justice chief stepping down after tenure marked by tragedy, questions
Image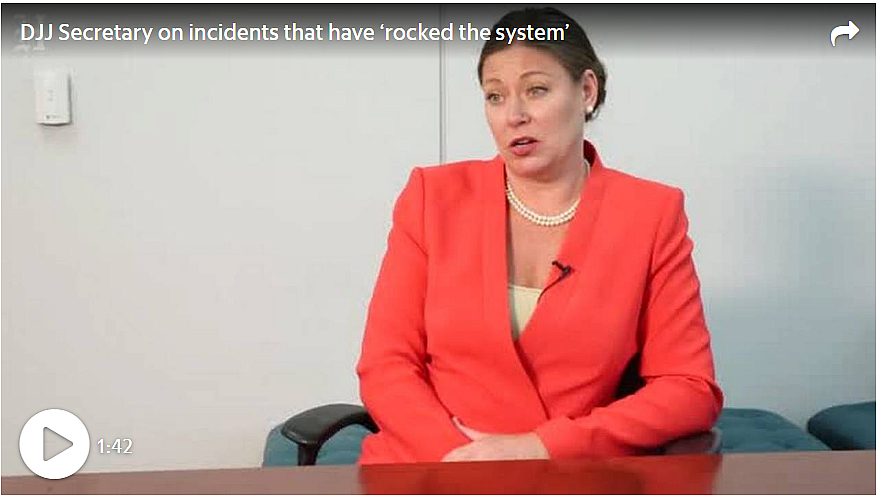 Published on
July 31, 2018
Christina K. Daly, the Florida agency head hailed by Gov. Rick Scott as "a national leader in reform of a comprehensive juvenile justice system," is stepping down.
Daly oversaw the state Department of Juvenile Justice as it dramatically expanded its effort to divert non-violent youth away from brick-and-mortar facilities and into treatment and community services. She has been praised within the industry for improving the agency's ability to measure performance and bring evidence-based practices into wider use.
But Daly also oversaw a tumultuous period in which youth workers were accused of turning detainees into goons who were rewarded with vending machine honey buns and other treats.
In a terse, three-paragraph news release, Scott announced that Daly, who ran DJJ for four years, "is leaving the agency effective August 31, 2018."
"Christy Daly has done a fantastic job at DJJ and has driven positive change through effective leadership to build a system of care for the thousands of youth they serve," Scott wrote. He added: "I wish Christy the very best in her future endeavors."
In her July 25 letter to Scott, Daly said her goal was "to deliver to the citizens of Florida a balanced and sustainable juvenile justice system," adding that "Florida has risen as a state leader in juvenile justice reform, reform that has been strategic and driven by data and research."
"As I write to you today, I am overcome with many emotions," Daly wrote in an email to agency employees. "Those emotions are mixed as I share with you that I have submitted my resignation as secretary."
In her July 26 email to staff, Daly said she was "extremely proud of the challenging work we have all accomplished together. When we set down the path ... to transform this department we had lofty and ambitious goals," she wrote, then listed a series of achievements, including ensuring that more kids who enter the juvenile justice system remain in their communities to receive services.
"Together we have accomplished much and amassed many successes," she told agency employees.
Daly's administration also saw some of DJJ's worst tragedies, though, including the questionable deaths of three youths in state custody. One of the teens who died was Elord Revolte, a 17-year-old foster child who was savagely beaten by more than a dozen other detainees shortly after he had gotten into an argument with an officer at the Miami lockup.
When the Miami Herald reported that youth workers at lockups and treatment programs were rewarding youths for sanctioned beatdowns with honey buns and other treats, Daly repeatedly insisted she and other DJJ administrators had no knowledge of employees' roles in the attacks — though their own records documented the officers' involvement.
But then many of the things that DJJ denied were happening continued to happen.
An officer at the Miami lockup described as an agency "treasure" said during a polygraph exam that she had falsified agency records repeatedly on the orders of supervisors, sometimes to cover up the abuse of detainees. A 15-year-old detainee with a well-documented history as a suicide risk hanged herself at the Manatee lockup.
And, earlier this month, a youth worker in the Panhandle was charged with false imprisonment and lewd and lascivious battery for an incident in which he appeared to have set up a 17-year-old detainee to be raped. Events leading up to the attempted sexual assault were caught on video, as were images of the worker high-fiving with one of the alleged attackers.
The July 5 assault at the Walton Academy for Growth and Change left echoes of earlier incidents, including Elord's death. In April, a federal grand jury in Miami indicted the lockup officer who had been accused by youth of orchestrating the assault. The officer, Antwan Lenard Johnson, is awaiting trial on charges he violated Elord's civil rights.
The indictment alleged Johnson conspired to "injure ... threaten and intimidate" Elord by provoking other detainees to assault him. And it said Johnson was not the only officer who had turned youthful offenders into enforcers.
The "honeybunnings," as they were called, were first documented in a six-part series in the Miami Herald last year. The series, called Fight Club, detailed rampant use of unnecessary and excessive force, widespread sexual misconduct — that more than once resulted in the birth of a child — falsification of records, failure to report wrongdoing and medical neglect.
Neither Scott nor Daly have specified what Daly will do after she leaves DJJ in August. And in his news release, Scott said that "details on future leadership will be announced soon."
Whoever succeeds Daly has little job security. Even if the GOP hangs on to the governor's mansion, there are no guarantees a Republican governor will retain Scott's agency heads, who generally submit their resignations to an incoming governor.
Either way, DJJ likely will undergo significant changes. Daly was a protege to her predecessor, Wansley Walters, who was tapped to lead DJJ in 2011 after earning a reputation as a reformer herself while running Miami's Juvenile Assessment Center. The agency's next leader is unlikely to have such strong ties to Walters, a lobbyist who now chairs Scott's Children and Youth Cabinet.
[This story was originally published by Miami Herald.]