Haunted By Trauma: The Black Parents Who Nearly Died In Childbirth
Image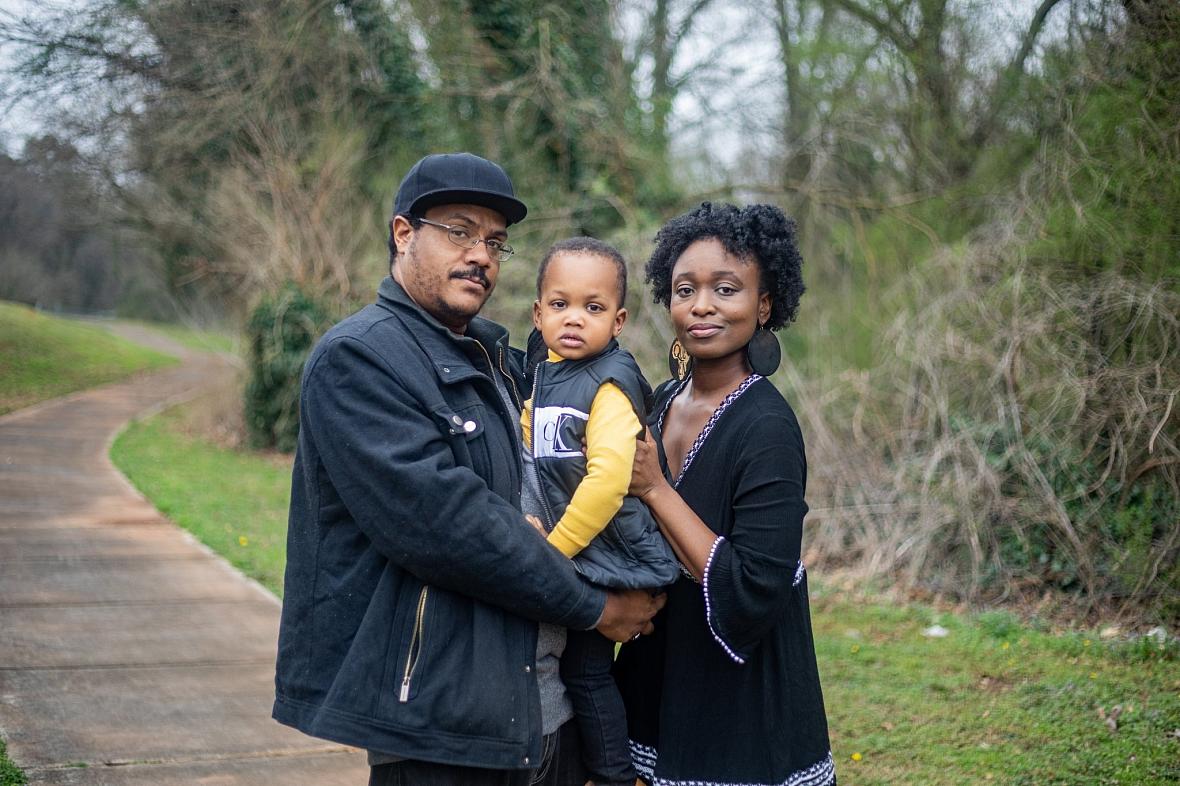 Published on
March 9, 2023
Capital B's "Dangerous Deliveries" investigation examines the uneven distribution of maternal care deserts and poor birth outcomes in Georgia, one of the most dangerous states for childbirth.  Read the full project here.
Georgia is one of the most dangerous states in which to give birth, and as the number of people who die remains high, so does the number of families suffering after nearly dying in childbirth.
The American medical system often abandons those who survive labor and delivery after life-threatening complications, some families and maternal health advocates say. They're left to contend with the gut-wrenching feelings that result from the trauma. For Black families, the toll is compounded by a society that teaches them that emotions are a sign of weakness and endurance is the only answer. Some wrestle with the daunting feelings alone, scared to confide in friends and family. Others have found comfort in therapy. But for many, the wounds remain for years — even decades — after childbirth.
"We're in crisis," said Shelmekia Hodo, the director of maternal and infant health in Georgia for March of Dimes. "Death is permanent, and so are the complications."
In Georgia, 80% of pregnancy-related deaths occur in the weeks following childbirth, according to the most recent report by the state maternal mortality review committee. Moreover, the vast majority are preventable. Still, experts say death is a relatively rare event. Far more common are complications, like hemorrhage, infection, and cardiac issues, that result in near-death experiences. Black people in Georgia experience them at twice the rate of white people.
Black women and birthing people also experience maternal mental health conditions at a disproportionately high rate — and are half as likely as white people to receive treatment. Most cases go undiagnosed.
As Georgia's maternal health care system fails, those who nearly die in childbirth and their families are often left to find ways to cope. Some people, cared for by attentive physicians, are able to address pregnancy complications before delivery, then spot and treat severe postpartum mental health issues as they arise.
Others fall through the system's cracks. Here are their stories:
Image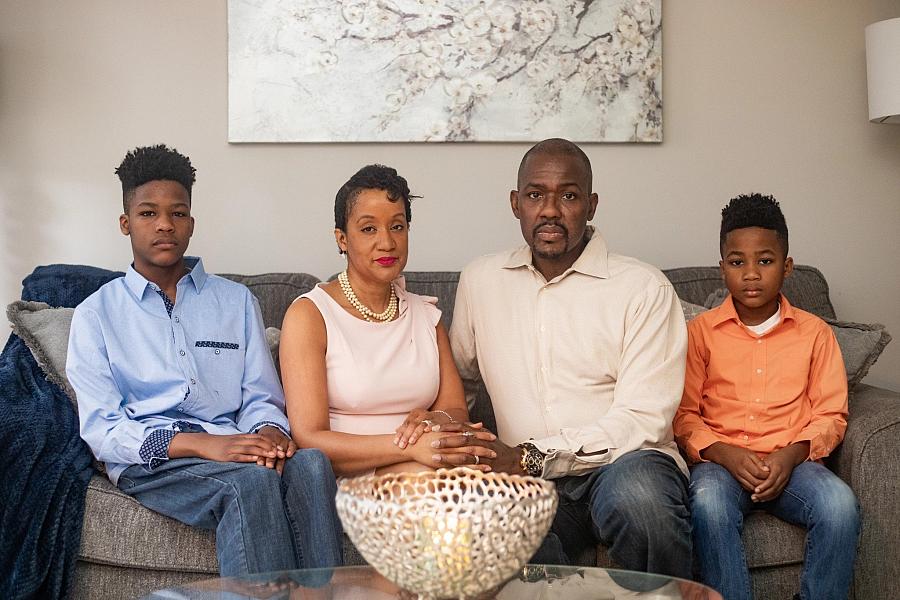 "Am I in danger of dying?"
It was during a routine appointment when Kimberly McGill rolled up her pants to show the doctor the swelling in her legs and feet. His eyes widened in shock.  
"You're going to have this baby now," he said. 
"Why?" she asked. "Am I in danger of dying?" 
She was.
The doctor had misjudged early signs of preeclampsia, she believes. Now, she was being rushed in a wheelchair while nurses tried to calm her down. She wondered what she did wrong. Her head was spinning with questions and clouded with fear. Would her baby survive?
She worried about not being able to return to work that day, flashing back to a previous pregnancy when she sat at her desk miscarrying because her boss said the office needed her and she felt like she couldn't leave. McGill was in the hospital, tear-streaked over the baby she had just lost, when he called to ask when she'd be back. 
This time, her baby boy was born healthy at 5 pounds. She could take a breath. He is 12 years old now, thin, and picky: She said he takes after her. The birth of her second son in Georgia was much smoother. Only this time, the postpartum depression was worse. McGill and her husband had moved away from family in Florida and she had gone back to work. 
She knew she was sad. Overwhelmed. Stressed. Confused.
She'd beat herself up, wondering if she was providing her children the best home environment. "Maybe I'm not the mom he needs," she thought. She started to second guess if moving away from family was the right call. She felt bad having other people watch the kids as both parents worked. 
Was she being overprotective over her babies? What was the right amount of protection?
At doctor's visits, nurses would ask if she was contemplating taking her own life. The answer was always no, then she'd add that she cried a lot. She spent a lot of time denying her feelings, she said.
But the longer it went on, she realized she was depressed. She talked to friends, combed the internet to learn about others' experiences, and read a lot to cope.
Looking back years later, McGill wishes she knew how common her feelings were among new moms. Black women are taught from a young age that they need to be tough, she said. "There's not a lot about our culture that allows you to feel sad."
A husband fears losing his wife and baby
Aba Anderson had already given birth to a healthy baby boy. The delivery was beautiful, and the hours that followed felt normal. 
It only took two minutes for her to lose nearly 2 liters of blood as she seized on the hospital floor. Nurses called a code blue. Her husband, Justin, watched from the corner of the room, holding on tightly to their son. 
Transfusions followed.
That's when Justin realized he could've lost the most important person in his life. What did it mean to be a husband, a father, and a protector in a moment like this? All he could do, as a one night hospital stay bled into an extra five, was keep a straight face. Inside, he was tearing up.
There was no time to process. Or sleep. He watched over his wife like a hawk while the suffering piled on. Eventually, he quit his job after a mental breakdown at work, he said. Years later, the fear lingers. 
Justin still has nightmares where his wife doesn't survive. Tears well up in his eyes. He journals, hoping to release some of the pent-up emotions, he said. "Sometimes I hold her a little closer when she sleeps."
He feels like cursing at God.
As Justin's memories spill out on a Tuesday evening last September, Aba learns a lot she didn't know. Suddenly, some of the little things he does make more sense, she says. They were sitting on the patio of a neighborhood bar near their home in Tucker, Georgia. The weather, warm.
Mom and Dad alternated playing peek-a-boo with the baby, now 2 years old.
No one in the hospital after the birth discussed the trauma they endured. No one offered resources to cope with the event that nearly took Aba's life and tortures her husband.
"That's where they probably failed us," she said. The Andersons have not been to therapy, even though they know they need to. Justin copes by allowing himself to feel the emotions from that day over again as the memories resurface. He freezes in place, realizing how grateful he is to have Aba with him.
It could've been worse, he reminds himself. 
A heart-wrenching decision
She felt her body tip sideways as the epidural hit her spine.
Nurses wheeled Charisse Johnson down the hallway as they tried to secure a breathing mask over her face. She ripped it off, professing that she couldn't breathe. She called out for her husband. Then, her mother. Tears ran down her cheeks as she fell in and out of consciousness. 
She woke to her newborn baby's cries, moments before nurses whisked her daughter off to the neonatal intensive care unit with no explanation. Doctors revealed the next day that Johnson had what they called a "high block." 
A year later, while undergoing an unrelated procedure, she learned the block was not a medical condition but rather a mistake by the anesthesiologist. He had placed the epidural in the wrong spot, paralyzing her from the waist up. It stopped feeling around her lungs. 
She wonders if the doctor wasn't paying attention. Was he trying to rush?
Her horror intensified as she thought about the circumstances, then anger arose. She wonders why no one explained what happened. Instead, they let her panic and think she was going to die, she said. It would have only taken a few seconds for a nurse to reassure her that she would be OK, she said.
Although rare, one misplaced epidural can be lethal. At 33, she was thinking deeply about her own mortality. When she first found out she was pregnant, it felt like a miracle. Now, she was terrified of having another baby. Her dream of having five kids had transformed into a desperate need to make sure her parents didn't lose their brown daughter.
When she did get pregnant for a second time, everything felt much more peaceful. Johnson thought maybe it would all turn out OK until doctors rushed her into delivery after one elevated blood pressure reading. She panicked, thinking she put herself in a life or death situation. 
"I'm apologizing to my child for having another child," she said. "I may leave my toddler without a mother."
Maybe, she thinks, if she had not been so afraid to advocate for herself, things would not have been so bad. But after two terrifying experiences, Johnson has decided not to give birth again. 
Sleepless nights and endless triggers
Tyhesha Daniels would wake up at 5:30 a.m. to catch the bus, then jump on a shuttle to hold her son. 
She'd nurse him, read him books, and play music as machines whirled and nurses shuffled around them. Medical procedures interrupted their quality time.
She was trying her best to be a good mother from the hospital's neonatal intensive care unit.
Daniels was 27 weeks pregnant when intense bleeding and contractions sent her to the hospital. She and her husband had no idea that would be the start to their family's months-long hospital stay. Despite her excruciating pain, the doctor refused her pain medication. Her mother-in-law, a labor and delivery nurse, arrived within an hour and a half and insisted Daniels be moved to the neonatal delivery area. 
"She's going to die," she said after checking on Daniels. "The baby's going to die."
When the doctor refused, she called an ambulance to transfer her daughter-in-law to a facility with doctors she trusted.
When she delivered the baby at 31 weeks, she nearly died after losing so much blood. The baby weighed in at just under 3 pounds. Once she was able to bring her son home from the neonatal intensive care unit, ordinary beeps became terrifying. One buzz from a cellphone would send her thoughts spiraling back to the hospital monitors that would ding as her baby's breathing lagged.
She didn't sleep for weeks. She'd spend the night hours watching her son's chest rise and fall, making sure he was OK. And once she could doze off, the stress left her unable to get up some days.
"I'm going to die," she thought. "He's going to die." It was a constant loop in her head.
She has since started therapy and is often still triggered two decades later, though not as much as she used to be, she said. "I'm a work in progress."
Health complications made her second pregnancy difficult, though her doctor was amazing and her son was healthy, said Daniels. A third pregnancy was unanticipated. Doctors told her that if she brought it to term, her two boys would be motherless. She and her husband decided to end it.
Her pregnancies sent her Crohn's disease into overdrive. At 41 years old, she has been on life support three times. Emergency room visits and chronic pain keep her from her son's karate tournaments. That's when guilt floods in. She wonders what life would look like at their home in Carrollton, Georgia, without the physical and mental traumas she's endured, but she tries not to plummet down that rabbit hole. She adores her two sons. Her two favorite things in the world.
Still, complicated feelings bubble up. Was it all worth it?
"I don't know. I don't think I have an answer," she said.  "It's tough on them, too."
Coming to terms with old trauma
She remembers rolling her baby into the bathroom in the bassinet and breaking down in tears. 
"Is this how it's supposed to be?" she thought. "Can't even take a shower?"
Krystal Reese, now a full spectrum doula and reproductive rights activist in Jonesboro, Georgia, was supposed to go to school and breastfeed after her baby was born. But she couldn't figure out how to juggle it all. Her pump wasn't working, and now milk soaked her shirt as she was starting college. 
By then, trauma was stacking up like bricks around her. Her mental health had already begun to decline.
Throughout her pregnancy, every doctor's appointment had left her more confused. There was no education about diet, nutrition, or how to take care of her body.
Labor and delivery hadn't been easy, either.
Her guilt started when she decided to get the epidural. All she could think about was how her family prides themselves on not using them. The anesthesia only dulled the pain on one side, leaving her to hyperfixate on labor pains in a single spot. None of her nurses were willing to talk about her discomfort. Doctors had strapped her to the bed and told her she couldn't eat. She hadn't realized they were inducing her labor. 
Reese didn't realize not getting to hold her baby right after birth wasn't normal, and no one was in the room a little bit later to tell her she shouldn't walk just yet. After jumping out of bed to use the bathroom, she fell to the floor and an intense burning sensation took hold.
"I was failing, and I was invisible," she said.
Fifteen years and two pregnancies later, she learned that she had been suffering from postpartum depression and anxiety. Reese didn't start dealing with her own trauma until she decided to become a doula. Otherwise, she said, she wouldn't have ever processed it. She had to come to terms with her own feelings around childbirth in order to protect other families from all that she endured. 
It was also then that Reese realized she hadn't failed herself. 
"My providers failed me," she said. "My nurses failed me. My mom failed me. My child's father failed me."