How parents across LA are talking about weed with their kids
Image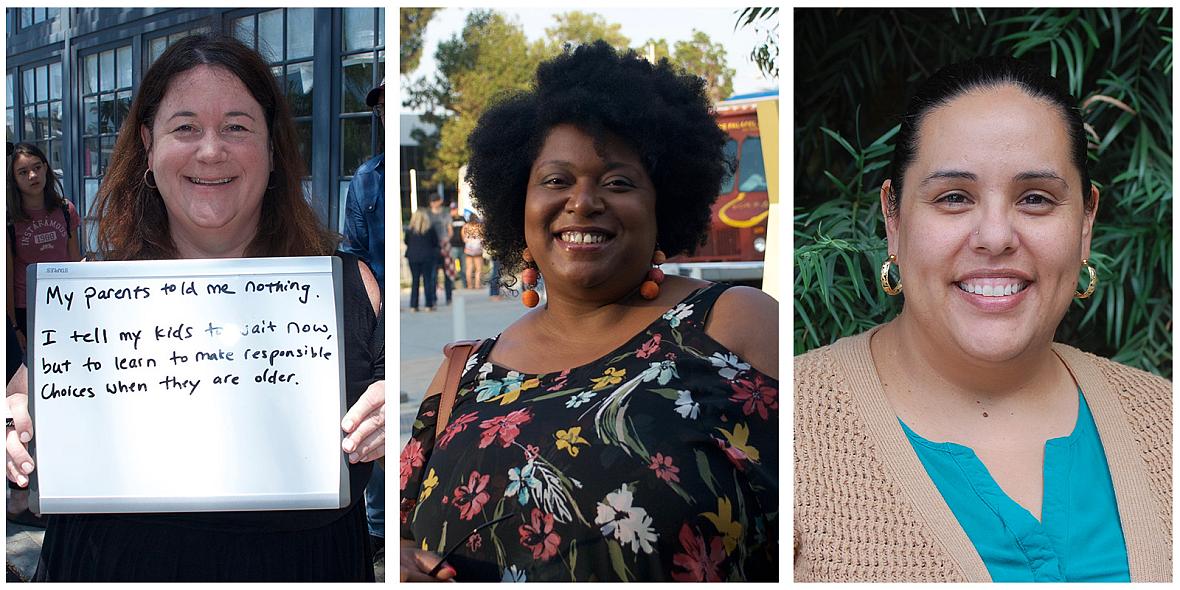 (Photos by Michell Eloy/KCRW and Olivia Henry/CHJ)
Published on
September 21, 2018
With the start of recreational cannabis sales earlier this year, Los Angeles became arguably the biggest legal marijuana market in the world. The state prohibits anyone under the age of 21 from buying cannabis products for recreational use, but new storefronts and billboards are popping up almost everyday, making the cannabis industry more visible than ever before.
KCRW asked parents across LA County how this is shaping the conversations they're having with their kids about cannabis use. We set up listening booths at a Boys & Girls Club pick up in South LA and at one of KCRW's Summer Nights events. We talked to parents in line at the Rock n' Roll Camp for Girls concert in West Hollywood. We sat with a group of women who are active members of the Koreatown Youth and Community Center. And we asked our listeners to weigh in online. Here's what some of them said:
WAIT UNTIL YOU'RE OLDER
Some parents say they're telling their kids to hold off on using cannabis until they're older. The legal age to buy cannabis for recreational use in California is 21. With a medical card, it's 18. Eunice Aguilar, in North Hollywood, said she tells her teenage daughter to wait until "at least 18 because of the effects it has on brain development" and "to get it from someone she trusts, like her older cousin." Eunice's advice echoes what some school-based drug prevention programs now emphasize: The human brain continues to develop until the mid-20s, and some studies show weekly use can change the structure of the teenage brain, particularly the parts that deal with memory and problem solving.
Meanwhile, Patrice Lakey, in Reseda, said she'll tell her young son, "If you want to be an adult when it's time for you to be an adult, and that's part of your adulthood, be responsible with it. And smoke with mom first."
And Maureen McMahon, in Encino, said she tell her kids it's not something they should do right now, but adds, "When they're older, we're going to live in an environment where it's going to be legal, so they have to learn how to make responsible choices and how to use things responsibly."
DON'T BE A HYPOCRITE
Image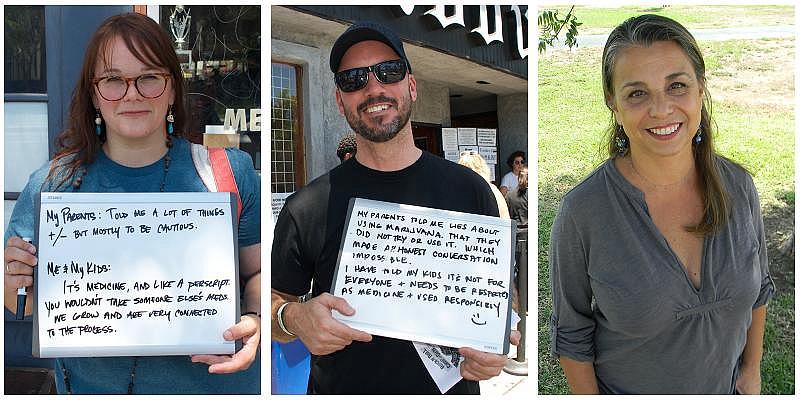 Others said they try to be open with their kids about their cannabis use, both as adults and when they were kids. Rates of cannabis use have been going up among adults both here in California and nationally. According to the Federal Substance Abuse and Mental Health Services Administration's annual survey on drug use and health, about 34 percent of Californians who are between 18 and 25, and 13.5 percent of those 26 and older reported using marijuana in the last year. Nationally, the rates are 32 and 10 percent, respectively.
Christina DuPont, of Highland Park, said she started smoking weed in high school, and that her husband, who has epilepsy, has used it for years to help ease his condition. "Any question they have we open and honestly, in front of everyone, all together." DuPont said of how she and her husband address cannabis with their 11- and 12-year-old kids. "They have access to everything so to deny them the truth, I feel, makes them trust me less."
Denise Gonzales, of Inglewood, said because smoked pot in junior high and high school, she made sure to speak with her son before cannabis became legal. "I dissuade him from smoking, period, until he is over 18," Simpson said, adding, "I mainly tell him about the dangers of edibles and how you have no control over their effect."And Chris Dehn, who lives in northeast LA, said he tries to be open with his children about his experiences with cannabis "so that they have a broad view that's objective and also personal."
GIVE THEM TOOLS SO THEY CAN DECIDE
Image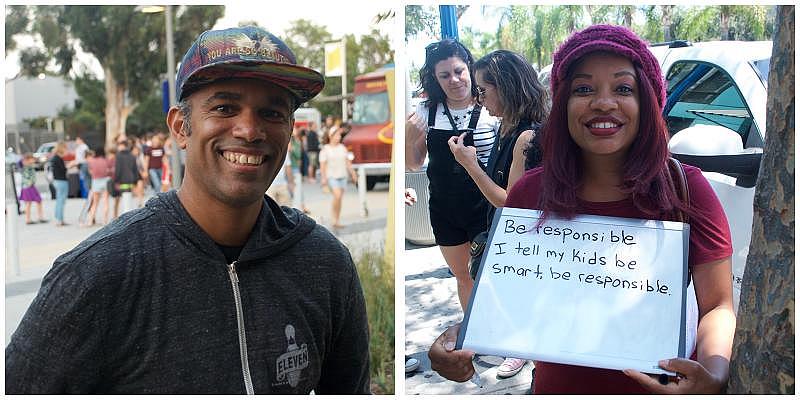 Some parents said they're trying to provide their children with the facts and skills to make the decisions for themselves. Increasingly, school-based drug prevention education programs are taking a similar approach, moving away from the "Just Say No" message from the past in favor of providing facts about brain development, and that using regularly at a young age could affect their memory and mood.
Luis Rosario, of Redondo Beach, said he struggles with the conversation and questions how to approach the subject with his 12-year-old daughter. He said he tries to open with her about it, adding, "I'd love for my daughter to come talk to me about it… and I think as long as we're providing the right tool sets as [she gets] older to make those decisions with guidance, I think it can be a positive experience."
Jackie Perry, of Compton, said she hasn't talked with her 11-year-old about cannabis yet, but said, "I would tell her to make your own decisions. She knows right from wrong, and they're going to make their own decision, whether you teach them not to smoke cannabis or you can smoke it."
And Kymberly Stewart, of Burbank, echoed Perry's statement about teens making their own decisions. "I tell my daughter, be responsible, be smart," Stewart said of how she talks to her 15-year-old daughter and 10-year-old son. "If it affects your judgement, anything that clouds your judgement, causes you to make un-smart and unsavory decisions, then maybe you shouldn't do it."
NEVER
Image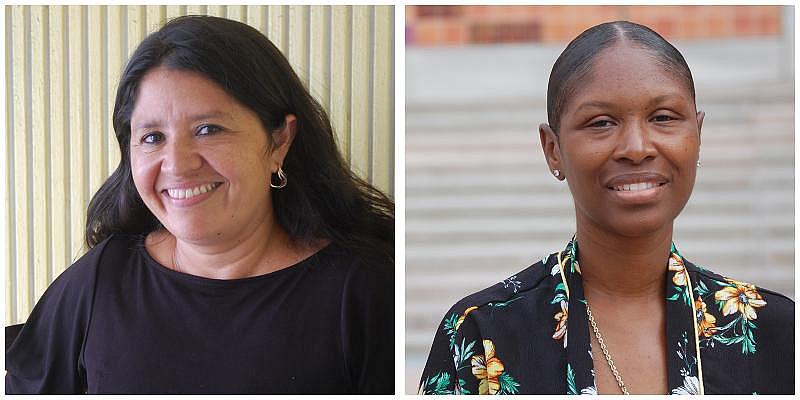 Others thought the best message to give their kids was the one they got when they were in school: Just say no.
Petra Pleasant, of Compton, and Brooke Riley, of South LA, brought up D.A.R.E, which is still one of the most widely-used substance abuse education program in American schools. The Los Angeles Police Department and the Los Angeles Unified School District created the D.A.R.E program in 1983. Both Pleasant and Riley said it worked for them. However, government reports from the 1990s and 2000s discredited the program, showing kids who went through D.A.R.E weren't less likely to use drugs. In the last decade, though, D.A.R.E America has overhauled its program with the help of prevention scientists at Pennsylvania State University and Arizona State University.
Meanwhile, Candyda Rodriguez, of Koreatown, said she had an open discussion about cannabis use with her teenage and pre-teen sons when recreational sales were legalized in 2016. She said she gave her children some positive outcomes of not using cannabis, like graduating from high school. She also explained the consequences of what could happen if they did use, and negative examples of using, telling they could end up in the hospital or overdose.
[This story was originally published by KCRW.]