Jail is largest psychiatric facility in Sonoma County
Image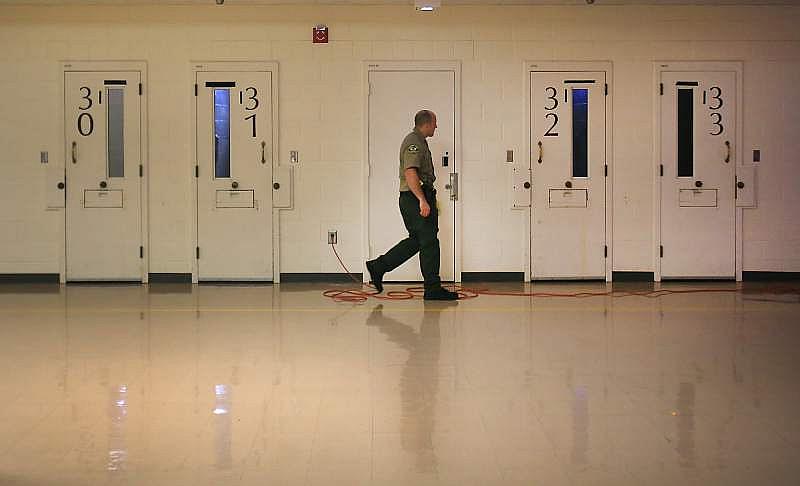 Published on
August 12, 2019
The largest psychiatric facility in Sonoma County is not a hospital.
It's the jail.
If not by design then by default, jail cells have essentially replaced psychiatric hospital beds for many of Sonoma County's most severely mentally ill residents. It is a trend that began before the closure of Santa Rosa's two secured mental health hospitals a decade ago, and has continued since.
Now, nearly 40 percent of the 1,100 inmates held at the county's main jail and its lower-security North County Detention Facility near the Charles M. Schulz-Sonoma County Airport have some form of mental health issue, from mild depression to bipolar schizoaffective disorder.
To house them and improve the quality of their care, the county is building a $48 million wing at the jail for inmates with mental illness — drawing both praise and anger from mental health advocates who would like to see more psychiatric hospital beds and housing with supportive services that help people with mental illness live in the community.
The new wing, which is slated to open in two years, underscores the magnitude of the sweeping changes that have altered the way America cares for its mentally ill.
"I'm glad a better mental health unit is being built at the jail, but why do we not have a freestanding hospital? Why do we have to wait until people are so sick they have to go to the jail?" said Rosemary Milbrath, former executive director of the Sonoma County chapter of the National Alliance on Mental Illness, or NAMI.
With so many mentally ill inmates, the Sonoma County Jail joins facilities like the Cook County Jail in Chicago, the Twin Towers Jail in Los Angeles and Riker's Island in New York City, where jail cells have essentially become a substitute for psychiatric hospital beds.
Milbrath, who spoke as an individual and not a representative of NAMI, calls the trend "disgusting" and a violation of the spirit of the landmark 1967 Lanterman-Petris-Short Act, a state law that, among other things, sought to end the process of indefinitely locking up those with mental illness and developmental disabilities.
"It guarantees people will be housed in the least restrictive environment for their level of illness," she said. "But we've just defaulted to jails."
A six-month review by The Press Democrat found that people with mental illness are increasingly winding up in a jail cell or a hospital emergency room — the two places where society is legally bound to provide mental health treatment.
In jail, the 8th Amendment of the U.S. Constitution, which bars cruel and unusual punishment, guarantees they be given treatment for their psychiatric condition. In a hospital, a 1986 federal mandate requires medical staff to treat everyone who enters an emergency department, regardless of their ability to pay.
Some mental health advocates argue that the wide array of outpatient and community-based mental health services in Sonoma County are not addressing the needs of those with the most severe mental illness.
But for their part, local mental health officials say their treatment model — which includes temporary crisis housing, long-term supportive housing and a relatively new 24-hour crisis stabilization center — is working and has already reduced the need for psychiatric hospitalizations.
[This article was originally published by the Press Democrat.]