Keeping the Homeless Out of Sight Makes Their Lives More Dangerous
Image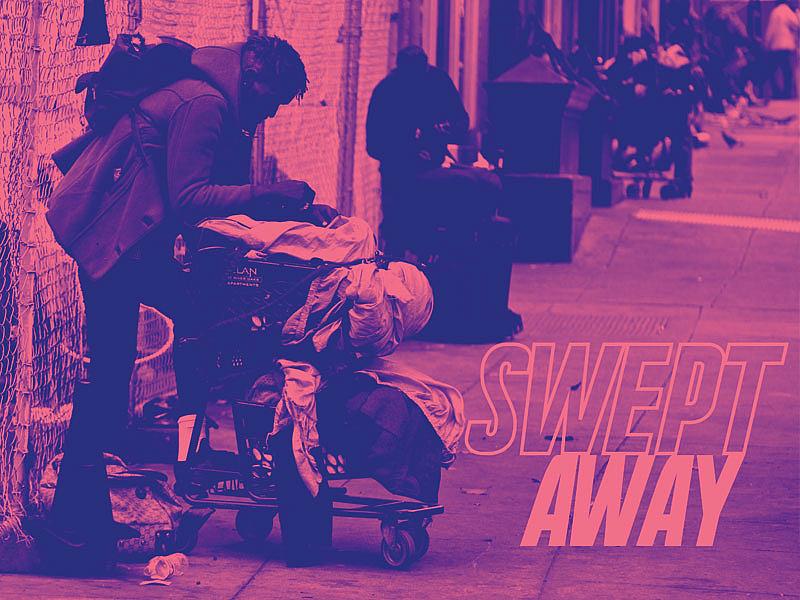 Designed by Sophia Valdes
Published on
August 21, 2019
Nearly 10,000 people in San Francisco are homeless, with a nightly shelter bed waitlist that hasn't dropped below 1,000 in more than a year.
The symptoms of the crisis are evident to anyone who lives or works in the city: Tents line the sidewalks, people sleep in doorways, and lines of RVs and cars that are parked along empty streets in industrial neighborhoods provide some protection from the elements.
The reaction to the crisis has produced extreme reactions, primarily focused on the aesthetics the crisis presents instead of the root of the problem: extreme poverty adjacent to some of the most staggering wealth inequality in the world.
This has entailed the forced removal of tents and people's belongings from city sidewalks, sending these items either to the dump, or the Department of Public Works' yard, where five shipping containers sit filled with suitcases, wheelchairs, bikes, and plastic bags. Only 20 percent of people ever get their items back.
Colloquially, these acts are referred to as "sweeps" — though city department heads prefer the de-fanged, bullshit-laden "encampment resolutions." No matter what you call it, the constant shuffling of people living on the streets and the continued seizure of their personal items happens daily. A consequence of these sweeps are the catastrophic effects the loss of that personal property can have on people's health.
When she took office in July 2018, Mayor London Breed voiced her support for the creation of the Healthy Streets Operation Center, which takes between 4,000 to 5,000 calls per month from people complaining about homelessness.
While HSOC is meant to be a collaboration between the Department of Public Health, the San Francisco Police Department, Public Works, and the Department of Homelessness and Supportive Housing, data shows that it's largely police officers and Public Works employees — not trained health professionals — who respond to these requests for service. As city workers confiscate homeless people's belongings, life-saving items often are swept up with them. More than 100 people stated that their overdose reversal medication, Narcan, was taken by authorities in 2018. People  have also lost their insulin, anti-psychotics, HIV medication, and the vital cocktail of drugs that treat hepatitis C.
Victims of encampment sweeps also suffer from losing their community, however informal and temporary it might be. As camps are broken up and people scatter, they lose a life-saving safety net. For the estimated 22,500 IV-drug users in San Francisco, this means there aren't friends nearby to monitor use and, if necessary, administer Narcan in the case of an overdose. With the loss of community, many choose to rely on drugs like speed to stay awake at night, to better protect themselves against theft, rape, and physical assault. A lack of sleep, a loss of medication, and the constant displacement from one corner to another can contribute to mental health breaks.
As these sweeps continue with no end in sight, the city's hardworking health professionals are adapting, and creating new and inspiring ways to find and treat their clients. Pop-up needle exchanges across the city reach people where they're at, providing them with Narcan, safe injection supplies, and substance use treatment. A harm reduction center downtown now has lockers where homeless people can store their medications. And, doctors at the University of California, San Francisco have outfitted a van with state-of-the-art rapid testing facilities that can treat those with hep C on the spot — whether it's on a street corner in the Bayview, or outside a methadone clinic in SoMa.
The creativity and constant adaptation is inspiring, but much of it exists to treat a symptom of a policy failure. San Francisco's determination to remove the physical evidence of homelessness is creating a new wave of public-health crises on our streets. But until policies change, the city's residents who live on the streets face an uphill battle in accessing the mental and physical care they need to survive. 
[This article was originally published by SFWEEKLY.]