LGBT community fights to be counted
This article is the second of three looking at LGBT data collection and was written as part of a California Health Journalism Fellowship project with the University of Southern California-Annenberg Center for Health Care Journalism.
Other stories in this series include:
Data shed light on LGBT retirees
Image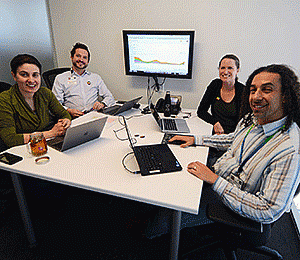 Published on
July 20, 2017
The closet door for many LGBT Americans has been wide open for decades, for coming out as gay, lesbian, bisexual, or transgender no longer engenders the social ostracism it once did. Yet the LGBT community largely remains in the dark when it comes to being visible in government data.
Because LGBT people have been ignored in the collection of demographic information, their health issues and other needs are unable to be properly addressed, argue LGBT advocates, health officials, and, increasingly, policymakers. The fight to be counted has been gaining more notice within the LGBT community as it has made strides on other equality issues.
In California and San Francisco, officials are aiming to make it routine to be asked sexual orientation and gender identity (SOGI) questions, as the Bay Area Reporter noted in a story last week about LGBT data collection efforts at the local level and statewide. Across the country there is a greater awareness of the need to include SOGI questions on all manner of surveys, studies, and government forms.
"There is a growing movement nationally, and at the state and local levels, to have everyone ask these questions in the health care setting," said Dr. Tri Do, a gay man who is the chief medical officer at the Asian and Pacific Islander Wellness Center in San Francisco.
Image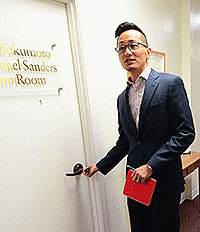 During the decade he spent as a Gay and Lesbian Medical Association board member, Do helped develop guidelines on how to ask, and where to ask, patients SOGI questions.
"When I was on the board of GLMA, we developed questions providers could ask about sexual orientation and gender identity, the same questions now being used by a lot of these agencies and health organizations," said Do, who stepped down from the board last year.
In a report it released this spring, the Center for Data Innovation repeated a call it initially made in 2015 for Congress to address the LGBT data gap. A bill currently pending in the House, the LGBT Data Inclusion Act, would require any federal agency that collects demographic data to include SOGI questions on its surveys and forms, though with Republicans in the majority its chances for passage are slim.
"The LGBT data gap is one issue that has gotten more traction and more interest among activists," said Daniel Castro, the center's director and lead author of its report. "I think it is a very important example of how policy making in terms of what data the government collects can have significant impact on the public. Most Congress members are not thinking about the important role government can play in solving issues through collecting data."
The center has recommended that all health programs receiving federal funding or other forms of support be required to collect SOGI information. The Strengthening Health Disparities Data Collection Act, which was introduced in 2013 by U.S. Senator Brian Schatz (D-Hawaii), would have enacted such a requirement. But the Senate never voted on the legislation.
"There is definitely an appetite among some members to introduce and reintroduce legislation along these lines," said Castro, a straight man. "The bigger question, of course, is if this legislation gets signed into law. Obviously, it is not clear that is going to be happening anytime soon."
In October the National Institutes of Health designated sexual health minorities a health disparities population, opening the door for more research into the LGBT community's health risk factors. The data innovation center, in its report, noted that health surveys, clinical trials, and studies funded or performed by the NIH "all present opportunities to collect and analyze data to help researchers better understand the health issues facing the LGBT community and address the disparity."
Some agencies are collecting data
Some federal surveys already do ask about sexual orientation and gender identity. In 2013, for example, the Centers for Disease Control and Prevention began asking about SOGI in its Behavioral Risk Factor Surveillance System, one of the world's largest health surveys.
The National Survey of Older Americans Act Participants and the Centers for Independent Living Annual Program Performance Report have also included SOGI questions. Attempts by the U.S. Department of Health and Human Services this spring to remove the questions sparked a national outcry, and in June, the agency announced it would continue to collect the LGBT data.
"Sexual orientation and gender identity questions on these surveys were designed to ensure that vital services were reaching vulnerable LGBT Americans," a group of 17 senators wrote in a letter they sent the agency this spring calling on it to add back the SOGI questions. "By rolling back data collection, it is possible that the needs of millions of Americans will go unmet."
The attempts by the Trump administration to block the collection of LGBT demographic data in a number of federal surveys have highlighted the importance of LGBT data collection efforts to be undertaken at the state, local, and academic levels. The absence of SOGI questions is also drawing more attention globally.
"People in the community said, 'We are the walking dead because we are not counted anywhere,'" said Greta Bauer, a straight woman who's with the Department of Epidemiology and Biostatistics in the Schulich School of Medicine and Dentistry at the University of Western Ontario, last month during an online seminar hosted by the Williams Institute, an LGBT think tank at the UCLA School of Law that focuses on LGBT demographic research.
National and international health researchers, in particular, have been vocal advocates for adding SOGI questions to studies aimed at delving deeper into the health needs of LGBT people. Their efforts to collect such data have discovered severe health disparities for LGBT communities, as detailed in a 2011 Institute of Medicine review of LGBT research. The report showed that alcoholism, drug abuse, depression, suicidal risk, and chronic diseases that are often ignored appear to be problems that affect a disproportionate share of LGBT people.
"We have been relying on small studies over the years to show we have a number of health disparities, like increased heart disease risk in LGBT individuals as one example," said Do.
Having data from a broader population base, however, will make it easier to seek funding to address the community's health needs, Do predicted. The SOGI data San Francisco will be collecting, in particular, will provide the evidence the API Wellness Center needs to make the case for why the agency's services are needed and back up the stories and qualitative data the agency has gathered from the patients it serves.
"When it comes to foundations, to be able to say there is this health issue in our community and it is impacting this many people, or doubling the risk for breast cancer or anal cancer or things like that, it goes a long way to getting things funded," said Do, who has encountered issues in the past in securing funds because of the LGBT data gap. "I could pull in references from a number of small studies here and there on health disparities. But when it came to saying San Francisco has this many LGBT people with an X amount of risk for cancer or mental health concerns and heart disease, there is no data I can point to."
UCSF's PRIDE Study
Another LGBT data point will come from UCSF, where a team of researchers is conducting a yearslong national health study of LGBT residents of the United States. Known as the PRIDE Study – the acronym is short for Population Research in Identity and Disparities for Equality – it is the first longitudinal study of a cohort of LGBTQ adults in the country.
"We know, first of all, LGBTQ people, or sexual minority people more broadly, exist in the U.S.," said Dr. Juno Obedin-Maliver, who identifies as a cisgender lesbian and is a co-director of the PRIDE Study. "We also know that, unfortunately, national surveys and even non-national studies don't tend to include questions about sexual orientation and gender identity. So what that means is we have an absolute lack of information about the health experiences of sexual minority and gender-nonconforming people."
Obedin-Maliver, an assistant professor of obstetrics, gynecology, and reproductive sciences at UCSF, said it is "an exciting time" to be conducting such research because there is "a ton to be learned" about the LGBT community's health disparities.
"There has been a lot more visibility, socially and politically, about LGBTQ people, but there has not been a lot of incorporation in terms of medicine and science about what it means to be a part of these communities," she said. "For example, LGBTQ people tend to smoke more than the general population, which has a lot of health implications. But because every study and health agency hasn't been asking about sexual orientation and gender identity, we don't always have the best information how to intervene and how to support people to stop smoking."
Amanda Wallner, the director of the California LGBT Health & Human Services Network, expects the PRIDE Study will provide valuable information on a host of health issues impacting the LGBT community once it starts to report out its findings. It is just the latest example of how LGBT individuals have taken it upon themselves to care for the community's health needs, she said.
"It has always been necessary for our community to step up and provide for ourselves when the government won't or the private market hasn't. We did during the HIV epidemic; we created our own hospices and our own hospitals. Nurses stepped up to the plate and so did doctors," noted Wallner, a lesbian who has signed up for the PRIDE Study. "LGBTQ communities have stepped up to fill in the gap."
Various jurisdictions have either begun to collect LGBT data or are working toward doing so. In 2009 the UC Davis Health System established a task force to look at how to include SOGI data in electronic health records.
Four years later it became the first academic health care provider to ask its patients if they identify as LGBT. Yet it has not reached a point where it is ready to share the SOGI data it is collecting with researchers and others.
"It is working out well in places and there are problems in places," said Edward Callahan, Ph.D., a gay man who chairs the vice chancellor's advisory committee on SOGI. "It is a matter of getting enough people filling it out all the time consistently."
Callahan, who recently retired from his job as associate vice chancellor for academic personnel in the university's nursing school, said not every patient seen by the health system is asked about their sexual orientation and gender identity. When the SOGI questions are asked, he explained, depends on who their provider is and where they are seen.
"It is not built in as a standard procedure for every patient," said Callahan. "It is happening more often. But it has to happen more often than it is happening."
What the university has learned from asking SOGI questions, he said, is it is critical to teach physicians to think about the issue in a different way so they do not see LGBT people as "less than" other people.
"We are working with people to think about sexual orientation and gender identity as another form of normal difference in biological variability," said Callahan. "We've got this biological variability that is a natural part of life. How do you deal with it? Do you make it a big deal or something real simple and straightforward? The more we get into seeing this is normal variance in how people are in the world, the better the care is for the patient."
Gender identity presents unique challenge
When collecting SOGI data, asking about gender identity presents unique challenges due to the myriad ways people describe their gender. The terminology is in constant flux, as is which pronouns people prefer to use, which can't all be captured on government forms or databases.
It is an issue that has arisen in New York state, where in 2014, Governor Andrew Cuomo ordered state departments to collect LGBT data. It is a particular challenge for state universities in the Empire State when asking students SOGI questions.
Because the questions only allow for one answer to be given, they are not capturing students' full identities and forcing them to adhere to rigid definitions of sex and gender, said Courtney D'Allaird, who identifies as queer and is the assistant director and coordinator of the Gender & Sexuality Resource Center at the University at Albany. As an example, D'Allaird noted that a large number of students on campus identify as not being sexual or are sexually attracted to all genders but they are not given the choice of choosing asexual or pansexual for their sexual orientation.
"So in order to get a wide breadth of our identities and experiences, we need to be able to check all that apply," said D'Allaird.
At UC Davis there is an "other" option on its intake form where people can answer the gender identity question with whatever term they wish. But they are also asked to explain what the term means so their doctor understands it.
"Over time the younger students are teaching us very different ways to think about and deal with sexual orientation and gender identity. It is a positive thing overall," said Callahan. "The younger generation is thinking about SOGI in different terms and that difference is going to help us, ultimately, relate better to people across different ethnicities."
Demographers also note it is essential to ask people what sex they were assigned at birth, in addition to what their gender identity currently is, in order to count all transgender people being surveyed or taking part in a study. Not everyone who has changed their gender identity will identify as transgender, and thus, will not check that off when asked for their SOGI demographic information.
"What if I am a trans man, and the world has labeled me as a trans man, but that is not how I identify? I just identify as a man. If I check off sex assigned at birth as female, when I get to gender identity, even if trans male is an option, I might put male," explained D'Allaird. "I might not identify as the world tells me to. I am just a dude, don't put me in a trans box. The only way to see that person in the data is if you ask for their sex assigned at birth."
As San Francisco's health department works to include SOGI questions on all of its forms and electronic records, it consulted with an advisory group of transgender community members. The feedback they provided was that they would like to see a wealth of options for answering the gender identity question beyond just male, female, or transgender.
"Part of what we are working on is how to engage our communities, our very diverse communities, in a linguistically and culturally appropriate way," said Leslie Dubbin, a gay woman who is the health department's chief integration officer for ambulatory care and one of a number of employees who have been working out the details for how to ask the SOGI questions.
"One thing that is reasonable is to add genderqueer and gender non-binary," added Seth Pardo, a trans man and a program evaluator for the health department's behavioral health division who focuses on quality management research and evaluation. "Everybody's identity is different. We have come a long way from just L, G, B, and T. Identities are a very unique thing. People have the right and a responsibility to identify who they are themselves."
But to ensure the data collected is useable for research purposes, there is a limit to how many choices the department can offer, noted Pardo. Too many options could dilute the demographic pools into being of little value.
"There is always a challenge, from a systems perspective, to figure out a way to digest the complexity of identity in a way to do number-crunching and counting of our constituents," said Pardo.
Possible privacy concerns
No matter what the department opts to do, Dubbin said she fully expects that people will be "really guarded" about divulging their sexual orientation and gender identity because of the current political environment and growing concerns about the theft of people's personal information.
"It becomes much more broad than just my health care provider wanting to understand who I am and what I am at risk for and what I have and try to come up with a health care plan to address health inequalities at the clinic level," she said. "Our ultimate goal is community health and how do we make a group of people healthier. The political landscape is certainly not very helpful at the moment in doing these things."
The department is committed to protecting the information it collects and has been testing different options for how to store the data. It is also closely looking at who will be able to access the information.
"There are multiple nuances to this. It is not as easy as asking are you straight, gay, or transgender. It is much more complex," said Dubbin.
The benefits from asking people SOGI questions in research studies and on government forms go beyond merely identifying health disparities in the LGBT community. It can also bring about greater acceptance for people who are sexual and gender minorities, argue LGBT advocates, as it sends a message that being LGBT is not a choice or any different from being heterosexual.
"When we include things in a structure like that, we are in many ways legitimizing that experience as 'real.' When we keep it hidden and not talked about then we are not dealing with the stigma and the violence," said D'Allaird. "By letting someone who wants to share that info so we can use it, we are sending a message about inclusion and saying we want to know so we can serve you best. Finally, which is equally important, every single person that goes through that form is exposed to LGBT topics."
[This story was originally published by The Bay Area Reporter.]