Many California Families Can't Access Mental Health Care for Kids. This East Palo Alto Mom Found a Way
Image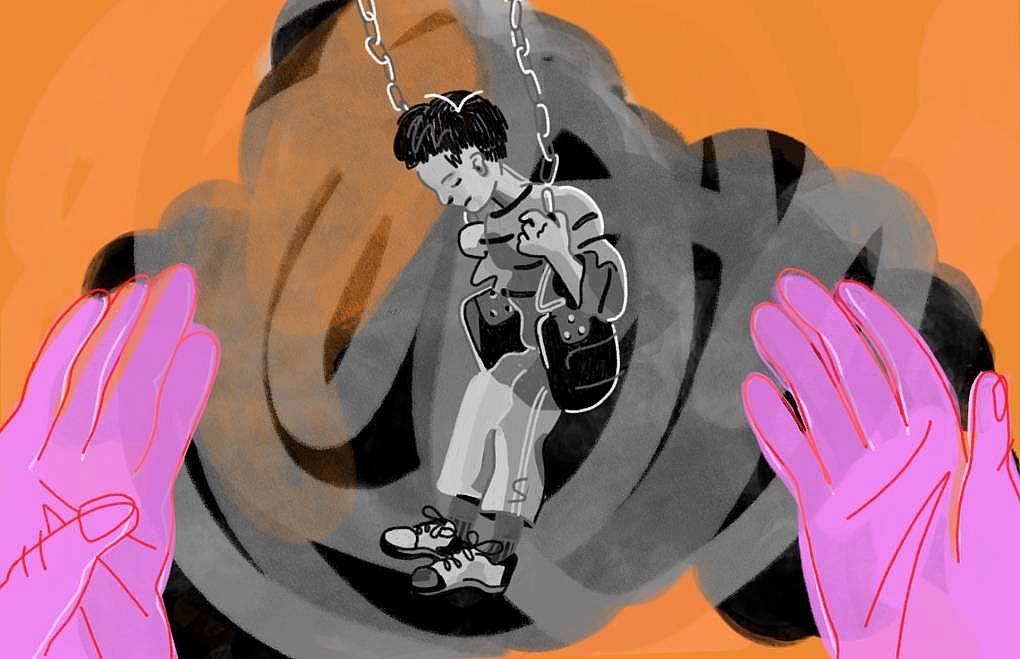 (Illustration by Anna Vignet/KQED)
Published on
September 30, 2022
Jasmine Cuevas stood at her kitchen stove preparing migas, stirring a pan of eggs and tortillas before calling her four children to dinner.
She spooned servings onto plates while asking each about their day.
"I get out of work, get them from school and then we come straight home," she said. "And, it's a wreck: dinner, homework, reading, bath and then bedtime by 7:30 at the latest."
Cuevas, who lives in East Palo Alto, does her best to manage her parental duties from the mundane to the challenging. Before her two oldest children, now ages 7 and 9, started kindergarten, they showed signs of anxiety, stress and frustration.
One child had violent outbursts regularly, hitting and biting siblings — or anyone around. Sometimes, according to Cuevas, the child cried inconsolably. She said the other child began exhibiting signs of anxiety in preschool.
Three years ago, Cuevas, who has been a single mother for stretches of her kids' lives, decided to seek therapy for her children. She remembers telling them, "You need to talk to someone, let's talk to someone."
Image
Cuevas is among millions of parents whose children are struggling with their emotional and mental health. KQED decided to not include the names and genders of Cuevas' children in this story to protect their privacy after consulting a gender educator.
In California, 1 in 8 children was diagnosed with anxiety or depression in 2020, a 70% increase from 2016 when 1 in 14 received a similar diagnosis, according to a 2022 report from The Annie E. Casey Foundation.
Demand for mental health services for children has swelled as expressions of anxiety, depression and suicidal thoughts have increased alarmingly — a situation experts have labeled a crisis. But while parents are told to "get help" for their children, they often run into one or two main obstacles: the high cost of care, and the lack of therapists.
'What will we do as a culture when we come into consciousness about the fact that twice as many of our kids are trying to kill themselves?'Alex Briscoe, principal, California Children's Trust
Many therapists who run private practices don't accept insurance. Without insurance, therapy is unaffordable for most families, as sessions can cost anywhere from $100 to $250 or more, according to health care providers interviewed for this story.
The result is that Black and Latinx children receive mental health care at about half the rate of white children, according to the Centers for Disease Control and Prevention.
Advising the parents of non-white children to "get help" is like telling them to open a door to an empty room, said Eric Valladares, executive director of Family Connections, a Palo Alto-based nonprofit that provides educational and mental health services to families with young children.
Image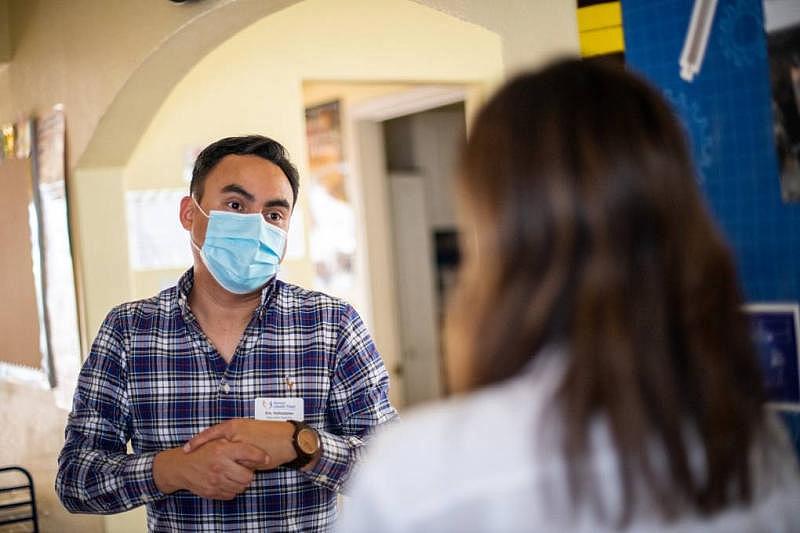 "There's not much furniture in there," he continued. "That's where there is a gap for our families. They tell us, 'I want to talk about these things, but where do I go? Who do I grab on to?'"
According to the CDC, 1 in 5 children and adolescents age 12 to 17 reported experiencing a major depressive episode from 2013 to 2019. The CDC also reported that in 2019, 37% of high school students expressed feeling sad or hopeless, up from 26% in 2009.
"Over the last 10 to 15 years, we've seen a doubling of inpatient admissions for self-injury, and suicide leapfrogging cancer and car wrecks as a cause of death" for young people, said Alex Briscoe, principal at the California Children's Trust, a nonprofit organization focused on reimagining California's approach to children's mental health.
"So the broader question for us is, what will we do as a culture when we come into consciousness about the fact that twice as many of our kids are trying to kill themselves?"
Health insurers often won't cover preventive services and instead provide coverage only when a patient's condition is severe or fits a particular diagnosis. A 2018 study by the California Health Care Foundation found that close to two-thirds of adolescents with major depressive episodes in California do not receive treatment.
Nationwide, spending on mental health, from therapy to prescriptions, more than doubled to $225 billion from 2009 to 2019, according to a report from Open Minds, a health care market research firm. That represents only about 5.5% of all health care spending, the report says.
California is rolling out the Child and Youth Behavioral Health Initiative, a $4.7 billion, five-year plan to overhaul the way the state prevents, treats and responds to mental illness and disorders in children.
"What we hear particularly from youth is the importance of prevention and nonclinical support," Melissa Stafford Jones, the program's director, told KQED. "They've said to us, 'Don't wait until we're in a crisis to support us.'"
The funding was approved in 2021, but state leaders and agencies are still deciding how to dole out the money. The plan's goals include making services more accessible to underserved children and expanding the workforce of therapists and service providers.
The initiative could bring about substantial change, but that will probably take four to five years, according to Chris Stoner-Mertz, CEO of California Alliance of Child and Family Services, a coalition of about 150 nonprofits and organizations that serve the state's children and families.
When asked whether the money is specifically helping kids in crisis now, Stoner-Mertz replied, "To be frank, no."
"It really is primarily infrastructure, and capacity building," she continued. "But none of it is like, 'Here's money to provide a service today.'"
'What we hear particularly from youth is the importance of prevention and nonclinical support. They've said to us, 'Don't wait until we're in a crisis to support us.''Melissa Stafford Jones, program director, Child and Youth Behavioral Health Initiative
Medi-Cal, the state-funded insurance program for people with lower incomes, covers mental health care services including therapy, but of the 5.3 million children and youth enrolled in the program, only 5% have received a mental health care service, according to the California Children's Trust.
Cuevas' family is part of that small fraction who has benefitted. And unlike some parents who are afraid or distrustful of seeking help, she was eager for her kids to go to therapy. That's because she knew how much it helped her.
Cuevas, 29, said she was raised in a home she considered emotionally and physically abusive. She remembers briefly seeing a therapist when she was 8 or 9 years old.
"I loved it, loved it, loved it. (The therapist) was so nice. She was so understanding," Cuevas said. "I never used to express myself at all. Nobody ever listened to me. And when they did listen to me, they said, 'Oh, you're lying.'"
After a few sessions, her mother abruptly stopped taking her to appointments, Cuevas said. She never found out why.
"It was really hard," she recalled. "I was like, 'Great, I'm back to my little bubble in my corner of darkness and not knowing what to do.'"
Cuevas became a mom at 20. She was in a marriage that she described as emotionally abusive. It ended soon after her first child was born. Cuevas remarried and had three more children. Her second husband was also abusive, she said. She briefly lived in her car after the relationship fell apart.
She connected with Gabriela Buendia, a therapist who worked at her kids' preschool as a mental health consultant. Cuevas met with Buendia almost weekly to talk about her children's behaviors. She said she learned to try to understand why her kids were acting out instead of just correcting or reacting to them.
Preschool-age children show their emotions through their behaviors, according to Buendia.
"A lot of kids are dealing with chronic stress, chronic trauma, significant challenges at home," said Buendia, who offered assessments to Cuevas but didn't treat her children. "Many of them don't have the language to express how they are feeling, so they will show us through their behaviors."
Image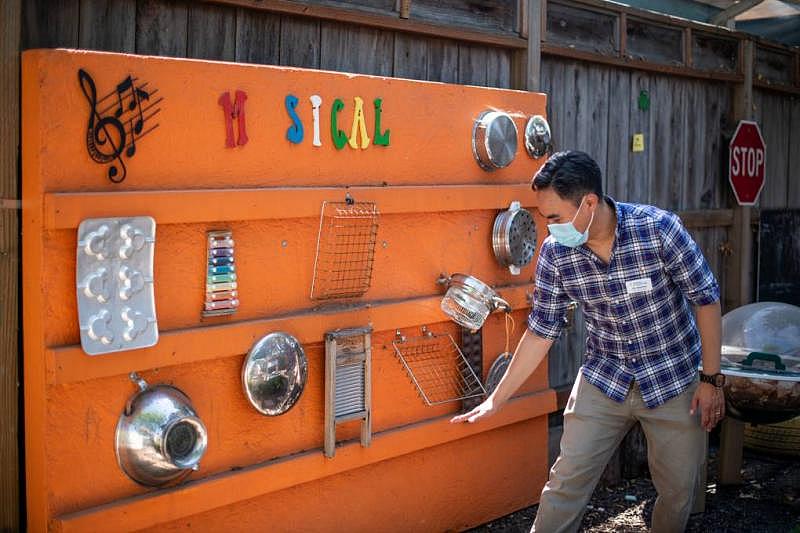 After a few years of building trust, Cuevas started going to Buendia for therapy for herself. She never forgot the feeling of having someone in her life she could trust who listened.
"I'm more open-minded," she said. "I've been able to express my feelings more."
Finding help for her two oldest children was relatively simple, Cuevas said. She went to a San Mateo County health office to request appointments.
"I went through four therapists before we found the right match," she said. "I didn't give up."
Starting in 2019, her two oldest children saw a therapist once a week over Zoom. Their sessions often involved games and activities.
Buendia said a couple of factors made a difference for Cuevas' family. One is that her kids' preschool looked for signs of mental health challenges and had a consultant on staff.
Another is that Cuevas learned how to advocate for her children, and had access to insurance that covered therapy. Many parents, Buendia said, either don't have access to the system or don't know how to navigate it.
"I admire this mom so much. She's like the epitome of someone who has struggled so much, overcome so much," Buendia said. "She's overcome so many obstacles and trauma and yet is still so connected to her feelings and is vulnerable and is so connected to her children. She's incredible."
In February, Cuevas moved her family into a townhome in East Palo Alto, providing a more stable situation. She had to stop working at the start of the pandemic to care for her kids, but is back to work full-time in food service at Stanford University. In August, she married again.
"I'm finally in this great relationship with a person who loves my kids, who loves me, and treats me the way I need to be treated. My kids are happier than ever," Cuevas said. "I'm not going to lie, I have a lot of anxiety. I have a lot of panic attacks. So, I'm working on it."
Cuevas said therapy improved the way she communicates with her children. In the past, she said she worried more about cleaning her home than taking the time to connect with her children. Now she makes sure they eat meals together and talk before bedtime. She wants her children to have a different experience than she had growing up.
She wants them to feel free to express their needs and emotions.
"I know that after finding the therapist for them and finding one myself, I noticed a change where they could confide in me and tell me what's going on and express themselves," Cuevas said. "It's amazing how much trauma and how much hurt we have in our family. But there's hope.
"With therapy you have that hope."