A Minnesota family's desperate search for care reveals state's mental health crisis
Image
Published on
March 24, 2023
When he was about 18 months old, Harrison Bolchen loved matching words to letters. He would call out "A" and his mom would say "ant" and
Harrison would reply "aardvark." They'd gleefully volley words, back and forth, before moving on to "B."
He explored parks with his family and laughed with the other kids at child care.
But at age 4, his behavior shifted. He had bouts of aggression. And he began running away from his parents.
His outbursts hit a new level last year — forcing the family to seek help at an ER.
Harrison, 13, who is autistic and has a mood disorder, was at such high risk for harming himself and others that emergency department caregivers scrambled to admit him to an inpatient psychiatric bed, but they couldn't find one.
Not in Minnesota. Not in the Dakotas. Not in Wisconsin, Iowa or even Illinois.
He spent eight days waiting.
Such desperate — and often futile — searches for a psychiatric hospital bed are a symptom of decades of underfunding for mental health services in Minnesota and a system that's never been fully built for what patients need.
Patients struggle to find and use outpatient mental health care that could help prevent hospitalizations. Those who are admitted sometimes languish in hospital beds because there isn't room at step-down facilities. And non-hospital facilities that might be good alternatives aren't available, pushing patients into crowded emergency departments.
It is all complicated by the financial incentives in health care. Newly available data analyzed by the Star Tribune reveals how both medical insurers and the state-federal Medicaid program pay hospitals for psychoses treatment at a much lower per-day rate than other common physical conditions, such as pneumonia and heart failure.
The starkest example shows commercial health insurers pay about $14,000 per day for patients needing hip or knee replacement vs. less than $2,000 per day for mental health treatment. Medicaid health plans reveal a similar gap with a repayment rate of nearly $8,000 per day for hip and knee replacement vs. about $1,300 per day for psychoses.
"The numbers absolutely highlight the problem — and the problem is profound," said Dan Fromm, the chief financial officer at Robbinsdale-based North Memorial Health Hospital.
"The payment models don't make it possible to invest in inpatient mental health and get any kind of meaningful return, which means you can't recruit and attract the [mental health] providers and professionals you need to staff the units," said Fromm, who previously served as CFO at Fairview Health Services, the state's largest inpatient mental health provider.
Image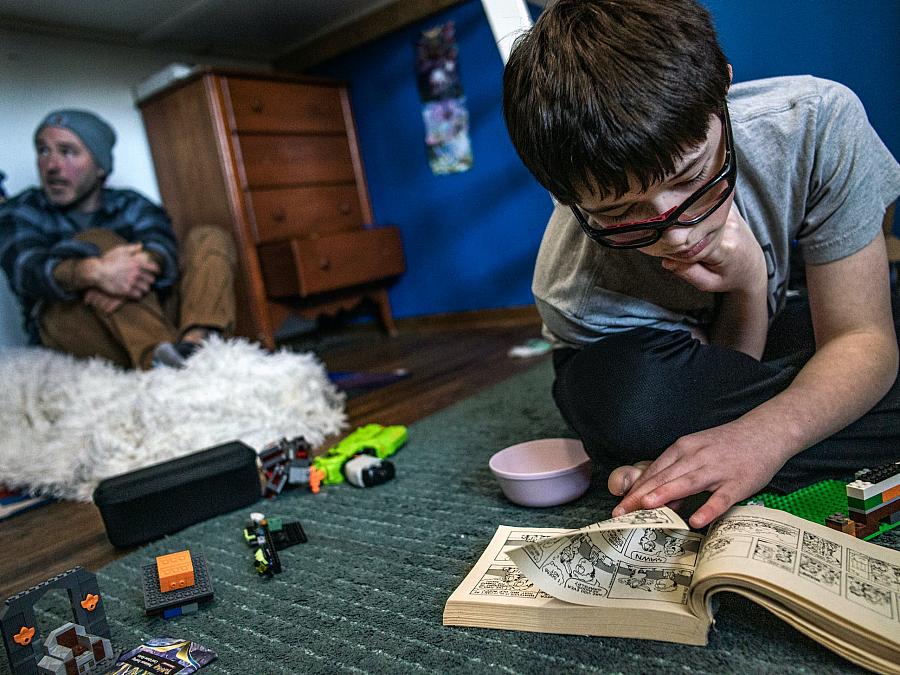 RICHARD TSONG-TAATARII, STAR TRIBUNE
Image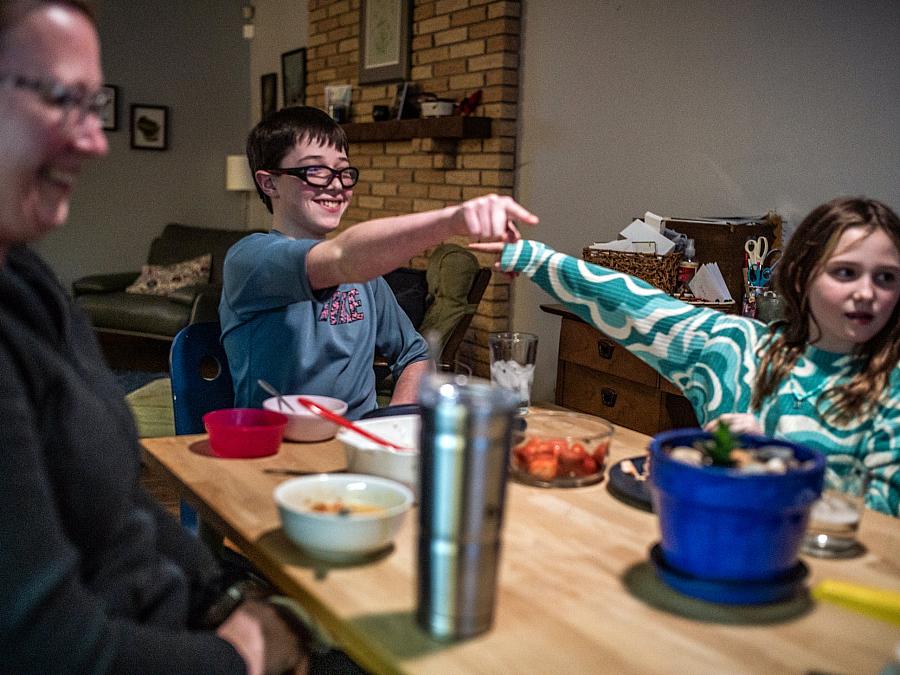 RICHARD TSONG-TAATARII, STAR TRIBUNE
Image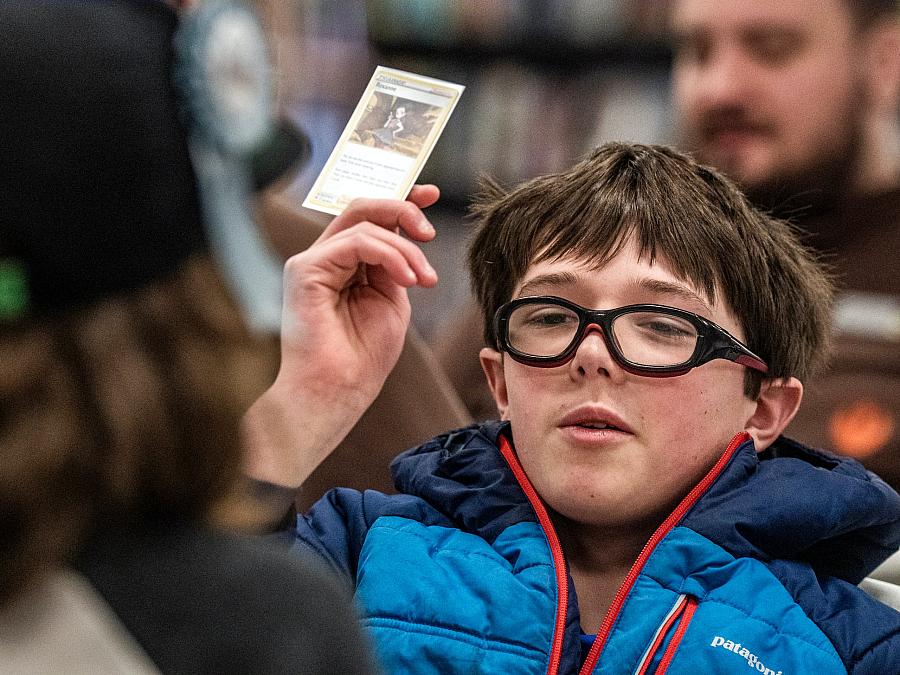 RICHARD TSONG-TAATARII, STAR TRIBUNE
'Young people are struggling'
In hospitals across Minnesota, pediatric and adult mental health patients are boarding in emergency departments for "extraordinarily long periods of time," said Dr. Casey Clements, an emergency physician at Mayo Clinic.
It's all the consequence of a 50-year history where generations of patients have been forced to scramble without a comprehensive system to care for mental illness, said Dr. Paul Goering, a psychiatrist who was the longtime leader for inpatient mental health care at Allina Health System.
"Beds are the bottleneck right now," Goering said. "The work and the financial rewards aren't aligned. ... The squeeze in hospitals has always been that mental health is not going to make as much money as other kinds of things."
Without a comprehensive system, he said, hospital services – like emergency rooms – will be the default safety net.
In recent years, an average of 559 adult psychoses patients in and around the Twin Cities had to wait more than a day to be admitted to inpatient facilities annually, a Minnesota Department of Health report found. The number of adult patients leaving the ER against medical advice is up, according to the 2022 report, growing from 34 in 2016 to 56 in 2020.
The mental health crisis spans all age groups but increasingly is hitting young people, a group that was suffering more problems even before the COVID-19 pandemic, said Dr. Katarzyna Litak, a child and adolescent psychiatrist at the University of Minnesota.
The federal government's biennial Youth Risk Behavior Survey, released in February, found a record 57% of female high school students in 2021 reporting persistent feelings of sadness or hopelessness during the previous year. A decade earlier, the rate was 36%. While the rates were lower for male high school students, they are also increasing over time.
Thirty percent of females said they had seriously considered attempting suicide, up from 19% in 2011. Feelings of hopelessness and serious consideration of suicide were even higher among high school students who identified as lesbian, gay, bisexual or questioning.
Litak said access to psychiatric beds and other types of care continues to fall short of the need.
"Young people are struggling," she said.
While the crisis grows, bed capacity hasn't kept up. The number of pediatric mental health beds in Minnesota's general inpatient hospitals remained steady between 2015 and 2021, while adult capacity declined 4%.
State figures show the number of behavioral/mental health patients transferred from hospitals in the Twin Cities area to out-of-state facilities more than doubled from 66 in 2017 to 154 in 2021. Last year, these transfers, for children and adults alike, were on pace to set a new record, according to the Emergency Medical Services Regulatory Board.
"There's no easy answer — it's not just one thing," said Sue Abderholden, executive director of NAMI Minnesota.
"Hospitals should be trying to do more. Payers should pay more. All of that needs to happen," said Abderholden, whose group is the local affiliate of the National Alliance on Mental Illness. "And we need to address the workforce shortages as well. ... We have a crisis on our hands."
Hospital mental health workers are in short supply, the state says, with 80% of Minnesota counties designated as areas with a mental health shortage.
Image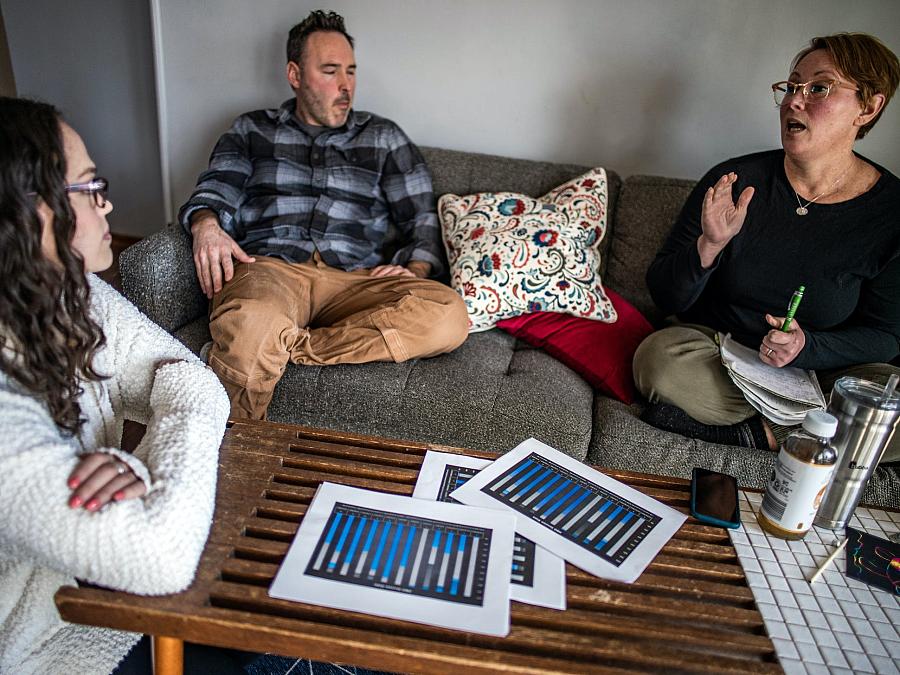 RICHARD TSONG-TAATARII, STAR TRIBUNE
An issue of rates
In 2019 and 2020, the federal government established new price transparency rules requiring hospitals and insurers to publicly disclose payments for individual services. The Star Tribune's analysis focused on payment rates for the 20 most common categories of hospital care, excluding pregnancy-related codes, as shown in data provided by Turquoise Health, a San Diego-based firm that collects the information.
Median payments to Minnesota hospitals were adjusted by the average length of stay for patients. The results show the median per-day payment for psychoses — the only mental health category in the study and the one where patients have the longest hospital stays — was lower than for all other 19 types of care such as sepsis and chronic obstructive pulmonary disease.
While hospitals get paid in many ways beyond the billing codes analyzed by the Star Tribune, the newspaper's numbers reflect how reimbursement for mental health generally is lower than for other diagnoses, said Beth Heinz, the executive for mental health and addiction services at M Health Fairview.
The reimbursement gaps across conditions were similar for both commercial and government-sponsored coverage. Health plans for people in Medicaid — the program for lower income people and some with disabilities — paid significantly less than commercial health insurers.
For decades, low Medicaid pay has been acutely felt in psychiatric care as the program covers a disproportionate share of mental health patients.
"In order to break even, you have to charge the commercial health insurers more," said Rick Gundling, a senior vice president of the Healthcare Financial Management Association.
Hospital officials say a lot of the pay difference across the 20 services makes sense, given the resources required for different services. Joint replacement surgery and heart procedures with stents, for example, use more expensive technologies than inpatient psychiatric care does.
But, Gundling said, the payment system that accounts for these resource differences isn't perfect. He and other experts say higher payments explain why hospitals typically spend more on marketing and construction for higher-tech services.
"These large differences in payments can contribute to hospitals prioritizing access to other, higher-paying services at the expense of mental health/behavioral health services," said Christopher Whaley, a health economist at Rand Corp.
The Star Tribune's comparison of per-day payments is important because hospitals are limited in the number of beds they can operate at any one time, said Matt Anderson, a former health policy expert at the Minnesota Hospital Association who also served as Medicaid Director for the Minnesota Department of Human Services.
There's pressure, he said, to maximize profitability from each available bed.
Nonprofit hospitals invest in services that aren't moneymakers as part of their charitable mission, said Anderson, now a senior lecturer at the University of Minnesota School of Public Health. Yet it's also true that reimbursement rates generally drive which health care services are built, as higher payments can bring better profit margins, he said.
"There are much greater financial incentives to deliver physical and acute care than to deliver mental health and behavioral care," Anderson said. "There are even greater financial incentives to deliver specialized or sub-specialized physical care and surgical/procedural care."
Image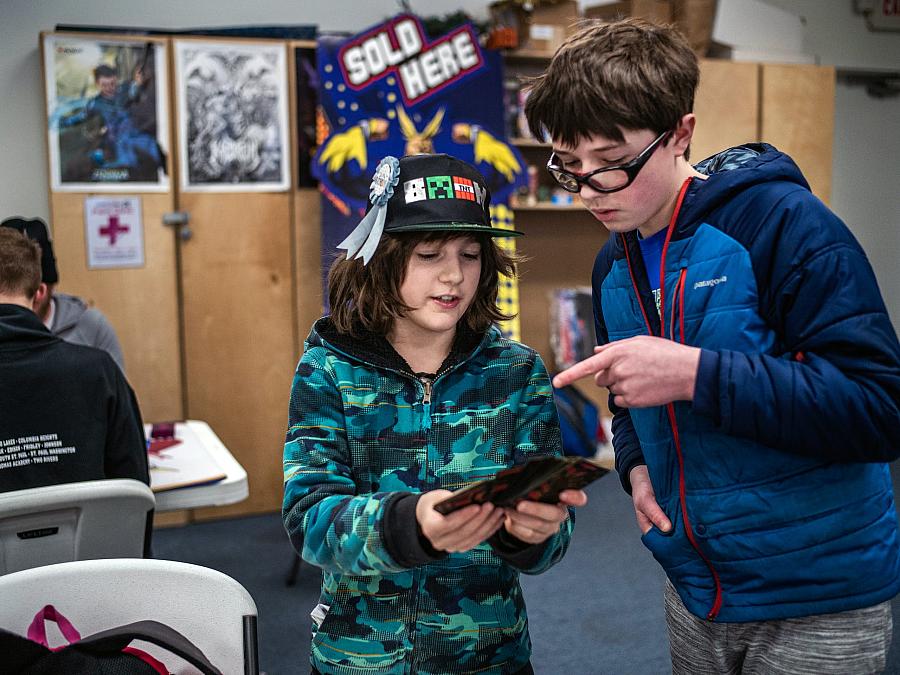 RICHARD TSONG-TAATARII, STAR TRIBUNE
Boarding and bottlenecks
Harrison shares comic strips to make people laugh and loves describing his Pokémon cards.
He does well at school in an environment tailored for students with sensory needs. And he's happy to tell visitors about his Lego sets scattered around his bedroom.
"He's very bright. He's charming. I really enjoy Harrison," said Amy Esler, a psychologist at the University of Minnesota who's treated Harrison over the past decade. "If we could just fix this behavior response for him, he would just be so successful."
In September, Harrison was aggressive toward his younger brother in the lead-up to a weekend when he threatened to harm himself. The family had to call law enforcement for help. It all culminated with dangerous behavior at school and then a trip to the emergency department at Children's Minnesota in St. Paul.
"I wasn't allowed out of this room," Harrison said of the ER. "For some reason, I was essentially being watched like 24 hours a day."
His mother, Tara Dobbelaere, said doctors and therapists have not yet identified what's driving the aggressive behaviors.
After eight days, his behavior stabilized enough that he could be discharged from the ER. At the time, Children's didn't have inpatient mental health beds.
While grateful for the emergency care, Dobbelaere couldn't believe the contrast from a few years ago when Harrison waited less than half a day to be admitted for inpatient treatment. Doctors say it's getting harder to find a bed for children with a history of aggression because they require specialized staff.
"That's the bind hospitals are in," Esler said. "If they want to provide these services, they know they're going to lose money. And also, these kids can be tough. They might throw something at you, and if you're not adequately staffed with people trained in de-escalation and positive behavior supports, there's a higher risk for injuries."
Worried about taking Harrison back home with their other children there, but with nowhere else to go, Dobbelaere and her husband booked short-term rental apartments via Airbnb. They alternated staying with their son for four weeks until they felt things were safer.
Even for children with mental illness who don't have aggression, it still could be a couple days' wait to find a bed, said Clements, the Mayo emergency physician.
A new option — for some
At Allina, Joe Clubb, the vice president of operations for mental health and addiction services, recalled two young patients who each spent more than 200 days in the hospital because there wasn't a step-down facility that could take them.
The patients might have been good candidates for a new type of pediatric residential facility in Minnesota, he said, but there just aren't enough of them.
Called psychiatric residential treatment facilities, or PRTFs, the centers were launched in 2018 to help fill the care gap. Northwood Children's Services in Duluth was the first to open.
More than 200 students have attended since then and the average length of stay last year was just more than seven months. The duration fits with the amount of trauma students have experienced and the level of aggression and suicidal ideation they display, said Larry Pajari, the chief executive.
Despite the growing need, Northwood is one of only three facilities of its kind operating in Minnesota.
Hospitals regularly inquire about sending patients, but the waitlist at Northwood is long. "It's hard for me to prioritize certain kids over other kids that might have been waiting three to six months," Pajari said.
Medicaid HMOs will pay for children to stay at Northwood, he said, but only one commercial health insurer has done so.
Patient advocates say the lack of commercial coverage has stunted the growth of PRTFs. Most mental health providers, they point out, rely on higher payments from commercial insurers to offset lower Medicaid payments.
"It has been a bumpy ride," said Kirsten Anderson, executive director of AspireMN, a statewide association of child and family service providers. Commercial coverage would signal to providers that profitability is possible, she said.
Minnesota's nonprofit insurers say they are working to expand access and maintain that many patients can't get in because of a lack of facilities and staff — not because of a lack of coverage. Even so, advocates are pushing legislation to mandate coverage of PRTF care.
The bill would apply to "fully insured" health plans — a subset of the health insurance market that's regulated by the state. But that part of the market has been shrinking, used by just 18% of Minnesotans in 2020. It's much smaller than the 40% of Minnesotans enrolled in "self-insured" employer plans. A recent state Commerce Department report noted one stakeholder's concern: the mandate could "drive more employer groups to switch to self-insured coverage to avoid potential costs."
Mandated coverage for PRTFs is just one of many reforms being pushed this spring at the State Capitol. In his budget, Gov. Tim Walz proposes funding to help launch up to four new pediatric facilities.
Image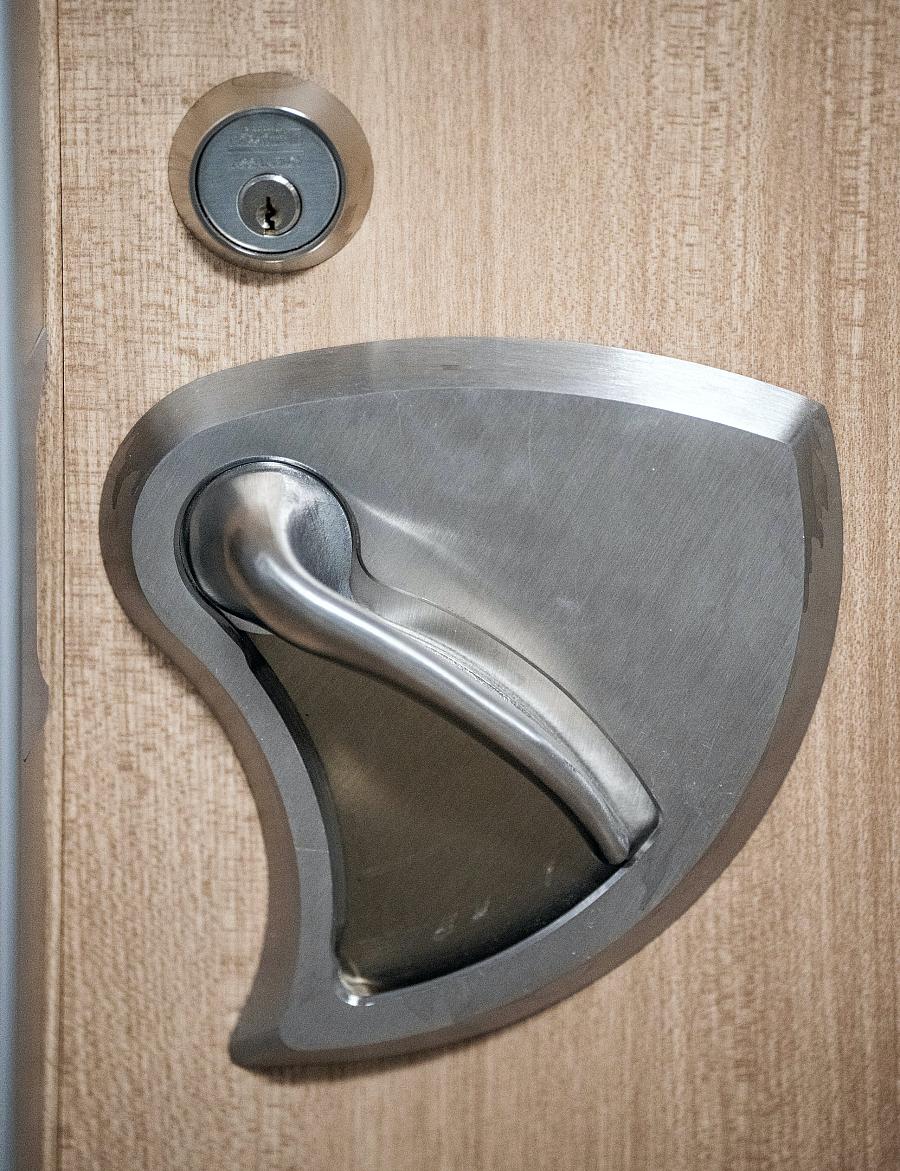 RICHARD TSONG-TAATARII, STAR TRIBUNE
Technology vs. labor
In November, Children's Minnesota opened mental health beds for the first time in the hospital's nearly 100-year history.
Creating the 22-bed unit was a difficult decision, said Dr. Gigi Chawla, chief of general pediatrics, in part because it required a significant investment in safety features.
Door handles are designed differently, to minimize the risk of patient harm. Rooms have special seating rather than chairs that could be picked up and thrown. Beds are part of a platform, so they can't be moved. Bathrooms are designed to minimize suicide.
Beyond construction costs, Chawla said, financial challenges with staffing and reimbursement force hospitals to honestly assess whether they can afford an inpatient psychiatry unit. Hospitals say shifting costs is key.
"There are things in health care that help sustain the business and many things in health care that are underwater," she said. "It doesn't mean you can't do them — it means the path to figuring out how to do them is partly dependent on the things that are above the water that can buoy the whole system."
Image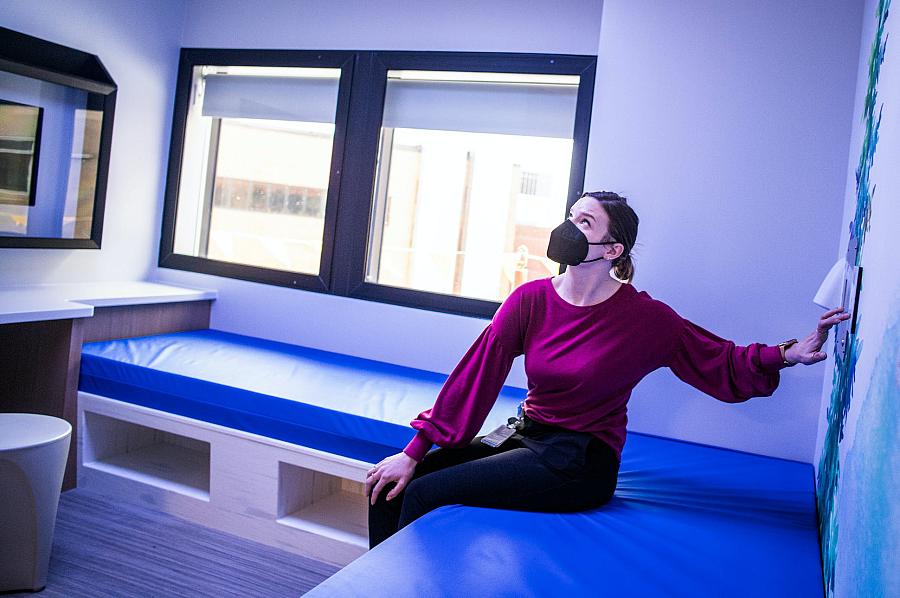 RICHARD TSONG-TAATARII, STAR TRIBUNE
Profits, losses and patients
Researchers say that while the public now has access to hospital revenue data for different types of services, that doesn't account for the costs, making it difficult to determine whether a payment rate covers expenses to turn a profit or result in a loss.
Rate differences are driven, first and foremost, by weighting systems that adjust base payments for the complexity and the technology used. The base payments are negotiated between insurers and hospitals.
Some health plans use a weighting system adopted by Minnesota's Medicaid program while others use a system from the federal Centers for Medicare and Medicaid Services (CMS). Use of those standards, insurers say, ensures parity in coverage.
But there have long been concerns that payment differences overstate the underlying cost differences between technology-intense services and those that are more labor-intensive, like mental health, said Dr. Michael Trangle, a psychiatrist and senior fellow at the HealthPartners Institute.
"Do we see our various diagnoses as comparable or do we have a bias against things that don't have catheters attached to them?" asked Lewis Zeidner, a vice president for mental health services at Fairview.
Inpatient psychiatry has a disproportionately large number of patients who stay a long time in the hospital due in part to discharge challenges, said Trangle, who for years had administrative responsibility for inpatient mental health at Regions Hospital in St. Paul.
Beyond contributing to ER backups, he said, these cases add to the financial challenge since many insurers pay rates that don't increase, or increase enough, as patients stay longer.
Members of Congress and the Medicare Payment Advisory Commission (MedPAC) are now questioning whether the CMS weighting system needs to be changed to better reflect the true cost of inpatient psychiatry.
A September report to the commission suggested the current system allows free-standing for-profit psychiatric hospitals to post large profit margins on Medicare patients while mental health units in nonprofit hospitals lose significant sums.
Critics say free-standing hospitals can screen which patients they want to treat, since they don't operate emergency rooms, and select patients who will cost less.
"I hear it all the time: 'We can't find beds,'" Commissioner Lynn Barr said at a MedPAC meeting. "We're shocked by the profitability of the for-profit [facilities]. We should be equally shocked at the negative 20% margin of the nonprofit hospitals."
For now, more inpatient capacity is probably needed in Minnesota, since there aren't yet alternative safety net providers, said Goering, the psychiatrist and former Allina physician executive. But the long-term solution, he said, would reduce beds as part of a system with much more prevention, outpatient care and non-hospital urgent care.
"It's just been a failure of imagination and financing," Goering said.
Since Harrison's hospital stay in September, Tara Dobbelaere and her husband, Chris Bolchen, have worked with Dakota County human services to arrange for intensive in-home behavioral therapy.
Starting in early January, therapists met with Harrison and his parents to create a safety plan for the house. They tracked how often he stayed on task during sessions vs. running away or becoming aggressive. Harrison, along with his parents, extended the data collection throughout the day, chronicling compliance with rules on chores and screen time.
About a month later, care providers met with the family. Harrison had made so much progress they would begin reducing the number of sessions.
"When I saw you guys in November, there was just an energy of panic," Liz Hooks, a psychologist with Behavioral Dimensions in St. Louis Park, said during a February visit. "Now, there's already just a hugely different vibe in the house."
When Dobbelaere asked whether her son felt the difference, Harrison said: "I feel like I'm less likely to lash out."
His dad said there were still some conflicts, but power struggles with his son had almost completely disappeared.
"I feel like this fall was probably the darkest place we've gone to," Dobbelaere said. "We learned there is not a system to support kids like Harrison and that's so depressing. … But for our family, at least we're not in that dark place anymore."