Negative cycles broken as families learn better ways to cope
Image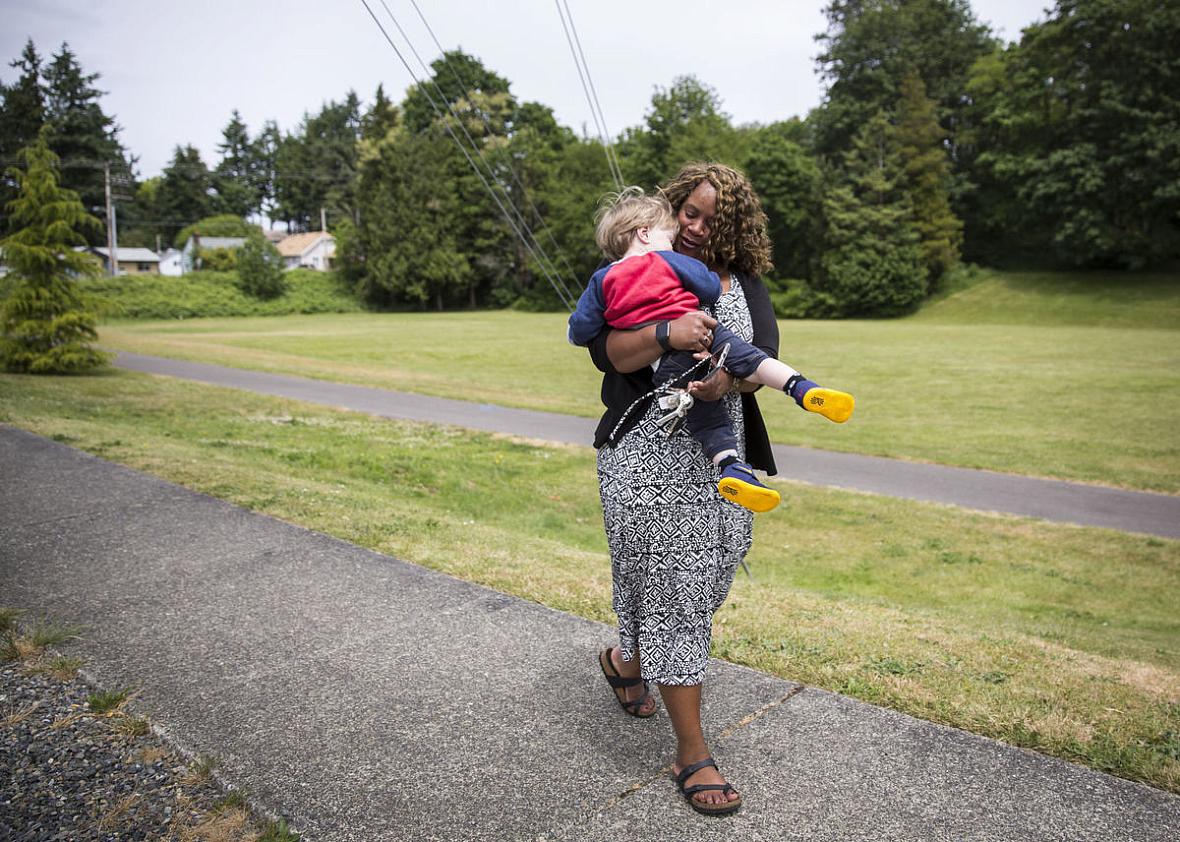 Published on
March 2, 2018
Children in troubled families are often destined for troubled lives — unless they get help before their brains become "hard-wired for stress."
That's what scientist Katie McLaughlin says happens when children endure abuse or neglect, homelessness or hunger. McLaughlin, director of the 
Stress and Development Lab at the University of Washington
, said there are scientifically proven ways to help, but getting those services to children and families is a challenge.
To end the cycle, Tucson is beginning what some other communities have already undertaken, with more schools and agencies offering support and intervention for children and parents who have experienced severe and prolonged hardships.
These "trauma-informed approaches" mean considering disruptive behavior, drug use or learning struggles as symptoms of what might be going on emotionally, and helping people learn better ways to cope and live. It's called teaching resilience.
A high school in Walla Walla, Washington took this on schoolwide and saw dramatic results after four years: a 75 percent reduction in fights, suspensions down 90 percent and grade-point averages up dramatically. (You can see the school's journey in a documentary called "Paper Tigers").
Tucson's Casa de los Niños, whose programs focus on child well-being and family stability, is applying the same concept here. The effort started with one child getting help in 2012 and has grown to include more than 4,000 Tucson kids.
Now the outreach is expanding to local pediatric clinics, children at Amphitheater District schools and families at the Emerge Center Against Domestic Abuse.
The goal is to screen more kids for negative childhood experiences and related mental health challenges, and then get help to those who need it through therapy and other supports, said Susie Huhn, Casa de los Niños' director.
Schools, social workers, paramedics and neighbors also play a critical role, as seen in Washington and Colorado — two states that have made significant changes to promote prevention and improve services to children and families.
Sometimes, what's needed is a big fix. Other times, it's just having someone there to provide support and guidance.
Image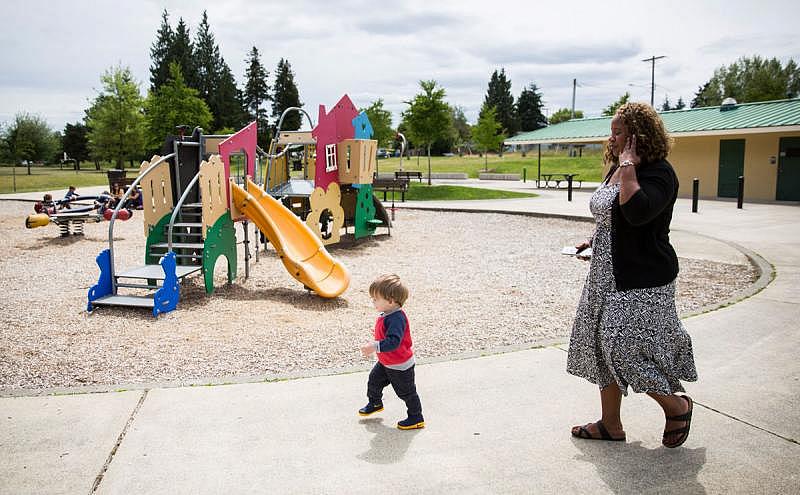 Negative feedback loop
Shrounda Selivanoff knows well the importance of fostering healthy relationships between children and adults.
Selivanoff, who lives outside of Seattle, did not get the help she needed early on, but became open to it as a young parent. She said having people care and listen to her story changed her life dramatically.
"People have a belief about themselves, that they are no good or that they are incapable," she said. "Then the system comes in and says, 'You're right.'"
Selivanoff said her family has wrestled with substance abuse and poverty and substance abuse for generations.
She lost custody of her infant daughter more than a decade ago because she was using drugs to cope with stress, she said. She struggled until a caring social worker and a loving neighbor helped her see the negative aspects of her family's history needed to end with her.
"My daughter came home after two years of being in foster care with the only family she'd known, and I'm sober and cannot rely on my usual ways of coping. Now what?" she said.
Eventually, she decided she wanted to help others. She started working for Washington state's Parent-Child Assist Program, which pairs parents who used drugs before or after their baby's birth with a mentor who helps for about three years. About 60 percent of the participants have an open dependency — which means the state is the legal guardian of their children while parents try to work out their issues.
This program increased the rate of children being returned to their families by 16 percent in five Washington counties, with children in out-of-home placements averaging stays of about four months instead of the statewide average of 20 months. This saved the state about $21,000 per child.
Arizona has a similar program called SENSE, for Substance Exposed Newborn Safe Environment, which has been in Pima County nearly a year after being used in Maricopa County for about a decade.
Like the Washington program, it includes home visits and parent education, but SENSE workers stay in the family's life only for 120 days, with a minimum of three visits during the first 60 days.
The duration of the Washington program is what made it work, Selivanoff said, because people really get to know their clients and a relationship forms.
"Loving other people and connecting with others is what makes the biggest difference. I didn't know how to connect with my child because my mother never really connected with me," she said. "I've got a great kid today and we've got a really great relationship."
Image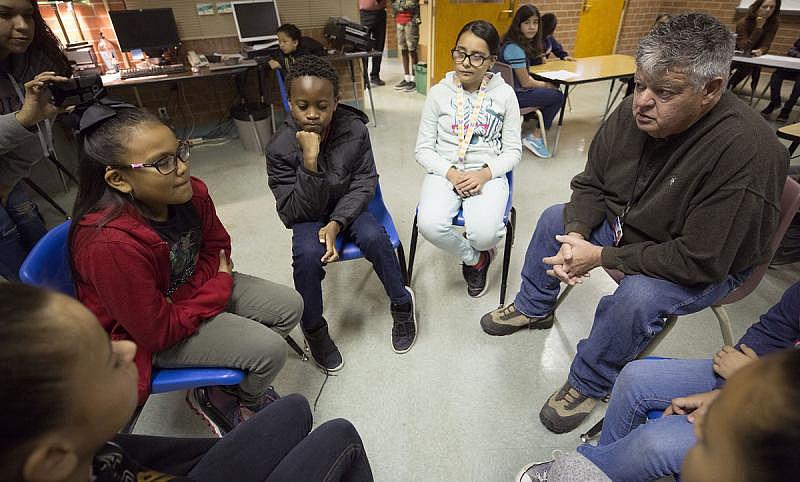 New approaches at Tully
Several mornings a week you'll find retired school counselor David Dietz in a little conference room off the library at Tully Elementary Magnet School on Tucson's west side.
He's helping Principal Mary Morse and a group of volunteers turn the school's Arizona report card score from just above a D to nearly a B.
One of their main objectives, he said, has been recognizing that many of their students have experienced big life challenges, or trauma, that may affect the way they act or learn.
"There is a very high correlation between office referrals and high adverse childhood experiences," Dietz said. "It's almost a certain predictor."
The students' trauma scores, determined through a simple test created by the Centers for Disease Control and Prevention, were higher than Arizona's average.
And that's saying something: Arizona has one of the worst trauma scores in the nation, the National Survey of Children's Health reports, with about 31 percent of children having two or more adverse experiences in 2016 compared to the national average of 21.7 percent.
"Children spend a tremendous amount of time at school," Dietz said. "Every interaction with a child is supposed to make them a better person."
When Dietz first arrived at Tully in July 2015, there hadn't been a counselor there in over six years. Now, not only is he there regularly as a part-time counselor, but he's also brought in counselors-in-training from the University of Arizona and Northern Arizona University.
While the school area is culturally rich — its students speak 13 languages — many families struggle with poverty. Most kids qualify for free or reduced-price meals.
This school year, Dietz and principal Morse have made two significant changes at Tully: A peer court uses what's called restorative justice and a new curriculum helps students learn that the way they feel influences the way they act — and how that plays out with peers and teachers.
Students who opt for the peer court have already admitted to the principal that they broke school rules, and the court is there to help them rejoin their school community. That might include a letter of apology or a "restorative circle," where they meet with those they hurt as well as school staff, counselors and anyone else involved.
The work at Tully is important because it focuses on rehabilitation and understanding, rather than on punishment, said Pima County Superior Court Judge Gilbert Rosales, who visited the school several times to help students learn about the process.
In the school court, there are no prosecutors, no defense attorneys and no charges brought against anyone. Instead, the student attorneys represent the interests of the school and the students, and the "probation officer" is the student's "restorative coach."
Volunteer Chris Swenson-Smith — retired director of services for children and families at the juvenile court — has been coming to Tully as part of her goal to help Tucson's teachers and school staffs understand how to better help children who have been burdened with challenging life experiences.
"Kids who have been exposed to trauma are often afraid of authority figures, so they avoid them," Swenson-Smith said. "But they are also the people who can help them, so this is exposure in a different way, a positive way."
Image

Down the hall, third-grade teacher Nathan Taylor began a lesson based on the social-emotional curriculum from a national organization called Sanford Harmony. The lessons are based on the research of the organization's founder, T. Denny Sanford, who wanted to help students learn meaningful and healthy ways to interact. 
The curriculum emphasizes critical thinking, empathy and problem-solving.
Taylor's students took part in an exercise where they ranked the way different situations would make them feel, such as being excluded from a party, riding a huge roller coaster, getting invited to a scary movie and suddenly having to share a bedroom with a sibling. Then they got into groups and learned how others might experience things differently.
"Why do you think it's important to understand how other people feel?" Taylor said. "The more we understand other people's feelings means we won't hurt other people's feelings as much."
Three days of respite
In Colorado's El Paso County, the KPC Center is named after a baby boy who died of shaken-baby syndrome there about 20 years ago.
The idea is to help prevent another baby from suffering that fate by helping families through hard times and preventing family crises.
The center — which opened about 13 years ago and is staffed by trained workers — is a house that's unrecognizable from the street. It's only at the front door, where there are instructions about who can enter, that there's any clue this is a haven for babies and children.
Image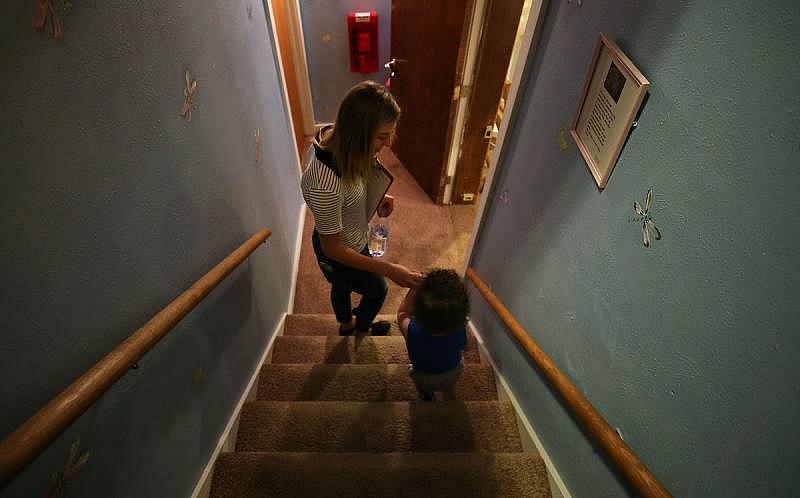 Up to 72 hours of care is given at no charge with a primary purpose: giving parents a break to help prevent child abuse and neglect. Parents who bring their children there might need to go grocery shopping, attend an appointment with a counselor or take another child to a doctor's appointment.
The center was an independent nonprofit until 2012, but now falls under the umbrella of Lutheran Family Services. Its five full-time employees work with on-call volunteers and an annual budget of $140,000 per year, primarily from grants, foundations and community donors.
Nothing like this is available to Tucson's families, although Casa de los Niños offers some help caring for children with behavioral health problems to give their parents and caregivers a break.
Parents at the KPC Center — more often than not, it's a single mother or a woman fleeing domestic violence — go through an initial interview that takes about an hour. Beyond names and dates of birth, former co-director Jennifer Ross said the focus is on two questions: "What's going on in your life and with your family, and how can we help you?"
Once established with the center, families with at least one child under age 6 can sign up for what they need. In addition to respite care, they also can get help with employment leads, school enrollment and day care.
Typically, it's open Monday through Saturday, but center staff will help any time there's a crisis — even in the middle of the night.
"We are huge on prevention," Ross said. "We don't want it to get to a crisis point."
[This story was originally published by the Arizona Daily Star.]