This article is part of "Fitness Deserts," an occasional series examining disparities in access to physical activity in Washington. 
Image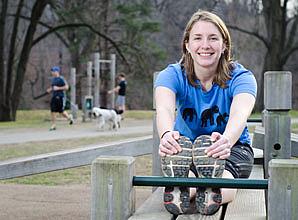 Published on
February 7, 2012
When 24-year-old Victoria Church moved back to D.C. after spending 10 months in China teaching English, she realized something was missing. Living in Asia, she'd grown accustomed to seeing outdoor exercise equipment in public spaces — and people of all ages using it. But around here, Church couldn't find any of the machines that she'd seen encourage activity abroad.
"I was thinking about things they had and we don't," she says. So she put together a proposal for Good Maker, a website that awards grants, to get $1,000 to bring fitness machines to D.C.
Church recognizes that a piece or two of equipment isn't a solution as much as a start. "My hope would be after putting it in, that would create interest and we could expand from there," she says.
In fact, there already is interest in seeing such fitness opportunities. Groundwork Anacostia River D.C., an organization devoted to boosting communities by reconnecting them with natural resources, is collaborating with the National Park Service to bring fitness equipment to Fort Mahan. The improvement is part of a series of projects the partners are undertaking at the park, a site in Ward 7 that hadn't received much attention in recent years. "It was one of those parks that was just there as green space," says Groundwork D.C.'s executive director, Dennis Chestnut.
Secured through a grant from the National Park Foundation, the multi-station calisthenics trail, similar to the popular parcourse in Rock Creek Park, is set to be installed in Fort Mahan next month. "This was a real win for this community," says Chestnut, who encourages potential volunteers to contact Groundwork or National Capital Parks – East.
It's also a sign that the National Park Service, which manages nearly 90 percent of Washington's parkland, is becoming more open to the idea of fitness equipment on its property. The only existing parcourse in the city other than Rock Creek's is the outdated one at Anacostia Park. NPS spokesman Bill Line says that one will be replaced this year.
Increasing opportunities for fitness at parks is in keeping with the NPS' commitment to a wide range of exercise options, Line adds. He predicts the Fort Mahan equipment, in particular, will get the public more excited to use the park. "You can stop if you're jogging or bicycling and do 20 pull-ups or walk the balance beam," he says.
Finding NPS land for additional exercise areas is likely to remain a challenge, however. Line says nothing that disturbs the historic preservation or natural character of sites will fly.
Still, Chestnut believes success at Fort Mahan will spur more outdoor exercise facilities, both on NPS sites and city-managed properties. And wherever bars, rings and abs benches show up, you can expect to find 37-year-old David Denizot, of Vienna, who's at the Rock Creek course five times a week. "I'd love to see more of this sprinkled throughout the city," he says. "This is my prized exercise equipment. And it's in the park — you can't beat that."
Hot Zones
You don't need a gym membership to work out at Fitness Zones, the latest exercise trend out of Los Angeles. The Trust for Public Land installed the clusters of all-weather fitness machines in 29 L.A. parks over the past two years and plans to roll them out across the country — including, eventually, D.C. Deborah Cohen, a senior natural scientist with the RAND Corporation, studied 12 parks with the exercise equipment and noted that Fitness Zones attracted new visitors, particularly in the lowest-income neighborhoods. "In small parks where there wasn't much else going on, a lot of people said that's the reason they come," she says. And although men generally outnumber women in parks, the Fitness Zones were frequented by more women. Cohen's research also showed that people in parks with Fitness Zones were more active than those in parks without them — even if they weren't using the equipment. "The Fitness Zones serve as a cue to remind people to exercise," she says.