In one Indiana county, as many as 1 in 4 kids are subject of child neglect investigations
Image
TERRE HAUTE — As a public health professor, Jack Turman has done research in some of the poorest sections of Los Angeles and Omaha, Nebraska. But that didn't prepare him for this small city in western Indiana.
"These two neighborhoods are the toughest I've ever worked in for sure," he said.
He was driving around Sarah Scott Middle School, on the west side of Terre Haute, and the nearby Ryves Neighborhood.
The poverty is embedded, the drug use heavy, the opportunity scarce. Kids come to school dirty and hungry. Parents don't see a way out.
Turman, who teaches at Indiana University, had just stopped by the middle school to figure out how to continue a program he helped start there, called Grandma's Cupboard. It's a pantry where students pick up free food, clothing and hygiene supplies; some children shower and put on clean clothes before class. More than 80% of the students at Sarah Scott qualify for free or reduced-fee lunches. The state average is less than 50%.
Image
So Turman wasn't shocked to learn that Vigo County, where Terre Haute is the county seat, had the highest rate of child neglect investigations in the state in 2017 — 238 for every 1,000 kids, a Times analysis of child welfare data found.
"You have all these markers of poverty — food insecurity, substance abuse, a big increase in self-harm and interpersonal violence. When you take all of that together, it's not surprising you're going to see this trickle down to the abuse and neglect of children," he said.
The state as a whole had the third-highest rate of investigations for child abuse and neglect in the nation in 2017, according to the latest report from the U.S. Department of Health and Human Services.
But what's driving those numbers is not physical and sexual abuse — which have both declined in Indiana over the years — but instead an explosion in the number of neglect investigations, The Times review found.
And nowhere do they occur at a higher rate than in Vigo County.
Why Vigo?
Terre Haute, located on the Illinois border, along the bank of the Wabash River, doesn't outwardly appear to be a stronghold of child mistreatment. It is home to the fifth-largest public university in the state, Indiana State. The downtown isn't full of boarded-up businesses. Even the poor neighborhoods aren't that run down.
That doesn't mean there aren't struggles here. One in 4 Vigo County children lived in poverty in 2017, the fourth-highest rate in the state, according to the U.S. Census Bureau. The poverty level then was about $25,000 for a family of four.
"If they're not in poverty, they're one paycheck away from poverty," said Dr. Jim Turner, medical director of the Richard G. Lugar Center for Rural Health at Terre Haute's Union Hospital.
Terre Haute is a victim of the same economic forces plaguing many formerly manufacturing-heavy cities in the Midwest: deindustrialization, a brain drain of high-school graduates seeking wealthier pastures.
Joni Wise, administrator of the Vigo County Health Department, said she'd like to see the community reinvent itself economically like some other smaller Midwest cities such as Bloomington, Indiana and Des Moines, Iowa, did years ago: maybe leverage Indiana State University, though it's largely a commuter school nowadays, with many first-generation students from Northwest Indiana and the South Side of Chicago.
She noted that the state as a whole doesn't spend money on prevention. Indiana was 48th in the nation for public health funding in 2018, according to rankings by the United Health Foundation.
"We don't invest in public health and education like we should," Wise said.
She described a house she was once called out to to condemn. DCS was on the way. As she got there, the police pulled up, responding to a domestic disturbance.
"It's right after the polar vortex," she recalled.
"There isn't a furnace in the house. There's five children in the house, who are teenagers down to elementary. There's no heat in the house, except for space heaters in one room, dogs in the house, holes in the house, where you can see cats jumping in and out of windows. The back porch was nothing but trash.
"Very low-functioning mother with good intentions. The center room of the house that they utilized just had a blanket hanging in the door to keep the heat in, with space heaters, no beds, no couches, just two beds, no blankets, no sheets, a small TV. That was their world.
"And I think, how can you get up each day and go to school, and function, if you're in such a dysfunctional environment? There's animal feces, human feces. The water hadn't been running. But that's normal for those children."
Despite the high neglect investigation rate in Vigo County — it grew more than 300% from 2008 to 2017, The Times review found — DCS substantiated neglect in only 15.8% of those cases.
This mirrors the Indiana-wide trend of DCS investigating more cases of neglect — a 137% spike in the 10-year period — but not substantiating them at an increased percentage (the state average is 16.8%).
"Our families we work with don't have stability, life skills, the decision-making on how to operate as a family unit," said Brandon Halleck, chief operating officer for Chances and Services for Youth of Terre Haute, which operates a youth center, provides early childhood education and after-school programs.
"Our families are so dysfunctional, it just breeds further dysfunction. Parents don't know how to parent."
He summed up many of their family situations with one word: "chaos."
Scotia Brown, the principal of Sarah Scott Middle School, sees that play out in her hallways.
She said her reports to DCS have increased over the years. It goes beyond students not wearing clean clothes or being hungry; some experience violence at home. "Educational neglect is a big one," she said.
"We've had students who missed 90 days of school."
That's half the school year.
Image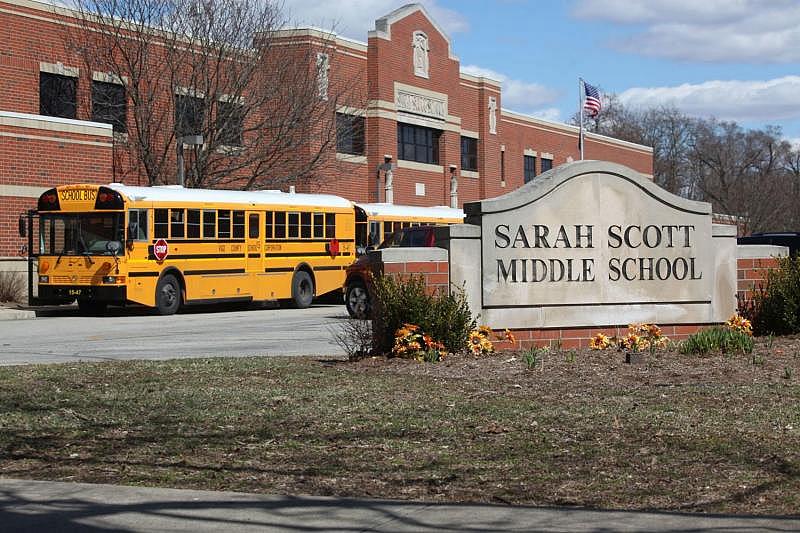 She tries to provide a positive environment, an uplifting one. The guidance goes beyond teaching math and science and social studies. The school hosts a Crock Pot cooking club on Wednesdays, so students can learn how to prepare food easily on a budget. Sarah Scott has a meditation room, where kids can go chill if they're ever overwhelmed.
Brown's ever impressed by her pupils.
"They're beautifully resilient, creative, talented, articulate, young people," she said.
"And we're going to do everything to develop those skills. That's what we're going to do right here, right now. We try and provide them with new experiences that maybe they would otherwise not have, so they can see that they're not stuck here.
"There are opportunities out there. That's what we want to do; we want to broaden their experiences, so they can dream about something other than where they are."
Where else?
The Times analysis found that in general, as the percentage of children in poverty rises in a given county, so does the rate of child neglect investigations.
"Transportation issues, addiction issues, lack of social support, unemployment, feeling isolated, chronic toxic stress — all of these factors play into basically how well people do in life, but also how well families do. If families are struggling, that tends to pass down to their children," said Dr. William Cooke, a family physician in Austin, in southeastern Indiana. That town is located in Scott County, which had the state's second-highest rate of child neglect investigations in 2017, 206 per 1,000 kids. More than a fifth of children there live in poverty.
In 2015, Scott County was home to the largest HIV outbreak in the history of rural America, a result of many of those same ingredients.
The county also had the highest rate of kids in foster care in 2017, according to a Times analysis of state data, 63.8 for every 1,000 children. The state average, which is twice the national rate, was 12.
Cooke said that removing a boy or girl from a home is itself a traumatizing experience for a child.
"That knee-jerk reaction isn't always the best approach," he said. "If they're in physical danger, that's a no-brainer. If it's just because of poverty and there's some neglect there ... we need to support that family a little bit more."
He said he would like to see Indiana's Department of Child Services "destigmatized," he said, where parents under investigation would feel comfortable utilizing the agency for assistance rather than just "being labeled a bad parent."
"We all fail, we all struggle," he said. "The solution is to allow people to reach out for help instead of feeling like they have to hide their struggle."
State lawmakers are trying to change Indiana's definition of neglect to exclude poverty that is out of the caregivers' control. The bills await Gov. Eric Holcomb's signature.
Chandler Bowman, a 22-year-old recent college graduate who was raised in Austin, next to a foster home, remembers having classmates whose parents weren't providing for them.
"I could see it a lot: Kids coming to school in rags, people glad to get out of the house," he said.
He said he had a lot of peers who probably should have been removed from their home who weren't.
He said a sense of hopelessness is behind the high number of child abuse and neglect cases.
"It's the poverty probably driving the drug problem, which drives the neglect problem," he said. "People have an excuse: 'I don't have a job. I can't find a job.' That's why they sit around and smoke meth all day."
He said that every graduating senior who can leave Scott County does; anyone who can't, stays. Thus the cycle continues.
"A lot of us who have gotten out, got out because we lucked out," Bowman said. His mom, who raised him, is a local special education teacher. "Not saying we're better than people who have to live there. We're just lucky."
Rural vs. urban
The trend of child poverty correlating with high rates of child neglect doesn't apply to the more urban counties in Indiana, such as Marion and Lake. DCS tends to investigate child neglect at the highest rates in outposts of the state far from any of the biggest cities.
"It's the rural areas that do have the higher rate of drug use; they also have the most unemployment, they have overall more poverty — the enduring generational poverty you see in West Virginia, Appalachia," said Laura McCloskey, director of the Center for Research on Health Disparities at Indiana University.
"We border on that Appalachian region in the southern part of the state. A lot of the characteristics are the same: You have generations of people who are poor ... with no sign of upward mobility."
She noted that children who are victims of abuse and neglect tend to have trouble in school, then holding down a job as adults, perpetuating that "cycle" of poverty and abuse.
"You see that more enduring pattern in rural parts of the country that are very poor," she said.
Turman, the IU professor, said people in these rural areas not only lack opportunity but also have a "physical distance from opportunity" — whereas people in poor neighborhoods of, say, Indianapolis or Gary are at least near higher-income areas, can see them, get to them, be inspired by them, he said. There are also generally more resources in metropolitan areas, he said, and people there might be more willing to accept aid.
"You're seeing poverty play itself out in the rural context," he said. "It's going to look different than it plays out in an urban context."
Cooke, the Scott County doctor, says you would likely see the same disparities if the neglect investigation rates existed at the ZIP code level (DCS only narrows it down to the county). Then, he said, some of the urban ZIP codes would likely match their rural counterparts.
Katherine Meger Kelsey, director of the Children's Law Center for Kids' Voice of Indiana, an advocacy organization, said she gets more calls for legal help from rural parts of the state. But the reasons are the same no matter the area — and those are complex.
"There's so much that goes into it. You can't pin it on one cause," she said.
"Some of it is we are definitely having a big of a problem right now with substance abuse disorder, which tends to run hand in hand with some of the economic problems the state's experienced."
A supportive outlet
Jim Edwards was an Indiana State University police officer in the early 1980s when he joined a committee to start a local youth center. He agreed to direct the center part time until it hired a full-time director.
"It's been 36 1/2 years," he said dryly. "They haven't found anyone yet."
He runs the Ryves Youth Center at Etling Hall, which provides a preschool for homeless children, after-school programs and tutoring. He deals with many kids and families involved with the child welfare system. It's in the Ryves neighborhood that Turman was touring, which is full of modest one-story homes; a few had blue tarps for roofs.
He says the surge in neglect investigations may be a result of DCS bolstering its staff. The number of caseworkers in Vigo County more than doubled from December 2012 to December 2017, from 26 to 54, according to DCS.
He notes it's also easier to report child neglect nowadays; most people have smartphones. Allegations of child abuse and neglect in Indiana rose from 76.1 per 1,000 children in 2012, to 107.4 in 2017, the HHS data shows. All volunteers at his center undergo training on how to detect and report suspected mistreatment. 
But he said Vigo County suffers from many of the same social problems that plague less-populated areas everywhere in America: lack of jobs, substance abuse, poverty. And, he noted, people's drugs of choice have changed from alcohol and marijuana to the less-functional variety, such as heroin and meth.
"When parents do graduate high school, they're not offered a living wage, which then causes more crisis and more stress and usually things roll downhill to where the children are the ones that receive that stress and that frustration," he added.
"Sometimes what parents just need is someone to listen to them, someone to validate their frustrations. They did not become impoverished in one day."
Edwards does what he can. He gives parents food, or shows them where they can get it, hopefully easing their economic load so they can pay other bills. He says he doesn't always agree with how DCS handles families but says the agency is a "necessary evil."
"I would say on some cases it's fantastic that DCS gets involved. There are real cases where children are being abused to the point where they can die. Then there's other times that it's a catch-22. If you're a DCS case manager and come out on a call that this child is being neglected because he's living with his mom and they're poor and mom's an addict. Now you go to the house and you know clearly she's inebriated or she's high, but you look around and the house is halfway decent, the utilities are on, every child has a bed — what do you do? Do you take that child away? If you don't, you've got to find a better place for them — and you don't have many foster parents as it is.
"If you don't and something happens to that child, what can you do? It's not an easy job, being a DCS caseworker."
A foster mother from Terre Haute said those DCS employees have been supportive of her while she raised eight kids whose relatives could no longer care for them. She said DCS staff helped her get a bigger house, beds and other furniture. (She would only speak to The Times on the condition of anonymity because her youngest child is still in high school).
The neglect some of her adoptive children endured was real, she said. 
"There was no food in the house, the parents were locking them outside. They had them sit on the porch while they were inside doing their drugs. They didn't know where the kids were half the time," she said.
"I think a lot of the parents, they love their kids. It's just this drug, they can't say no to the drug."
Before she adopted them, the children would spend their evenings at the Ryves youth center after school. They had nowhere else to go with adult supervision. She later started volunteering there as a foster grandparent.
"I love kids," the 58-year-old said, as one ran in and out of her office, trying to get her attention.
"If it was up to me — this does not come from my husband — if I had a 10-bedroom house I would take all the kids they'd give me. They're really not bad kids, they just need somebody who feels they care."
[This story was originally published by nwi.com.]