Oppressed By Wildfire: Language Barriers, Unwelcoming Attitudes Discourage Latinos From Seeking Help
Image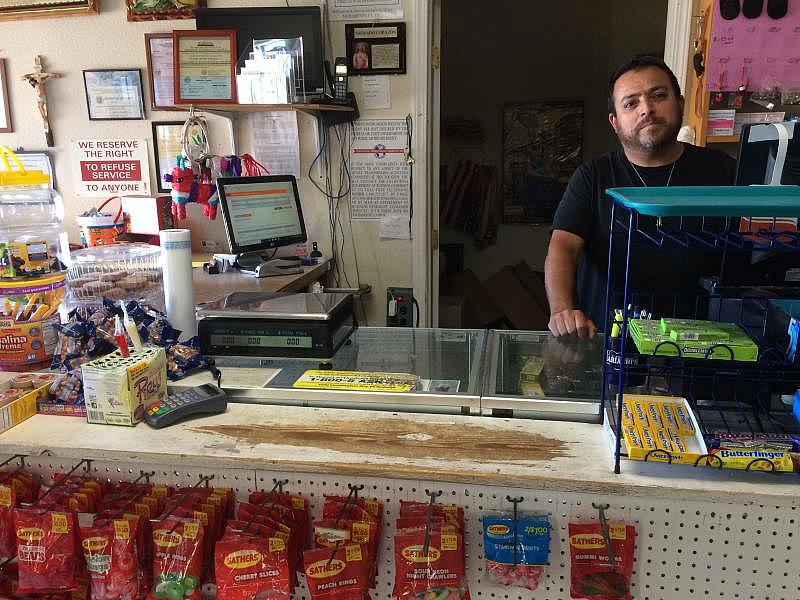 Published on
September 17, 2019
Abandoning your home while fleeing a wildfire can be a traumatic experience. It's even scarier if you don't understand the language of the evacuation alerts chiming into your phone.
On a hot July evening in Redding last year, Cecilia Cabrera and her husband were preparing dinner when her phone started buzzing.
"And immediately I get a phone call: 'Get out of the house now,'" Cabrera recalls. "And I'm like, what? Then my cell phone: 'Get out of the house now.' Then they start knocking on the doors. We didn't know what to do. We didn't know what to take with us."
They didn't know the Carr Fire was just a few blocks away. They headed toward her brother's house, and on that drive she started to worry about other people in Redding.
"All the messages I got, they were in English," Cabrera says. "I know a lot of families that don't speak the language. They didn't know what to do."
Shasta County has a small but growing Latino population: 10 percent of 180,000 people. There aren't many Spanish language resources here: no Latino community center, outreach group or local news stations.
But there is Carrillo's Mexican Store in Redding.  It's the only place in Shasta County that sells corn husks for tamales, stone molcajetes for grinding herbs, and Mexican sweets. But it also acts as a central hub of information for people who speak Spanish.
When the Carr Fire hit, the county and other agencies would send information to owner Ernesto Carrillo, who would then post it to the shop's Facebook page in English and Spanish.
"We have a lot of information but it's in English, so we have to make sure they could read it," Carrillo said. "Even if we have people who speak almost no English or a little bit of English, they won't be able to read it."
Most of the time Carrillo is posting information about an upcoming concert or a visit from the Mexican consulate. But when disaster strikes, he becomes more than just a shop owner: he becomes one of the few people in Shasta County helping Latino families get the information they need to stay safe, or to get help with recovery afterward.
But even California counties with large Latino populations have struggled to adapt their disaster systems for multiple languages. In Sonoma County, where Latinos make up a quarter of the population, emergency alerts during the Tubbs Fire were only in English.
Oscar Chavez, assistant director for the Sonoma County Department of Human Services, says language barriers pushed some people to near homelessness.
"In some of the shelters, initially there were not staff who could speak Spanish," Chavez says. "People didn't know how to access services at the shelters, and many of them ended up going to the coast to set up their own sort of makeshift camp."
Then the Thomas fire hit Ventura County, just north of Los Angeles, where 47 percent of its population is Hispanic. Genevieve Flores-Haro, Associate Director of the Mixteco/Indígena Community Organizing Project, worked with farmworkers during that fire. She says all emergency alerts in the first 10 days were in English.
"Information like road closures, school closures, where shelters are, all of that was in English," Flores-Haro says. "So the first night of the fire was me personally and someone from my team going out and translating that information as best as we could."
Flores-Haro says farmworker families continued working out in the fields during the fire, despite hazardous air conditions. If they didn't work, she says, they missed out on paychecks they needed. Those who were undocumented didn't qualify for federal aid, and many clients that did qualify for aid didn't have the specific documentation they needed to get it. So Flores-Haro's organization started a fund to help families who needed help with daycare, groceries, or shelter.
Back in Sonoma County, Chavez says governments' disaster responses can also be threatening to people of color. For instance, the National Guard appeared at street checkpoints throughout Santa Rosa during the Tubbs Fire of 2017.
"That really upset a lot of people who didn't understand why the National Guard was coming during a time of natural disaster," Chavez says. "It's a very common thing, but for many immigrant communities, seeing a military vehicle with guns causes some concern."
That's why emergency responders and local governments should partner with organizations that work with diverse communities, Chavez says, because these organizations can provide perspectives that are otherwise unrepresented. They could also help with language and messaging barriers.
But what about places like Shasta County, which doesn't have an agency like this or even a local Spanish language news station?
Sylvia Yzaguirre is a community organizer with the Shasta County Health and Human Services Agency, and the main bridge between Latino families and local government. She's one of the few leaders in the county working with Hispanic families.
Yzaguirre says out of the thousands of people who had to evacuate to emergency shelters during the Carr Fire, she didn't see any Hispanic families.
Part of the reason, she says, is lack of trust.
"For one, you go in there and you don't see anybody you recognize," Yzaguirre says. "Then you see equipment that has these government logos. You don't know what to expect."
Yzaguirre and other Latino rights advocates say Latino families are particularly hesitant to seek disaster assistance because of recent heated political debates over immigration, as well as the Trump administration's expansion of the public charge rule. Many Latinos who are in the process of obtaining U.S. citizenship fear that accepting any public benefits could result in their being labeled a "public charge" and denied citizenship. Or someone at a shelter will misunderstand the status of their citizenship and report them to immigration authorities.
"We hear cases of where people are U.S. citizens and they've been deported," Yzaguirre said.
There's also concerns over how well they'll be treated once they get to a shelter. About 67 percent of Shasta County voters voted for President Donald Trump in 2016, who has been criticized for racist comments against Mexicans and people of Mexican heritage.
Yzaguirre has had people in the county demand that she stop speaking Spanish. She has clients who have had similar experiences. But it's not these encounters that worry her.
"What worries me is that there could be a confrontation where you could have a fatal outcome or something very tragic happen," she sa
[This story was originally published by Jefferson Public Radio.]